Can you put curtains in the washing machine? The answer, as it turns out, is probably yes! But there are a few caveats.
Here we'll take a closer look at how to wash curtains and give you some tips on how to make sure they come out looking great. So if you're ready to tackle this task, keep reading!
Why Is it Important to Wash Curtains?
Considering that some fabrics need extra care and must only be hand-washed or dry-cleaned, we don't want you to give up on the idea of washing your curtains in the washing machine.
Washing your curtains is essential to keep your room clean and aesthetically appealing. Curtains tend to gather dust and absorb odour over time. They may become home to pet dander, dirt, pollen, and various contaminants that can affect your health.
You should clean your curtains approximately every six months to ensure you keep your home fresh and clean.
Can You Put Curtains in the Washing Machine?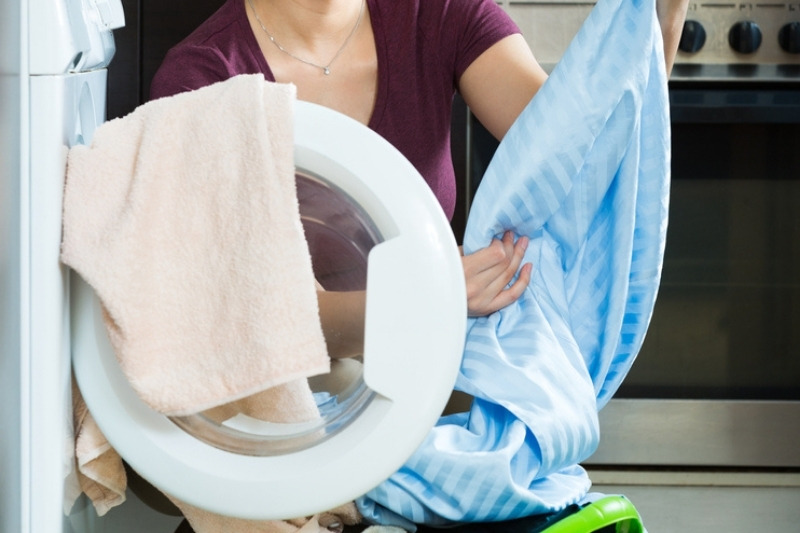 Now that you understand the importance of washing curtains frequently, it is time to answer the most critical question about washing curtains.
Whether or not you can put curtains in the washing machine depends on their fabric and how they are made. You can usually wash the following kinds of curtains in your washing machine at home:
Cotton
Linen
Polyester
Nylon
Curtains made from organza, velvet, or silk should be taken to the drycleaners or hand washed instead.
Thankfully these days, most washing machines have intuitive cycles which can be gentle with both a low temperature and spin speed. This means that you can usually wash curtains without damaging them, but you need to take extra care in doing so.
If in doubt, it's probably best to leave them out of the washing machine. Some curtains will have a care label attached, but not all do. If your curtains do have a label, then ensure that you follow the instructions.
How to Wash your Curtains in the Washing Machine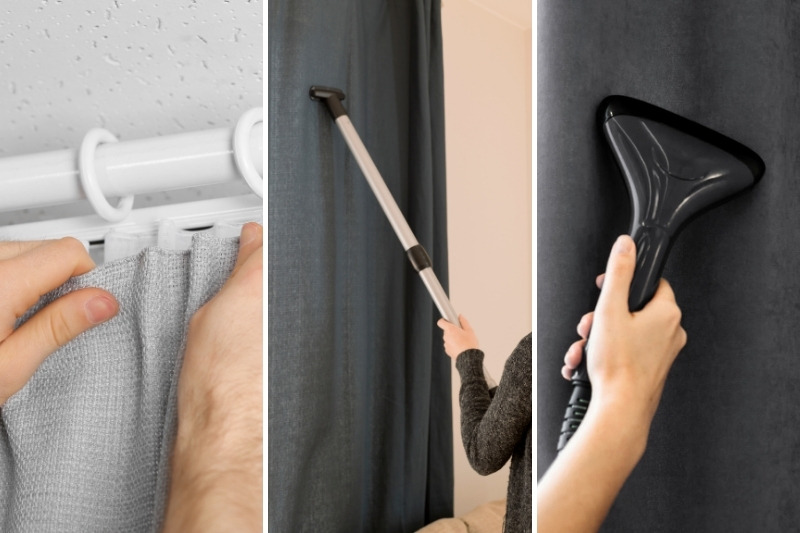 If you're washing your curtains in the washing machine, you need to be careful not to ruin them.
Following some simple rules can help you clean your curtains swiftly without damaging them. Here's how you should wash your curtains.
Always remove the hooks (if any) and loosen the tapes so they do not have any extra attachments.
Measure your curtains while you take them off the rods. This way, you will know if they need to be stretched back into shape. It helps to make a note of which curtain was placed where.
Now clean them thoroughly to remove as much dust as possible. Shake the curtains and use a duster with a vacuum brush.
Throw them into the washing machine with suitable settings. Make sure to add just enough detergent and take care of the temperature settings.
Don't overload the machine, as this will lead to poor cleaning results. Wash your curtains in separate loads if necessary.
You can dry them in the dryer on a low-heat setting, or hang them on a clothesline, ensuring they are spread adequately.
Iron them when they are slightly damp to avoid lines or marks. Don't forget to stretch the seams slightly while ironing.
You may also use a handheld steam iron to get rid of the wrinkles effortlessly.
Add hooks to the curtains and hang them back on the window.
FAQs on Machine Washing Curtains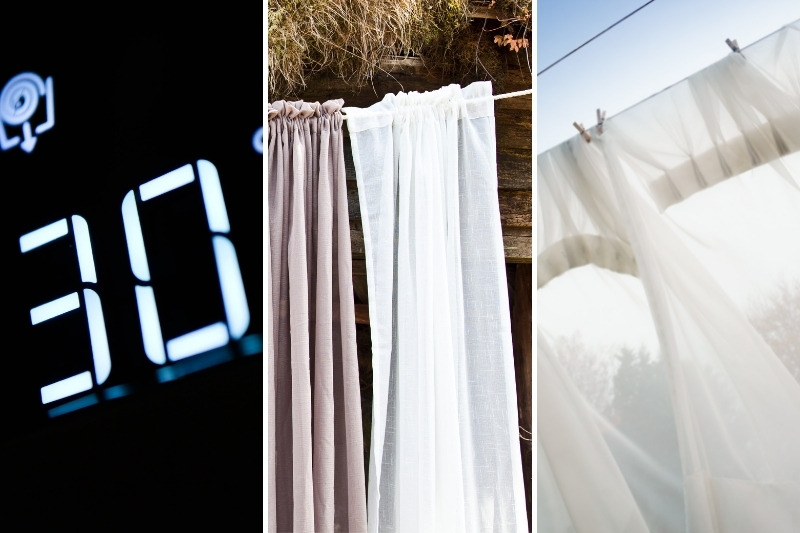 What temperature should I wash my curtains at?
If you don't have a label to follow, then it'll be the best idea to wash your curtains at 30°C. This will ensure that you don't damage the fabrics and unless they are heavily soiled, they'll still come out looking clean and smelling fresh.
Should you dry curtains in direct sunlight?
Sunlight is believed to be a natural disinfectant, but prolonged exposure also weakens fabrics. Experts recommend shade drying or using a dryer for your curtains instead of leaving them under the sun for a long time.
Can you wash sheer curtains in the washing machine?
Yes. You can wash sheer curtains in the washing machine as most of them are made of nylon or polyester. Clean off the dust first and give them a gentle wash with cold water in the machine.
Can you put curtains in the dryer?
There is no harm in putting the curtains in the dryer if the fabric is dryer-friendly. However, it's best to do this with care. While it's possible with some fabrics, air-drying is usually the better option.
How do you wash cotton curtains in a washing machine?
Cotton curtains can be delicate and need care while washing them in the machine. If your washing machine does not have a specific function to clean curtains, wash your cotton curtains on a delicate cycle and at a spin speed of 600 rpm.
Final Thoughts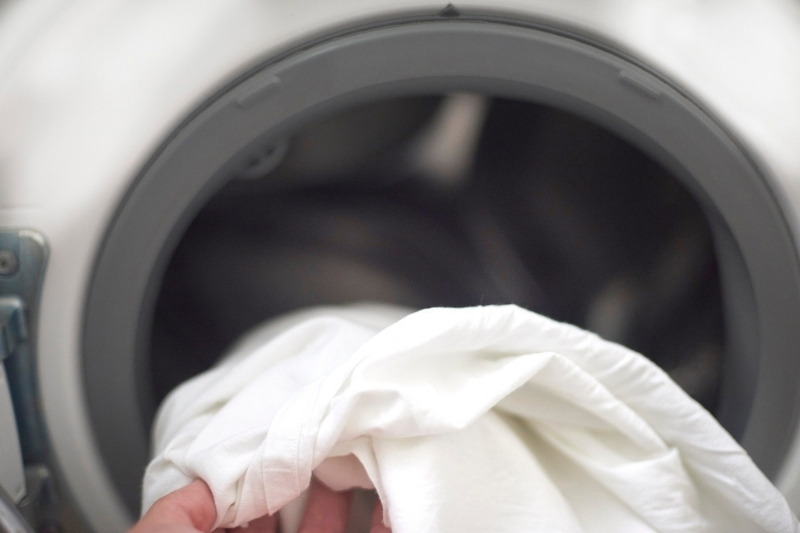 While it's often not a good idea to put curtains in the washing machine, there are some exceptions. Many curtains are made of delicate fabrics like silk or linen, which can be easily damaged by the agitation of a washing machine.
In addition, the weight of wet curtains can cause them to tear or stretch out of shape.
However, some curtains are made of synthetic or tough natural materials that are designed to be machine-washable.
If your curtains have a care label that says 'machine washable', then you can safely put them in the washing machine.
Just be sure to use a gentle cycle and mild detergent, and hang them up to air dry afterwards. With a little bit of care, you can keep your curtains looking their best for years to come.

I'm a mother of three who loves going on fun adventures with my family. With three little ones, I've learned the hard way how to keep a busy home clean! I want to share my tips and tricks to make your life as easy as possible.