Since the COVID-19 pandemic, face coverings have become a normal part of our everyday routines, and more and more people are opting to wear reusable masks.
Usually made from cotton, these face masks should only be worn once before being washed. But how do you wash a reusable face mask?
Most cloth masks will be machine washable and should be washed on a higher heat to help kill germs more effectively.
However, washing by hand is probably the best way to ensure your mask gets properly cleaned.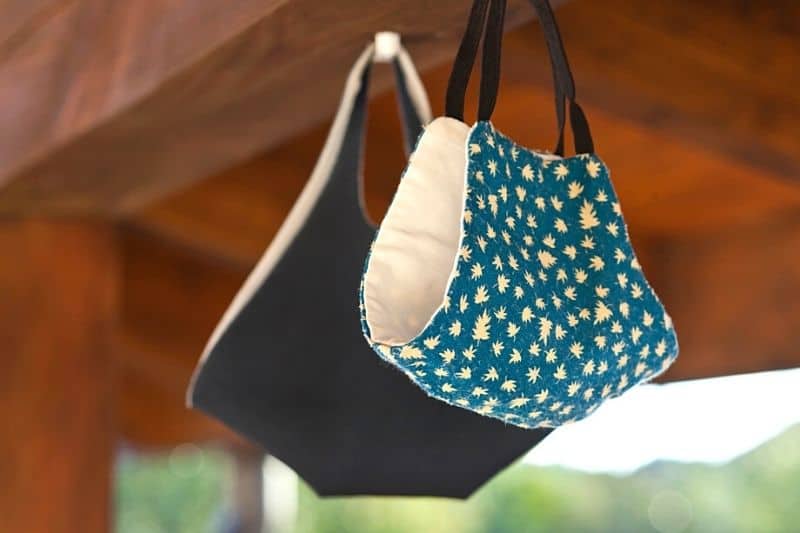 Washing Your Face Mask by Hand
To wash your face mask by hand all you need is some tap water and soap or your usual laundry detergent.
Make sure to lather up the fabric slightly and rinse thoroughly with clean water to ensure no detergent is left behind.
Use lukewarm water to wash your reusable mask and then rinse it with cool or room temperature water.
Bleaching your face mask
Some may opt to use bleach to clean face masks, but always check the label to check that your bleach has disinfectant properties and that it is not expired.
Never mix bleach with any other cleansers.
Follow the steps below to get bleach-clean masks every time:
Mix 5 tablespoons of suitable household bleach with 4 litres of room temperature water in a clean tub or bowl.
Soak your mask in this solution for around 5 minutes.
Rinse thoroughly to ensure no bleach residue is left in the fabric.
Drying reusable face masks
Once your mask is all clean and fresh, you can pop it into the tumble dryer on a warm or hot setting.
If you don't have a tumble dryer, hang your mask in direct sunlight to dry completely, or lay it flat and let it dry completely.
Drying face masks outdoors in the sunlight and fresh air is a great choice, but those prone to allergies may find that pollen can come into contact with the mask while it is on the line and this is not great for the wearer.
Opt to dry reusable masks indoors if you are allergic to grass or pollen.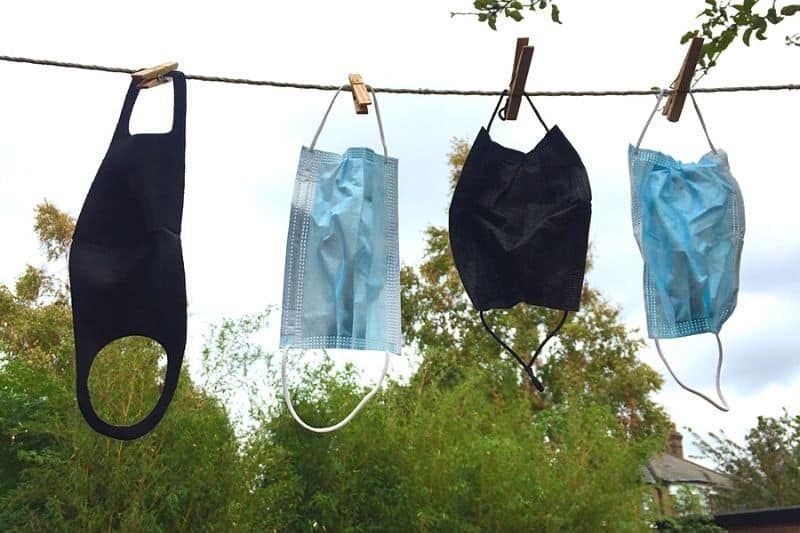 How to Wash a Face Mask with a Filter
Many good reusable masks will have a removable filter which slots inside the 2 layers of fabric, so these can be washed in the exact same way, just make sure to remove the filter before washing and dispose of it correctly.
Once your mask is washed and dried, you can place a new clean filter inside.
How to Wash Face Mask for Sensitive Skin
Since masks spend a lot of time against the skin on your face, it is important to only wash them with gentle detergents if you suffer from skin complaints and sensitivity.
Of course, when washing masks by hand, you can rinse them as much as you feel is necessary to ensure no irritant detergent gets left behind.
Gentle detergents
Find a non-bio or sensitive detergent to use for washing face masks (and your laundry) that suits your skin type and doesn't cause irritation.
Team this detergent with a sensitive fabric softener when washing your mask with your usual laundry load in the washing machine.
Opt for soft 100% cotton face masks if you have sensitive skin to make sure you are as comfortable as possible.
Cotton is the ideal material for reusable masks anyway, so it won't be difficult to find one suitable for skin sensitivities.
The Benefits of Choosing Reusable Face Masks
Reusable face coverings seem like the best choice for a lot of us – who might only be popping to the shops every so often or commuting to work each day – as there are plenty of benefits to reusing your face masks:
Great protection – Masks made from multiple layers of cotton and interfacing are ideal for keeping you and those around you safe. Masks with removable filters are even better, as these filters can be taken out and replaced once the mask has been cleaned.
Environmental reasons – Disposable masks may seem convenient, but they are adding to the huge amount of waste that humans already produce and they aren't made from compostable or biodegradable materials. Sadly, it is not uncommon now to see disposable face masks littered on the streets. Having a cotton mask which can be washed and reused many times over, is a great way to reduce this environmental impact.
Funky choices – Expressing our personalities through what we wear is something many of us enjoy, so making sure your face mask suits your style is another fun addition to a daily outfit. Just make sure to opt for fabrics which provide the best protection for you and those around you.
Supporting small businesses – Lots of crafty small businesses make great handmade masks which are available in a multitude of great designs, so why not get on Etsy or check your local sellers' pages on Facebook to find your reusable face masks?!
Keeping warm in winter – As it gets colder in the UK, masks are a welcome accessory – helping to keep our noses warm and maybe even protecting our lips from becoming chapped!
REMEMBER – Face masks should cover your nose and mouth, so if your mask feels a bit snug and your nose or chin pops out every time you talk, get a bigger mask – they are available in a multitude of sizes!
Thirty-something lady with a penchant for flowers and anything involving crafts. I like to clean using environmentally-friendly methods where possible and love sharing my findings, tips and tricks here on In The Wash!