If you suffer from sensitive skin or eczema it can be difficult to find a washing powder that is right for you.
You don't want your skin conditions to get in the way of a good quality washing powder, but you certainly don't want to choose a washing powder that could cause irritation or allergic reactions.
A family with sensitive skin needs to be careful with what they're putting into their washing machine.
So many people walk around all day uncomfortable and itchy and some may not even know this is thanks to their washing powder. This simply won't do! We all have important things to do during the day and constant itching isn't high up on the to-do list.
You don't want your skin conditions to get in the way of a good quality washing powder, but you certainly don't want to choose a washing powder that could cause irritation or allergic reactions.
If you or a family member suffer from sensitive skin or eczema, you'll know it can be difficult to find a washing powder that is right for you. A household with sensitive skin needs to be careful with what they're putting into their washing machine, as heavily scented products or washing powder with SLS can set off allergic reactions and flare up skin conditions.
Thankfully, there are some great washing powders available for sensitive skin. However, not all washing powders that say they are good for sensitive skin really do much at all.
This means that you can spend months (and a small fortune) trying to find the right product for your family and get nowhere. Well, not any anymore.
We've researched and found ten of the best washing powders for sensitive skin currently available in the UK, including inexpensive own-brand washing powders as well as more expensive eco-friendly products.
With any luck, you'll find the perfect washing powder for your family's sensitive skin below.
Best Washing Detergents for Sensitive Skin in the UK
1. Faith in Nature Aloe Vera & Rosemary Laundry Liquid

Particularly good for: Washing on low temperatures and eczema sufferers
Affordability: Mid-range
Faith in Nature's liquid laundry detergent is concentrated to reduce waste, and only uses natural, vegan-friendly ingredients that are gentle on skin. This liquid laundry detergent is concentrated to save on waste and is ideal for low-temperature cycles too.
This one liquid laundry detergent can tick a lot of boxes for a lot of households, and all without compromising on eco-worthiness. The Faith in Nature detergent is suitable for all manner of clothing, including knitwear, delicate fabrics, bright colours, and reusable nappies.
Overall, the Faith in Nature liquid laundry detergent is gentle on skin, and only lightly scented too which is ideal for those with scent sensitivities. The bulk 5 litre bottle is more than enough for 150 washes, and some users have reported that they have seen an improvement in skin complaints and irritations since using this laundry liquid.
2. Fairy Non-Bio Washing Powder

Particularly good for: Keeping clothing soft and smelling fresh, whilst being kind to skin
Affordability: Mid-priced
This Fairy washing powder has been awarded a seal of approval from the British Allergy Foundation, so it has to be a good washing powder for sensitive skin. Apparently, it is the world's softest non-bio washing powder. Most people who use it seem to agree too.
One thing to watch out for is that a few people have an allergic reaction to an ingredient used in the powder. This has caused a little trouble with some people, but most love it!
Overall, apart from the allergy issue, it's great. It cleans clothes exceptionally well, makes them smell wonderful and leaves your skin feeling all lovely and huggable. Make sure you read the label of this washing powder though—it would be a shame if your quest for washing powder great for sensitive skin ended up with a family member with a rash!
3. Persil Non-Bio Laundry Powder

Particularly good for: Its citrus scent and being gentle on skin with eczema
Affordability: Cheap
This non-bio washing powder from Persil is kind to you in many ways and it has been recognised by the British Skin Foundation.
Firstly, it's kind to your skin which is great, but it also cleans brilliantly, even at lower temperatures, so your clothes will be fresh and clean no matter what. It also works great on stains too so pretreating may not be needed.
This washing powder does fall down a little when compared to the others on the list, though. It has a few more chemicals in it than other washing powders so some people may find it great, others less so.
It does perform really well in the wash, and makes clothes look and smell excellent. But if you're a family that suffers badly from sensitive skin, perhaps look at some of the other gentler and less scented washing powders on this list.
4. Presto! Powder Detergent Sensitive
Particularly good for: People on a tighter budget looking for a non-bio, sensitive washing powder.
Affordability: Very Cheap
As if Amazon hasn't got their fingers in enough pies, they are now manufacturing their own everyday household products! This sensitive non-bio washing powder is the cheapest in our list, yet it has some great reviews.
Presto! Powder Detergent has been developed to be tough on stains but gentle on skin, with no enzymes in their non-bio formula. Unfortunately, there are phthalates included in the ingredients, so if you know you or a family member have reacted to products with these before, perhaps this could be one to avoid.
There is a mild floral and fruity scent to this washing powder, which will leave your laundry smelling delightful and feeling soft. The concentrated formula means that you don't need to use as much per wash – saving you money and water.
Always check all of the ingredients before purchasing, as you may have allergies to some of the listed chemicals.
5. Ecoleaf Concentrated Non-Bio Washing Powder
Particularly good for: Lovers of eco brands with recyclable packaging and for those who enjoy a stronger scent on their washing.
Affordability: Cheap
Ecoleaf is one of the many brands which have made it their mission to provide products which are more environmentally-friendly than generic household branded items. Their Concentrated Non-Bio Washing Powder comes in a recyclable paper bag and the powder itself is biodegradable. As well as being great for those with sensitive skin, this cruelty-free product is also suitable for Vegans.
There are no parabens or phthalates in the Ecoleaf washing powder, but it does have a relatively strong scent, so if this is something you don't like, then avoid this product.
This laundry powder may struggle to dissolve in cooler temperatures and any heavy stained items will probably need pretreating before washing with Ecoleaf. This would be better suited perhaps to hot washes of towels and bedding, rather than cool clothes washes.
The lower price per wash makes this a good contender for those hoping to save some money on their bills as well as helping to save the environment.
6. Ecoegg Laundry Egg
The Ecoegg is used by many who have skin complaints and has proven to be quite sensitive. The pellets dissolve slowly with each wash, meaning you get a great deal for the amount you spend on your egg.
The pellets can be refilled too, so you save money each time, not having to buy another complete Ecoegg.
These mineral-based pellets create a natural foam which helps to lift away grime and dirt from your clothing and leave it fresh and clean, without the use of harsh chemicals.
Because there is no powder involved, there is no risk of clumps or residue being left on your favourite top or trousers. The Ecoegg works great in low and high temperatures too!
The 100% fragrance-free variety of this product is supported by the National Eczema Society and Allergy UK, so this could be a great option for many with sensitive skin.
7. EcoGurus Eco Laundry Detergent
Particularly good for: Baby clothes, allergies, and eczema
Affordability: Expensive
The EcoGurus laundry detergent is free from all the nasty chemicals that you can find in many mainstream alternatives, yet still promises a sparkling wash.
This laundry detergent is perfume free, and is designed for baby clothing, those with allergies, pets, or simply skin that is irritated by regular detergents. The EcoGurus laundry detergent provides great cleaning results on all wash temperatures, from gentle 30° cycles, all the way up to more intensive 90° cycles.
Overall, users report that the EcoGurus laundry detergent provides great cleaning performance on even tough stains, and clothing is left smelling clean, but without an artificial or overbearing fragrance.
8. Dri-pak Liquid Laundry Soap
Particularly good for: All types of clothing, including waterproof outdoor fabrics that can be damaged by other detergents
Affordability: Cheap
Dri-Pak's laundry soap is an affordable detergent choice that uses only pure soap, with no added fragrances or harsh chemicals. This laundry soap is suitable for both vegetarians and vegans, and does not contain any palm oil.
The soap is designed to be instantly soluble and is therefore suitable for use in even cold water. No residue is left behind either on the fabric or in the detergent drawer after cleaning,
The delicate formula can be used for all delicate or tough fabrics and is also ideal for cleaning outdoor fabrics as the soap does not damage waterproof coatings.
Overall, users report that this soap is a great alternative to some of the typical laundry detergents available, and that it is ideal for tackling even specialist laundry tasks, like waterproof outerwear. This liquid soap is even gentle on skin if you need to handwash garments too.
9. Bio D Washing Powder
Particularly good for: Those who are ecologically conscious, as it comes in a paper bag and is not tested on animals. It's non-toxic and kind on the skin.
Affordability: Expensive
Bio D is a non-bio washing powder that can be used in any washing machine or for hand washing. It does an exceptional job at keeping your clothes looking bright and fresh and taking care of your skin too. The washing powder is also great for the environment, thanks to the biodegradable bag it comes in and the way it's made. It's also ethically sound, which is lovely.
Overall, this is a fantastic washing powder made by a great company. Care should be taken with its ingredients, once again, just to make sure that none of your family is irritated by them. If they aren't, enjoy a great washing powder by an environment-friendly company.
10. Ecozone Soap Nuts
Soap nuts are actually found growing on trees, so you can't get much more natural than that. These natural cleaners are ideal for anyone who suffers with allergies because they are hypo-allergenic and supported by Allergy UK.
Soap nuts create a natural surfactant and use no fragrances, parabens or phthalates, so you get fresh, clean washing without any nasties to cause skin irritation. Gentle on your skin and gentle on your clothes!
They are, of course, Vegan friendly, biodegradable and haven't been tested on animals, so they are a very eco-friendly laundry solution.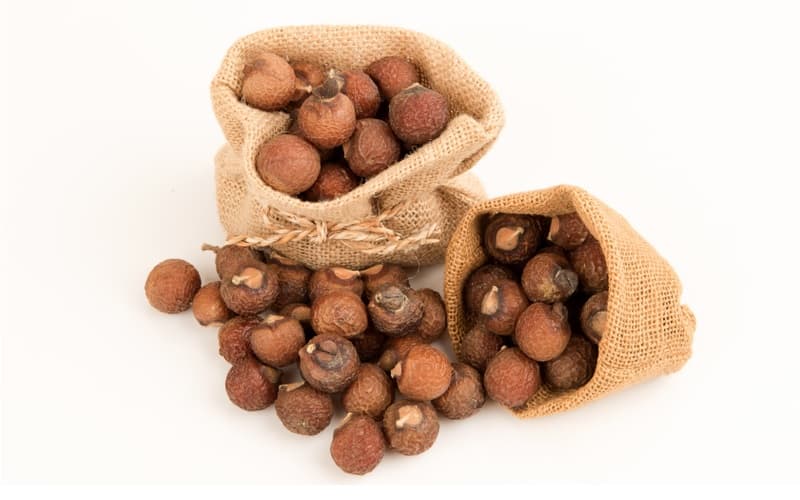 Tips for Choosing Washing Powder for Sensitive Skin
Always read the label! If you have a skin condition you are probably used to checking the label on anything your skin will come into contact in – anything to avoid irritation! When checking the label on washing powders look for the words hypoallergenic or non-bio.
The word 'hypoallergenic' refers to products that cause less allergic reactions that average so it's certainly a positive if this is printed on the label.
Non-bio products do not contain enzymes. Enzymes can irritate the skin, so avoiding products with them should help to keep irritation at bay.
Go for fragrance free. Although non-bio products have been proven to prevent irritation, studies have shown that more importantly, your products should be fragrance free. Dyes and fragrances are the main causes of allergic reactions, so staying away from them is a must.
Know what your sensitivities are. Brighteners, bleach, petrochemicals and phosphates – all of these could cause skin irritation. If you see a doctor about your skin condition, ask them which particular ingredients you're sensitive too and stay away from these at all costs. Alternatively, a trial and improvement method can work too – if a product doesn't work for you, try a new one! Keep testing different products until you find the right one for you.
Look at the other products you use. If you use other skincare products that work well for you, take a look at their label. Your sensitive-skin moisturiser or sun cream might give you a clue as to what you should look out for when finding the perfect washing powder for you.
Powder over liquid. Tests have shown that powders are preferred by far over liquid washing detergent. This could be down to the fact that liquids can cause scum to build up in your washing machine, and excess detergent on your clothing increases the risk of irritation. If you're using a liquid and it's not kind to your skin, switch to powder.
Avoid fabric softeners. Most softeners contain chemicals and fragrances that could be harmful to sensitive and allergy prone skin. The best thing to do if you do have sensitivity is to avoid fabric softeners all together, though some hypoallergenic variants can be found.
Top tip: Substitute fabric softener for white vinegar which can help remove traces of hard water residue and soften your clothes without affecting your skin.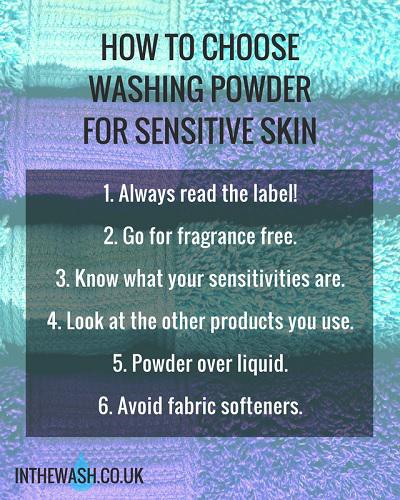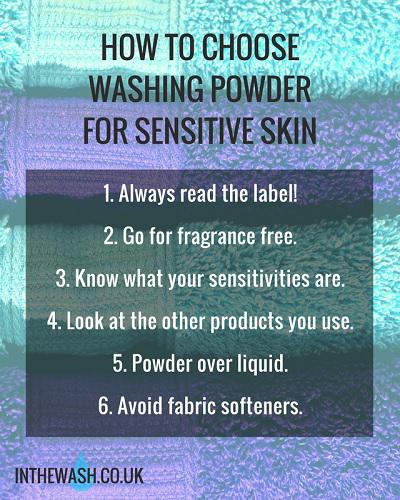 Laundry Tips for People with Sensitive Skin
Here are a few tips to help reduce the effect of laundry detergent on your skin:
Give your clothes an extra rinse. If your washing machine has the option of an extra rinse cycle, use this to remove laundry detergent before your clothes come out of the machine.
Don't overuse laundry detergent. Washing powder is more concentrated than it used to be, so you don't need use much. Check the instructions on the product's packaging and make sure you're using the correct amount—and no more.
Experiment with different laundry detergents. It might take a few tries before you find the right detergent. Look for washing powders that are free from fragrances.
Signs You're Allergic to Your Laundry Detergent
These are a few symptoms of an allergic reaction to washing powder or laundry detergent:
Itchy rashes forming on the skin after putting on newly washed items for the first time.
Rashes that form 12-72 hours after exposure.
Sneezing or a runny nose
Itchy eyes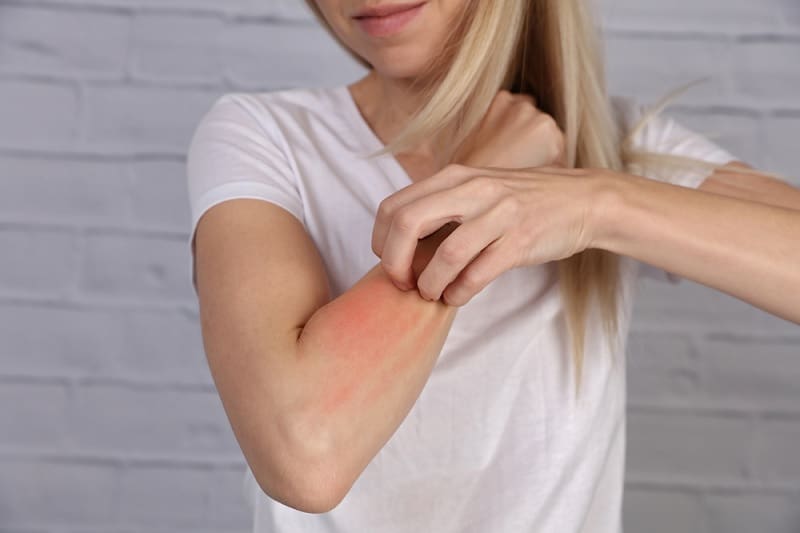 Which Ingredients Cause a Reaction?
If you think you're allergic to your washing powder, the problem will be with a particular ingredient rather than the washing powder as a whole.
Some of the most common allergens in laundry detergents include the following:
Fragrances. It can be hard to indentify whether or not a washing powder contains fragrances. Look for powders that are advertised as fragrance-free.
Sodium Lauryl Sulfate and Coconut Diethanolamide. These two ingredients are both foaming agents that can cause dry skin by interfering with the natural oils on your skin.
Consider buying a hypoallergenic laundry detergent if you suffer from an allergic reaction. The 'hypo' in hypoallergenic essentially means 'less', so a hypoallergenic laundry detergent is designed with as few potential allergens as possible.
How to Do Laundry if Your Baby Has Sensitive Skin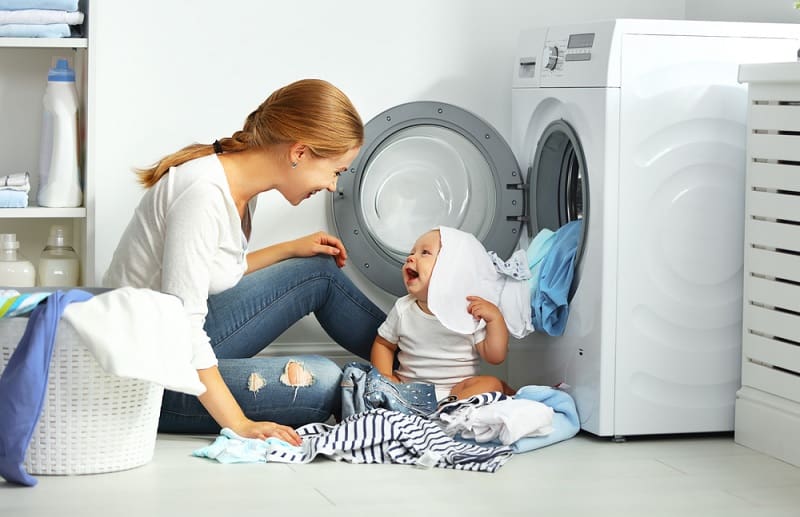 If your baby has sensitive skin it's likely that you'll be concerned about using laundry detergents that could potentially make your little one's skin slightly worse.
There are many different brands of laundry detergent out there, and fabric conditioner too.
So how do you do your laundry if your baby has sensitive skin, and how can you stay away from those detergents that could irritate skin that is prone to eczema?
We're going to take a look at this now.
How your baby's skin reacts to laundry detergents
Your baby's skin may be sensitive or even be prone to eczema because of the laundry detergent residue that can be present in the garments after washing.
In fact, if the clothes come out of your washing machine a little stiff it could be due to the build-up of detergents in the fabric. 2% of the weight of the garment could be made up of the detergent you use, which is a significant amount.
There is another reason why your little one reacts to laundry detergents. Even some of the most sensitive detergents out there contain chemicals and other additives that could be quite irritating towards your baby's skin.
These additives include:
Diethyl phthalate
Dibutyl phthalate
Dimethylphthalate
These additives are often used in laundry detergents to help them smell nice, and although most of us like the smell of the detergent we use, the phthalates could be damaging your baby's skin.
But phthalates are not the only things you should consider staying away from; you may also want to reduce your use of stain removers as they tend to be highly concentrated and can simply be a stronger version of your laundry detergent.
Again, stain removers can build up in your baby's clothing, so you may want to refrain from using them as much as you can.
If you do need to use a stain remover, we recommend that you soak the clothing in bicarbonate of soda and water, and place them straight into the wash.
You may also want to think about using laundry detergents and stain removers that are allergy-friendly as they can help to reduce outbreaks of eczema.
Tips for Minimising Skin Irritation
The good news is there's a real solution to your baby's sensitive skin issue, and it's one that you and your whole family can work around relatively easily. Here are just a few suggestions that could make a huge difference:
Reduce the build-up of detergents by rinsing the clothes again, once the original wash cycle has finished. Once the additional rinse cycle has been completed, use a spin cycle to wash out the hidden detergent.
Limit your use of laundry detergent. You don't always need to use as much detergent as the manufacturer tells you, and in most cases, you can probably use half the amount. If your clothes are very dirty you may want to think about adding some bicarbonate of soda to the load. 1 or 2 tablespoons of bicarb will usually do the trick.
You may want to consider purchasing eczema-friendly laundry liquid. Products such as these can usually be found online or in some health food stores, but they can be a little expensive.
Avoid using laundry detergents and fabric conditioners that are heavily scented as the phthalates that are found in the scents can cause irritation.
Consider using soap flakes instead of detergent. Soap flakes tend to be a lot less irritable to the skin, but your little one's clothes will need an extra rinse and spin cycle as there will be some leftover residue at the end of the cycle.
While every baby reacts differently to laundry detergent, there are some steps you can take to minimise skin irritation.
If you are concerned about your little one's skin, please speak to your doctor as they may have some useful advice.
With a little bit of effort and with a small change to your laundry habits you too could find that your baby's sensitive skin is no longer an issue.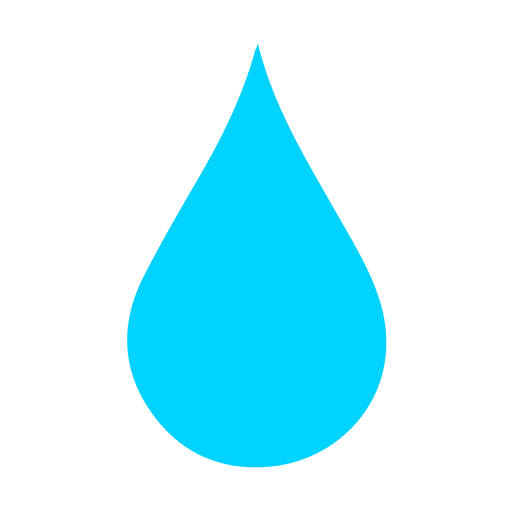 In The Wash is your guide to the best laundry and cleaning products, tips and tricks. Our mission is to solve the UK's cleaning and laundry dilemmas!