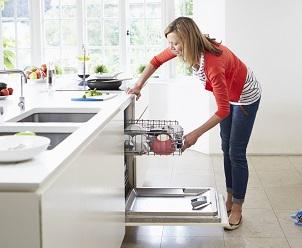 Finding the best dishwasher is not always that easy, particularly as there are so many different makes and models on the market. Here is where we hope to make your search just a little bit easier. Carry on reading to learn about 5 of the best dishwasher brands in the UK.
Beko
Based in Europe and a subsidiary of a Turkish company, Beko was established in 1955 and has since become a household name. They have a reputation for being a good budget brand, and according to their website 96% of their customers would recommend their appliances.
Beko provide a range of freestanding and integrated dishwashers, making them ideal for all kinds of home in UK. Slimline and full-size dishwashers are also available, catering to space and need. Beko typically sells dishwashers that come with a white, stainless steel, silver, graphite or black finish.
Although Beko is a budget range their dishwashers come with many different features such as:
Aquaintense
Everclean filter
Additional cutlery tray
Quick and clean programmes
Time delay
Steamgloss
Fast+
Half Load
Time remaining display
Prosmart inverter motor
While many of Bekos dishwashers come with an A+ energy rating, some of the more expensive models feature an impressive A+++ rating, meaning they are more energy efficient than ever before. A budget range but with a lot to offer, Beko is certainly making a name for itself.
Bosch
Based in Germany with offices and factories throughout the world, Bosch invented their first appliance in the late 1920's. With a reputation for being one of the best home appliance providers, Bosch continues to grow and develop. Currently manufacturing appliances for the home, Bosch has recently started making smart products including a wide range of impressive dishwashers.
Selling freestanding, built-in, and compact dishwashers, Bosch has ensured that they have a dishwasher for everyone. Potential customers can also choose between dishwashers of specific widths making them ideal for even the smallest kitchens.
Known throughout the world, Bosch dishwashers come with a lot of different features including:
Differing noise levels
Widths of either 45 or 60 cm
1 hour-programme
ExtraDry
Heat exchanger
VarioFlex Plus
VarioFlex Pro
Zeolith
Available in black, stainless steel or white, Bosch dishwashers have something for everyone.
Hotpoint
Based in the UK and manufacturing products since 1911, the Hotpoint brand is still going strong more than 100 years later. With a reputation for being a trustworthy manufacturer Hotpoint dishwashers come in many shapes and sizes with integrated and slimline dishwashers available along with traditional ones as well.
Hotpoint dishwashers offer a number of different features including:
Digital or LCD display
Dual space
Extra silent
Zone wash
A specific number of wash programmes
Hotpoint is a mid-range to high-end brand that can be found in millions of homes around the country. Available in black, graphite, stainless steel or white, Hotpoint offer dishwashers that are ideal for busy or quiet homes, and those who wish to spend a little more on a brand that has a trusted reputation and sells a product approximately every 19 seconds.
Indesit
Based in Italy and founded in 1975, Indesit has made a name for itself in Europe as being one of the leading manufacturers of domestic appliances.
Selling fully integrated and half integrated dishwashers along with freestanding, and one compact dishwasher, Indesit have tried to cater to everyone's needs.
Indesit dishwashers come with a lot of different features including:
A number of different place settings
3 energy classes
eXtra hygiene
Half load
Delay timer
Baby care cycle
Available in white, silver, inox (steel) and black, Indesit is a mid-range brand that offers a wide variety of dishwashers, ideal for almost every home.
Smeg
Established in 1948, and based in Italy, Smeg introduced its very first dishwasher in 1963, and the company has continued to grow ever since. With a reputation for producing both 1950's retro and modern-looking dishwashers, Smeg is a high-end brand that produces both built-in and freestanding dishwashers. Features found in Smeg dishwashers can include:
ECO
ECO quick
Normal quick
Ultra clean
Enersave
Aquatest
Time delay
Widths of either 45 or 60 cm
Adjustable water softener
Energy ratings up to A+++
Smeg is a high-end brand that offers a sleek design, and with dishwashers available in stainless steel, black, white, red or cream. Smeg dishwashers are becoming an increasingly popular brand in the UK thanks to their unique finishes and impressive energy ratings.
Related posts