An integrated dishwasher is designed to be concealed behind a cupboard door when shut. It's the perfect way of getting the cleaning power of a dishwasher into your kitchen while keeping the aesthetics of it intact.
Now, if you've been shopping for an integrated dishwasher for some time, you may have noticed that they often cost a little more than freestanding models.
This cost difference is because they need to be designed to work in enclosed spaces. Ventilation, water management, size and more must be taken into consideration by the manufacturer during the design process.
On the installation side of things, integrated dishwashers are also a little bit more trouble. It can cost you a little more to install an integrated dishwasher than a freestanding model due to it being more complicated and taking more time.
To ensure you end up with the look you want, you also need to make sure you are buying a machine that will fit perfectly in place with the door fitted. This can narrow down your choice somewhat.
Having said all of that, integrated dishwashers do work brilliantly and can make your kitchen look beautiful. A freestanding dishwasher does give a kitchen an unfinished looked while an integrated one can add even more to an already beautiful design.
So, if you're kitchen is about to get redone, and you'd like to finish the design off perfectly, here are some great integrated dishwashers that can help you do just that. We hope you find this list helpful in creating a wonderful kitchen for your home.
Best Integrated Dishwashers in the UK
1. Bosch Serie 6 SMV6ZCX01G Standard Fully Integrated Dishwasher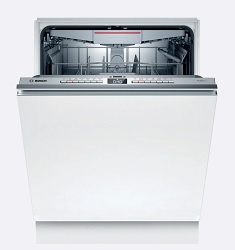 Key features
Adjustable racks for bigger items
Can be controlled from your phone
14 place settings
The TimeLight feature helps you keep track of the wash cycle
Pros
Nice and quiet
Lots of space, and even more if you use the adjustable features
Clear controls, and easy to use with your phone
Cons
If you have light flooring, the timer light can be difficult to see
Summary
This integrated dishwasher from Bosch is packed full of so much tech, but it is so easy to use at the same time.
Take the PerfectDry feature as an example. It uses minerals to help dry those last few drops of water to ensure a streak-free shine. Now you never need to wait for your dishes to dry.
Once the dishwasher is finished the cycle, you can pop your plates away straight away.
The VarioDrawer system is also really awesome. This allows you to customise the space in your dishwasher to fit everything.
You can adjust the space to hold cutlery or the biggest pots and pans you own. And it's so easy to adjust as well.
The TimeLight is also really handy. The dishwasher shines a timer onto your floor to allow you to see how long the cycle has left. You can even see which mode the dishwasher is on with this feature too.
With plenty of features and an easy-to-use control panel, this dishwasher is ideal for a modern home where simplicity meets functionality perfectly.
2. Hotpoint HSIC3T127UKN Fully Integrated Slimline Dishwasher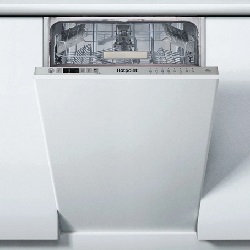 Key features
10 place settings
47 dB noise level
E energy rating (this product would have been rated A++ on the old scale)
Dimensions: 82 x 44.8 x 55.5 cm
1 year manufacturer's warranty
Pros
30-minute quick wash cycle
Fairly quiet during use, ideal for entertaining or open plan living
Easy to use
Smart appearance
Good value for money
Perfect for small kitchens
Cons
Some people find dishes come out still wet
Height adjustment is fiddly
Summary
This Hotpoint dishwasher is an ideal choice for smaller households or kitchens where space is at a premium.
If you're in a rush, the quick wash cycle takes just 30 minutes, and the eco cycle will cut utility costs whilst still offering good performance.
The dishwasher is easy to use and has a smart appearance that will look right at home in just about any kitchen.
Whilst this Hotpoint dishwasher is fairly quiet during use and does offer good value for money, some people do find that dishes still come out wet after the drying cycle completes.
Some users may also struggle with the height adjustment and fitting in large or awkward items.
3. Bosch Serie 2 SPV2HKX39G Fully Integrated Slimline Dishwasher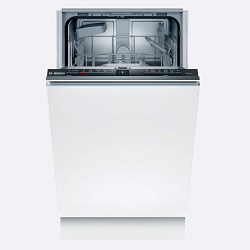 Key features
9 place settings
48 dB noise level
E energy rating (this product would have been rated A+ on the old scale)
Dimensions: 81.5 x 44.8 x 55 cm
2-year manufacturer's warranty
Pros
29-minute quick wash
Feature that ensures plastics are properly dry
Auto programme saves electricity and water
Home Connect app lets you schedule cycles and check progress from your phone
Perfect for small kitchens
Good cleaning performance
Cons
Making the most of the settings requires a learning curve
Top tray is awkward to use
Included cutlery basket is quite small
Summary
This Bosch Serie 2 fully integrated dishwasher is packed with handy, modern features designed to make the process of cleaning your dishes even easier.
This small, slimline dishwasher can handle nine place settings, perfect for smaller households, and the 29-minute quick wash cycle is a lifesaver if you're in a hurry.
The dishwasher has an ExtraDry programme to ensure that all of the dishes are perfectly dry at the end of the cycle, and the automatic programme can help to save you money on your electricity bills too.
However, some people do find that the settings are complicated at first, so you will need to make sure you read the instructions properly. In addition, some users have found that the top tray is fiddly to use.
4. NEFF N30 S153ITX02G Fully Integrated Standard Dishwasher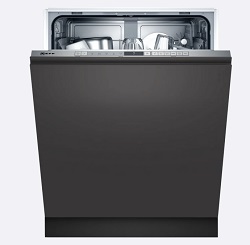 Key features
12 place settings
Higher temperature mode gets rid of stuck-on food quickly
Dries efficiently while using less energy
Offers a powerful localised cleaning zone
Pros
Designed to last
The speed setting makes light work of everyday dishes
Cleans and dries incredibly well
Very easy to use, despite the number of modes and functions
Cons
The favourite mode is difficult to set on the control panel for some. This is a mode you can set up to be your go-to mode, and this can be quite confusing to set up on the panel. However, you can use the app to make this much easier.
Summary
This NEFF dishwasher has so many features that we won't be able to cover them here, so we'll pick our favourites.
The first is the amazingly powerful PowerZone. Ever had a pot or pan that will not get clean no matter how times you run it through the dishwasher? Well, this is the zone to use.
Place the pot in the correct area in the dishwasher, and localised, intense water pressure will blast off stuck-on food and stains. It is amazing how well this works!
There is also a more intense mode that all of the pots, pans and dishes can enjoy.
The Chef 70-degree Celsius mode blasts through so much stuck-on food it is incredible. And the dishwasher uses residual heat from the cycle to dry the dishes, so you'll be saving energy with each wash!
NEFF has designed this dishwasher for busy family homes. It is a great size, and all of the modes and features are designed to help make washing your dishes much easier and quicker.
5. Bosch Series 4 SMV4HTX27G Fully Integrated Standard Dishwasher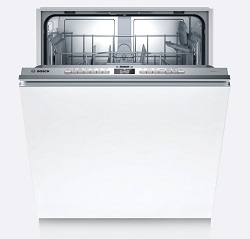 Key features
12 place settings
SpeedPerfect+ speeds up washing your dishes
Smartphone compatible
Heat Exchanger drying
Pros
Nice and quiet
So many modes, but they are so easy to use
Nestles nicely into any kitchen thanks to the integrated design
Cons
While the control panel is fairly straightforward to use, it can be a bit complex for those not technology-minded.
Summary
This dishwasher has 12 place settings. This means it's ideal for a family without taking up too much room in the kitchen.
While there are loads of handy features on this dishwasher, we'd like to discuss the impressive SpeedPerfect+ mode here. Select this mode, along with your preferred go-to mode, and it will cut the washing time in half.
This is perfect if you want to run the dishwasher quickly if the dishes aren't too dirty. Or if you only have half a load of dishes that you need cleaning quickly.
Bosch's Home Connect App also sends you alerts about the dishwasher too. So, there's no need to get up from the sofa to see if the cycle is done. You'll get a notification from your phone!
You can also set up loads of the features on this dishwasher directly in the app, and this makes it so easy to use all of the incredible features that Bosch has built into this machine.
6. Indesit DIE2B19UK Fully Integrated Standard Dishwasher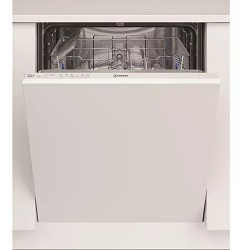 Key features
13 place settings
Extremely straightforward to use
28-minute quick wash mode
Powerful water jet function cleans dishes in no time
Pros
Really easy to use
Fantastic price for a dishwasher that has such good features
Plenty of space for the family's dishes
Cons
At 49 dB, this dishwasher certainly isn't loud, but it is louder than some on the market.
Summary
If the dishwashers above seemed to have a bit too many features for your liking or were a bit out of your price range, this dishwasher from Indesit may be right up your street.
At a fantastic price, this dishwasher comes with some amazing features and modes, but they are all designed to make washing your dishes really simple.
The Push & Go button, for example. Press this button, and the dishwasher will start an everyday cycle, so you don't need to worry about setting the machine up perfectly each day; it does it for you.
Need to wash your dishes quickly? No worries! The quick-wash cycle gets your dishes clean in under thirty minutes!
There are still some excellent features built into this dishwasher, but most are automatic, so you can spend less time learning how to use your dishwasher and more time enjoying clean, streak-free dishes.
7. Beko DIS15020 Fully Integrated Slimline Dishwasher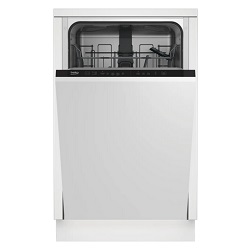 Key features
10 place settings
49 dB noise level
E energy rating (this product would have been rated A++ on the old scale)
Dimensions: 81.8 x 44.8 x 55 cm
2-year manufacturer's warranty
Pros
30-minute quick wash cycle
Eco programme to save energy and water
Drying function works well
Easy to use
Very affordably priced
Ideal for small kitchens
Cons
Instructions aren't very clear for some features, such as water hardness
Some big dinner plates don't fit
Plastic accessories feel flimsy
Summary
This Beko dishwasher is incredibly affordably priced and perfect for smaller households or kitchens where space is limited.
The 30-minute quick wash programme can help you tackle lightly soiled dishes in a hurry, and the economy programme will save you money on your electricity and water bills.
Some users do find that the instructions aren't very clear for some settings, such as the water hardness, and it can be tricky to fit larger items in the trays.
Overall, this dishwasher from Beko does a great job of the basics, but does not have all the fancy, modern features that you would find on a more expensive model.
Pros and Cons of Integrated Dishwashers
Today, there are a huge range of dishwashers available on the market, both in freestanding and integrated versions.
If you are considering purchasing an integrated dishwasher, you might find yourself wondering whether or not this is the right choice for you.
Keep on reading to find out more about the pros and cons of an integrated dishwasher.
Price
Whilst both freestanding and integrated dishwashers vary greatly in price depending on features, energy ratings and capacities, it is worth noting that on average, an integrated dishwasher is more expensive than a freestanding one.
Appearance
In terms of appearance, integrated dishwashers are often much more aesthetically pleasing than freestanding alternatives are.
If you have a fully integrated dishwasher that requires its own cabinet door, it will fit into your kitchen seamlessly giving a sleek appearance.
Noise
The fact integrated dishwashers are surrounded on all sides and have their own cabinet door makes them much quieter than their freestanding alternatives. This makes them a perfect solution for kitchens used for entertaining and open plan living spaces.
Convenience
There are a couple of reasons that integrated dishwashers can be less convenient than their freestanding counterparts.
The first is that many integrated dishwashers will need their own cabinet door. Not only can this be tricky to sort in the first place, it will also need removing and reattaching if you replace the appliance in the future.
The fact integrated dishwashers are surrounded on all sides and need to be fixed in place also makes them harder and more time consuming to install than freestanding versions.
The culmination of these two problems means that they are harder to take with you if you move home.
Full-Size vs. Slimline Dishwashers
Dishwashers are a great addition to a kitchen, but that doesn't mean that they are a one-size-fits-all solution. There are a variety of differences between the two that will help you decide which is best for you.
Size
As a general rule, a full-size dishwasher is 60 cm wide and can hold an average of 12 place settings which is ideal for a larger household, whilst a slimline dishwasher is 45 cm wide and can hold around 9 place settings, which is better suited to smaller households or families.
This 15 cm difference in width means slimline options are much better suited for smaller kitchens than full size models are.
Price
Slimline dishwashers are cheaper than full size versions, however the amount that you could save will vary depending on the brand and size of the appliance. On average, however, the price difference between a full-size dishwasher and a slimline dishwasher is about £50.
Water usage
On average, a full-size dishwasher will use between 10 and 12 litres of water per cycle, and a slimline dishwasher will use between 9 and 11 litres.
When you compare this to washing dishes by hand, which can use between 40 and 60 litres of water, you can save quite a lot on your water bills by swapping to a dishwasher.
You will likely use even less water with a slimline dishwasher. However, the difference is not that great.
Summary
Overall, the biggest difference between slimline and full-size dishwashers is the size. If you have a smaller kitchen, a slimline dishwasher is much easier to squeeze in than a full-size model is.
In terms of cost, a slimline dishwasher will not save you that much in terms of running costs or purchase price when compared to a full-size dishwasher.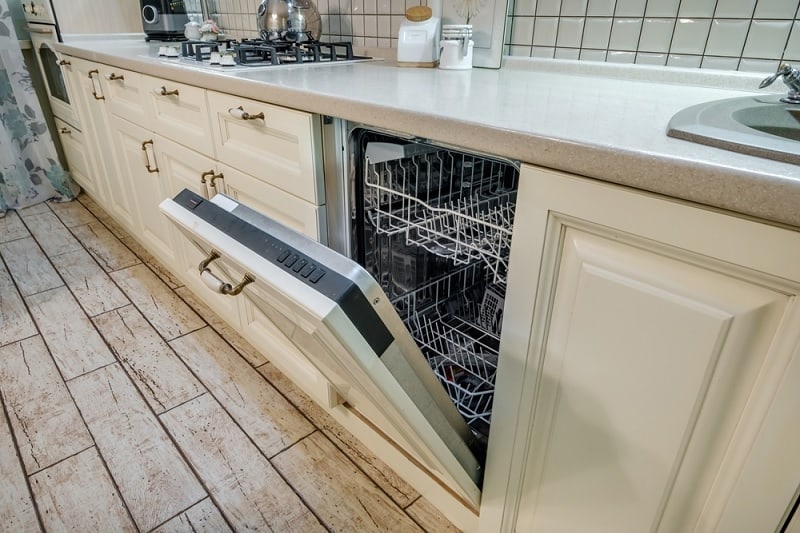 Integrated Dishwasher FAQs
What installation requirements do integrated dishwashers have?
The three most crucial things an integrated dishwasher will need are a power supply, a water supply, and adequate water drainage. The water drainage could simply be connected to the existing drainage under the sink in your kitchen.
Beyond this, you will need to make sure you have ventilation space around the dishwasher, and that you have a cupboard door to fit to the front of the appliance.
Are integrated dishwashers a standard size?
Integrated dishwashers come in two sizes – full size and slimline. A full-size dishwasher is 60 cm wide, and a slimline dishwasher is typically 45 cm wide.
The exact depth of the appliance will vary depending on the brand and model. So, make sure you check and measure the space before you make a purchase.
What's the difference between a semi-integrated dishwasher and a fully integrated dishwasher?
Both types of integrated dishwasher are designed to be sleekly tucked away behind a cabinet door in your kitchen to give a sleek finish.
A fully integrated dishwasher will be entirely covered by a cabinet door, which means that when the dishwasher is shut, you will not be able to see the control panel as it will be tucked away underneath the work surface.
With a semi-integrated dishwasher, the control panel is at the top of the front of the dishwasher, and so it is not covered by the cabinet door or tucked away underneath the work surface when the dishwasher is shut.
Do you need a special door for an integrated dishwasher?
If your dishwasher needs a door, you can typically use the same doors you have on your cabinets, the size might just be slightly different and instead of being fixed with hinges, they are attached directly to the front of the dishwasher.
Some dishwashers, for example, have a panel at the top that does not get covered by a door. These dishwashers will need a considerably shorter door than a fully integrated dishwasher would.
Conclusion
We hope this list of integrated dishwashers has helped find the perfect one for your kitchen. If we had to pick just one integrated dishwasher to recommend, it would be the Bosch Serie 6 SMV6ZCX01G as it cleans dishes very effectively and is packed full of modern features while being easy to use.
However, it's a bit pricey, so if you're on a budget it's worth checking out the Indesit DIE2B19UK. It has a good selection of features including a very handy 28-minute Quick Wash programme.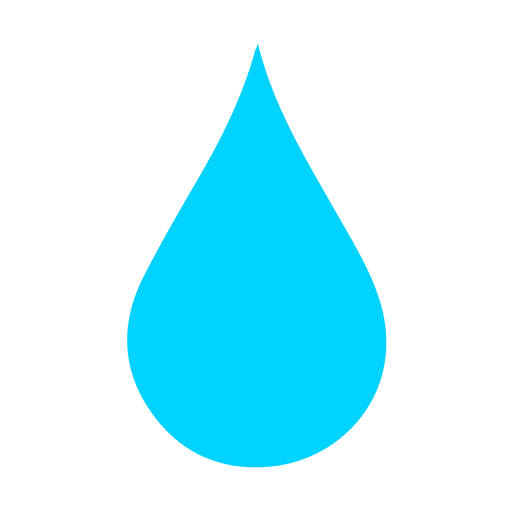 In The Wash is your guide to the best laundry and cleaning products, tips and tricks. Our mission is to solve the UK's cleaning and laundry dilemmas!