A noisy dishwasher can be a nuisance. It can disturb you while you're trying to relax, and even keep you awake at night.
That's why quietness is one of the main things people look for when choosing a dishwasher.
Noise levels are measured in decibels (dB). The average budget dishwasher makes roughly 48-50 dB of noise, which is about the same volume as a normal conversation. Anything below 45 dB can be considered 'quiet'.
While you might not expect there to be much difference between 50 dB and 40 dB, there actually is a big difference.
This is because decibels are measured on a logarithmic scale, so a 50 dB dishwasher will actually sound about twice as loud as a 40 dB dishwasher.
Quietest Dishwashers in the UK
1. Hotpoint HFC3T232WFGXUK Standard Dishwasher
Noise level: 42 dB
Type: Freestanding
Place settings: 14
This Hotpoint standard dishwasher holds 14 place settings, making it more than ideal for medium-sized households.
If you've forgotten to start the dishwasher before your guests arrive, the quick wash cycle will have the dishes sparkling and ready to use in just 30 minutes.
For families that are prioritising energy savings, the Eco Cycle is the perfect choice. This cycle uses less water which is heated slower, helping you to save money on your bills.
At 42 dB, this Hotpoint dishwasher might not be the quietest on this list, but it still is quiet enough for use in open-plan living spaces.
This dishwasher is an affordable choice, proves to be easy to use, and can tackle even tough tea stains on the most eco-friendly, gentle cycles.
However, some people do find that the cutlery drawer is fiddly, and that it can be tricky to wash tall glasses in the top rack.
2. Miele G7460 SCVi Integrated Dishwasher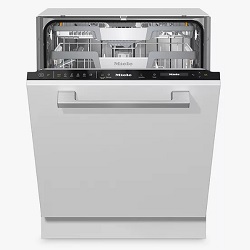 Noise level: 42 dB
Type: Integrated
Place settings: 14
This integrated dishwasher from Miele has 14 place settings making it ideal for a family home. It is also whisper-quiet, coming in at just 42dB!
You comfortably have a conversation right next to this dishwasher, and it won't interrupt at all!
Along with the quietness of this dishwasher, there are loads of other things to love. Firstly, it has an auto dose feature, so you won't be using any more washing solution than you need.
It can also automatically adjust the load times depending on how much stuff you put in it. This means you can stack it half full and use just the right amount of energy to wash those dirty dishes.
This dishwasher also has an AutoOpen drying function. Once the dishes are clean, the door will open and allow the dishes to dry quickly.
Plus, there are eco-modes, quick wash functions and loads of other really handy features, all nicely laid out and easy to find on the digital display.
3. Whirlpool WIO3O33PLESUK Fully Integrated Standard Dishwasher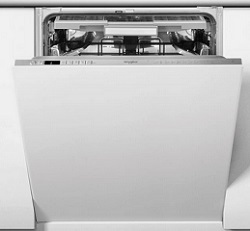 Noise level: 43 dB
Type: Integrated
Place settings: 14
Whirlpool's integrated dishwasher is packed with features that can make a difference.
The dishwasher can hold 14 place settings, making it ideal for a medium-sized family.
If you've forgotten to start the dishwasher, you can have your dishes ready when you need them thanks to the 30-minute quick wash cycle.
In addition, this Whirlpool dishwasher has "6th Sense Technology", which weighs each and every load, before adjusting the water and energy usage to suit.
This can help reduce your energy and water usage, saving money on your utilities.
The baskets and racks are adjustable, making it easy to fit large or bulky pots and pans.
At the end of the cycle, the door will open slightly, letting in fresh air to help the dishes dry quicker and more hygienically.
4. Hotpoint HIC3C33CWEUK Fully Integrated Standard Dishwasher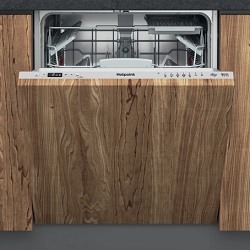 Noise level: 43 dB
Type: Integrated
Place settings: 14
If you find yourself always tackling burnt-on food after your dishes have gone through the dishwasher, this Hotpoint may be the best thing for you.
It has a 3D Zone Wash design that helps clean dishes more effectively. This is ideal for lasagne trays or your roasting tin.
This dishwasher also has a quick wash function for dishes that aren't too dirty. In just 30 minutes, your dishes will be clean.
Plus, the door opens automatically at the end of the wash to help dry the dishes naturally. This saves energy while ensuring no water remains on the dishes that you have to dry off.
This is an impressive dishwasher for the price, with features and functions of much more expensive models built in. For a family home that just wants to wash dishes quickly and evenly, this is ideal!
5. Siemens iQ700 SN27Yi03C Freestanding Dishwasher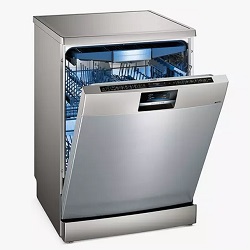 Noise level: 43 dB
Type: Freestanding
Place settings: 14
Smart dishwashers have never been smarter than this one! Siemens have an excellent app called Home Connect that quickly and easily pairs with your dishwasher. From there, you can control the settings and timings of your dishwasher really easily.
The app really gives you a lot of control; you can even order your favourite dishwasher tablets right from the app!
However, Siemens has also partnered with Amazon Alexa, so the controls just got even more exciting. While you are asking Alexa to play your favourite song, you can also ask her to turn on the dishwasher.
This dishwasher isn't just a fancy gadget that you can use your voice or phone to control, though. It has all of the features you need to help make washing your dishes really easy.
From the flexComfort Pro zone that cradles your glassware really safely to the Zeolith drying for fast and more energy-efficient drying.
And we didn't even get to the intelligent programme that basically sets up the dishwasher perfectly for you! This is a mighty smart dishwasher!
6. Bosch Serie 6 SMV6ZCX01G Standard Fully Integrated Dishwasher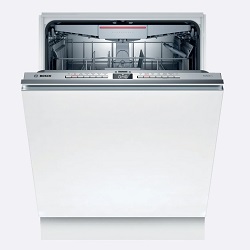 Noise level: 44 dB
Type: Integrated
Place settings: 14
Bosch makes some of the most impressive kitchen appliances that we have seen, and they are packed full of features to help make everyday chores that bit easier.
Like the PerfectDry feature on this dishwasher, for example. This uses minerals to absorb the last few drops of water on your dishes.
So, once the dishwasher has finished, you can put your dishes back in the cupboard without needing to dry them.
Want to know how long the dishwasher has left? Well, as this is an integrated dishwasher, that isn't possible, right? Well, actually, there are several ways to keep track of this dishwasher and the time it has left.
You can use the app, which can help you find the perfect settings for each wash and let you know how much time is left.
Or you can use the very fancy and cool TimeLight. This shines the remaining time onto the floor below your dishwasher!
As we said, the functions of this dishwasher are very impressive. However, Bosch has made sure that underneath all of this technology, there is an exceptionally good dishwasher that will wash your dishes perfectly every time.
7. Beko HygieneShield BDEN38640FG Standard Dishwasher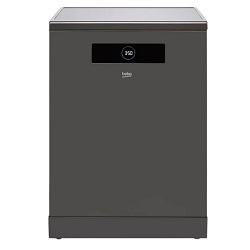 Noise level: 44 dB
Type: Freestanding
Place settings: 16
Have a big family or like throwing lots of parties? then this Beko dishwasher is ideal for you. With 16 place settings, it is perfect for a really big family.
However, don't worry about it using lots of energy during every wash. It has an automatic function that detects how big the load is and adjusts the settings accordingly.
So, you may even save on your energy bill compared to your current dishwasher.
Now, there are lots of features that make this Beko a real draw to many people. For us, though, it is the beautifully modern design. I mean, just look at this dishwasher.
In all my years of reviewing large kitchen appliances, I never thought I would be calling one beautiful, but here we are!
The impressive size, the absolutely stunning design and the ton of features in the Beko dishwasher all make it one of the best dishwashers on the market right now for large families or those who love to throw a dinner party.
What Is Considered Quiet for a Dishwasher?
Dishwashers today vary in volume, with some producing just 39 dB of noise, and others even producing 60 dB or greater.
Generally speaking, dishwashers that are quieter than 45 dB are considered to be very quiet.
39 to 45 dB dishwashers – very quiet
Most of the dishwashers on our list of the quietest dishwashers fit into this category.
Dishwashers with noise levels between 39 and 45 dB are considered to be very quiet.
At this noise level, the dishwasher is no more disruptive than the sound of rainfall.
Dishwashers with this sort of noise level are ideal for those who have open-plan homes or like to use their kitchens to entertain after dinner.
45 to 49 dB dishwashers – relatively quiet
Dishwashers with noise levels between 45 to 49 dB are slightly louder, but still not very disruptive.
This noise level is similar to background noise in quiet streets during the day. A lot of modern dishwashers fall into this category.
50 to 59 dB dishwashers – relatively loud
Dishwashers between 50 and 59 dB are also fairly common, and these are much more noticeable in the background.
This noise level is similar to background music, you'll be able to hear the different stages of each cycle, and it might be disruptive.
60+ dB dishwashers – very loud
Fortunately, dishwashers with a noise level of more than 60 dB are very rare, however they may still be found in older homes.
This noise level can be very disruptive, even if the kitchen door is closed.
Quiet Dishwasher FAQs
Are quieter dishwashers more expensive?
In general, the more you spend on a dishwasher, the quieter it will be. While the average dishwasher makes about 48-50 decibels of noise, the most expensive dishwashers typically produce less than 45 decibels of noise.
What's the quietest dishwasher in the UK?
The quietest dishwashers we could find were the Hotpoint HFC3T232WFGXUK and the Miele G7460 SCVi, both of which have a noise level of 42 dB.
How can I make my dishwasher quieter?
The most common cause of excessive noise from a dishwasher or any other kitchen appliance is reflection.
Kitchens are full of hard, reflective surfaces such as flooring, counters, and cupboards that can make background noise seem even louder.
This is difficult to change, however it is possible to dampen some of the noise.
Consider adding soft items, such as a rug under the dining table and soft, cushioned chairs.
It won't make the dishwasher quieter, but it can help to reduce the noise's ability to reflect.
Conclusion
The quietest dishwashers we could find on the market in the UK at the time of writing were the Hotpoint HFC3T232WFGXUK and the Miele G7460 SCVi, both of which have a noise level of just 42 dB. If we had to pick on to recommend it would be the Hotpoint HFC3T232WFGXUK as it's generally more highly rated by users.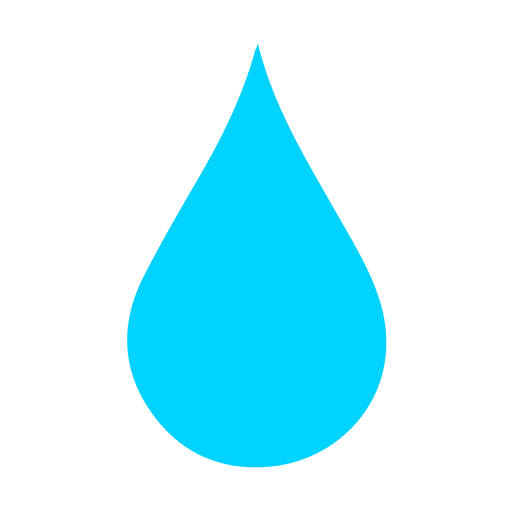 In The Wash is your guide to the best laundry and cleaning products, tips and tricks. Our mission is to solve the UK's cleaning and laundry dilemmas!