There are loads of dishwashers for under £300, which is great for people on a budget.
However, with so much choice, it can really feel quite daunting to choose one. You want to know that you're making the right choice, and this article is here to help.
The dishwashers below prove that you can get an excellent dishwasher for under £300 without the daunting feeling that you made the wrong decision.
We've researched the market and picked out 5 of the top-rated and most highly regarded dishwashers available for less than £300.
We think these are some of the best budget dishwashers you can get in the UK.
Please note, prices can fluctuate so we can't guarantee all of these models will be available for under £300 when you read this article.
Best Dishwasher Under £300
1. Bosch SMS40T32GB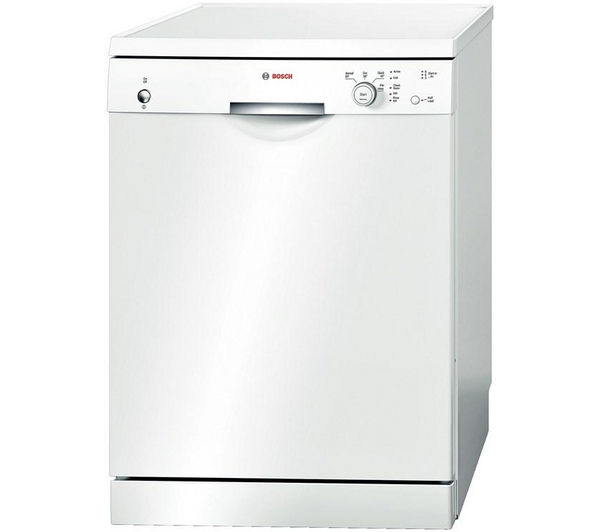 This Bosch freestanding dishwasher has an A rating in just about all of the categories that matter when it comes to dishwashers. It's quiet, has an A+ energy rating, A-rated washing and drying performance and a 2-year warranty thrown in for good measure.
This dishwasher is chock full of technology to ensure a great clean on stubborn grime and even glass, so you can get the most of the machine every time you use it.
Features and specifications
Energy class A+
50dB noise level
12 place settings
Annual water consumption 3300 litres
Glass protection system
Pros
Lots of washing and drying
Quiet
Easy loading
Simple to use
Cons
Not much choice of wash cycles
Eco cycle time is long and doesn't always clean as well as the other cycles
Verdict
Overall, this is a great dishwasher with a few minor drawbacks to take into consideration.
The eco cycle does leave a few bits of stuck-on food on plates from time to time and takes around 3 and a half hours to complete. However, this is an issue across the board as it is an EU standard so it certainly shouldn't put you off this dishwasher.
There also aren't many washing cycles to choose from, but this does make it an easier machine to use.
The washing power on settings other than eco is exceptional as is the drying power. Loading is very easy, although they have removed the shelf for larger knives found in the older version.
All in all, the Bosch SMS40C32GB is an excellent dishwasher and seriously great value for money.
2. Beko DFN05R11W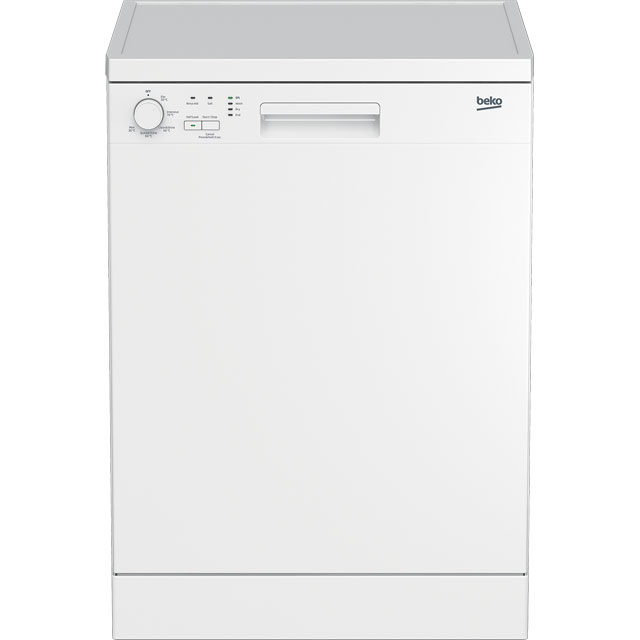 This sleek and stylish full-size dishwasher does a lot of hard work for you so you can sit back and enjoy yourself after making the dinner.
It has five programmes to choose from with four wash temperatures, so it is quite a versatile dishwasher. It also uses the heat generated by the wash to help dry your dishes faster.
It's also one of the largest with 13 place settings, making it perfect for medium-sized families.
Features and specifications
A+ energy rating
13 place settings
5 programmes
49 dB noise level
1-year warranty
Pros
Washes 13 place settings
Half-load option (just 30 mins)
Easy to use
Good value for money
Cons
No cutlery tray
No LED timer display
Verdict
Being able to wash 13 place settings at a time is very impressive, but this may involve a rather scary game of Tetris.
The technology in the machine is superb. Features like Clean&Shine and Quick&Shine allow you to adjust the time to suit the wash load – lightly soiled crockery and cutlery can be clean in 58 minutes. The intensive wash cycle is ideal for stubborn dishes which may need a little more effort to get clean.
Overall, this is a great dishwasher which should suit most medium-sized families or those who tend to cook and entertain a lot. Beko is a good brand for those who want quality but don't have the budget to shell out for some of the bigger brand names.
No longer available online
3. Baumatic BDIN1L38B-80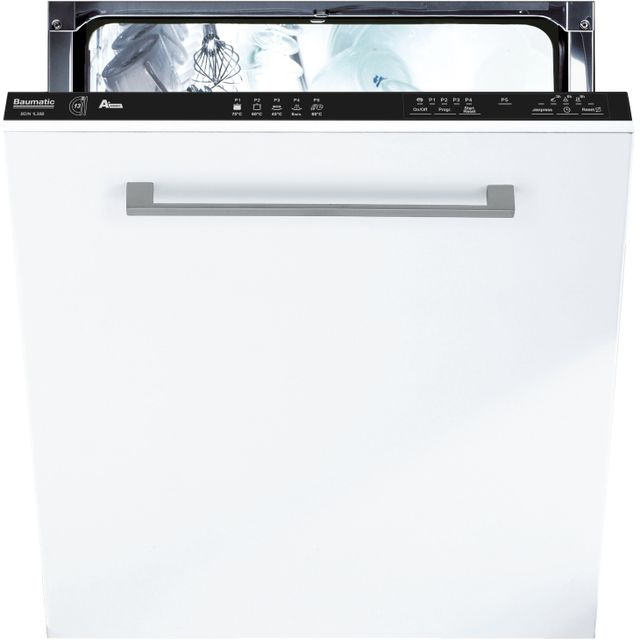 This Baumatic integrated dishwasher is a great size for a medium-sized household with the ability to hold up to 13 place settings (that's a big dinner party or a few days worth of dishes).
Recommended by AO, this dishwasher is easy to use, great value and has a super handy 10-minute wash function when you just need a few cups when friends pop round for a cuppa.
Features and specifications
13 place settings
A+ energy rating
53 dB noise level
5 programmes
10-minute quick wash cycle
2-year warranty
Pros
Simple to use
Good build quality
Easy to install
Great value for money
Cons
Not the quietest
Cutlery compartment hard to access
Verdict
This isn't the quietest machine on this list, but at only 53dB (which is still quieter than most washing machines), you would have to be quite close to it for that to be an issue.
The one design flaw that could be annoying for some is that the cutlery compartment is at the back. This may make it awkward for loading and unloading, but once you've figured out a system, you'll probably not notice it.
The excellent build quality, great value for money and ease of use certainly outweigh the negative points of this dishwasher. The easy install is also really handy if you want to install it yourself.
As it is integrated, this will only suit kitchens or utility rooms which have slots for integrated appliances, but there are plenty of free-standing options in our list which are sure to suit.
Overall, it was quite difficult to find anything bad about this machine. The good certainly outweighs the bad of this dishwasher.
4. Candy CDPE6350 15-Place Full-Size Dishwasher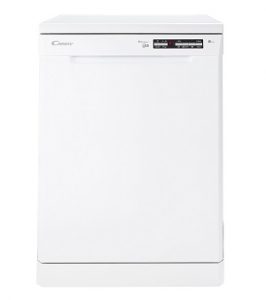 The Candy Dishwasher is the biggest on this list with a massive 15 place setting interior. If you're a family household, this is probably the best dishwasher on the list for you.
The ten programmes on the dishwasher make it very versatile. Glass, heavily dirty pans and plates can all enjoy a thorough cleaning in this dishwasher.
It's also quite simple to use and lovely and quiet too.
Features and specifications
A+ energy rating
15 place settings
10 programmes
Self-cleaning filters
1-year labour and 10-year part warranty
Pros
Great value for money
Huge capacity
Easy to use
Simple instructions for install and how to use
Cons
Small cutlery compartment
Can be tricky to load
Drying performance is slightly disappointing
Verdict
The massive space inside this dishwasher will appeal to most big families, and you won't be disappointed with this space.
For the money, it is one of the largest dishwashers on the market. It is also really simple to use, and with ten programmes this is rare!
Even though there is plenty of space in this machine, the cutlery compartment is a little small.
You may also find the machine a little tricky to load at first, but you'll most likely get used to this over time.
The drying performance does let this machine down slightly, but it is certainly not bad enough to miss out on such a great value machine as this!
5. Beko DFS05X11W
This is a slimline dishwasher with a ten-place setting capacity great for small homes. It is as powerful as the bigger dishwashers on this list but has a little bit of a smaller space inside.
For a couple or small family, this will provide all of the cleaning power and space you could possibly need.
Features and specifications
A+ energy rating
5 programmes
49 dB sound level
Slimline
Ten place settings
Pros
Easy to use
Salt warning light
Quiet
Great for small kitchens
30-minute quick wash
Cons
Tricky to load
Drying may not be efficient
The bottom drawer may be a little temperamental
Verdict
Overall, this Beko dishwasher is pretty good. The energy rating is great, it's easy to use and has a good amount of programmes that actually do the job they are supposed to. It is a top-notch machine and great value for money at well under £300.
Due to the size, it can be a little tricky to load, and the cutlery drawer isn't the best. The installation instructions also aren't the easiest to follow, but if you've had a dishwasher before, this shouldn't pose too much of an issue.
Overall, this is a great machine for a small family with a small kitchen.
Choosing a Dishwasher
What size dishwasher can you buy for under £300?
Buying the biggest dishwasher you can for your budget makes a lot of sense. It is far more economical to run a big dishwasher once than it is to run a smaller one twice. The smallest dishwasher reviewed above has 10 place settings. The largest has 15.
All of these dishwashers are considered to be on the bigger side of the place setting scale, and all of them are under £300. There are smaller dishwashers available for under £300. But for the economic cost of running them, a bigger dishwasher makes more sense, if you have space.
Which kind of dishwasher should I choose – integrated or freestanding?
This really comes down to personal opinions, like many things in the household. To understand what we are talking about, let's see what the differences of each machine are first.
Freestanding
A freestanding dishwasher can't have a door matching your cupboard doors fitted to it. They simply look like a dishwasher and don't pretend to be a cupboard. This makes them slightly easier to install because you can miss out the last step of the install. However, they are typically deeper than integrated ones meaning they stick out into the room a little more.
Integrated
Integrated dishwashers can have a door fitted to them, so they look like a cupboard. They can be raised up to the height of your counter, and then a door is fitted to make them look a little prettier. The installation can be a little trickier with integrated dishwashers, but they don't stick out into the room as much. They also provide a slightly more finished look to your kitchen.
Freestanding vs. Integrated
So, which one should you buy? Well, freestanding machines are typically easier to install, fix, replace etc. but the integrated ones look a little better. So if you are wanting a really nice looking kitchen, an integrated one is probably the one to go for, but they are usually a little more expensive.
If you don't mind the look of a dishwasher, fancy saving a little bit of money and having a better time installing it, a freestanding model would suit you best.
What does dishwasher salt do?
If you are considering investing in a dishwasher to save you some time after dinner, then you will also need to buy dishwasher salt to ensure it continues to work properly. By breaking down limescale in your dishwasher, dishwasher salt helps keep your dishes squeaky clean. It is especially necessary to use in hard water areas where the water contains more calcium and magnesium that builds up in your dishwasher's pipes to form limescale.
Why Should You Use Dishwasher Salt?
You will notice that your washed items come out streaky or become cloudy due to a buildup of limescale if you don't top up the dishwasher salt regularly as well as causing problems for the dishwasher itself. As these white goods are expensive, you want to make sure that you take the best care of it so that it lasts as long as possible and saves you time instead of having to do the washing up.
How Does It Work?
Dishwasher salt works by breaking down the ions in limescale to soften the water as it runs through you dishwasher. Usually your dishwasher will contain an ionic exchange unit which will help with limescale to a certain extent, but is helped massively by the use of dishwasher salt as well.
Which Salt Should You Use?
The salt used in your dishwasher is sodium chloride which, with its large grains, keeps the softener unit clear. It is important that you use the proper salt as others, such as table salt, can do damage to your dishwasher and even cause corrosion in the pipes of your dishwasher.
You don't need to worry about struggling to source this specific salt as it is widely available in supermarkets and other shops for household items and is usually quite cheap, meaning you can buy a kilogram or two for a couple of pounds.
How and When Should You Use Dishwasher Salt?
The salt is usually added to your dishwasher through a compartment located on the bottom of your dishwasher. You will be able to find its exact location in the user manual for your specific dishwasher.
By removing the screw-on lid, you simply need to pour a decent amount of dishwasher salt into this compartment so that when you switch on your dishwasher, there is no light flashing to signal that the dishwasher needs more salt.
Exactly how much salt you will need to use and how often you need to refill this compartment will depend on the hardness of your water, how often you use it and the make of dishwasher itself. When you turn it on, a light on the front will indicate if more salt is needed or not.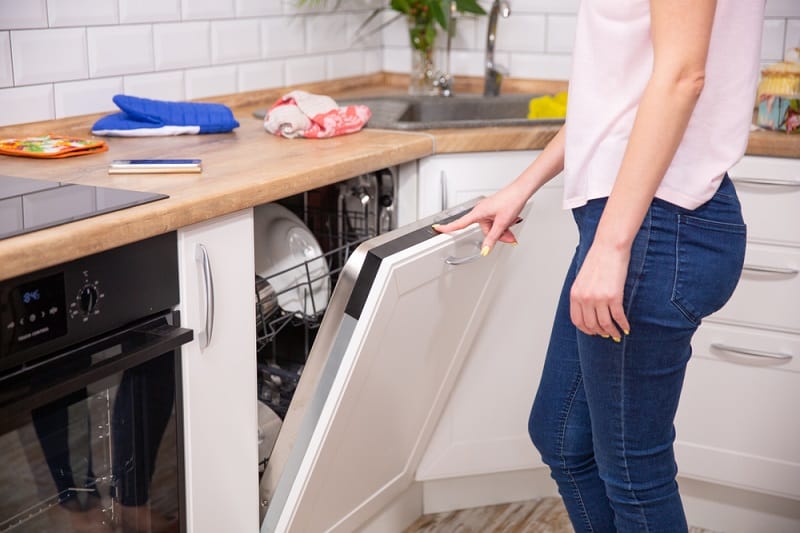 Best Dishwasher Brands
Finding the best dishwasher is not always that easy, particularly as there are so many different makes and models on the market.
Here is where we hope to make your search just a little bit easier. Carry on reading to learn about 5 of the best dishwasher brands in the UK.
Beko
Based in Europe and a subsidiary of a Turkish company, Beko was established in 1955 and has since become a household name.
They have a reputation for being a good budget brand, and according to their website, 96% of their customers would recommend their appliances.
Beko provides a range of freestanding and integrated dishwashers, making them ideal for all kinds of home in the UK.
Slimline and full-size dishwashers are also available, catering to space and need. Beko typically sells dishwashers that come with white, stainless steel, silver, graphite or black finishes.
Although Beko is a budget range their dishwashers come with many different features such as:
Aquaintense
Everclean filter
Additional cutlery tray
Quick and clean programmes
Time delay
Steamgloss
Fast+
Half Load
Time remaining display
Prosmart inverter motor
While many of Bekos dishwashers come with an A+ energy rating, some of the more expensive models feature an impressive A+++ rating, meaning they are more energy-efficient than ever before.
A budget brand but with a lot to offer, Beko is certainly making a name for itself.
Bosch
Based in Germany with offices and factories throughout the world, Bosch invented their first appliance in the late 1920s.
With a reputation for being one of the best home appliance providers, Bosch continues to grow and develop.
Currently manufacturing appliances for the home, Bosch has recently started making smart products including a wide range of impressive dishwashers.
Selling freestanding, built-in, and compact dishwashers, Bosch has ensured that they have a dishwasher for everyone.
Potential customers can also choose between dishwashers of specific widths making them ideal for even the smallest kitchens.
Known throughout the world, Bosch dishwashers come with a lot of different features including:
Differing noise levels
Widths of either 45 or 60 cm
1 hour-programme
ExtraDry
Heat exchanger
VarioFlex Plus
VarioFlex Pro
Zeolith
Available in black, stainless steel or white, Bosch dishwashers have something for everyone.
Hotpoint
Based in the UK and manufacturing products since 1911, the Hotpoint brand is still going strong more than 100 years later.
With a reputation for being a trustworthy manufacturer Hotpoint dishwashers come in many shapes and sizes with integrated and slimline dishwashers available along with traditional ones as well.
Hotpoint dishwashers offer a number of different features including:
Digital or LCD display
Dual space
Extra silent
Zone wash
A specific number of wash programmes
Hotpoint is a mid-range to high-end brand that can be found in millions of homes around the country.
Available in black, graphite, stainless steel or white, Hotpoint offer dishwashers that are ideal for busy or quiet homes, and those who wish to spend a little more on a brand that has a trusted reputation and sells a product approximately every 19 seconds.
Indesit
Based in Italy and founded in 1975, Indesit has made a name for itself in Europe as being one of the leading manufacturers of domestic appliances.
Selling fully integrated and half integrated dishwashers along with freestanding, and one compact dishwasher, Indesit has tried to cater to everyone's needs.
Indesit dishwashers come with a lot of different features including:
A number of different place settings
3 energy classes
eXtra hygiene
Half load
Delay timer
Baby care cycle
Available in white, silver, inox (steel) and black, Indesit is a mid-range brand that offers a wide variety of dishwashers, ideal for almost every home.
Smeg
Established in 1948, and based in Italy, Smeg introduced its very first dishwasher in 1963, and the company has continued to grow ever since.
With a reputation for producing both 1950's retro and modern-looking dishwashers, Smeg is a high-end brand that produces both built-in and freestanding dishwashers.
Features found in Smeg dishwashers can include:
ECO
ECO quick
Normal quick
Ultra-clean
Enersave
Aquatest
Time delay
Widths of either 45 or 60 cm
Adjustable water softener
Energy ratings up to A+++
Smeg is a high-end brand that offers a sleek design, and with dishwashers available in stainless steel, black, white, red or cream.
Smeg dishwashers are becoming an increasingly popular brand in the UK thanks to their unique finishes and impressive energy ratings.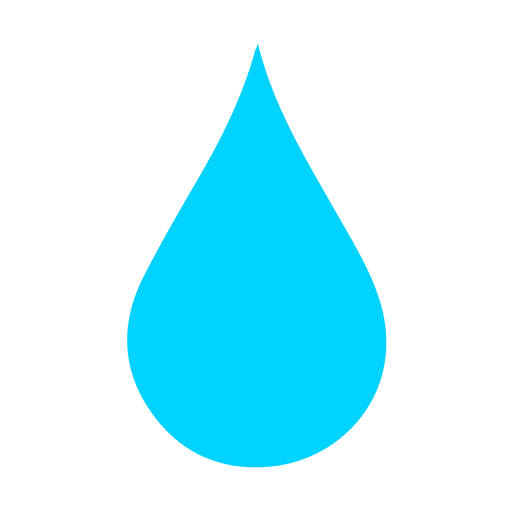 In The Wash is your guide to the best laundry and cleaning products, tips and tricks. Our mission is to solve the UK's cleaning and laundry dilemmas!