Clothes drying racks are very useful if you don't have a garden or if it's too cold and wet to dry your clothes outside. Even if you normally dry your clothes outside, you will need something to dry them indoors in the winter months.
Many people choose to dry their clothes using a tumble dryer, but drying racks have a few advantages. Here are a few of the reasons to use a drying rack rather than a tumble dryer:
Uses less electricity (or no electricity at all if you choose a non-heated clothes airer)
Silent, unlike tumble dryers which can be very noisy unless you buy an ultra-quiet model
Can usually be folded up when not in use
We've researched the market and picked out the best heated and non-heated clothes airers in the UK.
Best Clothes Airers in the UK
1. Foppapedretti Gulliver Clothes Airer
Type: Non-heated
Drying space: 27 metres
This clothes airer from Italian brand Foppapedretti offers the equivalent drying space of a 27-metre washing line.
It's smartly constructed and can be folded up to just 14 cm deep to save space. It comes on four wheels, so you can easily wheel it around the house.
This airer measures 14 x 55 x 103 cm when closed and 105 x 80 x 174 cm when open. It's strong and well made, with a stable design.
The Foppapedretti Gulliver is one of the best clothes airers on the market, but it's also one of the most expensive.
The price seems especially high for a non-heated airer. However, it's built to last and has a clever design that offers a lot of drying space but folds up very compactly.
If you have been frustrated by cheap and flimsy drying racks in the past, this product is a great choice.
2. Brabantia Indoor Clothes Airer
Type: Non-heated
Drying space: 20 metres
This indoor clothes airer from Brabantia isn't cheap, but you can buy it with a 5-year guarantee, which gives you peace of mind. It's built to last, and could be a better investment than a cheaper airer.
It's made from corrosion-resistant metal and has adjustable wings. It's sturdy, and can hold wet washing well.
It's worth mentioning that this airer takes up a lot of space (almost 2 metres) when it's fully unfolded, but this does mean you have a lot of drying space.
It's also quite heavy at about 6 kilograms, but this makes it sturdy and unlikely to fall over.
The Brabantia Indoor Clothes Airer is sturdy and well made, and is great for families who have a lot of washing to dry. You'll need plenty of space to use it though, as it's bigger than the average airer.
3. Minky Trio Concertina Tubular Airer
Type: Non-heated
Drying space: 15 metres
The Minky Trio Concertina Tubular Airer is a sturdy concertina-style dryer made from high-grade steel.
It gives you 15 metres of drying space and can be folded flat to save space.
The airer can hold up to 20 kg of wet clothes, which is equivalent to two large washing loads. One nice feature is that it has special corner hangers for hanging shirts.
This airer is strong and sturdy, and won't break under the weight of things like wet towels.
It's worth mentioning that this airer is quite large even when folded up. When it's open it measures 141 cm high x 59 cm wide x 55 cm deep. It folds up to 77 x 61 x 6 cm.
There's no complicated assembly procedure, so you can use it straight out of the box.
The Minky Trio Concertina Tubular Airer is a tough and stable drying rack that you can put a whole load of washing on. It's attractively priced and should last you years.
4. Dry:Soon Deluxe 3-Tier Heated Airer
Type: Heated
Drying space: 21 metres
This is the model up from the Dry:Soon 3-Tier Heated Tower Airer reviewed below. It's very similar to the regular Dry:Soon but with some added features including a timer.
It can hold 15 kg of washing across 21 metres of drying space, and measures 70 x 74 x 132.5 cm.
The timer lets you choose when the dryer turns on and off, which is good if you have an Economy 7 electricity meter.
This airer is easy to set up, and is light and easy to store.
One downside is that it seems a bit wobbly if you put too much washing on it.
The Dry:Soon Deluxe 3-Tier Heated Airer is more expensive than the regular Dry:Soon, but it's worth paying a bit more for the timer feature.
5. Dry:Soon 3-Tier Heated Tower Airer
Type: Heated
Drying space: 21 metres
The Dry-Soon clothes airer from Lakeland is an electric drying rack that is useful for drying your clothes quicker in the winter months or if you don't have a garden. Running it costs less than 6p an hour, which offers good value for money.
This airer supports 15 kg of washing and measures 145 x 79.2 x 8.6 cm. It offers a large amount of drying space (21 metres).
The Dry-Soon clothes airer is quiet and uses gentle heat, so it's safe for your clothes.
It doesn't work so well if you put too many clothes on it, and it works best with a cover, which costs extra.
The Dry:Soon 3-Tier Heated Tower Airer isn't for everyone. If you live in a flat it's a good way to dry your clothes quicker and prevent condensation accumulating.
It might take a while to find the best way to arrange your clothes to get them to dry quickly and evenly—if you use it incorrectly you will be disappointed with the results.
6. Minky Automatic Multidry Airer
Type: Non-heated
Drying space: 25 metres
The Minky Multidry is a large airer that can be used inside or out. It uses tubular steel to make it strong and sturdy, and also has wheels so you can easily move it around.
It offers 25 metres of drying space, which is roughly equivalent to two washloads.
There's a flat section for delicate items that shouldn't be draped over the rungs.
This airer measures 64.8 x 127 x 121.9 cm and can be folded flat for storage.
It's light given its size, at just 2.5 kg. It feels durable and sturdy, and is easy to move thanks to the wheels.
One downside is that some people find the wires to be a bit too close together.
The Minky Multidry is a very good clothes dryer for the price. This drying rack is very large, so you need to check you have enough space before buying it.
7. Wilko Deluxe Clothes Airer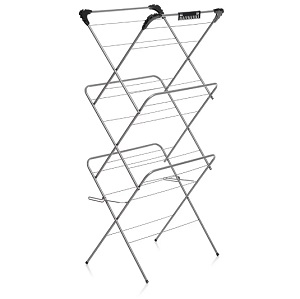 Type: Non-heated
Drying space: 14 metres
As you'd expect from a Wilko product, this clothes airer offers great value for money. It's one of the cheapest airers on this list, and could be a good choice if you want something that's inexpensive but effective.
It has a convenient foldable design and can hold up to 20 kg of wet washing.
It features useful corner hooks for hanging long items, and has an automatic safety locking design to stop if from collapsing.
This clothes airer is very good for the price. It's sturdy and well designed, and lets you dry a decent amount of clothes without taking up too much space.
8. John Lewis & Partners 3-Tier Heated Indoor Clothes Airer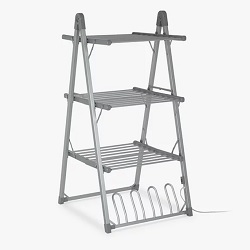 Type: Heated
This sturdy heated clothes airer from John Lewis should be able to dry a full load of washing overnight without heating up enough to damage delicate clothes.
It's sturdily built from aluminium alloy, while remaining light enough to carry around.
This airer measures 139.5 x 66 x 7.2 cm when folded and 135 x 66 x 72.8 cm when open.
It has a 3-tier design. You can dry up to 5 kg of laundry on each tier, so it can handle 15 kg of laundry in total.
It has a 300W output with surface temperatures of 40-50°C, which will gently dry your clothes.
This airer is cheap to run and has a sturdy design. However, it can be slow to dry thick items like towels
This is a quality product that will speed up the process of drying clothes and be much cheaper to run than a tumble dryer. However, don't expect miracles from it—thick items like towels can still take a long time to dry on heated airers such as this.
Where Is the Best Place to Put a Clothes Airer?
Here are a few tips on where to position your clothes airer to dry clothes more quickly and protect your health.
1. Near an open window
If it's warm enough to leave a window open, positioning your airer near an open window will help remove moisture from clothes more quickly.
2. In a sunny place
Positioning your clothes airer in the sun will help dry your laundry more quickly. However, bear in mind that the sun's rays can fade dark clothes. If you have a conservatory or an attic room with a slanted window, these would be ideal places.
3. Don't put it in your bedroom
If you can avoid it, don't put the airer in your bedroom. Sleeping in the same room as moist laundry isn't very good for your health.
Heated vs Non-Heated Clothes Airers
Whether or not you should choose a heated or non-heated airer comes down to your preferences and budget. Here are a few things to consider:
Price: Heated airers are more expensive to buy and use electricity, so they cost money to run. However, they are much cheaper to run than tumble dryers.
Speed: Heated airers dry clothes more quickly. If you need to dry your clothes relatively quickly, you should choose a heated dryer as clothes can take over 24 hours to dry on non-heated dryers.
Ease of use: Heated airers are easy to use, but non-heated airers are even easier. You don't need to worry about plugging a non-heated airer in, choosing the right setting or remembering to turn it off.
Heated Clothes Airer FAQs
Drying clothes indoors can be problematic, especially in the winter months. Heated clothes airers are a super handy way of getting laundry dry quickly so you don't get a musty or mildew smell on your clothes when they dry too slowly. They're also perfect for people who live in flats and don't have the outside space to get clothes dry.
Are heated airers safe?
Heated airers are safe as long as they are used in accordance to the manufacturer's guidelines. If you plan to run the airer overnight to make use of cheaper rate electricity, then it may be best to set it on a timer.
When hanging your laundry on the airer, keep it evenly weighted either side as overfilling one side could cause the heated airer to become lopsided and be at more of a risk of tipping over. It is best to keep the clothes airers out of the way of young children as much as possible.
If clothes are too wet, there could be a risk of electric shock if moisture were to get into the wrong parts of the airer, so do be really careful when hanging up your washing.
Are heated airers expensive to run?
Heated airers run on your electricity supply, so the cost to run will vary, depending upon your supplier.
On average they cost about 5p per hour to run which is pretty great in comparison to a tumble dryer, which can cost over 50p per cycle. If you normally tumble dry your clothes, you can save a fair amount of money by using a heated clothes airer instead.
Depending on how wet the washing comes out of the machine, it can take anywhere from 3-8 hours to dry clothing on a heated airer, so at the longest time of 8 hours, it would cost less to run some A++ rated tumble dryers.
Although this may be the case, the purchase cost for a heated airer is a lot lower than an eco-friendly tumble dryer and you will save money over time to make up for the initial cost of this handy laundry accessory!
Time can be decreased if there is sunlight/heat through the windows or if you have your heating on additionally to the airer. Overall though, a heated airer can be a cheap and very handy option for getting your laundry dried.
Do heated airers cause damp?
Heated airers alone do not cause damp, but if you regularly use them for laundry and do not ventilate the space you are using them in, it will increase humidity in that room which could lead to damp.
Best practice is to keep a window open, even just a crack, as you use your heated clothes rack and ventilate your home as normal to avoid damp. If you have an extractor fan in your home, it could be a good idea to use the airer in that room.
If you struggle with damp already, you might have a dehumidifier, which will help with any excess moisture in the air – perfect for when you need to run the heated clothes airer. A way to keep some of the humidity at bay is to cover the drier with a sheet, but you will still need to ventilate the room you are drying clothes in as an extra measure.
Can you leave heated airers on overnight?
Airers are slightly cheaper to run overnight as energy rates are reduced between certain hours, so if you set a timer on your clothes airer, you could have it running for a few hours while you sleep. However, it is best to not leave any appliance running overnight as with any electricals, there could be a risk of fire. To be completely safe, switching the airer off overnight is usually the best practice.
Check the manufacturer's guidelines to find out about the airer to see if it is fitted with a fuse or switch which would stop power if anything bad or dangerous were to happen – always read the safety instructions and cautions.
Alternatives to Using a Drying Rack
While drying your clothes on a drying rack is cheap and convenient, it isn't particularly healthy as it raises the humidity level in your home and damp washing can release harmful volatile organic compounds (VOCs) into the air. Here are a few of the alternatives:
Conclusion
If we had to pick just one non-heated airer to recommend it would be the Foppapedretti Gulliver Clothes Airer due to its sturdy construction, huge amount of drying space and useful wheels for moving it around.
Our favourite heated airer is the Dry:Soon Deluxe 3-Tier Heated Airer, which is cheap to run and can dry an amazing 15 kg of laundry at once.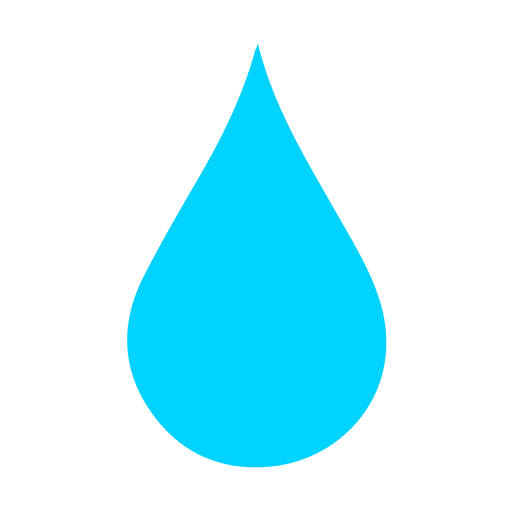 In The Wash is your guide to the best laundry and cleaning products, tips and tricks. Our mission is to solve the UK's cleaning and laundry dilemmas!