A tumble dryer is a very useful appliance for busy households. When the weather is rainy, cold, or frosty, it's not possible to hang washing outside to dry, and during the winter months, this situation is commonplace. In addition, you don't want wet washing hanging around the house, making your home damp and releasing chemicals from laundry detergent into the air, so a tumble dryer is vital.
Having said that, you don't want a noisy tumble dryer! Generally speaking, a tumble dryer produces between 65-69 decibels (dB) of noise, which can be roughly compared to the sound of human laugher, or a slightly loud conversation. This can disturb you or other people in the house when you're trying to sleep, watch TV or have a meal. Quieter tumble dryers make less than 65 decibels of noise, and the very quietest make less than 60 decibels.
You might be thinking that an apparently small difference in decibels from say 60 to 70 decibels wouldn't make a huge impact, but the decibel scale is what is logarithmic, which means that even small increases in the number of decibels makes a big difference. Each extra 10 decibels represents a doubling in the perceived volume, so a 70 dB tumble dryer would be twice as loud as a 60 dB one.
A quiet tumble dryer is the way to go, but how do you know which one to buy? Here are the 5 quietest we could find currently available in the UK.
1. Zanussi Lindo100 ZTE7100PZ Vented Tumble Dryer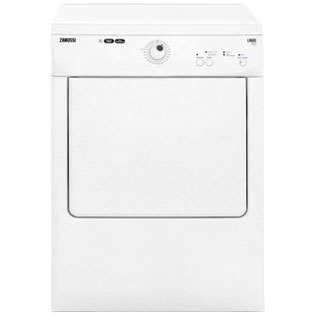 Noise level: 59 dB
Capacity: 7 kg
Type: Vented
This 7 kg capacity tumble dryer is a great choice for households that are medium in size, e.g. two adults, two children. This machine is lightweight and compact, which means it can be moved around if need be, and can easily fit into a small utility room or bathroom area.
There is a quick dry programme built in, which is ideal if you have wet washing that you need drying quickly, and the dryer works to prevent creases, which also cuts down on ironing time!
Of course, Zanussi is a big brand name, and the machine is super quiet at 59 dB. This means you can easily put the dryer on whilst your kids are sleeping, and you won't have to worry about a loud whirring noise waking them up! As a budget option this tumble dryer more than fits the bill and has plenty of added extras to make it a top quality product.
Buy on AO.com
2. Baumatic BTD1 Integrated Vented Tumble Dryer
Noise level: 62 dB
Capacity: 6 kg
Type: Vented
Whilst this might not be an instantly recognisable brand name, it is a name which has confidence in the industry, and is a great budget buy. Whilst there aren't a huge number of added extras with this machine, It is certainly quiet at 62 dB and it has a moderate capacity at 6 kg. This machine is therefore perfect for a small to medium sized family.
There is a fluff filter built in, and six different special cycles, including cotton damp dry, cotton dry, heavy synthetics, light synthetics, linen and polyester cotton. A cotton cycle takes 115 minutes to dry completely.
There is no quick dry cycle on this machine, but as a budget option which is compact, lightweight, and dries your clothes quietly it is a good option to go for.
Buy on Currys.co.uk
3. Miele TDA140C Condenser Tumble Dryer
Noise level: 63 dB
Capacity: 7 kg
Type: Condenser
This particular dryer is a 7 kg capacity condenser, and is ideal for medium-sized households who want a quiet, yet energy efficient dryer option. Operating at 63 dB, the machine has 13 different programmes, including one which cuts down on creasing, and therefore minimises the time you need to spend ironing overall. The LCD display makes selecting a programme easy.
Again, this is a good budget option, and there is a fragrance kit included in the cost of the machine, which helps to give your clothes a delicious scent once they are dried, and every time you open the door of the machine. These capsules can then be replaced once they are empty, although they do have a long life overall. This is also a compact and lightweight machine, so it can easily be stored somewhere small, out of the way.
Buy on Currys.co.uk
4. Bosch Serie 4 WTN85250GB Condenser Tumble Dryer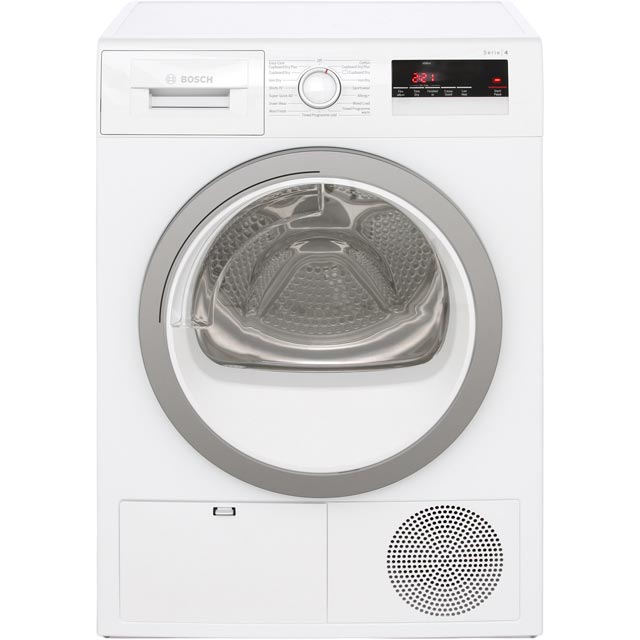 Noise level: 64 dB
Capacity: 8 kg
Type: Condenser
Bosch is an instantly recognisable name, and that gives you confidence in your purchase. On top of that, this tumble dryer is a great option for medium-sized families, with a large 8 kg capacity and a quiet 64 dB operating noise level.
The machine works out the right drying time for the garments you have chosen to dry, with sensors which decide for you. There is also a quick drying programme, to take the hassle out of waiting for your wet clothes to dry, and a cycle which is dedicated to delicate items, such as wool. The machine will alert you when the cycle is finished, and you can remove your clothing from the drum.
This machine is certainly high quality, and with a good budget price, you know you can rely upon this well known brand name.
Buy on AO.com
5. AEG T65170AV Vented Tumble Dryer
Noise level: 64 dB
Capacity: 7 kg
Type: Vented
Again AEG isn't the most recognisable brand name, but this particular product has many positive reviews, and comes very highly recommended. With a quiet operating noise of just 64 dB, the machine offers a large 7 kg capacity, so it is ideal for busy, medium-sized families. The price is also reasonable, which makes it a great investment.
There is a built-in sensor on this machine which allows you to leave the dryer on, and it will automatically stop when the right level of humidity is achieved. This makes it more energy efficient, so it will save you money over time and also help you to save the planet!
There is also a reverse programme, which means it cuts down on crease formation, and you don't have to iron as much!
Buy on Currys.co.uk
Related posts