It's not always possible to wash clothes in a washing machine. You could be travelling, you might not own such an appliance, or your machine might've stopped working.
There are also certain clothes and fabrics that should only be washed by hand in order to avoid damaging.
But which laundry detergents are suitable for hand washing, and which are the best? Keep on reading to discover the UK's best laundry detergents that can be used to hand wash clothes, below.
The Best Hand Washing Detergents in the UK
1. Ecover Delicate Laundry Liquid Waterlily & Honeydew
Washes per bottle: 111 washes per 5L refill bottle
Suitable for delicate materials (silk and wool): Yes
Ecover Delicate Laundry Liquid is the perfect non-biological detergent to buy if you're after a cruelty-free, vegan-friendly, and environmentally conscious cleaner for your clothes.
The plant-based, biodegradable formula comes in a liquid form, and thoroughly cleans stains from clothes, as well as being gentle on the delicate fibres of the materials you intend on cleaning. It's also safe to use if you have a septic tank in your home, which is a bonus!
In addition to this, the detergent has been dermatologically tested and is safe for sensitive skin, making it ideal for hand-washing laundry.
The 5-litre refill bottle is part of Ecover's refill range, and its aim is to reduce the amount of plastic being used and to ensure that customers get great value for money.
So, if you were to buy this giant bottle, not only would you get ample washes from the tub, but you'd also be doing your bit for the environment.
The bottle has 27% less plastic waste, in comparison to three of Ecover's 1.5L bottles.
Of course, being a bigger bottle does mean that it can be a tad weighty to carry around, and it can be tricky to pour out the liquid detergent.
So, you've got to be careful not to overspill the detergent. In addition to this, being a bigger bottle, it's sometimes harder to store the item in a cupboard.
That being said, if you're going to be washing a lot of delicate materials, for example, baby paraphernalia, blankets and cardigans, such a large bottle wouldn't be a problem because the benefit of having extra washes would outweigh the literal weightiness of the bottle.
You could also pour the liquid from the large bottle into smaller bottles to make your job easier and more manageable!
Further to this, the detergent's scent is Waterlily and Honeydew, and while this doesn't appeal to everyone's taste buds, it isn't an overpowering scent. It does, however, stick around for a while after clothes have been washed, so you get to experience the fresh smell for longer.
2. Stergene Gentle Care for Handwash Delicates

Washes per bottle: 15 washes per 500ml bottle
Suitable for delicate materials (silk and wool): Yes
Stergene Gentle Care for Handwash Delicates comes in a compact 500ml bottle size and contains 15 washes.
It's not an overly-scented laundry cleaner, unlike other entries on this list, but clothes do smell fresh after they've been washed in this detergent. And this pleasant aroma stays around for some time too.
Its non-biological formula has also been dermatologically tested, so it's safe to use when washing clothes by hand (but you should wear gloves when handling this item), and the ingredients within this bottle are kind on delicate materials.
Stergene can be used to clean silk and wool, as well as other fine and delicate materials. The silky smooth, almost rich in texture liquid breathes a new lease of life into fabrics, and not only cleans them but protects them, so they continue to look like new.
Although, do remember that Stergne has to be diluted in plenty of water before it can be used to clean any kind of clothing. On its own, the formula would be too concatenated.
Interestingly, the bottle's cap acts as a measuring tool, so you can use this device to pour the right measure into the water when you're going to clean your clothes.
This, in turn, should prevent you from tipping too much of the detergent into the water in one go, and it ought to stop the watery mixture from becoming overly concentrated.
The lid can also stop you from spilling the detergent all over the place. So, it's an all-round helpful tool.
3. Woolite Laundry Detergent Liquid Delicates Hand & Machine Wash

Washes per bottle: 12 washes per 750 ml bottle
Suitable for delicate materials (silk and wool): Yes
If you're after an all-round detergent that can revitalise your clothes, leave your clothes feeling soft and undamaged after a wash, and doesn't cost a fortune, Woolite Laundry Detergent Liquid Delicates Hand & Machine Wash is what you're after.
With built-in keratin technology, Woolite not only renews the softness of your clothes and the delicate fibres within, but it also prevents the material from damage that can occur because of excess washing.
For example, your clothes should be protected from general wear and tear issues like thinning, bobbling and fraying for longer if you use Woolite.
In addition to this, the make-up of this liquid detergent also prevents clothes from losing their shape, as well as stopping any shrinking or stretching from occurring.
Both of these can be problematic, particularly when you're cleaning wool as it can change form and shrink fairly quickly if you don't care for it properly.
And it's not just wool and silk you can use Woolite on, it can also clean cotton and mixed fabrics too. Plus, you can use it in a washing machine if need be, which is a bonus.
Woolite can be bought in a single 750ml bottle that will give you 12 washes. Or it can be bought in bulk, so you can buy four 750ml bottles in one go. If you buy your Woolite in bulk you won't just save money, but you'll also save time too.
However, if you do order a bulk buy online, just keep in mind that liquid laundry detergent does sometimes leak when it's in transit, especially if it's been thrown about in a van. So, the package could be a little messy when it reaches your home.
4. Persil HandWash Washing Powder 8 Wash

Washes per box: 8 washes per 760g box
Suitable for delicate materials (silk and wool): No
Persil HandWash Washing Powder is a biological powdered detergent that can be used to clean tough materials, both by hand and in a machine.
It is not, however, suitable for delicate materials, like silk and wool, and if you do clean said materials with this powder the enzymes in the formula could damage the fibres.
Like other detergents noted here, Persil's HandWash Washing Powder has strong cleaning power, can take out tough stains, and loosen and remove some of the toughest found on clothes when items are being hand washed.
What's even better is that you don't need boiling water to see the effects this product has on clothes, it can be used to clean laundry in low temperature water. This is ideal, especially when you are hand washing garments.
The fragrance left behind by Persil is pleasant enough, yet it isn't overpowering. In fact, in some cases, it might be better for you to use this powder alongside a fabric conditioner to boost the smell of your laundry and to increase the material's soft texture.
This, of course, only works if you're using a machine, and isn't suitable when you are washing your laundry by hand.
As mentioned earlier on, Persil HandWash Washing Powder is a biological detergent, and while it is safer to be used as a hand washing liquid, you must be careful as the powdery mix can aggravate your skin. So, to alleviate such issues, you must wear gloves when using this item.
Three significant drawbacks of this product are the fact that it comes in box form, it cannot be found in all shops, and it doesn't come with a measuring scoop. And while some will argue that cardboard boxes are widely recyclable and you could pick a free scoop from Persil.
It still doesn't excuse the fact that if you open the cardboard box up wrong, you risk spilling the entire contents of the box everywhere.
Also, if you only shop in stores, you might not see this item and, in turn, you will choose another entry on this list that can be bought from a physical shop. Which is a shame because Persil HandWash Washing Powder can clean laundry to a high standard.
Do You Need Special Detergent to Hand Wash Clothes?
When hand washing clothes you will use either a liquid detergent or a powdered detergent to clean the clothes. In some cases, you can use a bar of laundry soap, but you don't often see this kind of detergent in supermarkets. Pods are not suitable for hand washing clothes.
In addition to this, the material you are washing will also dictate the type of detergent you can use. For example, if you are hand washing silks, you will need to use a specialised silk detergent that is handwash-friendly.
Biological detergents are usually packed with enzymes or bleaching agents that break down and remove stains from clothes, however, these enzymes are too strong for most delicate materials to handle. Washing delicate materials with enzyme or beach-lined items will damage the delicate fibres.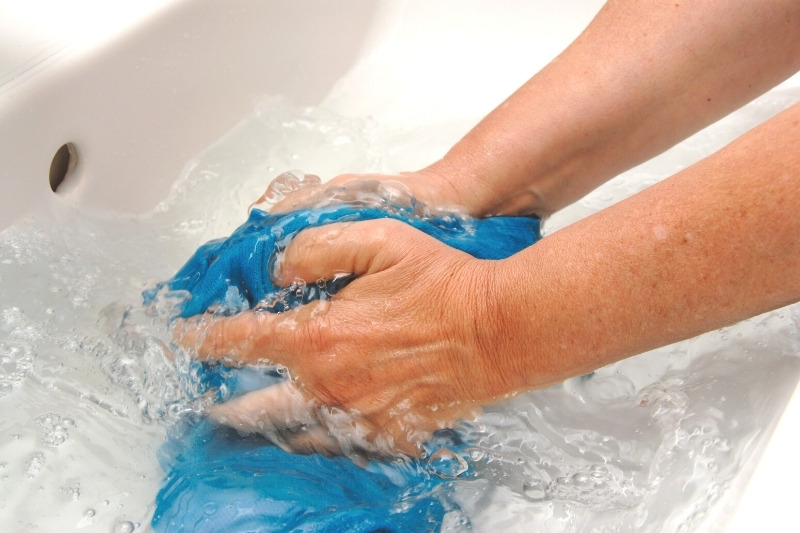 What's the Best Way to Hand Wash Clothes?
The best way to hand wash laundry is to do it either in the sink, bucket or bathtub, depending on the size of the garments and how much washing you have to do.
Follow these steps to hand wash clothes:
Separate clothes by colour and material.
Read each individual clothing tag to find out specific washing instructions.
Treat and remove any stains before you begin washing.
Prepare your washing and rinsing zones.
Add your detergent to the washing zone's water.
Add an item or two to the soapy water and start washing the item.
You'll need to rinse the items clean before drying them.
See our in-depth guide on how to wash clothes by hand for more detailed instructions.
Conclusion
If we had to recommend one product to buy it would be Ecover Delicate Laundry Liquid because it's an environmentally conscious item, it has a pleasant smell, and it's reasonably priced.
However, Stergene Gentle Care is an excellent alternative because the bottle is smaller, so easier to handle, its rich texture breathes new life into delicate materials, and its scent isn't overpowering.
Woolite Laundry Detergent Liquid is also another alternative because it can be bought in bulk form, comes with built-in technology that helps to protect clothes, and is fairly priced.

Bethan has a passion for exploring, reading, cooking and gardening! When she's not creating culinary delights for her family, she's concocting potions to keep her house clean!