If you don't like your appliances to be on show in the kitchen, or you've moved in to a place which is already built in, then an integrated washing machine is a really great option for you.
Integrated washing machines slot in between cupboards and also have a door on the front to keep your kitchen looking sleek.
Read on for our reviews of the top models available in the UK, or skip down to read some advice about choosing an integrated washing machine.
Best Integrated Washing Machines in the UK
1. Beko WTIK72151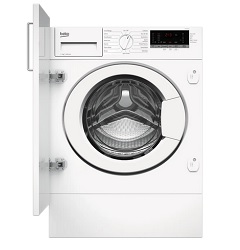 Capacity: 7 kg
Energy rating: C
Spin speed: 1200 rpm
Warranty: 2 years
Beko has created this dishwasher with speed in mind. The super short mode can get a few items of clothes clean in just 14 minutes. If you just want to wash your outfit from the day or your gym gear, this is the mode for you.
Or if you have a full load of washing but still need it done quickly, there is the Daily Quick Wash mode that will your clothes clean in just 28 minutes.
There are also loads of other programmes to use when you really need them. The StainExpert mode, for example, can help you wash away 24 different types of stains.
There is also the Hand Wash programme which can wash your delicates as delicately as you.
So, this washing machine is certainly designed for a busy home, but not a noisy home. The inverter motor ensures this is whisper quiet in pretty much every mode.
So, you can enjoy all these programmes while you enjoy your favourite TV programme.
Pros
The large door makes it very easy to pile in your dirty clothes
So many options, programmes and functions
Comes with a two-year warranty
Cons
Some users find that water accumulates in the dispenser draw, though this isn't too common.
Where to buy:
2. Baumatic BWI147D4E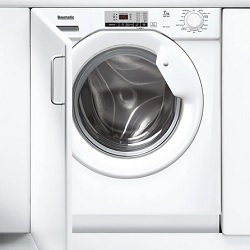 Capacity: 7 kg
Energy rating: D
Spin speed: 1400 rpm
Warranty: 1 year
The 7 kg drum capacity of this washing machine is ideal for a medium-sized family. And it is simple enough that everyone in the home can wash clothes easily.
However, it does still have some great programmes that you can take advantage of. Like the Cotton Programme, for example. This is designed for your t-shirts, and the results are top-notch. Wash your t-shirts on this mode, and they won't shrink, the colours won't bleed, and they will stay looking great for years!
There is also a delay timer which comes in really handy if you aren't quite ready to pop the washing machine on but want to get it ready. Plus, several quick wash modes, eco modes and a great deal more.
Pros
One of the easiest washing machines to programme on this list
Quiet, even when spinning at 1400 rpm!
Efficient washing on lots of the programmes
Cons
The hinge points are different to other washing machines, so installing the cabinet door can be tricky
Where to buy:
3. Bosch Serie 8 WIW28501GB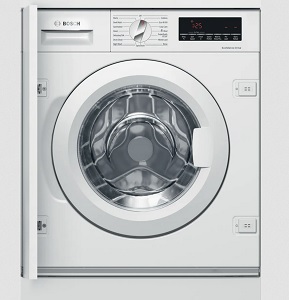 Capacity: 8 kg
Energy rating: C
Spin speed: 1400 rpm
Warranty: 5 years
The Serie 8 integrated washing machine from Bosch has a handy 8 kg capacity that is perfect for medium-sized households, especially those that produce a lot of washing.
This washing machine has a range of features to make everyday laundry quicker and easier, and the 5-year warranty offers great peace of mind too.
This Bosch washing machine is a sleek, modern choice that really can make day-to-day laundry easier for the average medium-sized household.
Features such as SpeedPerfect will help you tackle laundry faster, and the Reload function is great for those odd socks that get missed.
Pros
Choice of 15- and 30-minute quick wash programmes for last-minute emergencies
SpeedPerfect function can make cycles considerably quicker
Quiet during use; ideal for open plan living
Reload function lets you add missed laundry in part way through the cycle
Cons
No handwash function for delicate clothing
Regular cycles can be quite long
Only two programmes are designed for a full 8 kg load
Where to buy:
4. Indesit BIWMIL71252UKN

Capacity: 7 kg
Energy rating: E
Spin speed: 1200 rpm
Warranty: 1 year
We love the simplicity of this washing machine, and it is ideal for people who want an easy time with the washing but would still like several programmes to choose from.
If you have a mixed load of washing that you just want to get clean without learning how to programme a spaceship, just press the Go button, and the machine with start a regular, everyday washing cycle.
Want to make ironing easier? Well, there is an Easy Iron programme to help with this. There is also an Extra Wash programme, which removes more detergent and water after the wash to speed up the drying time.
So, this washing machine allows you to wash your clothes easily without programming it at all. But it still has plenty of features if you fancy getting fancy with the washing cycle!
Pros
Very efficient, with several eco-modes to choose from
So simple to use even when selecting programmes
Nice and quiet and even has a lovely beep to let you know the cycle is finished.
Where to buy:
5. Hoover H-WASH 300 LITE HBWS49D1ACE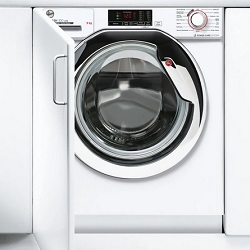 Capacity: 9 kg
Energy rating: C
Spin speed: 1400 rpm
Warranty: 1 year
Hoover is known for creating amazing kitchen appliances and chucking loads of awesome features into them.
This washing machine has some very impressive features, and frankly, we couldn't possibly cover them all here. Here are some of our favourites, though.
The three quick-wash modes are amazing. You have the option of a 14, 30 and 44-minute quick-wash mode on this machine, more than any other washing machine we've seen.
So, if you only have a few bits to wash, chuck them in, and they'll be washed before you've made a cup of tea, well, nearly.
The features continue, though. There is the Allergy Care mode which helps to get rid of bacteria and allergens in your clothes.
There is also the KG Mode. This senses the weight of your washing and changes the washing time accordingly. You don't have to do anything other than stick the washing in the 9 kg drum!
Hoover has done it again with this washing machine. It is packed full of features, yet still so easy to use.
Pros
Lots of modes to choose from, but very easy to use
Spins incredibly fast to drain as much water as possible
Looks really good despite it being an integrated machine.
Cons
Some say this washing machine is a bit nosier on certain wash cycles than other machines.
Where to buy:
How to Choose an Integrated Washing Machine
What is an integrated washing machine?
Integrated washing machines are designed to be positioned in a kitchen or laundry room unit and covered by a door panel. This means that the washing machine is integrated into the room, helping the room look tidier.
Integrated vs. freestanding washing machines
Most washing machines sold in the UK are freestanding rather than integrated. There are pros and cons to each type of washing machine.
Integrated washing machines have less capacity on average, so if you need a particularly large amount of capacity you will probably be better off with a freestanding machine.
On the plus side, integrated washing machines can be hidden away, making your kitchen or laundry room look tidier and smarter.
One downside with integrated washing machines is that they are more expensive than their freestanding counterparts. This is because they are manufactured in smaller quantities rather than because they are higher quality, so if you want to get the most amount of performance for your money, a freestanding machine might be better.
The sides and top of freestanding washing machines usually have smooth white finishes, whereas on integrated machines they are typically unfinished. The front of integrated models will also be more basic. This doesn't matter though because you won't actually see the top and sides when the washing machine is installed, and you will only see the front when you're actually using the washing machine.
Can you replace an integrated washing machine with a freestanding one?
Many people ask the question, "Why can't I just replace my old integrated washing machine with a freestanding one?" While this might seem like a simple thing to do, there are a few issues if you try to do this:
Freestanding machines are usually taller, and might not fit in your cabinet
Integrated washing machines have space for a plinth (the bit that runs along the bottom). Freestanding machines don't have space here, so they might not fit your cabinet properly.
What to look for in an integrated washing machine
Good energy efficiency rating: The best energy efficiency rating for a washing machine is A, but most integrated machines have a rating of C or D.
Good value for money: Integrated washing machines range in price from under £300 to over £800. Look for one that combines an affordable price with good features, high build quality and reliable performance.
Dimensions: For obvious reasons, one of the most important things when buying an integrated washing machine is making sure it will fit in your cabinet.
Good capacity: A washing machine's capacity determines how much washing you can do at once. If you have a family of four, you'll want a capacity of about 8-9 kg.
Integrated Washing Machine FAQs
How long do integrated washing machines last?
There are a range of factors that can influence how long a new washing machine will last, and that applies to both integrated and freestanding washing machines.
Factors such as the specifications, price, brand and functions are all things that you should consider when choosing the best washing machine for you, as all of these things can have an impact on how long a washing machine is likely to last. To make this decision, consult not only the manufacturer's own information, but reviews from users too.
Average lifespan
At one point or another, most of us will hear someone bragging that their washing machine has lasted 10, 20 or even 30 years. However, most of us can expect that a new washing machine will last around six years before we consider replacing it.
Manufacturer guidelines
Many manufacturers do now publish guidelines on how long they expect their washing machines to last, based on their own testing.
Indesit, for example, have quoted some of their appliances as being expected to last around 7 to 8 years, and other brands such as Miele test their appliances to the equivalent of 20 years use.
It is worth remembering, however, that even these expected lifespans from the manufacturer may not be accurate in certain circumstances.
Factors such as where the washing machine is installed, if it is regularly under or overloaded, how often it is used and how much detergent is added to each cycle can all influence the lifespan of a washing machine.
Do integrated washing machines need a cabinet?
Unlike many ovens or integrated fridges, integrated washing machines do not need a full cabinet. They usually sit directly on the floor just in between two cabinets, a cabinet and an end panel or a cabinet and the wall for support.
These washing machines then just need a cabinet door to be attached to the front; this can be hinged in either direction depending on your kitchen.
Can you integrate a normal washing machine?
Technically you can put a regular freestanding washing machine in a cabinet in the kitchen, but you will need to make sure the cavity is deeper than a normal space for an integrated machine as freestanding washing machines are larger.
To make it fit and sit flush with the remainder of your cabinets, you would need to either make the cabinets deeper, or pull them away from the wall, creating a larger gap behind them. It can be done, but for many people, it is probably easier to just buy an integrated washing machine.
Conclusion
If we had to pick just one integrated washing machine to recommend for most homes it would be the Beko WTIK72151. It's very highly rated by users, is reasonably priced and has all of the features most people are looking for in an integrated washing machine.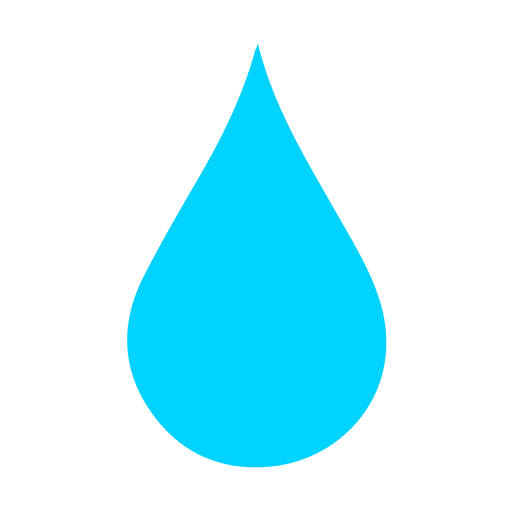 In The Wash is your guide to the best laundry and cleaning products, tips and tricks. Our mission is to solve the UK's cleaning and laundry dilemmas!