If you don't like your appliances to be on show in the kitchen, or you've moved in to a place which is already built in, then an integrated washing machine is a really great option for you. Integrated washing machines slot in between cupboards and also have a door on the front to keep your kitchen looking sleek.
Read on for our reviews of the top models available in the UK in 2017, or skip down to read some advice about choosing an integrated washing machine.
1. Beko WMI71641 Integrated 7Kg Washing Machine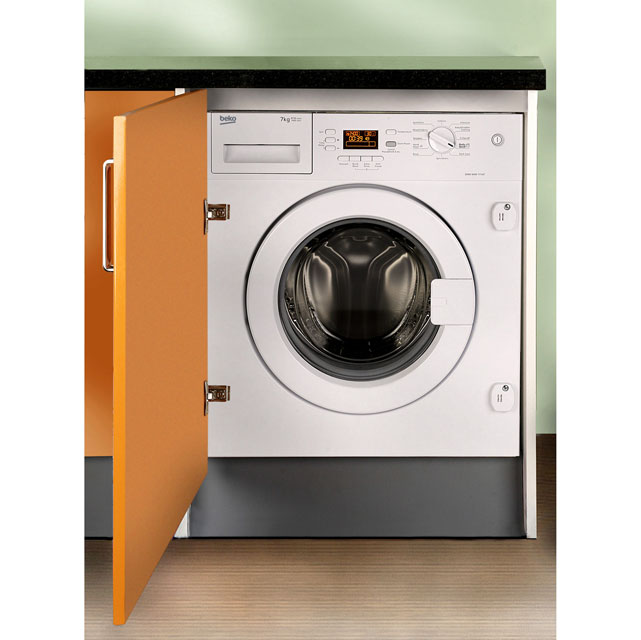 The Beko WM171641 Integrated 7kg washing machine is great for a family of 3-4 people and does everything a non-integrated machine can do. The dial and display are nice and clear so anyone can do the laundry; no excuses!
Features and specs
Capacity: 7 kg
Energy rating: A+
Spin speed: 1600 rpm
Warranty: 2 years
LED display as well as a dial for settings
Childproof lock and Control Panel lock
Timer delay up to 24 hours
16 wash programmes
14 minute quick wash programme
Automatic half load recognition programme
Aqua Wave Drum design
Pros
Good price point; not too expensive
Fast spin speed available (1600 rpm) which is great for an A+ rated machine
Control panel is simply designed and easy to use
A 2-year manufacturer's warranty is great to cover the machine for any issues which may arise
Automatically recognises when the machine is half full and uses less water
Eco-friendly
Aqua Wave drum helps to protect clothes in the wash, which is great for increasing the longevity of your clothes
Cons
Quite noisy during the spin cycle
Long washing cycles
May not be the best option for those in a hard water area as limescale can build up quickly on the heating elements
Drum is a little on the small side size-wise
Verdict
If you like to run a separate spin cycle to help to dry your washing further, then the 1600 rpm spin speed will come in very handy! This would be a good machine in a household with younger children as the machine has a child proof lock as well as a control panel lock, which means no stopping and starting or switching off the machine unexpectedly.
A 2-year warranty is a good plus to this machine as well as the eco friendly rating of A+, to help save money on your bills over time.
2. Hotpoint BHWM1292 Integrated 7Kg Washing Machine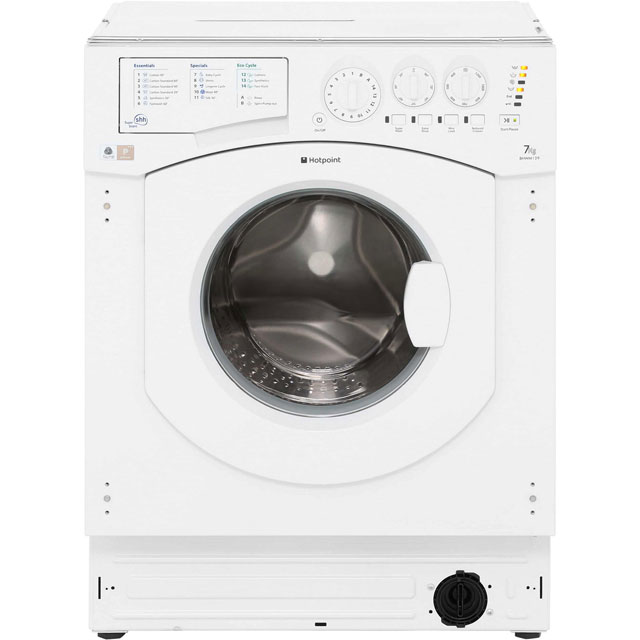 The Hotpoint BHWM1292 machine has a great 7 kg capacity for a medium-sized household. The Super Silent technology makes this a great choice for those who live in open plan houses, as it is quiet enough to run any time, day or night (see these quiet integrated washing machines if this is important to you).
Features and specs
Capacity: 7 kg
Energy rating: A++
Spin speed: 1200rpm
Warranty: 1 year
Dial and button control panel
Super Silent technology
16 wash programmes
Anti-allergy programme
Anti-bacterial programme
30 minute half-load function
Pros
Fairly low priced
Good drum size allowing laundry to move more; cleaning clothes more effectively
A++ energy rating is great for saving money and energy
Quiet when running due to Hotpoint's Super Silent technology
Removes allergens and bacteria during the wash cycle
Half drum, 30 minute wash programme is great for quick freshen ups during the week
Easy to use
Cons
Highest spin speed not that high – 1200rpm
No LED screen to show how much time is left of wash cycle
No child proof lock or control panel lock function, so not great for families with inquisitive small children
No delay timer
Some cycles are very long
Verdict
This washing machine would be a superb choice for a household which includes someone with allergies as the machine removes up to 99% of allergens and bacteria. Alternatively, this may be a good option for people with babies, to get their clothes as clean as possible.
Although the spin speed is slow and the features are relatively limited, this is a good brand of washing machine and good value for money for an integrated machine. As briefly mentioned above, the Hotpoint would be the best option for an open plan home as it runs so quietly it won't disturb other activities in the home.
3. Beko WMI61241 Integrated 6.5Kg Washing Machine
The second Beko in our list has a slightly smaller drum capacity, making it better suited to a household of 2-3 people. At the time of writing the WM161241 is the cheapest in this integrated washing machine roundup, so it's a great choice for a household on more of a budget.
Features and specs
Capacity: 6.5 kg
Energy rating: A+
Spin speed: 1200 rpm
Warranty: 2 years
LED display, dial and button control panel
Child Safety Lock
Automatic Half Load water adjustment
Automatic Unbalanced Load Control
16 wash programmes
39 minute quick wash function (full load)
14 minute speedy wash for 2kg
24 hour delay timer
Pros
Good value for money
Washes really well
Can have a full load completed in 39 minutes
Good variety of wash cycles including Baby & Toddler, Anti-Creasing and Hand Wash programmes
Saves water with a half load sensor
14 minute speed wash is great for items which get washed regularly or for last minute items
LED screen shows time left in cycle
Cons
Smaller capacity may mean running the washing machine multiple times for a normal wash load
Quite noisy during wash cycle and spin cycle
Highest spin speed is just 1200 rpm
May move a lot during cycles if not set in place properly by a professional
Can be a tight fit into dedicated integrated space (always measure before purchasing)
Using too much washing powder can cause the drawer to leak slightly
Verdict
This is a really good budget option for those who need integrated washing machines in their kitchen or laundry room. The option to carry out a smaller load in 14 minutes is great for gym clothes or work uniforms which need regular washing on a timescale to suit busy lifestyles; this would be a great option for a young professional couple.  Being able to delay the start time of your wash by up to 24 hours means you can arrive home after a busy day at work to clean clothes, ready to be taken out of the washing machine.
Since the Beko integrated washing machine has a smaller 6.5 kg capacity, it would not be the best option for a big family with a lot of laundry to do, however it is a decently priced machine for families on a budget.
This machine would be a great choice for a single parent with a baby or small child as the Baby & Toddler programme allows the clothes to be washed for longer with extra rinsing, this is also great for those with allergies!
4. AEG L61271BI Integrated 7Kg Washing Machine
The AEG L6127BI Integrated washing machine has 14 great washing programmes making washing simple to do and the 7 kg capacity drum means you can fit those last few pairs of socks and pants in without worry!
Features and specs
Capacity: 7 kg
Energy rating: A++
Spin speed: 1200 rpm
Warranty: 2 years
LED display, dial and button control panel
Child Proof Lock
Extra rinse cycle
14 wash programmes
Aqua-Control
Pros
Looks good with an easy to use control panel
Good energy rating of A++
Cheaper and more efficient to run
The Aqua-Control technology means the machine can sense if a leak occurs and stops the water and alerts you to the problem
Able to set different temperatures for different wash times
Cons
Quite expensive for the capacity
Daily wash time is rather long at 180 minutes
Relatively noisy during spin cycle
Fastest spin speed is just 1200 rpm
14 washing programmes is less than the other machines offer
Verdict
AEG are a good washing machine brand and this machine has a good build with some good features. The 7 kg capacity makes the AEG L6127BI a great option for a household of around 3-4 people.
This is a good all-rounder with a great energy rating, saving you money over time on your energy bills, which is a good thing considering this is the most expensive integrated washing machine in our list (at the time of writing).
If you tend to run the washing machine while you nip out or time it to be finished by the time you get in from work, this would be a super option as the Aqua-Control would mean no worries of coming home to Niagara Falls!
5. Indesit Ecotime IWME147 Integrated 7Kg Washing Machine
The Indesit Ecotime has a unique design to it with a round porthole in a square door frame, this could be something that appeals to you as it is different from most other machines. The 7 kg drum capacity is the ideal size for a medium household of around 3-4 people and the A+ rating means you can save some money on energy bills!
Features and specs
Capacity: 7 kg
Energy rating: A+
Spin speed: 1400 rpm
Warranty: 1 year
Dial and button control panel
16 wash programmes
30 minute daily wash function
9 hour delay wash time
Pros
Looks good with an easy to use control panel
Good energy rating of A+
Cheaper to run, saving money on energy bills over time
Wide opening door to make loading easier
Able to wash clothes in 30 minutes, great for last minute items
Cons
No LED display to see the wash time countdown to finish
Hot wash takes a long time using more power and water
Shorter warranty than others and can be prone to problems
Some wash programmes are very long
Verdict
This mid to low-priced integrated washing machine has similar features to the other machines reviewed here and a simple panel for controlling the temperature and length of your wash, making this a good option for those who prefer dials and buttons without any confusing screens. However, if you like to see the countdown of the wash, don't go for this machine.
The design is pretty stylish with the square, wide opening door rather than the usual round door, so for those looking for a little quirk for their kitchen this could be it. With 2 sports wash programmes, this could be a winner for those who like to play football or head to the gym a lot. The Indesit is perfect for a family with active and outdoorsy types in it too!
How to Choose an Integrated Washing Machine
What is an integrated washing machine?
Integrated washing machines are designed to be positioned in a kitchen or laundry room unit and covered by a door panel.  This means that the washing machine is integrated into the room, helping the room look tidier.
Integrated vs. freestanding washing machines
Most washing machines sold in the UK are freestanding rather than integrated. There are pros and cons to each type of washing machine.
Integrated washing machines have less capacity on average, so if you need a particularly large amount of capacity you will probably be better off with a freestanding machine.
On the plus side, integrated washing machines can be hidden away, making your kitchen or laundry room look tidier and smarter.
One downside with integrated washing machines is that they are more expensive than their freestanding counterparts. This is because they are manufactured in smaller quantities rather than because they are higher quality, so if you want to get the most amount of performance for your money, a freestanding machine might be better.
The sides and top of freestanding washing machines usually have smooth white finishes, whereas on integrated machines they are typically unfinished. The front of integrated models will also be more basic. This doesn't matter though because you won't actually see the top and sides when the washing machine is installed, and you will only see the front when you're actually using the washing machine.
Can you replace an integrated washing machine with a freestanding one?
Many people ask the question, "Why can't I just replace my old integrated washing machine with a freestanding one?" While this might seem like a simple thing to do, there are a few issues if you try to do this:
Freestanding machines are usually taller, and might not fit in your cabinet
Integrated washing machines have space for a plinth (the bit that runs along the bottom). Freestanding machines don't have space here, so they might not fit your cabinet properly.
What to look for in an integrated washing machine
Good energy efficiency rating: The best energy efficiency rating is A+++, but A+ and A++ are also good.
Good value for money: Integrated washing machines range in price from under £300 to over £800. Look for one that combines an affordable price with good features, high build quality and reliable performance.
Dimensions: For obvious reasons, one of the most important things when buying an integrated washing machine is making sure it will fit in your cabinet.
Good capacity: A washing machine's capacity determines how much washing you can do at once. If you have a family of four, you'll want a capacity of about 8-9 kg.
Related posts