What is the best washing machine to buy in the UK right now?
You want a machine which can handle large wash loads, look after baby clothes and delicates, make laundry days easier and also not add too much onto your energy bills. Let us tell you that there are washing machines which can do all of that and more, and we've collected together some of the best options on offer.
In this guide, we'll look at what we consider to be the top 10 best washing machines on the market right now – including highly-rated machines from reliable brands. We have also tried to include something for all budgets as we know not every household can shell out £400+ on a washing machine.  This guide should help you to find the best bang for your buck, so you don't feel short-changed.
Read on for our reviews of the top models, plus more information to help you choose the right washing machine for your home.
All of these washing machines included in this list are free-standing rather than integrated.
Best Washing Machine (2020 UK)
1. Samsung WW90J5456FW
Load capacity: 9 kg
Dimensions: 85 cm high x 60 cm wide x 55 cm deep
Spin speed: 1440 rpm
Energy rating: A+++
The Samsung WW90J5456FW is one of the most popular and highly rated washing machines on the market in the UK, and we'd recommend it as the best washing machine for most people. It covers all bases, has a great energy rating and the ideal drum size for most UK family households.
A 9kg drum allows more movement meaning that your laundry gets a better wash and more chance to dry during the spin cycle. One unusual thing about this machine is that it plays a short tune when your washing is done, which is something that some people like but others find annoying. However, you can turn this feature off if it does become an annoyance.
Features
Samsung's ecobubble technology for more energy-efficient washing
15-minute quick wash feature
Stay Clean Drawer—jets of water stop washing detergent getting stuck in draw
Smart Check feature for error monitoring and troubleshooting via an app
Digital inverter motor for reduced noise and vibration
Pros
Plenty of wash cycles to choose from
5-year warranty available
Reliable—should last a long time
Fairly quiet

Large drum for big wash loads
Cons
Relatively pricey

Most cycles are quite long except for the 15-minute cycle
Summary
This is a great all-round washing machine, and there is very little to complain about. It's quiet and has a lot of wash cycles to choose from, including a handy 15-minute quick wash cycle.
Samsung is already known as a reliable brand so the added 5-year warranty just gives you extra peace of mind when it comes to the longevity of your product. If you live in a household of 3 or more (or just have lots of laundry loads to do) then a 9kg drum is perfect for you. Also, the self-cleaning detergent drawer is a feature that could save some time when it comes to washing machine care and upkeep.
2. Bosch WAT28371GB
Load capacity: 9 kg
Dimensions: 84.8 cm high x 59.8 cm wide x 59 cm deep
Spin speed: 1400 rpm
Energy rating: A+++
The Bosch WAT28371GB is one of the main rivals of the Samsung WW90J5456FW reviewed above. It has a similar price tag and is made by another popular and highly rated washing machine manufacturer.
The 9kg drum is advertised to hold 45 shirts per wash – ideal for a family of adults who all need uniforms or work clothes on the daily. This multi-featured appliance has plenty to offer, so let's take a look at some of those features, pros and cons.
Features
VarioPerfect—lets you choose to wash clothes quicker with more energy, or more slowly using less energy
Allergy+ feature for removing allergens more effectively
ecoSilence drive—keeps the machine quiet
Delay timer
30-minute SuperQuick cycle
Pause function
Pros
Lots of washing programmes available
Quiet
Easy to use
Cons
Most programmes are only suitable for smaller loads (not 9 kg)
Summary
One of the best things about this washing machine is how quiet it is. It's also easy to use and offers plenty of settings and washing programmes. Bosch is another trusted household name, so you know you're getting quality and a 2-year manufacturer warranty gives you more comfort in spending a bit more on your washing machine.
3. Samsung AddWash WW90K5410WW
Load capacity: 9 kg
Dimensions: 85 cm high x 60 cm wide x 55 cm deep
Spin speed: 1400 rpm
Energy rating: A+++
The Samsung AddWash WW90K5410WW takes its name from the fact that you can pause it to add something to the wash via a small door if you've forgotten something.
This is useful if you put a load on and then realise there are still a few pairs of socks left in your laundry basket or accidentally dotted along the floor.
With a 9 kg load capacity, this machine could be a good choice for a family. Like some other Samsung washing machines, it plays a short tune when the washing is done.
Features
15-minute quick wash cycle
Delay timer
Pause button for adding items
Digital inverter motor for reduced noise
LED display
Pros
Easy to use
Quiet
Self-cleansing dispenser
Useful AddWash and delay timer features
Cons
Washing is very wet after short cycles
Some cycles are very long
Summary
Overall, the Samsung AddWash WW90K5410WW is a great washing machine with some really useful features. It's well designed and so should last a long time.
It is available in both White and Graphite colourways so you can choose the ideal machine to fit into your surroundings and match your other appliances. The large drum size makes this an ideal choice for a larger family and is great for washing bed linen and other larger items.
4. Hotpoint WMFUG942PUK SMART
Load capacity: 9 kg
Dimensions: 85 cm high x 59.5 cm wide x 60.5 cm deep
Spin speed: 1400 rpm
Energy rating: A++
The Hotpoint FML942 is a reasonably priced washing machine with some useful programmes, including programmes for removing allergens, getting rid of stains and washing delicate items.
It uses old-fashioned dials rather than a digital display, which some people prefer.
Features
Anti-allergy programmes
Anti-stain cycle
Delicate wash cycle suitable for 'hand wash' items
Pros
Relatively cheap
Very quiet
Useful programmes
Cons
Energy rating could be higher
Some cycles take around 3 hours
No delay timer feature
Summary
This washing machine doesn't have as many features as some of the other machines reviewed here, but there are a lot of things to like about it.
It's very quiet, even on the spin cycle and the 9 kg capacity is good for families who get through a lot of laundry.  The price is very well suited to families who are on a budget!
5. Candy Grand'O Vita GVS169DC3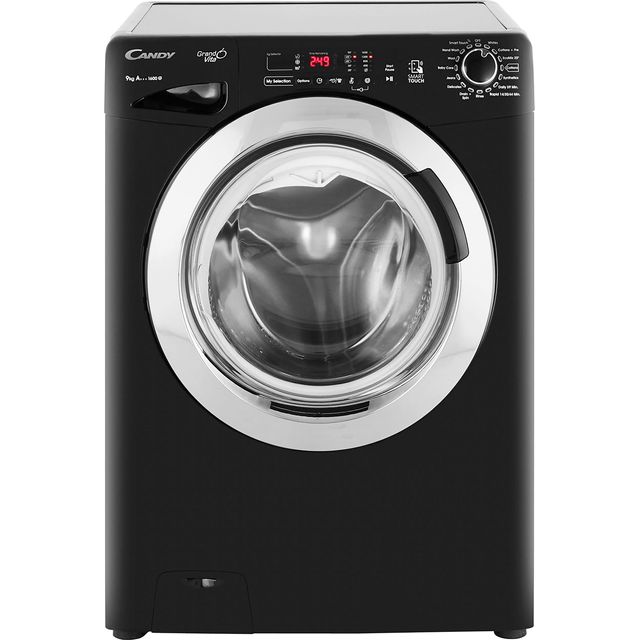 Load capacity: 9 kg
Dimensions: 85 cm high x 60 cm wide x 52 cm deep
Spin speed: 1600 rpm
Energy rating: A+++
The Candy Grand'O Vita GVS169DC3 is an inexpensive 9 kg washing machine that's currently only available on AO.com. For such a great price, you get the highest eco-rating, larger capacity and a super-fast 1600 rpm spin to ensure your clothes come out of the machine dryer.
One nice thing about this machine is that it automatically adjusts the amount of water and energy used based on the weight of the load, which saves you money over time.
Available in 3 different colour-ways – Black, Graphite and White, the Candy Grand'O Vita will fit into any kitchen or laundry room scheme and can match all of your other appliances. The design Is pretty sleek-looking too and definitely doesn't look like one of the lower-priced items in our list.
Features
KG Detector – adjusts water and time based on load weight
Smart Touch technology lets you monitor washing progress using an app
Delay timer
3 quick wash programmes (14, 30 or 59 minutes)
Delicates programme suitable for washing woollen items
Pros
Relatively cheap
Shortest cycle is very quick (14 minutes)
Automatically adjusts to load size
Easy to install
Can control with an app
Cons
1600 spin speed only applies to longer programmes
Made by a less established brand
The app is only available on Android
Summary
The Candy Grand'O Vita GVS169DC3 is a very good washing machine for the price. However, you may have reservations about buying from a lesser-known brand. But with lots of happy customer reviews, you might be swayed to take the plunge into purchasing such a great value machine.
This accessible price would make this washing machine the ideal choice for student accommodation or for someone looking to kit out their new home on a budget.
6. Bosch WAN28201GB
Load capacity: 8 kg
Dimensions: 84.8 cm high x 59.8 cm wide x 55 cm deep
Spin speed: 1400 rpm
Energy rating: A+++
With an 8 kg capacity, the Bosch WAN28201GB is slightly smaller than some of the other washing machines reviewed here, but is still big enough for a busy family. The reduced noise level of this machine while running means that you could even run the washer while your little one had a nap.
Clever sensors mean that you'll never waste water or energy on a smaller wash, which is ideal for those quick items needed "like right now", which is often the case in a family with growing children.
Features
EcoSilence Drive for increased energy efficiency and reduced noise
VarioPerfect lets you choose to prioritise speed or energy efficiency
ActiveWater feature senses the load size and adjusts the water and energy use accordingly
Allergy+ setting for households with hayfever or pet allergies
Pros
Relatively quiet
Flexible, with lots of options and washing programmes
Very energy efficient
Easy to install
Cons
Number of options make it quite complicated
Some cycles are very long
Summary
The Bosch WAN28201GB is a very flexible machine that gives you a lot of control over your washing, with many great settings to keep the cycle as well suited to the contents of your wash as possible. However, this can make it quite complicated to use at first, and you may need to refer to the user manual a lot.
If you like a straight-forward experience when doing your laundry, it might be better to consider one of the other machines on our list.
This would be a great option for a small to a mid-sized family who may have babies, young children or people in the house with allergies as this machine is ideal for removing allergens from your washing.
7. Hotpoint NSWA1043CWWUK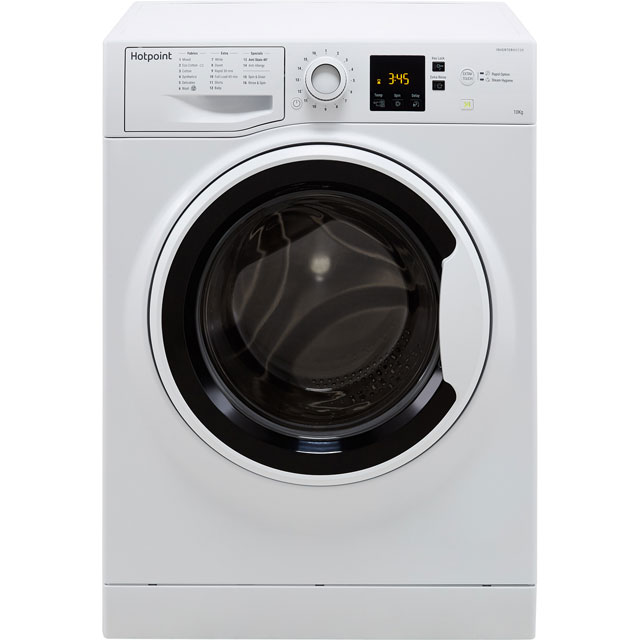 Load capacity: 10 kg
Dimensions: 85 cm high x 59.5 cm wide x 60.5 cm deep
Spin speed: 1400 rpm
Energy rating: A+++
This affordable washing machine from Hotpoint could be a good choice for bigger families with its 10 kg load capacity. You could also take advantage of the cheaper tariffs overnight by using the delay timer, meaning you can save even more money on your bills. Some of the longer functions i.e. cotton wash would be a great choice for running on off-peak rates as this exceeds 3 hours.
It has lots of programmes to choose from, including some for removing stains and allergens – the Steam Hygiene function helps to remove any allergens and 99.9% of bacteria from your wash and is carried out after your normal washing cycle has finished. This extra cleansing ability means that this washing machine would be ideal for family members with sensitive skin or allergies.
Features
Anti-Allergy cycle for removing allergens
Anti-stain programme
Steam Hygiene function
Gentle cycle for washing woollen items
30-minute quick wash programme
Pros
Good value for money
Quiet
Plenty of programmes to choose from
Large drum size
Cons
Washing can come out quite wet after quick cycle
Summary
The Hotpoint NSWA1043CWWUK is ideal for larger families who get through a lot of wash loads and like to separate their washing to get the best results for each fabric type. With so many cycle options and the added benefit of steaming, this washing machine could be one of our favourites!
If you don't want to spend too much on a washing machine but still want all the mod-cons and more, this versatile and reliable machine is the ideal choice for you. Plus, it is made by a trusted household-name brand.
8. Indesit BWE91484XK
Load capacity: 9 kg
Dimensions: 85 cm high x 60 cm wide x 61 cm deep
Spin speed: 1400 rpm
Energy rating: A+++
The Indesit BWE91484XK is a stylish and reasonably priced washing machine with a great 9kg capacity and spin speeds of up to 1400 rpm. This A+++ rated washing machine means you could save money on your energy bills as well as saving money by purchasing a more price-accessible machine. You could also save more by using the delay timer to make use of lower energy tariffs overnight.
With a multitude of different washing functions, you can keep your entire gym kit as clean as a whistle, including your trainers! The Antiodor and Sport Shoes cycles make this as easy as pie. Don't worry, though, this machine isn't just made for tougher stuff, it still washes woollens and delicates with care too.
Features
Water Balance Plus feature for saving water
Delay timer (up to 24 hours)
Shoes programme
Delicates programme
Pros
Energy and water-efficient
Stylish design
Usually fairly quiet
Cons
Some cycles are very long (over 3 hours)
Clothes may need an extra spin cycle after washing
Summary
The Indesit BWE91484XK looks great and is very energy efficient. However, some programmes are very long, so it's not ideal if you need to get the washing done quickly. The Push & Wash function is 45 minutes long, which for a quick-wash, isn't the speediest.
This washing machine would be a great choice for a busy, active family who could take advantage of some of the unique sports-based functions of this well-priced machine. The 9kg drum also works well for households with lots of laundry loads to do!
You might want to keep the manual around when you first purchase this machine, as some of the functions may require a little extra knowledge before you can use them.
9. John Lewis & Partners JLWM1407
Load capacity: 7 kg
Dimensions: 85 cm high x 60 cm wide x 57 cm deep
Spin speed: 1400 rpm
Energy rating: A+++
This own-brand washing machine from John Lewis & Partners comes with a nice 3-year guarantee which gives you peace of mind when making such an important purchase. John Lewis is known for reliability when it comes to making this kind of investment buy and offer really good customer service when needed.
Although the 7 kg capacity is a bit smaller than some of the other machines reviewed here, this model is still a good choice for families who produce plenty of laundry. There are many great wash functions which make it easy to keep all of your clothes, towels and bedding clean. If you live in jeans, then you'll love the Denim cycle and if you like to keep your smalls in top-notch nick, then you'll love the Delicates and Silk washes.
Features
14-minute quick wash cycle
Delay start function
Adjustable programme lengths
Auto-Sensing feature adapts cycles to suit
Pros
Plenty of cycles to choose from
3-year guarantee
Very easy to use
Cons
Some washing cycles are very long
Can be noisy
Summary
The John Lewis & Partners JLWM1407 is easy to use and has some good features, though it can be quite noisy and some washing cycles take a long time, so may not be the best choice for those living in open-plan spaces or studio apartments.
Since this is just a 7kg machine, it might be better suited to couples or small families. Nevertheless, this washing machine is a really good choice for those who love John Lewis products and like a longer warranty on their appliances.
10. LG F4J609WN NFC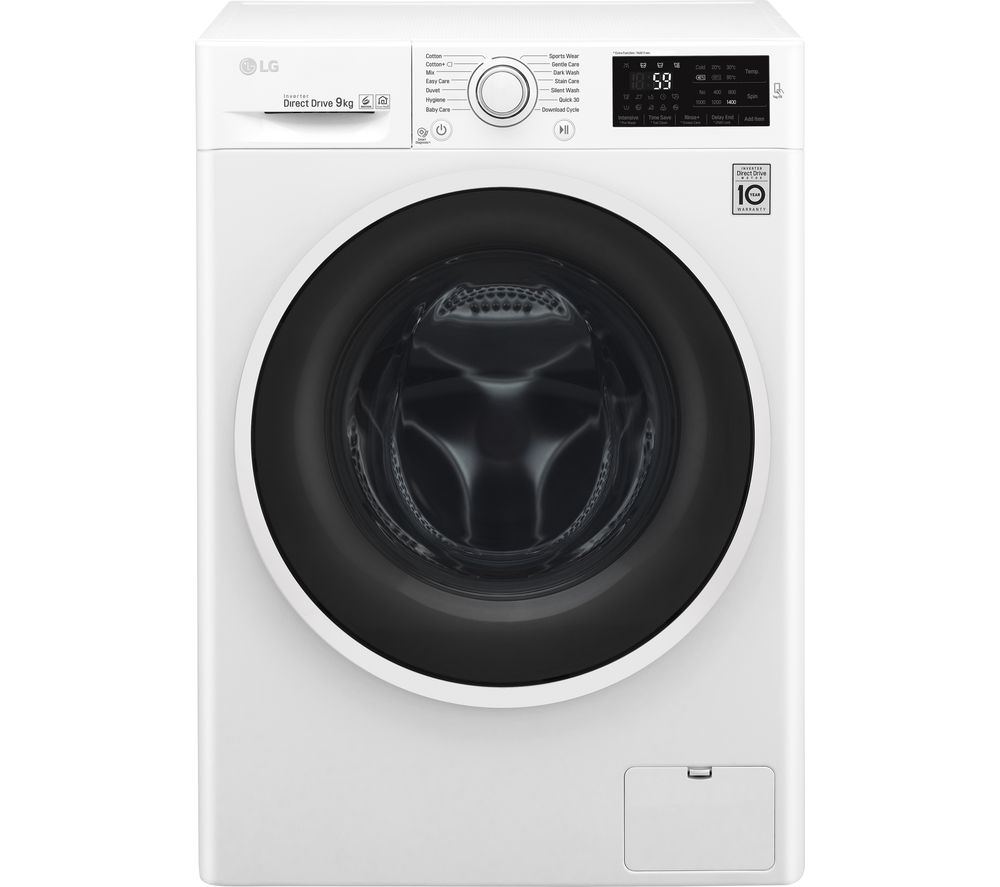 Load capacity: 9 kg
Dimensions: 85 cm x 60 cm wide x 61 cm deep
Spin speed: 1400 rpm
Energy rating: A+++
With a 9 kg drum capacity, the LG F4J609WN NFC could be a good choice for large families who need to be able to wash a lot of clothes at once. The 6 Motion Direct Drive technology in this machine means that the quality of your clothes remains, wash after wash – the drum moves in multiple ways throughout a cycle, specific to the fabric type you are washing, so a gentle wash is always guaranteed.
This machine is also quieter when running due to its Inverter Direct Drive, meaning there are less moving parts to cause vibrations and noises during a spin cycle. Ideal for a studio apartment or open-plan living space.
If you love a bit of tech and like to control your home using your phone, then you can enlist the help of the SmartThinQ app to control your washing on the go! This smart functionality also means you can diagnose any problems you might be experiencing with your machine.
Features
Delay timer (up to 19 hours)
30-minute quick wash cycle
6 Motion Direct Drive technology
Can control machine using the SmartThinQ app and download new cycles
Pause & Add function
Pros
10-year warranty
Large drum size
Quiet
Stylish design
Rinses well
Cons
Quick wash is only for 2 kg load
Clothes may need an extra spin cycle after washing
Summary
The LG F4J609WN NFC is a stylish washing machine with a large drum capacity, making it be ideal for a big family household. The price may not be as low as some others in our list, however, with a 10-year warranty, you will get more peace of mind making a slightly bigger purchase.
If you regularly find stray socks and pants lying on the floor just as you've set the washer away, then the Pause & Add function will be something very well suited to you! Again, making this the perfect choice for a family.
Best Washing Machine Brands
Which washing machine brand should you choose? Here are 12 of the top brands available in the UK.
AEG
German-based company AEG was founded in Berlin over 100 years ago and was originally known as the German Electricity Company.
The company has been bought and sold several times since being founded in 1883, and the appliance side of AEG is now owned by Electrolux.
AEG is placed in the upper-midrange of the market, with machines typically costing between £400 and £900.
The brand is extremely reliable, with AEG washing machines generally praised by customers for their excellent washing ability.
Many recent models have a much higher drum capacity than washing machines made by other manufacturers, with some AEG machines able to hold up to 10kg washes.
AEG machines generally only come in white, although some models are available in silver.
AEG has introduced several innovative features to their washing machines, such as a steam function for freshening up a small 1.5kg load of dry-clean-only items, and ÖKOMix technology.
With ÖKOMix, the detergent is premixed with water then sprayed directly into the drum where it begins to work straight away (unlike most machines where the laundry, water and detergent are mixed together, and the detergent can take much longer to dissolve).
This means clothes can be washed more gently and at a lower temperature, protecting garments and saving energy.
Beko
Beko is a Turkish based company and was founded in Istanbul, in 1967.
Beko is firmly placed as a budget brand, with most models typically costing between £200 and £350 – similar to brands such as Hotpoint and Indesit.
It's a very popular brand in the UK, with huge numbers of machines sold each year.
Many customers rate them highly for value for money, and despite the lower price Beko machines are generally reliable – however even though there are machines with special programs available, don't expect many cutting-edge technological features from this budget brand.
One area where Beko does excel is choice of design – not only are there many models to choose from, but Beko produce machines in a much wider variety of colours than many other brands.
For example, some models are not only available in the usual white and silver, but also in shades such as red, black and various greys.
Bosch/Siemens
Bosch and Siemens are the principal brands forming part of the German company BSH Hausgeräte GmbH, (or BSH Home Appliances), the largest manufacturer of home appliances in Europe, and their washing machines share many of the same parts and technologies.
The Siemens brand dates back to 1847 and Bosch was founded in Stuttgart in 1886.  In 1967 Robert Bosch GmbH and Siemens AG set up BSH Hausgeräte GmbH as a joint venture, however in September 2014, Robert Bosch GmbH agreed to purchase Siemens' 50% stake in the company.
Bosch products and Siemens products are currently placed as upper mid-range in the washing machine market, however, both brands do have premium models, which offer more advanced technology. This extra complexity and these additional features obviously come at a higher price, some exceeding the £1000 mark.
Both brands are generally considered to be reliable and offer innovative technological features such as remote operation via smartphone or tablet PC.
Bosch and Siemens washing machines are sleek and modern in design; however, most models are only available in white.
Hoover
Hoover is one of the World's best-known appliance manufacturers, founded in Ohio, USA in 1908.
The Hoover Group quickly expanded into the UK and Europe and continued to grow until the 1980s.
In 1995 Candy purchased Hoover European Appliances Group with exclusive rights to the Hoover brand in Europe, North Africa and the Middle East.
Hoover is considered a budget-mid-priced brand today, producing washing machines that are affordable to many, but which don't always rate highly on reliability tests and with consumers.
Some Hoover models are available in black, as well as white or silver – and look quite stylish for a budget appliance.
Hoover machines don't offer as much as higher-end brands in the way of advanced technology, however, top-of-the-range Hoover washers are beginning to roll out cutting-edge technology, such as remote control via an app. These extra features are, of course, being sold for a higher price than the standard washing machine models.
Hotpoint
Hotpoint was created in 1911 in Ontario, California and in 1920, it established Hotpoint Electric Appliance Company Limited in the United Kingdom, a joint venture with competitor General Electric.
Recently, it was acquired by American appliance firm Whirlpool.
Hotpoint is an affordable budget brand, with an average price of around £300-£350 for a washing machine.
Hotpoint machines offer better reliability than many other budget-range machines; however, washing performance is much poorer than machines from mid and high-range brands.
Unlike machines from some other budget brands, even the cheaper Hotpoint appliances often have useful features such as remaining-time displays and various high spin speeds.
Some models also use premixing technology called Direct Injection, where detergent and water are premixed and sprayed directly into the wash, allowing washing temperatures to be reduced whilst laundry is still washed effectively.
Indesit
Indesit was founded in Fabriano, Italy in 1975, and was recently bought by the American company Whirlpool, which (as mentioned above) also makes Hotpoint.
Indesit is a budget brand, with most machines costing less than £300 and top-of-the-range machines costing just a little more.
Indesit washing machines aren't the most reliable appliances, even amongst budget brands, and they're also not the best for removing dirt from clothes.
They don't boast many features or cutting-edge technology like other branded washing machines do, however, they are easy and simple to use and offer several colour options including stylish black.
LG
LG is based in Seoul, South Korea, and was founded around 70 years ago.
LG is placed in the upper-midrange of the market, with some machines starting at as little as £350. More advanced models with larger drum capacity do exceed the £1000 mark, but you can get something similar for around £700.
LG washing machines offer good reliability for the price, second only to high-end brands such as Miele.
The direct driver motor rotates the washing machine's drum directly rather than using belts, chains or gearboxes and is a design feature that has become associated with the LG brand, although this is not exclusive to LG.
This feature can reduce the noise of the machine, and also increases the reliability with fewer parts to potentially fail.
Miele
German-based company Miele was formed 118 years ago in Herzeblock, and remains a family-owned business.
Miele is a high-end brand, with machines starting at around £550 but with some models costing well over £1000.
Miele washing machines are generally considered the most reliable machines available on the market, and also offer five-year or even ten-year parts-and-labour warranties as standard.
Miele tests their machines for twenty years' worth of use and they are expected to last twice as long as competitor's models.
In addition to being one of the most reliable machines you can buy, Miele washing machines also offer leading-edge technology and unique features, for example a two-phase detergent dispensing system called TwinDos, designed to improve washing performance, and a patented honeycomb drum design to help protect your laundry.
Miele washing machines have a sleek and stylish design, however, they are usually only available in white or silver.
Samsung
Samsung are a multinational conglomerate formed around 80 years ago in Daegu, South Korea.
Samsung is often more well-known for producing technology such as mobile phones, however, they are a growing presence in the UK washing machine market.
Samsung washing machines are placed in the upper-midrange of the market, with models available from around £350, but some advanced machines may cost well over £1000 (one specific model would get you closer to a £2000 spend)!
These are generally reliable washing machines and perform well, with excellent washing capabilities.
Samsung washing machines are known for their advanced features and effective use of new technology, including their Ecobubble system which mixes detergent and water then injects air to create activated foam, which gets deeper into the fibres of clothing to clean more quickly and efficiently.
Another useful function is the AddWash feature, a hatch in the door which allows you to add extra items halfway through a wash with ease.
Smeg
Smeg was formed in Italy in 1948 and remains a privately owned family company.
Smeg are a premium brand, well known for their stylish fridges but now producing a wide range of other appliances including washing machines. Their washing machines can range vastly in price from around £450 to over £1000.
Unsurprisingly for a company well-known for their beautifully designed appliances, Smeg produce sleek and attractive washing machines, which also offer excellent reliability and up-to-date features such as LED displays.
Their 50's style free-standing washing machines copy the retro design of the famous Smeg fridges and have a completely different look to any other washing machines on the market.
They're also available in pretty and unusual colours such as cream, pastel blue and pink – perfect for a retro-inspired kitchen or laundry room.
Zanussi
Formed in 1916 in Italy, Zanussi began to export products in 1946 and now produces a wide range of washing machines for the UK market.
Zanussi was originally a mid-range brand in the UK, however, in recent years they have begun to produce more affordable machines in the low budget bracket, starting at as little as £200.
Integrated models are available, but Zanussi is generally associated with freestanding machines.
They have a good reliability record for lower-priced washing machines and are known to be excellent at washing clothes.
Zanussi doesn't specialise in advanced washing technology, however, they do offer plenty of features that make washing easier, particularly for large families and busy households, such as a large 10 kg drum capacity, and generously sized doors to make loading and unloading laundry easier.
Where to Buy a Washing Machine
Buying a washing machine is something everyone needs to do at some point in their lives, and it really shouldn't be all that hard to do.
Prices can vary from about £30 right up to over £2,000; it just depends on what you're looking for and how much you're willing to spend.
So the first decision to make is whether you want to buy new or get one second-hand.
Where to Buy a New Washing Machine
Buying a new washing machine is usually the preferable option when it comes to kitting out your kitchen or utility room, as you know it will be pristine and won't come with any pre-existing fluff or residue from someone else's laundry.
Also, with a brand new machine, you'll be covered for any malfunctions or breakages and more often than not you will be able to get it delivered straight to your door. If you've ever even just tried moving your washing machine, you'll know that trying to transport one in a car or van is a tricky process without the right tools.
Where possible, visit your local retailer to browse the machines they sell and even chat with the sales assistants about the different makes and models. Ask about specific functions you would prefer your machine to have and give a ballpark figure of your budget to make sure you get to see the right appliances for you.
Make sure you measure up the space you have for the washing machine, as you may end up buying a machine that is just a centimetre too big and nobody needs that problem! Most appliances do have standard sizing, so this shouldn't be too much of a worry, but it's always best to double-check.
Pros of buying a new washing machine
Here are a few of the main advantages of buying a washing machine new rather than second-hand:
Brand new so it shouldn't have any faults
Wide choice
Options for free delivery
Options to spread the cost
Warranty/guarantee to cover broken or malfunctioning machines
Cons of buying a new washing machine:
Can be expensive
Having too many choices
Currys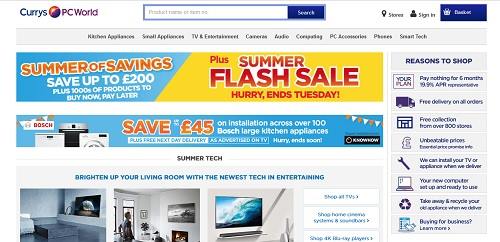 A well known and trusted company with a history that stretches back to the 1880s, Currys is a very popular choice for purchasing household appliances and electricals.
Price:
Roughly £170 – £1700 (at the time of writing)
Choice:
There are currently 19 different brands to choose from, including household brand names Kenwood, Hotpoint and Siemens.
Delivery Options:
A free delivery option is available on all orders as well as free collection from over 800 stores.
Currys currently offer a 'remove and recycle' service from just £20 when your new washing machine gets delivered, so you don't have to worry about what to do with your old appliance. They will also take away any packaging if you have opted for them to install it too.
Guarantees:
Different brands and models come with various guarantees included in the price, from 2 to 5 years. Some models' guarantees have to be purchased separately.
Payment Plans:
You can apply for Flexible Credit on orders over £99 and spread this cost over 12-36 months. You can also opt to pay a deposit, meaning your monthly payments will be lessened. This option is ideal for larger purchases if you know you can make the monthly payments on time, but you do end up paying interest on your items.
Customer Service:
Currys can be contacted by phone, email or by visiting a store. They do offer a 24/7 KnowHow help and advice service which you can sign up for £70 per year.
AO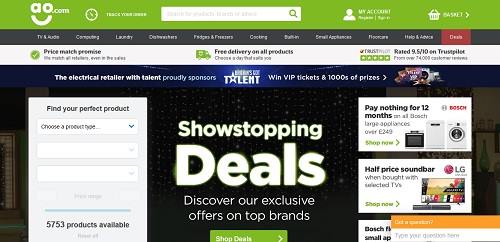 AO has fast become one of the UK's largest household appliances retailer since it's launch back in 2001.
Price:
Roughly £170 – £1700 (at the time of writing)
Choice:
There are currently 22 different brands to choose from including big brand names like Smeg, Daewoo and Miele.
Delivery Options:
There is free delivery on all products with options to choose a delivery day to suit your schedule. AO do charge for installation, which is a £25 fee for laundry appliances.
Guarantees:
All washing machine manufacturers offer a 1-year guarantee, some offer 2, 5 or even 10 years, so make sure to check in the item's Key Information.
Payment Plans:
There are monthly finance plans available which you can apply for to help spread costs.
Customer Service:
AO can be contacted by telephone, email and FAQs can be easily accessed on their site.
John Lewis & Partners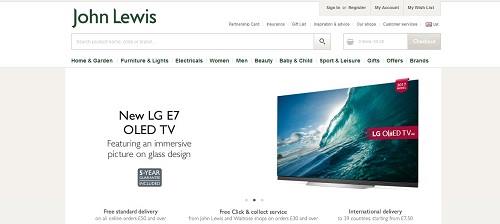 John Lewis & Partners are usually a very trustworthy retailer to buy appliances and electronics from, with good policies and customer services.
Price:
Roughly £190 – £2,500 (at the time of writing)
Choice:
There are currently 13 different brands to choose from including Indesit, LG and John Lewis & Partners own brand.
Delivery Options:
They have approved suppliers, whose delivery is separate from John Lewis. Standard delivery from John Lewis is free and they also offer a washing machine fit for £25 on certain models.
Guarantees:
John Lewis has different length guarantees on different brands and some even come with free detergent for 1 year!
Payment Plans:
There is a monthly payment plan available for purchases of £1,000 or above with a 10% deposit required on some items.
Customer Service:
John Lewis & Partners are available on email, phone and in-store.
Argos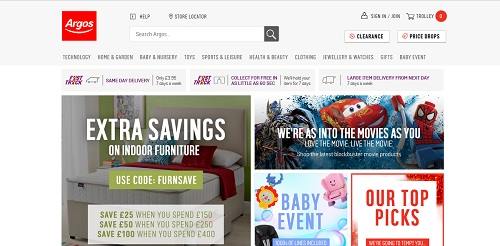 Argos is the shop that most people think of when purchasing large household items, since they have such a large variety of options as well as being relatively easy to purchase from.
Price:
Roughly £170 – £850 (at the time of writing)
Choice:
There are 11 brands to choose from including Candy, Bush and Servis.
Delivery Options:
Argos is probably one of the best places to buy a washing machine for delivery, offering same-day delivery for Fast Track items for as little as £3.95. You can also choose a day and a time slot to suit your schedule. Their click and collect service also makes it relatively quick to make your purchase.
Guarantees:
Breakdown care (which can be purchased with your item) covers your washing machine for up to 4 years. Most machines will come with a 1-year guarantee as standard.
Payment Plans:
Argos do offer credit options, so you can spread the cost of your washing machine. You can apply for an Argos Card to start making use of special credit plans today.
Customer Service:
Argos are contactable by phone, email and by visiting a store.
eBay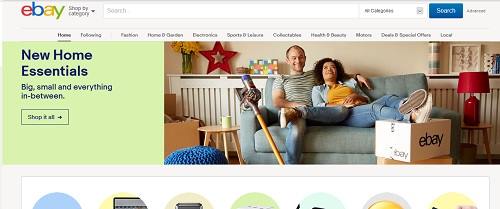 You might not realise it, but you can buy new washing machines on eBay, with brands like AO and Co-op using it as another portal to sell.
To look only at listings for new washing machines, filter 'New' under the 'Condition' options.
Like most sites, you can filter by price, type, size and brand, which makes finding the perfect washing machine a breeze.
Always read the item descriptions, so you know exactly what you are buying and whether you are covered for any damage or dysfunctions.
Prices:
Roughly £170 – £2,000 for well-known UK brands. But there are other listings at £12,500 (at the time of writing)
Choices:
From household names like Beko, Hotpoint and Bosch to lesser-known brands.
Delivery Options:
The majority of new washing machines come with free delivery, with only a select few asking for postage to be paid.
Guarantees:
When buying from retailers such as AO and Argos, you will receive the same guarantees on eBay as you would buying directly from them.
Payment Plans:
On eBay, the items will have to be paid for upfront, with no options to pay in instalments.
Returns:
The majority of sellers offer returns, so always read the item's description before making any purchases.
Some offer 30 days and some with the customer paying the shipping back to the seller. So always make sure to read all of the information!
Customer Service:
The levels of customer service vary from seller to seller; however, most of the listings are from established sellers which pride themselves in great customer service.
Their contact details should be in the item description or on their seller page.
Where to Buy a Second-Hand Washing Machine
There are loads of great options when it comes to buying second-hand and many great deals to be had.
Of course, there is the issue of trust and safety when it comes to buying directly from a person rather than from a shop.
If you are collecting the item, make sure you agree to pay upon receipt of the item, avoiding the possibility of being ripped off.
Asking a seller questions about the item is not against the rules; if you feel their description is a bit brief, then contact them to find out more.
Unlike buying new, second-hand washing machines will more often than not, have no guarantees or warranties still covering them.
Pros of buying a second-hand washing machine:
Really good value
Recycling unwanted goods
Helping local people
Possibility of getting a washer for free
Cons of buying a second-hand washing machine:
Not as varied a choice
Not 100% sure of the condition
Possibility of having to deal with a bad seller
Might have to arrange collection
Could be a broken item
No returns
No payment protection (apart from on eBay through PayPal)
eBay
Most people have bought or sold on eBay before, or have at least heard of it. As mentioned above; you can find brand new washing machines for sale as well as pre-owned ones.
If you know you are just after second-hand, then you can filter your search by ticking 'Used' from the list under 'Condition' down the left-hand side (or in the Refine menu if you're on a mobile device).
Price:
Roughly £1 – £400 (at the time of writing)
Choice:
There are a lot of choices when it comes to eBay, from lots of top appliance brands.
Delivery Options:
The less you pay for your second-hand washing machine, the more likely it is you will have to collect it from the seller. There are little to no buyers offering delivery for washing machines.
Preloved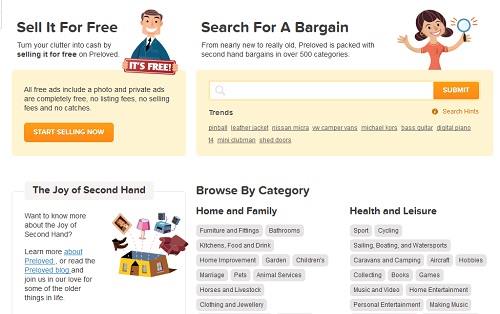 If you are not familiar with Preloved, it is the same set-up as Gumtree, where people post their unwanted items for pretty good prices. Some of the ads you find may not be very relevant to your search, so it can be a little difficult to sift through at times to find exactly what you're looking for.
Price:
Roughly FREE – £300 (at the time of writing)
Choice:
Not as vast as eBay, but still rather decent, with choices including Bosch and Beko.
Delivery Options:
As with eBay, collection only will be the option for most of these washing machines.
Gumtree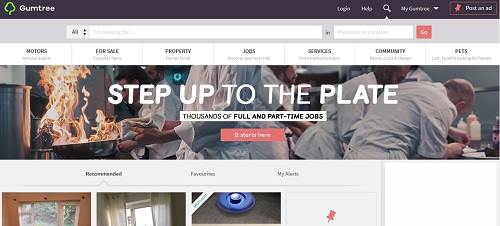 The perfect option if you have means of collecting an item, as most sellers will offer collection only. If you want a bargain, sites like Gumtree are super!
Price:
Roughly FREE – £300 (at the time of writing)
Choice:
Depends on what is available at the time you are searching, but there will be a wide range of brands available.
Delivery Options:
If you are lucky, some sellers will offer delivery, however, in most cases collecting the washing machine will be necessary.
Freecycle
https://www.freecycle.org/browse/UK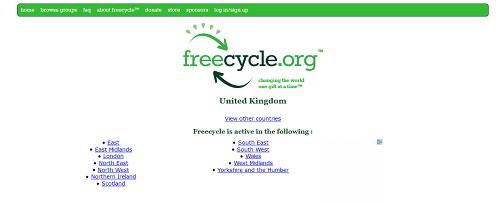 On Freecycle you can nab a secondhand washing machine for free. Sometimes people just need things picked up as they are desperate to get rid of things and sometimes they even offer delivery.
The site is a little odd to navigate, but your search can be made more specific by searching in your local area's group.
Price:
FREE!
Choice:
Like with any site for second-hand items, your choice will be hit and miss, depending on what is available on the day you search.
Delivery Options:
The majority of posts will be for collection only and some will come with a date to be collected by. Contact the seller if you're unsure about whether they can deliver.
Shpock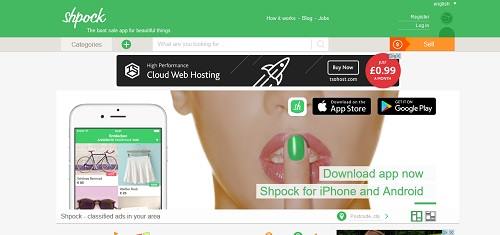 A relatively new marketplace for buying and selling, Shpock is predominantly used as an app, however you can sign in and browse on a laptop or desktop.
Price:
Roughly FREE – £600 (at the time of writing)
Choice:
A variety of brands depending upon who is selling when you carry out your search.
Delivery Options:
Most sellers will only offer collection and not delivery.
Facebook Marketplace/Local Selling Groups
https://www.facebook.com/marketplace/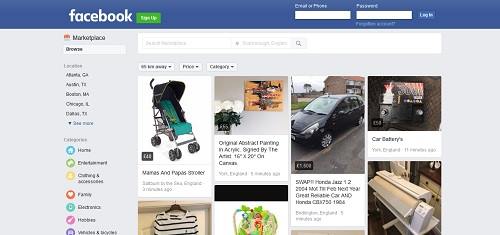 Facebook these days isn't just a place to keep in touch with your friends and family, now you can buy and sell unwanted items on the platform.
There is bound to be multiple selling groups in your local area with plenty of household appliances up for sale, and now Facebook has introduced Facebook Marketplace to make things even easier!
Price:
FREE – £100+
Choice:
Whatever is available at the time you search; this could include any of the top appliance manufacturing brands.
Delivery Options:
Most Facebook Marketplace ads will be collection only, especially when people are offering their washing machine for free.
The Choice Is Yours
Of course, as with any white-goods, you'll want to be 100% sure before making any big purchases.
Now you know your options and some of the facts and figures, you can make your purchase safe in the knowledge that you've done your research and found the option that is best suited to you and your needs!
Conclusion
If we had to pick one washing machine to recommend to most people, it would be the Samsung WW90J5456FW.
It's quiet, has a generous 9 kg capacity, offers a lot of different programmes and is available with a 5-year warranty.
See it here on John Lewis or here on Currys.