What is the best washing machine to buy in the UK right now?
You want a machine which can handle large wash loads, look after baby clothes and delicates, make laundry days easier and also not add too much onto your energy bills.
Let us tell you that there are washing machines which can do all of that and more, and we've collected together some of the best options on offer.
In this guide, we'll look at what we consider to be the best washing machines on the market right now, including highly-rated machines from reliable brands.
We have also tried to include something for all budgets as we know not every household can shell out £400+ on a washing machine.  This guide should help you to find the best bang for your buck, so you don't feel short-changed.
Read on for our reviews of the top models, plus more information to help you choose the right washing machine for your home.
Best Washing Machines in the UK
1. Beko WTL104121W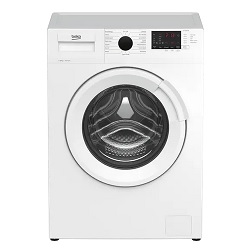 Load capacity: 10 kg
Dimensions: 84 x 60 x 64 cm
Spin speed: 1400 rpm
Energy rating: B
Installation type: Freestanding
With a spacious 10 kg drum capacity, the Beko WTL104121W washing machine could be a good choice for larger households with a lot of laundry to do.
It also features a handy 28-minute quick wash cycle and an Anti-Allergy programme for removing dust mites, pollen and bacteria.
Features
28-minute quick wash cycle
Anti-Allergy programme
76 dB noise level during the spin cycle; 54 dB during the wash cycle
Delay timer
Large 10 kg capacity
Design, use and performance
The Beko WTL104121W has a larger than average load capacity, making it big enough for a family of four or more. The 10 kg load capacity also allows you do fewer loads of laundry a week, helping you save time and money.
This washing machine is freestanding and has a very conventional appearance that should suit any kitchen.
Most users praise it for being quiet and having a good choice of useful programmes. However, some of the cycles can be quite slow.
Pros
Useful quick wash and allergy cycles
Relatively quiet
Reliable brand
Large drum capacity
Cons
Some cycles take a long time (2+ hours)
Summary
This is a good mid-priced option for a large household or anyone who wants to be able to wash large loads of laundry. It's relatively quiet and has a good selection of programmes.
2. Haier HW80-B1439N 8Kg Washing Machine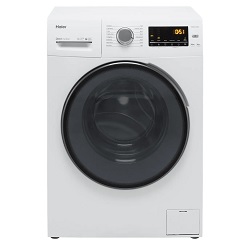 Load capacity: 8 kg
Dimensions: 85 x 59.5 x 55 cm
Spin speed: 1400 rpm
Energy rating: A
Installation type: Freestanding
Haier's freestanding washing machine has an 8 kg capacity that is more than enough for medium-sized households, and the Direct Motion Motor means the appliance is quiet in operation too.
Features such as a steam setting that kills bacteria and reduces creases, a quick wash cycle and a huge range of programmes make this machine a good choice for most families.
Features
15 minute quick-wash programme
Steam function to kill bacteria and reduce creases
67 dB noise level during spin cycle, and 53 dB during wash
14 standard wash programmes
24-hour delay timer
2-year manufacturer's warranty (10 years for the DD motor)
Design, use and performance
Haier might not be a household name in quite the same way that some of the other brands on this list are, but this 8 kg capacity washing machine will tick all of the boxes for a lot of families.
This reasonably priced washing machine has 14 standard wash programmes to make handling just about any laundry load a breeze.
Features such as the steam injection helps remove tough stains such as red wine, leaving you free to enjoy your dinners without worrying about your clothes staining.
However, if you rely on an anti-allergy function, this washing machine will come up short.
This washing machine is quiet enough for open-plan living spaces, and it is easy to use.
However, some people do find that an extra spin cycle is needed when washing heavy items such as bath mats or large towels.
Pros
Very quiet during use
Wide variety of programmes and functions
Good cleaning results, even on 15-minute quick wash
Affordably priced
Cons
Supplied water hose and cable are quite short
Information manual doesn't contain much information about cycle length or efficiency
Detergent drawer feels flimsy
Summary
In summary, this Haier washing machine offers great value for money without dropping too many of the features that you'd find in the more expensive machines.
The quick wash function, steam injection and range of programmes makes this washing machine ideal for families.
3. Samsung Series 5 ecobubble™ W80TA046AE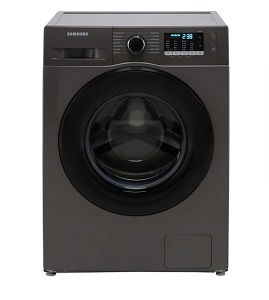 Load capacity: 8 kg
Dimensions: 85 x 60 x 55 cm
Spin speed: 1400 rpm
Energy rating: B
Installation type: Freestanding
Samsung's Series 5 Ecobubble washing machine is ideal for a medium-sized household and is full of features designed to tackle even the toughest, most stubborn stains.
Between its large 8 kg capacity and innovative tech, this machine will make light work of your laundry.
Features
Variable spin and temperature settings
Bubble Soak feature to break down tough stains
Steam function for a hygienic clean
74 dB noise level during spin cycle
15-minute quick wash cycle
5-year manufacturer's warranty (10-year motor warranty)
Design, use and performance
As we've come to expect from Samsung, this washing machine is packed full of innovative features that will make your life easier.
The machine has a self-cleaning detergent drawer, and the Drum Clean+ cycle makes cleaning the inside of the drum a breeze.
The machine will even remind you to run this cycle every 40 washes, so you will always get the best from your machine.
The Hygiene Steam cycle can break down 99.9% of bacteria and allergens, and as a bonus, many people find it leaves their towels extra fluffy too.
The machine even has a digital invertor motor that uses brushless magnets instead of moving parts, making the machine even quieter and longer lasting.
Pros
Quiet during use, ideal for flats or open plan living spaces
Smart features
Easy to use and program
Sleek, modern finish
Cons
Instruction manual can be hard to follow
Summary
Samsung's Ecobubble washing machine is super-quiet and offers some useful features. The Ecobubble does a great job of tackling tough stains, making it an ideal choice for messy households or those with small children.
The 8 kg drum offers plenty of space for everyday laundry, and the sleek graphite finish will fit perfectly into your home.
4. LG FAV309SNE 9Kg Washing Machine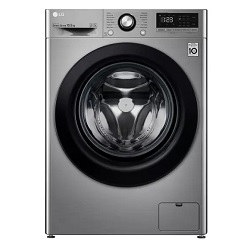 Load capacity: 9 kg
Dimensions: 85 x 60 x 56.5 cm
Spin speed: 1400 rpm
Energy rating: B
Installation type: Freestanding
This 9 kg washing machine from LG is packed with features that make it a worthy choice for medium households. With features such as quick washes and the ability to add missed clothes mid-cycle, this machine has a lot to offer the average family.
Features
14-minute quick wash programme
Dedicated anti-allergy and baby cycles
Pause & Add lets you add in missed clothes mid-cycle
19-hour delay timer
73 dB noise level during spin cycle, and 54 dB during wash
Choice of 14 programmes
Auto Half Load automatically adjusts the cycle to save water and energy on smaller loads
1 year manufacturer's warranty
Design, use and performance
This LG washing machine offers a great range of features and programs that make use of the latest technologies to achieve good results without spending too much on your utility bills.
Despite the modern features and range of options, this washing machine is still easy to use, even for those of us who aren't as tech-savvy.
The 9 kg drum capacity offers more than enough space for a medium-sized household, and the 14-minute quick wash programme is a lifesaver when it comes to those Sunday night school uniform emergencies.
This machine makes use of LG's intelligent aiDD technology to automatically adjust all of the settings depending on the fabrics in the drum.
The sleek graphite finish of this LG washing machine will look right at home in modern homes.
However, some people do find that this machine can be quite loud during the cycle and when notifying you that the cycle has finished, which can be really noticeable in open-plan rooms.
Pros
Quick wash programme is ideal for last-minute, small loads of washing
Easy to use
Smart, sleek styling
Good choice of programmes
Great value for money
Cons
Not many programmes use the maximum spin speed
Summary
This LG washing machine is perfect for medium-sized households and is packed with features and programmes that will help you tackle just about any fabric. With features such as a baby programme, allergy programme and the 14-minute quick wash, this washing machine is ideal for households with small children.
5. Bosch Series 4 WGG04409GB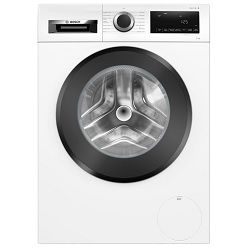 The Bosch Series 4 WGG04409GB is a very well-reviewed product from a respected brand. It's relatively expensive when compared to budget washing machines, but not as expensive as Bosch's Series 6 and Series 8 ranges.
Features
71 dB spin cycle
2-year guarantee included
15- and 30-minute quick wash programmes
ActiveWater Plus adjusts water usage to save money
Timer delay
Design, use and performance
One thing most users like about this washing machine is how quiet it is. Bosch's AntiVibration and EcoSilence technology helps minimise noise.
It can get up to 71 decibels on the spin cycle which is far from silent, but it's quieter than the average washing machine, which produces 74 decibels of noise.
The Bosch Series 4 WGG04409GB is also designed to save you money on energy and water bills, with sensors built into the machine to adjust programme times and water usage to be more efficient.
It has a good choice of washing programmes including a Hygiene Plus that can kill 99.99% of common germs according to Bosch.
There's also a quick wash programme that can wash clothes in less than 30 minutes.
The digital display shows you how much time is left, and the timer delay can be used to program things to be washed just in time, or to take advantage of off-peak energy tariffs.
Pros
 Relatively quiet
 Good build quality
 Built-in technology helps save money on energy and water
Good drum size
Energy efficient (A rating)
Summary
Though it's a bit pricier than some of the alternatives, the Bosch Series 4 WGG04409GB is a smartly designed and well-built washing machine that should perform well for years. It's also more energy efficient than the average washing machine, with an Energy Efficiency Rating of A.
6. Hoover H-Wash 300 H3W4102DBBE
Load capacity: 10 kg
Dimensions: 85 x 60 x 56 cm
Spin speed: 1400 rpm
Energy rating: E (this product would have been rated A+++ on the old scale)
Installation type: Freestanding
Hoover's H-Wash washing machine is packed with features that make this machine an ideal choice for medium-sized households. With a 10 kg drum, quick wash settings, a unique Hygiene+ cycle and even a smartphone app, this washing machine really does have a lot to offer.
Features
14-, 30-, and 60-minute Quick Wash cycles
81 dB noise level (spin cycle)
Childproof lock
Delay timer
Delicate "Hand Wash" cycle
KG Mode weighs the washing and adjusts the settings, helping you save on your energy bills
16 wash programmes
Compatible with the Hoover Wizard app
1 year warranty
Design, use and performance
This washing machine is a smart appliance ideal for medium-sized households. This Hoover washing machine has a wide choice of cycles, including a unique Hygiene+ cycle designed to get bacteria and allergens out of your laundry.
This machine is easy to use, and the 10 kg capacity means you can comfortably wash large loads of laundry or even duvets; perfect for households with messy kids.
For tech-savvy households, this Hoover machine can be controlled and monitored using the Hoover Wizard app or built-in NFC chip (NFC only available on Android devices).
The app allows you to monitor the machine's energy consumption, access your preferred programmes, receive alerts, and monitor the status of the machine whilst you're on the go.
Pros
Easy to use
10kg capacity is ideal for large loads of clothing or duvets
Quick cycles are ideal for last-minute loads
Sleek black finish
Cons
App can be tricky to use
Machine can be loud on the highest spin setting
Summary
Overall, this 10 kg Hoover washing machine is ideal for a wide range of households. The machine presents great value for money, and KG mode will help you save money on your utility bills too.
7. Hotpoint NSWR 743U GK UK N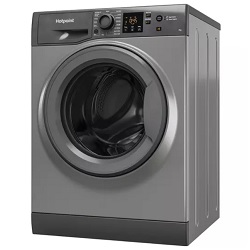 Load capacity: 7 kg
Dimensions: 85 x 59.5 x 54 cm
Spin speed: 1400 rpm
Energy rating: D
Installation type: Freestanding
Hotpoint's not-very-catchily-named NSWR 743U GK UK N is an inexpensive and very highly rated washing machine from a well-known brand.
With a choice of 16 programmes including the option to wash a full load of laundry in just 45 minutes, this Hotpoint washing machine offers impressive functionality.
Features
16 standard wash programmes
Anti-allergy programme can remove up to 99.9% of common bacteria
Delay timer
Anti-stain cycle
Design, use and performance
This Hotpoint washing machine has some great options for cleaning your laundry quickly, including the Full Load 45' programme which does exactly what it says on the tin, washing a full load of laundry in 45 minutes. There's also a 30-minute quick wash programme for a half load of laundry if 45 minutes is too long for you!
One interesting feature is the Anti-Stain cycle, which Hotpoint claim can tackle tough stains without needing to pre-treat them first.
Pros
Several options to wash clothes quickly
Easy to use
Inexpensive
Effective steam hygiene feature
Summary
The Hotpoint NSWR 743U GK UK N is a very highly rated washing machine for the price. It's a particularly good choice if you want to be able to wash a full load of laundry quickly, as it allows you to do this in just 45 minutes.
Bear in mind that the drum capacity is relatively small at 7 kg. However, this should be plenty for a single person or a couple.
Things to Consider When Choosing a Washing Machine
Capacity
Consider the amount of laundry you typically wash at a time and choose a washing machine with a suitable capacity. A washing machine with a bigger capacity (9 kg or more) could be better for larger families or people who need to do a lot of laundry.
Installation type
Washing machines can be freestanding or integrated.
A freestanding washing machine is a standalone unit that can be placed anywhere, whereas an integrated washing machine is built into a kitchen unit and is designed to be hidden behind a cabinet door.
Here are some factors to consider when deciding between a freestanding and integrated washing machine:
Appearance: An integrated washing machine is hidden behind a cabinet door and can blend seamlessly into your kitchen design, giving a more streamlined and cohesive look. A freestanding washing machine, on the other hand, can come in a range of colours and finishes, and can be a design feature in itself.
Installation: Integrated washing machines require professional installation, as they need to be fitted into a specific space and connected to plumbing and electricity. Freestanding washing machines can be easily installed by anyone.
Flexibility: Freestanding washing machines can be moved around and relocated as needed, while integrated washing machines are typically a permanent fixture in the kitchen and cannot be moved.
Cost: Integrated washing machines tend to be more expensive than freestanding washing machines, partly due to the cost of installation and partly because they often come with additional features.
Kitchen design: If you are renovating your kitchen, an integrated washing machine can be incorporated into your kitchen design more seamlessly, whereas a freestanding washing machine can be a standalone feature that doesn't necessarily match the rest of the kitchen design.
Type of washing machine
There are two main types of washing machines: top-loading and front-loading.
Front-loading machines are by far the most common type in the UK. There are a few top-loading models available, but not many.
Top-loading machines can be better for those who find it difficult to bend down.
Energy usage
According to our research, the average washing machine uses 0.793 kWh of energy per cycle, which would cost about 27p in energy costs at the time of writing.
This information is usually stated on product descriptions, so you can use the 0.793 kWh figure as a benchmark to see if the particular model you are looking at is more or less energy efficient than average.
The most energy-efficient washing machines can use as little as 0.459 kWh of energy per cycle (costing about 16p).
You could save £20 a year or more by choosing a more energy-efficient washing machine compared to the average model. However, whether or not this will save you money overall depends on the up-front cost of the machine as well.
Spin speed
One of the key bits of information you will find on washing machine product descriptions is the spin speed, measured in revolutions per minute (rpm).
The higher the spin speed, the more water is extracted from the clothes, resulting in faster drying times. A higher spin speed can also help to remove more dirt and stains.
Programmes and additional features
Consider any special features that you may need or want in a washing machine, such as a delay timer, quick wash cycles, or an anti-allergy programme.
Price
Set a budget and look for washing machines that fit within your price range. Remember that a higher-priced machine may come with more features and better quality, but it may not necessarily be the best fit for your needs.
The cheapest washing machines cost under £300, while the most expensive can cost over £1,000. The most popular tend to cost around £350 on average.
When considering your budget, you should also factor in delivery and installation costs, as well as the cost of removing your current washing machine if necessary.
Brand and warranty
Look for washing machines from reputable brands that offer a good warranty, so you can have peace of mind in case of any issues with the machine. It's also worth researching the brand's reputation for reliability and customer service.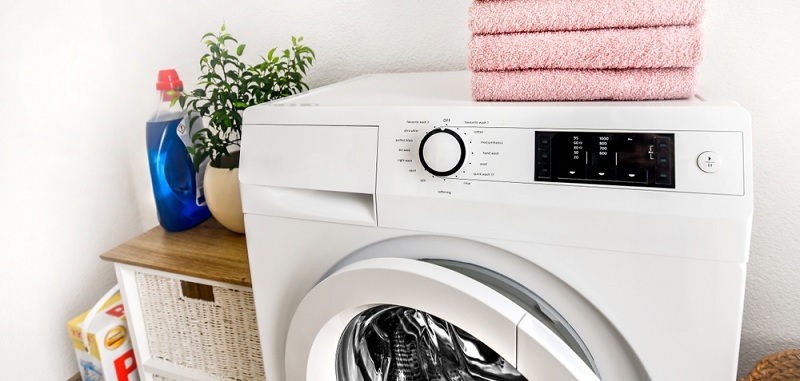 Best Washing Machine Brands
Which washing machine brand should you choose? Here are 12 of the top brands available in the UK.
AEG
German-based company AEG was founded in Berlin over 100 years ago and was originally known as the German Electricity Company.
The company has been bought and sold several times since being founded in 1883, and the appliance side of AEG is now owned by Electrolux.
AEG is placed in the upper-midrange of the market, with machines typically costing between £400 and £900.
The brand is extremely reliable, with AEG washing machines generally praised by customers for their excellent washing ability.
Many recent models have a much higher drum capacity than washing machines made by other manufacturers, with some AEG machines able to hold up to 10kg washes.
AEG machines generally only come in white, although some models are available in silver.
AEG has introduced several innovative features to their washing machines, such as a steam function for freshening up a small 1.5kg load of dry-clean-only items, and ÖKOMix technology.
With ÖKOMix, the detergent is premixed with water then sprayed directly into the drum where it begins to work straight away (unlike most machines where the laundry, water and detergent are mixed together, and the detergent can take much longer to dissolve).
This means clothes can be washed more gently and at a lower temperature, protecting garments and saving energy.
Beko
Beko is a Turkish based company and was founded in Istanbul, in 1967.
Beko is firmly placed as a budget brand, with most models typically costing between £200 and £350 – similar to brands such as Hotpoint and Indesit.
It's a very popular brand in the UK, with huge numbers of machines sold each year.
Many customers rate them highly for value for money, and despite the lower price Beko machines are generally reliable – however even though there are machines with special programs available, don't expect many cutting-edge technological features from this budget brand.
One area where Beko does excel is choice of design – not only are there many models to choose from, but Beko produce machines in a much wider variety of colours than many other brands.
For example, some models are not only available in the usual white and silver, but also in shades such as red, black and various greys.
Bosch/Siemens
Bosch and Siemens are the principal brands forming part of the German company BSH Hausgeräte GmbH, (or BSH Home Appliances), the largest manufacturer of home appliances in Europe, and their washing machines share many of the same parts and technologies.
The Siemens brand dates back to 1847 and Bosch was founded in Stuttgart in 1886.  In 1967 Robert Bosch GmbH and Siemens AG set up BSH Hausgeräte GmbH as a joint venture, however in September 2014, Robert Bosch GmbH agreed to purchase Siemens' 50% stake in the company.
Bosch products and Siemens products are currently placed as upper mid-range in the washing machine market, however, both brands do have premium models, which offer more advanced technology. This extra complexity and these additional features obviously come at a higher price, some exceeding the £1000 mark.
Both brands are generally considered to be reliable and offer innovative technological features such as remote operation via smartphone or tablet PC.
Bosch and Siemens washing machines are sleek and modern in design; however, most models are only available in white.
Hoover
Hoover is one of the World's best-known appliance manufacturers, founded in Ohio, USA in 1908.
The Hoover Group quickly expanded into the UK and Europe and continued to grow until the 1980s.
In 1995 Candy purchased Hoover European Appliances Group with exclusive rights to the Hoover brand in Europe, North Africa and the Middle East.
Hoover is considered a budget-mid-priced brand today, producing washing machines that are affordable to many, but which don't always rate highly on reliability tests and with consumers.
Some Hoover models are available in black, as well as white or silver – and look quite stylish for a budget appliance.
Hoover machines don't offer as much as higher-end brands in the way of advanced technology, however, top-of-the-range Hoover washers are beginning to roll out cutting-edge technology, such as remote control via an app. These extra features are, of course, being sold for a higher price than the standard washing machine models.
Hotpoint
Hotpoint was created in 1911 in Ontario, California and in 1920, it established Hotpoint Electric Appliance Company Limited in the United Kingdom, a joint venture with competitor General Electric.
Recently, it was acquired by American appliance firm Whirlpool.
Hotpoint is an affordable budget brand, with an average price of around £300-£350 for a washing machine.
Hotpoint machines offer better reliability than many other budget-range machines; however, washing performance is much poorer than machines from mid and high-range brands.
Unlike machines from some other budget brands, even the cheaper Hotpoint appliances often have useful features such as remaining-time displays and various high spin speeds.
Some models also use premixing technology called Direct Injection, where detergent and water are premixed and sprayed directly into the wash, allowing washing temperatures to be reduced whilst laundry is still washed effectively.
Indesit
Indesit was founded in Fabriano, Italy in 1975, and was recently bought by the American company Whirlpool, which (as mentioned above) also makes Hotpoint.
Indesit is a budget brand, with most machines costing less than £300 and top-of-the-range machines costing just a little more.
Indesit washing machines aren't the most reliable appliances, even amongst budget brands, and they're also not the best for removing dirt from clothes.
They don't boast many features or cutting-edge technology like other branded washing machines do, however, they are easy and simple to use and offer several colour options including stylish black.
LG
LG is based in Seoul, South Korea, and was founded around 70 years ago.
LG is placed in the upper-midrange of the market, with some machines starting at as little as £350. More advanced models with larger drum capacity do exceed the £1000 mark, but you can get something similar for around £700.
LG washing machines offer good reliability for the price, second only to high-end brands such as Miele.
The direct driver motor rotates the washing machine's drum directly rather than using belts, chains or gearboxes and is a design feature that has become associated with the LG brand, although this is not exclusive to LG.
This feature can reduce the noise of the machine, and also increases the reliability with fewer parts to potentially fail.
Miele
German-based company Miele was formed 118 years ago in Herzeblock, and remains a family-owned business.
Miele is a high-end brand, with machines starting at around £550 but with some models costing well over £1000.
Miele washing machines are generally considered the most reliable machines available on the market, and also offer five-year or even ten-year parts-and-labour warranties as standard.
Miele tests their machines for twenty years' worth of use and they are expected to last twice as long as competitor's models.
In addition to being one of the most reliable machines you can buy, Miele washing machines also offer leading-edge technology and unique features, for example a two-phase detergent dispensing system called TwinDos, designed to improve washing performance, and a patented honeycomb drum design to help protect your laundry.
Miele washing machines have a sleek and stylish design, however, they are usually only available in white or silver.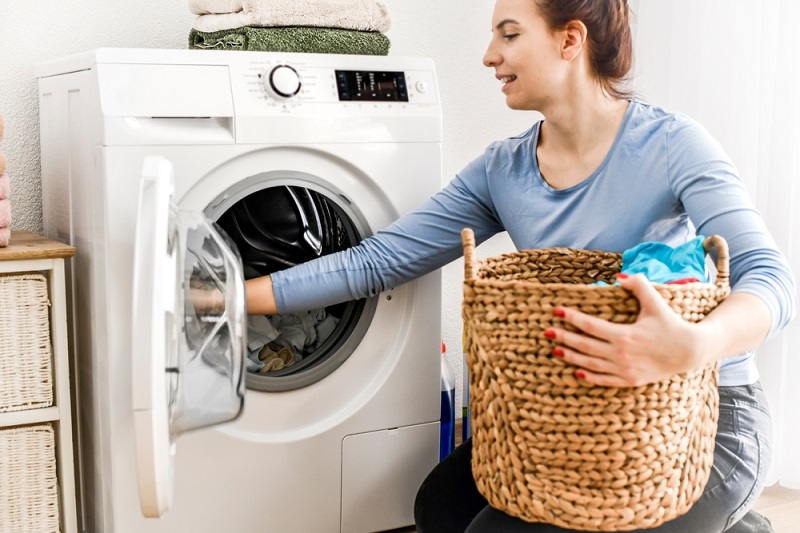 Samsung
Samsung are a multinational conglomerate formed around 80 years ago in Daegu, South Korea.
Samsung is often more well-known for producing technology such as mobile phones, however, they are a growing presence in the UK washing machine market.
Samsung washing machines are placed in the upper-midrange of the market, with models available from around £350, but some advanced machines may cost well over £1000 (one specific model would get you closer to a £2000 spend)!
These are generally reliable washing machines and perform well, with excellent washing capabilities.
Samsung washing machines are known for their advanced features and effective use of new technology, including their Ecobubble system which mixes detergent and water then injects air to create activated foam, which gets deeper into the fibres of clothing to clean more quickly and efficiently.
Another useful function is the AddWash feature, a hatch in the door which allows you to add extra items halfway through a wash with ease.
Smeg
Smeg was formed in Italy in 1948 and remains a privately owned family company.
Smeg are a premium brand, well known for their stylish fridges but now producing a wide range of other appliances including washing machines. Their washing machines can range vastly in price from around £450 to over £1000.
Unsurprisingly for a company well-known for their beautifully designed appliances, Smeg produce sleek and attractive washing machines, which also offer excellent reliability and up-to-date features such as LED displays.
Their 50's style free-standing washing machines copy the retro design of the famous Smeg fridges and have a completely different look to any other washing machines on the market.
They're also available in pretty and unusual colours such as cream, pastel blue and pink – perfect for a retro-inspired kitchen or laundry room.
Zanussi
Formed in 1916 in Italy, Zanussi began to export products in 1946 and now produces a wide range of washing machines for the UK market.
Zanussi was originally a mid-range brand in the UK, however, in recent years they have begun to produce more affordable machines in the low budget bracket, starting at as little as £200.
Integrated models are available, but Zanussi is generally associated with freestanding machines.
They have a good reliability record for lower-priced washing machines and are known to be excellent at washing clothes.
Zanussi doesn't specialise in advanced washing technology, however, they do offer plenty of features that make washing easier, particularly for large families and busy households, such as a large 10 kg drum capacity, and generously sized doors to make loading and unloading laundry easier.
Conclusion
If we had to pick just one washing to recommend for most people it would be the Beko WTL104121W. Its large 10 kg capacity will allow you to do fewer loads of laundry each week, saving money and electricity. It comes with a good choice of programmes, is reasonably priced and is made by a reliable brand.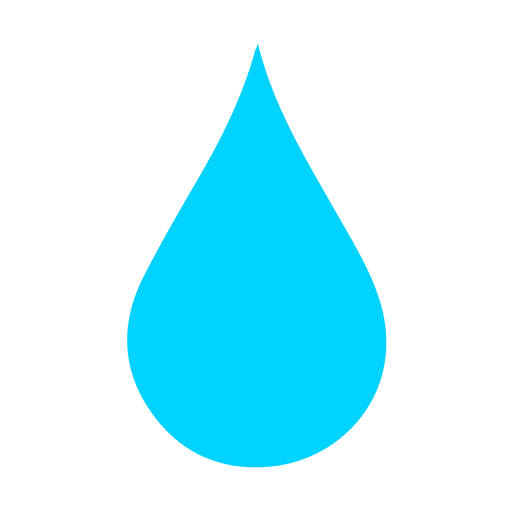 In The Wash is your guide to the best laundry and cleaning products, tips and tricks. Our mission is to solve the UK's cleaning and laundry dilemmas!