If you live in an open-plan home or have an integrated washing machine in your kitchen or bathroom, you'll want it to be as quiet as possible.
A noisy washing machine could disturb you while you're trying to enjoy your dinner, watch TV or relax in the bath, so it's worth doing some research to make sure you choose a quiet model.
The most popular integrated washing machines usually have noise levels of around 50-58 decibels (dB) on the wash cycle and 70-76 dB on the spin cycle.
To give you a point of reference, a vacuum cleaner is about 70 dB, so your average integrated washing machine will be even louder than this! However, the surrounding cabinet will absorb a lot of the sound.
A washing machine can be considered 'quiet' if the noise level is below 50 dB on the wash cycle and 70 dB on the spin cycle. The key number to look at is the noise level of the spin cycle, as this is always louder and therefore represents the washing machine's maximum volume.
We've researched the market and picked out 5 of the quietest integrated washing machines available in the UK.
These washing machines all have noise levels below 45 dB on the wash cycle and 70 dB on the spin cycle. Choose one of these models if you want to avoid buying something noisy.
Quietest Integrated Washing Machines in the UK
1. Bosch Serie 6 WIW28301GB
Noise level (wash): 41 dB
Noise level (spin): 66 dB
Washing capacity: 8 kg
Dimensions: 81.8H x 59.6W x 54.4D cm
At just 41db, this is one of the quietest washers available from the highly renowned Bosch brand. The unique drum structure allows for gentle washing, and a reduction in water consumption thanks to the load adjustment system.
Available with a 10-year warranty, the EcoSilence Drive is not only quiet in operation, but it's an extremely energy efficient component to this product.
Although it is very quiet and efficient, there isn't an option to adjust the temperature yourself, which isn't ideal.
2. Neff W543BX1GB
Noise level (wash): 41 dB
Noise level (spin): 66 dB
Washing capacity: 8 kg
Dimensions: 81.8H x 59.6W x 54.4D cm
One of the most impressive features of this Neff washer is the Quick Wash setting. This programme has the ability to spin and rinse up to 2 kg of clothes in just 15 minutes—perfect for those rushed early mornings.
The SpeedPerfect option allows you to speed up any program by up to 65%, without compromising its A+++ rated efficiency rating. However, this may cause an uptick in noise levels to around 66dB.
Overall, this is a great machine if you prefer something quieter, although it is quite expensive.
3. Siemens IQ-500 WI14W301GB
Noise level (wash): 41 dB
Noise level (spin): 66 dB
Washing capacity: 8 kg
Dimensions: 81.8H x 59.6W x 54.4D cm
The Siemens IQ-500 makes laundry a breeze with a variety of helpful integrated features. This includes the Wool programme which helps to protect your favourite jumpers or scarves from damage or shrinking, so that you can enjoy them for longer.
If eco-friendliness is important for you, you'll be glad to hear that the Economy Wash setting helps to save both water and energy.
4. Bosch Serie 8 WIW28501GB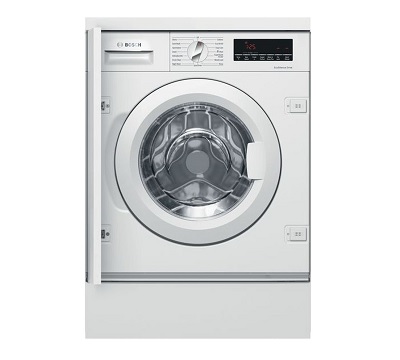 Noise level (wash): 41 dB
Noise level (spin): 66 dB
Washing capacity: 8 kg
Dimensions: 81.8H x 59.6W x 54.4D cm
Although it is slightly more expensive than the Serie 6, the Bosch Serie 8 offers a step up in quality for your washing machine. This almost silent machine has an abundance of features including the reload function, for adding in clothes even after a cycle starts.
One of the coolest features is the projected time remaining which sjines an LED light onto the floor so you don't have to open the door to check the remaining time.
The A+++ rating combined with the water saving capabilities means that it's extremely energy efficient machine. However, hot washes can take a bit longer than you might expect.
5. Neff W544BX1GB
Noise level (wash): 41 dB
Noise level (spin): 66 dB
Washing capacity: 8 kg
Dimensions: 81.8H x 59.6W x 54.4D cm
This is another great product from Neff that offers all of the features you could ask for in one machine, for a very reasonable price.
Designed for medium-sized households, the speedy Quick Wash feature allows you to benefit from freshly cleaned clothes in as little as 15 minutes.
Using brushless magnetics, the EcoSilence Drive provides optimum performance for low sound levels, making it great for open plan living spaces.
Are Integrated Appliances Quieter?
A washing machine is considered to be quiet if the rinse cycle is less than 50 dB, and the spin is less than 70 dB.
On average, integrated washing machines are between 50 and 58 dB on the rinse cycle, and 70 to 76 dB on the spin cycle.
Today, there are both integrated and freestanding washing machines that are quiet and so are ideal for households with kids, professionals who work from home and hold a lot of Zoom meetings and more.
Freestanding vs integrated
When it comes to the freestanding washing machine, noise levels tend to be higher than some integrated machines are.
The Samsung Series 5 ecobubble, for example, is quoted as being a super-quiet model, and yet this still has a noise level during a spin cycle of 74 dB.
By comparison, our top pick for a quiet integrated washing machine, the Bosch Serie 6 WIW28301GB, has a noise level during a spin cycle of just 66 dB, making it much less intrusive.
During a rinse cycle, this machine has a noise level of just 41 dB, which is quieter than the typical conversation!
Cupboard doors
One of the reasons that integrated washing machines are often quieter than their freestanding counterparts is down to the cupboard door.
As the washing machine is enclosed and tucked away, the noise from the machine is not able to travel as far.
How Do I Make my Integrated Washing Machine Quieter?
Whilst the integrated washing machines on this list are all naturally quiet, there are always steps that you can take to keep the noise level at its absolute lowest point during typical use.
1. Don't overload (or underload) the machine
If it's overloaded, even the quietest washing machine will start to make loud noises.
Washing machine drums are set up to hold a specific amount of laundry, and if you go over this, the drum will be off balance. This can lead to increased vibration, knocking, and a much louder spin cycle.
In the same way, a machine that is under capacity on a regular cycle will have an off-balance drum. Some machines have a half-load cycle that can counteract this problem.
To minimise noise, try to run your washing machine as close to the maximum capacity as possible.
Not only will this be quieter, but it will look after your washing machine and help you get the most out of each cycle too.
2. Keep the machine clean and maintained
If your washing machine is not in the best possible condition, you will find that it gets louder, regardless of how quiet it was to begin with.
If your machine has damaged components, is full of dirt or has a blocked filter, it will not only develop annoying noises, but you could end up with a costly repair bill.
By keeping your washing machine clean and in good working condition, you'll keep it running well for longer and keep the noise level to a minimum.
3. Reduce vibrations
Washing machines vibrating against their surroundings is one of the leading causes of excessive noise. If the floor underneath the machine is not level, it will wobble and could bang against the cupboards or walls next to the machine.
Consider putting a non-slip mat underneath the washing machine, and make sure that the machine sits level. Use adjustable feet if the floor itself is not level.
In some cases, padding the cavity around the washing machine with sound-proofing material can be worthwhile if you have tried everything else to reduce vibrations to no avail.
Conclusion
The quietest integrated washing machine we could find in the UK at the time of writing was the Bosch Serie 6 WIW28301GB, with a noise level of 41 dB during regular washing and 66 dB during a spin cycle.
This is much quieter than the average integrated washing machine, which produces at least 50 dB during a rinse cycle and 70 dB during a spin cycle.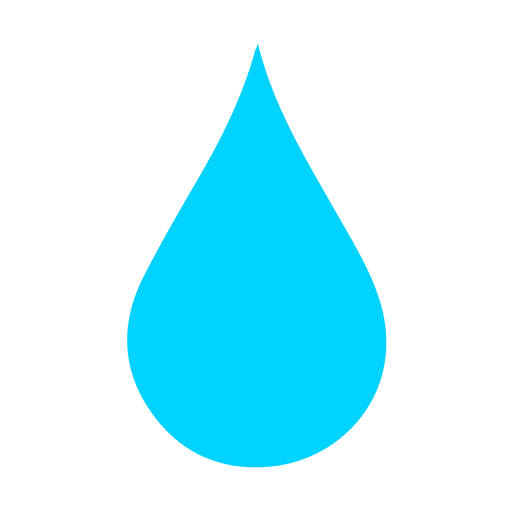 In The Wash is your guide to the best laundry and cleaning products, tips and tricks. Our mission is to solve the UK's cleaning and laundry dilemmas!