Having a good laundry basket makes doing the laundry more enjoyable and straightforward.
A nicely designed laundry basket will also be an attractive addition to your bathroom, bedroom or utility room.
Here are some of the best laundry baskets in the UK. We hope these reviews help you find the right laundry basket for you!
Best Laundry Baskets in the UK
1. OrganiHaus Brown Laundry Hamper
Dimensions: 50.8 x 50.8 x 33 cm
Material: 100% cotton
This is an excellent laundry hamper if you'd like one that blends in and doesn't scream out that it's where you hide all your dirty clothes.
This is a 100% cotton, hand-woven basket. It is made from cotton rope and is available in loads of colours, so you can match it to any décor you like.
While this will make a brilliant laundry basket, it has loads of uses around the home.
Many people have purchased this to use as a laundry basket but then liked it so much they have used it as a blanket basket for the living room.
However, the reinforced handles ensure that if you do use it as a laundry basket, they won't break when you pick it up.
This isn't the largest laundry basket on this list, but if you keep on top of your dirty clothes, this won't be an issue, and you'll have a stylish and lovely-looking basket that will complete your bedroom really nicely.
2. John Lewis Fusion Laundry Hamper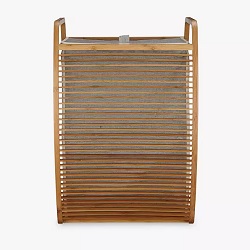 Dimensions: 60 x 40 x 36 cm
Material: Bamboo, fabric
We love the look of this laundry hamper. Its bamboo frame hides your laundry nicely.
What we like about this hamper is that it offers a lovely natural look. It blends in nicely with other natural décor and has a lovely curved shape that is elegant and unique. The hamper also has a lid, so your dirty washing isn't there for everyone to see.
While this hamper is quite expensive, it does offer a unique design that is natural and nice.
The hamper can be maintained by throwing it in the wash with the rest of your clothes, and the bamboo frame is sturdy and robust.
3. DOKEHOM 90L Large Collapsible Laundry Basket
Dimensions: 79 x 38 x 38 cm
Material: Oxford fabric
This is an ideal laundry hamper for a kid's room. It literally screams 'laundry' as it is printed in massive letters on the side of the bag. So, even teenagers will know where to put their dirty clothes!
Another reason why this laundry bag is excellent for a kid's room is that it is nice and big and has metal handles. So, your kids can overload it with washing, and you'll still be able to lift it comfortably.
We have chosen to show you the smallest option here, but you can buy one of these laundry hampers almost double this size (160 litres) if you feel you need it.
There are seven colours to choose from for this bag, so you can customise it to suit each of your kid's rooms. Oh, and the bag itself is water-resistant, ideal for dirty PE kits and wet towels!
4. INDRESSME XXXLarge Cotton Rope Basket 55L
Dimensions: 55.1 x 55.1 x 35.1 cm
Material: Cotton
Here we have another elegant 100% cotton rope basket. It is a 55-litre laundry basket that could be used as a hamper for collecting clothes, but we actually feel this makes a lovely laundry basket.
It is big enough to transfer clothes from the washing machine to the airer, or to the bedroom, and it looks really lovely while doing it.
The grey and white colours of this laundry basket blend in beautifully with a modern décor. So, if your friend pops round unexpectedly, you can pop the washing basket down, and it will simply look like a new addition to your lovely décor.
People love the look of this basket so much that it has now become a toy storage box in their kid's room or playroom rather than the washing basket they intended it to be.
Whatever you end up using this basket for, it will look great and be really sturdy for many years to come.
5. Lifewit 82L Large Laundry Hamper
Dimensions: 70.9 x 38 x 38 cm
Material: Oxford fabric
If you would like a separate laundry bag for all the really smelly stuff (the PE kits, the gym stuff, dog walking or hiking gear), this is an ideal laundry bag to use.
Firstly, you can collapse it, so when there is no smelly stuff, it can be stored away.
The fabric is also really durable and has a coating, so it is water (and sweat) resistant. Ideal for those rainy dog walks or really heavy gym sessions.
Plus, it has metal handles, so it is easy to carry, no matter how much washing is in it.
This washing bag is available in three nice colours, so it can be used as a normal washing bag in any bedroom.
However, if you stick this in the laundry room and let everyone know that it is for the really stinky stuff, it will make it nice and easy to throw everything in the washing machine quickly.
6. Chrislley Slim Laundry Basket
Dimensions: 53.5 x 38 x 20 cm
Material: Oxford fabric
If you're tight on space and need a laundry basket that isn't going to take up too much but still provide plenty of room for dirty clothes, this is a good option.
It can hold 45 litres of dirty clothes despite only being about 20 cm wide. However, it is 53 cm tall, so there is an impressive amount of room.
If you have space near your washing machine, you can store this laundry basket next to it. Or, you can use a couple of these washing baskets to separate your dirty clothes ready for the wash.
You can also fold this washing basket when it isn't in use. There are plastic poles inserted into each corner. Removing these makes folding the bag really easy. While in place, though, the bag is nice and sturdy.
7. Brabantia Foldable Laundry Basket 35L

Dimensions: 44 x 37 x 26 cm
Material: Polyester, cotton
If you are looking for a small laundry basket to help you bring your clean washing to the airer or to take your dirty clothes to the washing machine, this is excellent.
It can be folded away when the washing is complete and holds 35 litres of dirty washing, which is a pretty good load for the washing machine.
It has really tough handles, so carrying heavy, wet clothes won't destroy this basket, and all of the seams are reinforced.
While this is a relatively simple washing basket, we actually think it looks great, and many other people agree.
Rather than using it for washing, some people use it as a storage hamper, and even buy a few for multiple rooms.
Whatever you decide to use this washing basket for, it is sturdy, foldable and incredibly handy. It looks great too!
How to Choose a Laundry Basket
A laundry basket should be sturdy and big enough to store a good amount of washing. And if it looks nice and elegant, too, then that is a huge plus.
There are loads of washing baskets and laundry hampers on the market right now, so choosing one can be tricky.
However, try your best to choose a laundry basket that is:
Lightweight
Sturdy – A plastic, wood or metal frame within the laundry bag is ideal.
Water-resistant – Especially if you intend to use it for really dirty, wet or sweaty clothes.
Has reinforced handles – If you're going to be carrying the basket, the handles need to be strong.
If you can find all of this in a laundry basket or hamper that matches your décor, too, that is even better.
Laundry baskets used to be very boring and basic, but now there are cotton rope washing baskets that offer a very beautiful and lovely design that can blend into any décor.
However, they are also highly practical, so don't be afraid to get a bit fancy with your laundry basket.
Laundry Basket FAQs
Which material is best for a laundry basket?
Any material that is nice and lightweight is perfect for a laundry basket. After all, dirty clothes are really heavy, so the laundry basket needs to be lightweight. This is why a lot of washing baskets are made from plastic.
While plastic laundry baskets are very lightweight and robust, they are not the best for the environment.
So, the best laundry baskets to use are 100% cotton bags with really sturdy handles. Wicker and rattan laundry baskets are also really good as they are very sturdy and lightweight too.
How big should my laundry basket be?
If you are looking for a laundry basket to carry wet clothes from the washing machine to the airer, for example, 35-55 litres should be about the perfect size for you. You don't want anything that is too heavy when fully loaded.
For a laundry hamper, 90 litres is a pretty typical size, but there are a lot larger ones available. A larger laundry basket may make sense for a larger family.
However, a lot of people prefer to have individual, smaller hampers to keep everyone's clothes from mixing together.
Should laundry baskets have holes?
Whether your laundry basket has holes or not depends on how long you leave your washing in the basket.
If you are putting sweaty or wet clothes in a laundry basket for a week or more, then ideally, the basket should be breathable to let the moisture escape.
If you are leaving your washing in the basket for a couple of days, you should be fine. However, if you're concerned about leaving damp, sweaty clothes in the laundry basket for any length of time, use one with plenty of holes to allow airflow and for the moisture to escape.
How long should a laundry basket last?
Your laundry basket will last you until it has noticeable damage. If a handle comes off or there is a crack in the plastic, it is time to buy a new laundry basket.
If you are using a laundry basket made from cotton or another material, it is a good idea to wash it periodically. And keep an eye out for mould or any discolouration. If this occurs, it might be time to buy a new laundry basket.
Conclusion
We hope you've found the perfect laundry basket in this guide. Which is best for you will depend on your tastes, the size of basket you need and how you plan to use it.
If we had to pick just one to recommend for most people, it would be the OrganiHaus Brown Laundry Hamper. It's a tough yet stylish basket made from 100% cotton. It's available in a choice of designs, so you should be able to find one that suits any room of your house.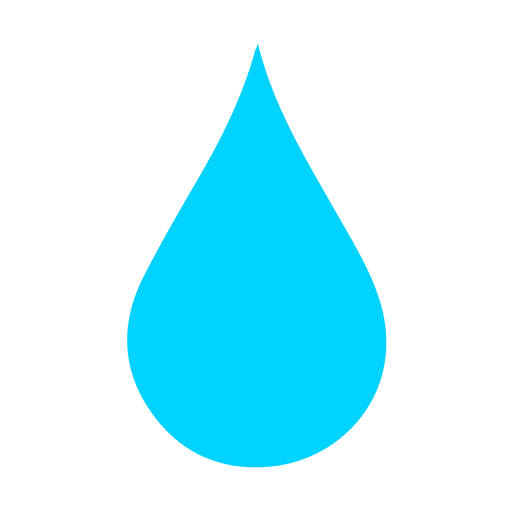 In The Wash is your guide to the best laundry and cleaning products, tips and tricks. Our mission is to solve the UK's cleaning and laundry dilemmas!