When you think of washing lines, your first thought might be a plastic-coated string that has loosened over time and has become more of a choking hazard in the garden than a practical way to dry your clothes.
But, your washing line doesn't have to be a permanent feature—retractable washing lines can be put away in seconds, then brought back out as soon as the washer is finished.
There are also indoor retractable washing lines, for those who don't have the use of a garden.
We've hand-picked some of the best retractable clotheslines on the market, so you can choose the best fit for your personal laundry needs.
Best Retractable Washing Lines
1. Minky Dual Outdoor Retractable Reel Washing Line 30m
Maximum length per cord: 15 metres
Type: Double
This Minky washing line is ideal for people who do a lot of laundry. The two 15-metre cords can be used to hang up to 25 kg of freshly washed laundry, which is almost three full average-sized loads.
The lines can be set at two different lengths which makes this perfect for those unusually shaped gardens or for maximising usable drying space in a room or on a balcony.
Since there are two independent lines, you could use just one when you don't need the full 30 metres of space.
This clothesline can be removed from the wall bracket with ease when you want to store it inside over the winter months and the line is made from an easy-clean PVC so your clothes won't get dusty or dirty when they're hung out to dry.
One downside is that some people find it needs a line prop when it's used at full length.
Some people also find that the locking cleats (hooks the line is wrapped around) can snap when the line is holding a lot of weight.
2. Vileda Cordomatic Retractable Clothes Line, 15 m
Maximum length per cord: 15 metres
Type: Single
The Vileda Cordomatic clothesline can extent up to 15 metres and can be set to any length in between, making it ideal for smaller gardens or yards and great for those who tend to do smaller wash loads.
It can hold up to 15 kg of laundry, which is ideal for an average wash to be hung out in one go.
This line actually comes with its own fittings, screws and wall plugs, so you can install it without needing to take a trip to the DIY shop or scouring your toolbox for suitable screws.
The strong plastic-coated, retractable cord is easy to clean (when necessary) and stays clean once coiled back inside the housing unit, so your washing will stay dirt-free!
This clothesline can be indoors as well as outdoors, and comes with easy-to-follow fitting instructions and a fitting kit.
One downside is that some people find that the line needs a line prop when used at full length.
3. Minky 15m Retractable Clothes Line
Maximum length per cord: 15 metres
Type: Single
This Minky retractable clothesline is a popular choice. It can hold up to 15 kg of laundry and can be used either indoors or outdoors.
One of the great things about this washing line is that it can be removed from the fixed bracket to be stored indoors over the winter months, which means no spider surprises when summer comes around!
Another positive is that it comes with the fixings needed to get your washing line up and in use within minutes.
The compact design of the reel makes this an ideal choice for those with small gardens or even those utilising a balcony to dry their laundry.
Some people have found that the plastic cord can snap when it's under extreme stress, though this shouldn't happen unless you overload it.
This product is also on the pricey side, but it is made by a respected and well-known brand.
4. DRYZEM Dual Retractable Washing Line 30m
Maximum length per cord: 15 metres
Type: Double
The DRYZEM dual retractable washing line is perfect for gardens, patios and even indoors.
The double washing lines offer up to 30 metres of drying space in total, so you can dry up to three average wash loads at once. This makes it great for large families!
This retractable washing line is easy to wipe clean when needed and because it is stored inside the protective housing when not in use, it stays clean – no more random mucky lines across your favourite white t-shirt!
This line comes with its own fitting kit, so it can be mounted and ready to use in no time at all.
Some people find that a line prop is needed to use it effectively at full length, but this is normal with retractable washing lines.
5. RXGYL 14ft Retractable Washing Line
Maximum length per cord: 4.3 metres
Type: Single
This small retractable washing linecan be used inside or outside, and is easy to install just about anywhere.
The stainless-steel wire rope is sturdy enough to stand up to moisture and rust, and the sleek finish will match your existing decor perfectly.
This washing line can hold up to 55 lbs (24.9 kg), and is 14 foot (4.3 metres) long, making it perfect for smaller households who were struggling with finding space to dry their clothes.
The plastic wrapping around the cord makes it easy to wipe clean, and the line retracts slowly to prevent accidents.
This washing line is easy to use and install, and can be installed with nail-free glue.
However, it's not the most sturdy line out there, and clothes can end up sliding to the middle.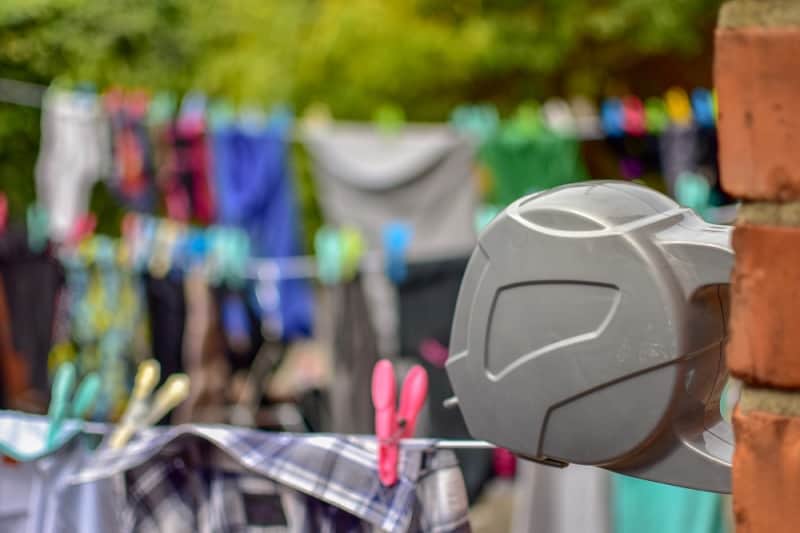 Retractable Washing Line FAQs
Whatever your laundry needs, there's sure to be a retractable washing line for you to suit your lifestyle, living situation and access to the outdoors! In this section, we'll answer some of the most frequently asked questions on retractable washing lines.
How does a retractable washing line work?
This type of washing line is a saviour for those who have limited space, whether that be in the garden or inside the house.
They work on a system similar to that of a tape measure, where the cord is pulled out and locked/hooked in place, but then can be released and curls back into the wall attachment.
It's not just for smaller areas either, there are lines available up to 30 metres for those with larger gardens.
How do you secure a retractable washing line?
You will need to drill holes into the wall (or fence post) from which you want the washing line to start and screw the reel holder onto it.
Depending on the material type that you are drilling into, you may need rawlplugs to make the attachment extra secure.
You will also want to attach cup hooks to the sturdy surface in which your clothesline will extend to so that it can be hooked up securely.
Once you have your line in place, you have to pull a little more line out and wrap it around the brake (or locking cleat) twice – make sure your line is relatively taught before hanging out your washing.
QUICK TIP: Test how secure your connections are by pulling down on the washing line a bit – wet towels and bedding can get quite heavy, so your line needs to be fitted well to withstand this weight.
How much weight can a retractable clothesline hold?
An average single retractable washing line can hold around 10-15 kg which means most average wash loads will be able to hang out to dry in one go.
Heavier items such as jeans, towels and bedding can get quite weighty when wet, so do take care not to overload your retractable clothesline.
Do I need a clothesline prop?
If your washing line tends to sag a little when full with laundry, it might be a good idea to invest in a clothesline prop, to ensure that heavy towels and bedding aren't touching the ground as they dry.
Conclusion
If we had to pick just one retractable washing line to recommend for most homes, it would be the Minky Dual Retractable Washing Line. It offers 30 metres of drying space in total, which should be more than enough for most households. Most people find it to be strong and easy to use.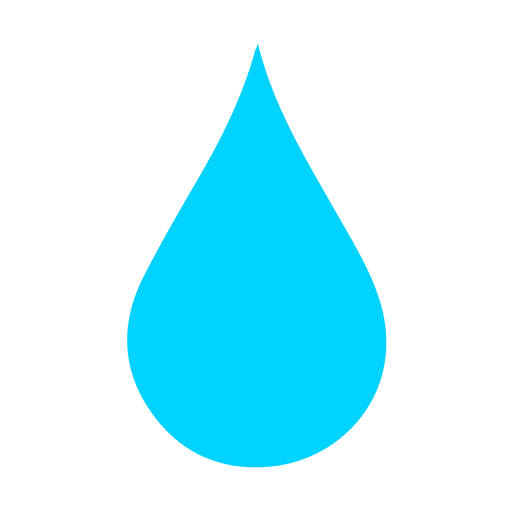 In The Wash is your guide to the best laundry and cleaning products, tips and tricks. Our mission is to solve the UK's cleaning and laundry dilemmas!