No one likes ironing, but a good ironing board can make this chore a lot easier.
Ironing boards are available in a range of sizes and shapes, with some being designed for easy storage in small homes, and others designed to make light work of ironing larger garments.
Whether you are buying an ironing board for your first home, or just need to replace an old, well-used one, read through our top picks for ironing boards.
Best Ironing Boards in the UK
1. Foppapedretti Assai Folding Ironing Board

Surface dimensions: 150 x 50 cm
This folding ironing board is a really practical and solid base for all of your ironing needs.
The frame is made from solid beech, which makes it very strong. Plus, the top is made from top-quality poplar plywood.
The top has perforations to ensure that steam can pass through. And the printed cotton cover has a heat-resistant aluminium backing, which actually speeds up the ironing process by heating the clothes from both sides.
The top is 150 by 50 cm, so there is plenty of space to iron anything you need to.
There is also an additional tray on the side of the top to hold your iron. Short on space to store your ironing? Well, no worries, this ironing board also includes a tray underneath.
Finally, this ironing board folds up into a very small package, so it's perfect if you want to store it away in a tight space.
This quality ironing board has all the features you need to ensure ironing is enjoyable and easy.
2. Brabantia Ironing Board
Surface dimesions: Size A (110 x 30 cm), Size B (124 x 38 cm), Size C (124 x 45 cm)
Brabantia's ironing board has a fully adjustable height and adjustable iron rest. For safety, the board has non-slip feet, and a child lock to prevent the board from collapsing during use.
This ironing board is available in three sizes, with the smallest having an ironing surface that is just 110 x 30cm in size. The iron rest is adjustable and can be adapted to suit both left- and right-handed use.
The ironing board offers 7 height settings, between 69 cm and 96 cm. These ironing boards are both sturdy and light, offering the best of both worlds.
Whilst the board might be more expensive than others that are available, this ironing board is good quality and robust. The adjustable height range means that it is suitable for even tall users, and it can be easily stored around the home.
However, some users have had problems with the legs, and report that the cover also isn't as good quality as some others available.
3. Vileda 162623 Smart Ironing Board
Surface dimensions: 114 x 34 cm
Vileda's smart ironing board has an extra-handy size that offers plenty of ironing space whilst still being easy to store.
The metal surface is steam permeable, with a cotton and foam cover that makes ironing easier. The built-in iron rest has a silicone bumper for extra safety.
This ironing board has an ironing surface of 114 x 34 cm, and the height is adjustable between 77 and 95 cm.
As standard, the ironing board has a transport lock and foot caps to protect your floor from scratches.
The ironing board is great quality and offers good value for money, and it can be easily stowed away when it isn't in use.
For peace of mind, this Vileda ironing board even comes with a 3-year warranty.
When it comes to homes that are limited on space and only iron small items, you cannot go wrong with the Vileda ironing board.
However, some users find that if you do regularly iron large garments, you would be better off with a larger ironing board.
4. Minky HH40201108M Ergo Ironing Board
Surface dimensions: 147 x 45 cm
If your left-handed, most ironing boards make it very difficult to place the iron down comfortably.
Well, this ironing board suits right and left-handed people perfectly. The Ergo iron tray allows anyone to place the iron down in just the right way. So, it's ready to go whenever you are.
The flex guide also helps keep the cable of the iron out your way too. This fits on the edge of the ironing board, and the cable runs through it.
Again, the position of this is completely adjustable. And so is the height of the ironing board. It can be adjusted up to 92 cm.
All of the adjustments, combined with the robust and stable frame, really make this an excellent choice. Lastly, it folds down neatly so it can be easily stored away.
5. Ikea JÄLL Tabletop Ironing Board

Surface dimensions: 73 x 32 cm
If space is limited or you prefer ironing whilst seated, the tabletop ironing board from Ikea might be ideal.
This ironing board can just be hung on the back of a door or on the wall when it isn't in use, and the steel construction means that it is durable and sturdy.
The compact size makes this ironing board ideal for travellers, university students, or for use in sewing or craft rooms.
The small size also means it is a great choice for households who only need to use an ironing board every now and again.
This ironing board is lightweight, and users find it isn't as strong as others. The small ironing area also means that ironing large garments can be fiddly, however it is fine for garments such as t-shirts or trousers.
6. Amazon Basics Ironing Board
Surface dimensions: 122 x 38 cm
If you just need a basic ironing board, the Amazon Basics board offers good value for money. The board is available in a range of sizes and can even be purchased with a handy shelf tray fixed to one of the legs.
The steel iron rest is suitable for most irons, and the adjustable height makes it usable for people of all heights. For comfort and easy ironing, the ironing board has a thick, padded surface.
Users find that the board is light enough to be relatively easy to move and store but is stable during use. However, it does not offer as good value for money or ease of folding as some of the others on this list.
7. Mabel Home Adjustable Ironing Board
Surface dimensions: 109 x 35 cm
Mabel's adjustable ironing board has a thick, smooth cover that makes for easy ironing, and the adjustable height range is ideal for even people over 6 ft.
The Mabel ironing board might not be the cheapest, however reviews for it's ease of folding, weight, and sturdiness are all good.
The board is available with a variety of different covers for an aesthetic finish, and the cover is steam permeable too.
This sturdy ironing board has a good size ironing surface, and folds away neatly.
However, some reviewers report that they are flimsy and wobble badly on some surfaces and at some heights.
What to Look for in an Ironing Board
Ironing boards aren't one-size-fits-all. They are available in a range of sizes and shapes, with each being better suited to different uses or households.
When it comes to working out which ironing board is best for you, you should consider where it will be stored, safety features, and lifespan in addition to the height and size.
Height
An ironing board that doesn't suit your height will cause backache. A lot of ironing boards are height-adjustable, though different models may have different minimum and maximum heights.
Make sure that you consider how tall the ironing board will be before purchasing, as either too high or too low can result in back problems.
For optimum comfort, the top of the ironing board should sit level with your hip as you stand.
Size and shape
Many ironing boards come in different sizes, with some being as small as 110 x 30 cm, and others as large as 140 x 45 cm. The size that you purchase should depend on the garments that you are planning to iron, and how it will be stored.
If you opt for a larger ironing board, you will not need to move the garments about as much whilst you iron them. However, larger ironing boards may be harder to store in small homes.
Weight
Ironing boards vary in weight, with lighter ones being easier to put up, fold away, and store. Heavy ironing boards might be more stable, but many people would benefit from a lighter ironing board.
Protection for the floor
If you are likely to be ironing on hard floors, you will need an ironing board with protective caps so that your floor doesn't get scratched.
Many ironing boards have rubber or plastic caps that will help keep your ironing board stationary and will prevent scratches if it does move.
Material
Different ironing boards may be made of different materials. Some are designed to just make ironing itself easier, whereas others are designed to reflect heat back upwards or absorb steam.
Lifespan
No one wants to replace their ironing board annually, and you shouldn't have to. Check how long a warranty the ironing board has before purchasing to make sure that it will last as long as possible.
Safety
Safety is paramount, especially when it comes to heat. You do not want an ironing board to collapse because either the kids or dog are running around nearby. Find out what safety devices and locks the ironing board has.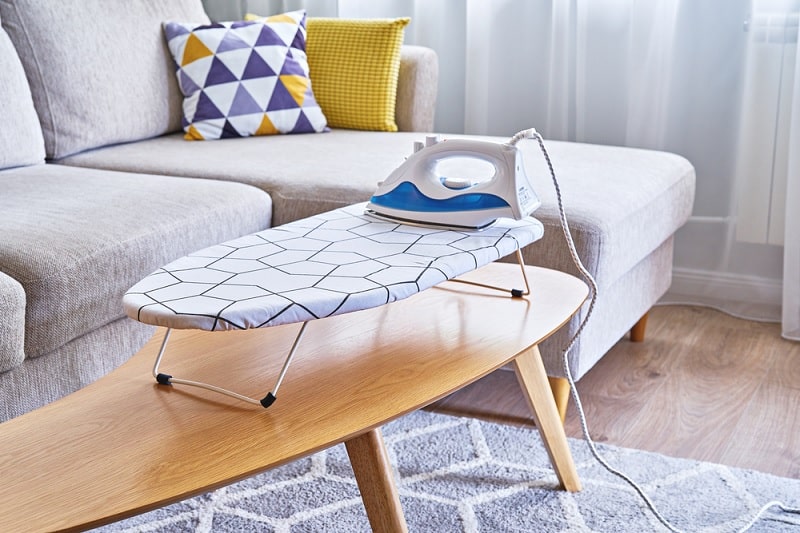 Types of Ironing Board
Folding
Folding ironing boards are the traditional type, and they can be easily moved from room to room and when you move house.
This type of ironing board is usually cheap and adjustable, making it easy for multiple people to use the same ironing board.
However, if you have limited storage space, you might struggle with this type of ironing board.
Wall mounted
Wall mounted ironing boards usually sit in a cabinet or drawer and can easily be tucked away when they aren't in use.
However, this type of ironing board is usually more expensive as they need to be installed.
In addition to the price, this type of ironing board may not be ideal in homes where multiple people iron, as the height is unlikely to be adjustable.
Tabletop
People with reduced strength, limited space, or who just prefer to iron sitting down should consider a tabletop ironing board.
These take up considerably less space than a traditional ironing board and could just be tucked away behind a door or in the wardrobe.
However, the small surface area of a tabletop ironing board does mean that larger garments will need moving around more as you iron.
If you only iron small items or don't use the board very often, a tabletop one shouldn't cause too much of a problem.
Ironing Board FAQs
Is a bigger ironing board better?
In general, a bigger (or wider) ironing board is better. It allows you to focus on ironing rather than adjusting the clothes you're ironing all the time.
If you really don't have the space for a large ironing board, a tabletop board may work just fine. However, remember to look for one that is nice and wide.
What is the best ironing board for a steam generator iron?
If you have a steam generator iron, we would recommend any ironing board with perforations in the top. The perforations mean the steam can escape and not sit on the surface of the board.
We'd also recommend a metal ironing board. A wooden-topped ironing board is likely to be affected by the steam. It may warp or even begin to rot.
Do you really need an ironing board?
If you don't do too much ironing or have absolutely no space for an ironing board, you may not need one. However, if you iron a lot, then it is worth making space for one.
If you use another surface, your dining room table, for example, the heat and steam from the ironing could destroy it slowly over time.
You can protect the surface with an ironing cover, but if you do a lot of ironing, then it's worth considering buying a good-quality ironing board that is designed for the job.
Conclusion
If we had to recommend just one ironing board, it would be the Foppapedretti Assai Folding Ironing Board. It's very well made, with a strong beechwood frame. It folds well and can be stored in a tight space. It's very highly rated by users, but is quite expensive, so if you want something more affordable, the Vileda smart ironing board might be a better choice.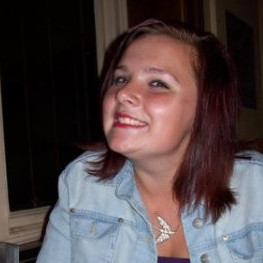 Lover of coffee, painting, and all things cute and fluffy. I'm always on the lookout for easier, more gentle ways to tackle awful household chores.