Comfort and Lenor burst onto the fabric conditioner scene many moons ago. And over the years they've softened our laundry, scented our clothes, and protected our garments from damage caused by continuous washing.
But which brand is actually the best one? Stick around and find out more about Comfort and Lenor's fabric conditioners!
History of Comfort and Lenor
Both Comfort and Lenor have rich histories that span decades! So, without further ado, let's find out more about these top brands.
Comfort
Way back in 1969, more than 50 years ago, Comfort launched the first fabric conditioner in the UK.
Since these early days, Unilever owned Comfort, has expanded and now sells goods all around the world, this includes places like Latin America, Europe, the Middle East and Asia.
Over the years Comfort has changed its branding and packaging to be more in line with environmental changes. And it has explored various scents along the way.
But one standout feature Comfort is known by many people for is its likeable Lisa Weaver and Darren Denim characters.
The young couple, who are made from rags and cloths, live in the fictitious world of 'Clothworld' and are part of Comfort's advertising program. In the ads you regularly see Lisa and Darren using Comfort's products to keep themselves clean as they go about their lives.
And as if this fabricated world wasn't cute enough, in the real world you've got people collecting Lisa and Darren dolls – and they can cost a fair price to acquire too!
Lenor
Lenor, as it's known in the UK, or Downy, as it's known in other parts of the world made an appearance on the fabric conditioner scene in the 1960s in Germany. Interestingly, it didn't actually make its way over to the UK until much later on.
In the late 90s Lenor was one of the very first brands to introduce revolutionary Scent Bubble technology into their conditioners.
This new technology not only ensured that clothes would smell fresh, but when the tiny scent bubbles broke over laundry, the scent from the bubbles would embed itself in the laundry's fibres, ensuring the pleasing odour would stick around for much longer. This was quite a turning point in long-lasting laundry freshness.
Several years later, Lenor introduced Anti-Age3 technology to its conditioners. This meant that clothes would not just stay smelling sweeter for longer, but laundry longevity would also improve!
The brand has since gone on to win several awards, including the 2017 Product Of The Year Award here in the UK, and the 2021 Grocer Product Launch of the Year prize in the "Household: laundry" category.
Types of Fabric Conditioners Sold by Comfort and Lenor
Comfort and Lenor make a wide variety of products, and many of these items come in various scents. Learn more about their goods below.
Comfort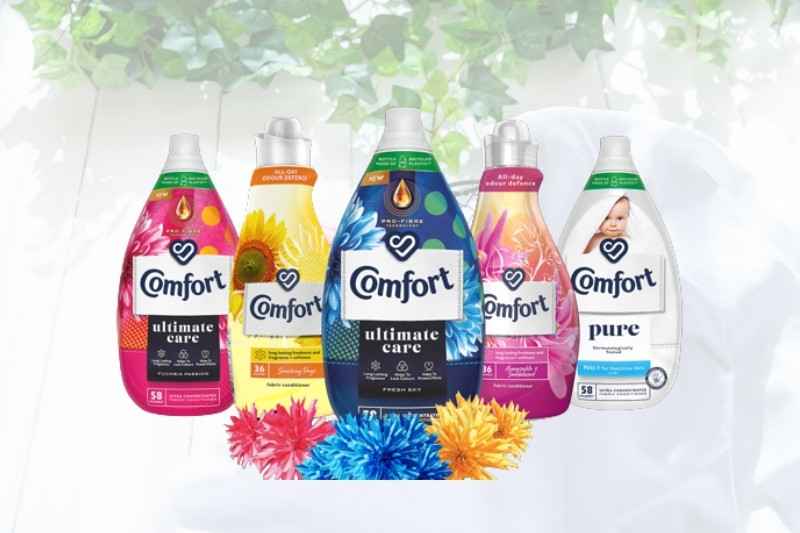 Comfort sells three types of fabric conditioner: Classic, Ultimate Care and Pure.
1. Comfort Classic
Comfort Classic fabric conditioner comes in a 100% recyclable bottle, and the conditioner will give your laundry long lasting fragrance and softness.
This particular product can also protect your clothes from unwanted odours that you naturally pick up throughout the day. So, your clothes smell cleaner for longer.
Classic also comes in different sized bottles, so you get more washes from some bottles. For example, Comfort Blue Skies Fabric Conditioner comes in bottles from 21 washes to 85 washes, but other fragrances, like Comfort Cherryblossom and Sweetpea Fabric Conditioner comes in a 33-wash bottle.
Within the Classic range, you can by scents including, but not limited to:
Comfort Sunshiny Days Fabric Conditioner
Comfort Waterlily and Lime Fabric Conditioner
Comfort Honeysuckle and Sandalwood Fabric Conditioner
Comfort Blue Fabric Conditioner
Comfort Apple Blossom Fabric Conditioner
2. Comfort Ultimate Care
Comfort Ultimate care provides laundry with up to 100 days of freshness, and its pro-fibre technology helps to protect the fibres within your clothes from repeated washing damage.
Ultimate Care's ultra-concentrated formula also helps to keep the shape of your clothes, and it helps to lock in the colour of your laundry too.
Because of its strength, you don't have to use as much of this product, a 15ml dose is more than enough, yet you don't skip out on any benefits by adding so little.
As with Comfort Classic bottles, the Ultimate Care range also comes in various sized bottles. Some of the more popular scents, like Comfort Ultimate Care Fresh Sky Fabric Conditioner, come in a 36 wash to a 78-wash bottle.
Whereas other scents like Comfort Ultimate Care Sunburst Fabric Conditioner comes in a 58-wash bottle.
Within the Ultimate Care range, you can by scents including:
Comfort Ultimate Care Coco Fantasy Fabric Conditioner
Comfort Ultimate Care Aqua Bloom Fabric Conditioner
Comfort Ultimate Care Luscious Bouquet Fabric Conditioner
3. Comfort Pure
Comfort Pure Fabric Conditioner is the UK's go-to fabric conditioner for users with sensitive skin. Pure is suitable for everyone in the house and you don't need to use a lot of the product to see great results.
A small drop of Pure fabric conditioner can soften your clothes, making them nicer to touch and to iron as well. Yet, the scent of the product isn't too overwhelming, which is an added bonus in some cases.
You can actually buy Pure in various sized bottles, from 21 washes all the way to 166 washes in a bottle. And there's also an Ultra-Concentrated version too, but that's up to 78 washes per bottle.
Lenor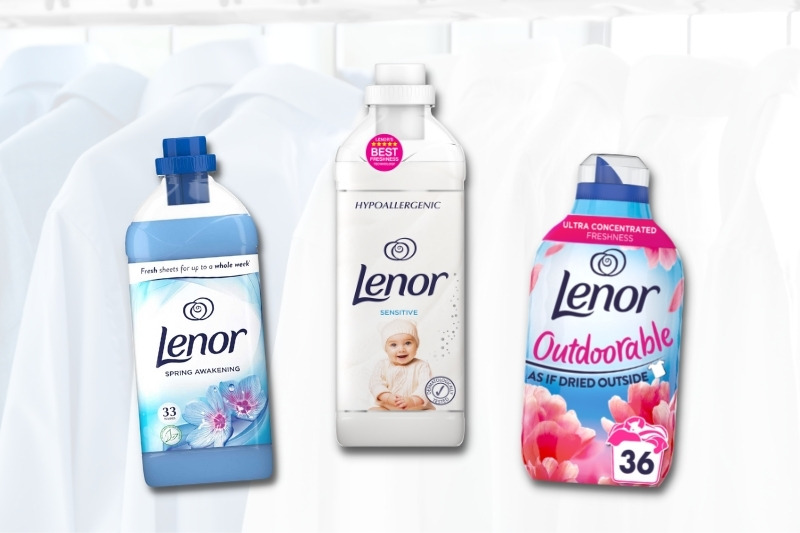 Lenor sells three variations of fabric conditioner: Liquid Fabric Conditioner, an Ultra-Concentrated Fabric Conditioner and a Sensitive Fabric Conditioner.
Lenor also sells Scent Boosters, and their job is to add extra scent and freshness to your laundry for longer. You don't have to purchase these Boosters to get the most out of their fabric conditioners, they're just an optional extra.
1. Lenor Liquid Fabric Conditioner
Lenor's Liquid Fabric Conditioner Range protects laundry from colour fading, stretching, and gives clothes long lasting freshness.
Like Comfort, Lenor also sells various sized bottled products and you get a varying number of washes from each bottle. You can, for example, buy 1.05 litre bottles that give you 30 washes, or you could pick up an extra-large bottle that's 2.9 litres that'll give you 83 washes instead.
Of course, you might not be able to find specialised scents in extra-large bottles, but popular smells like Lenor Spring Awakening can be found.
Popular scents in this Lenor range include, but are not limited to:
Lenor Exotic Bloom
Lenor Gold Orchid
Lenor Burst of Sunshine
Lenor Fresh Meadow
Lenor Lavender and Camomile
2. Lenor Ultra-Concentrated Fabric Conditioner
Lenor's Ultra-Concentrated range, is as the name suggests, an even more concentrated version of their liquid fabric softener they make. One major difference is that the Ultra-Concentrated conditioner gives laundry that 'dried outdoors' smell and feel that so many users crave.
You can pick up these bottles in sizes 504ml for 36 washes, to 840ml for 60 washes.
Popular scents in the Lenor Ultra-Concentrated range include:
Lenor Ultra-Concentrated Freshness Summer Breeze
Lenor Ultra-Concentrated Freshness Spring Awakening
Lenor Ultra-Concentrated Freshness Pink Blossom
3. Lenor Sensitive
Lenor Sensitive, like Comfort pure, has been designed with sensitive skin in mind – it is hypoallergenic and it has been dermatologically tested.
You can typically pick up bottles of Lenor Sensitive in 930ml for 31 washes and 1.36 litres for 45 washes.
Sometimes it can be tricky to locate these bottles in the supermarket!
Which Brand Has the Nicest and Longest-Lasting Scent?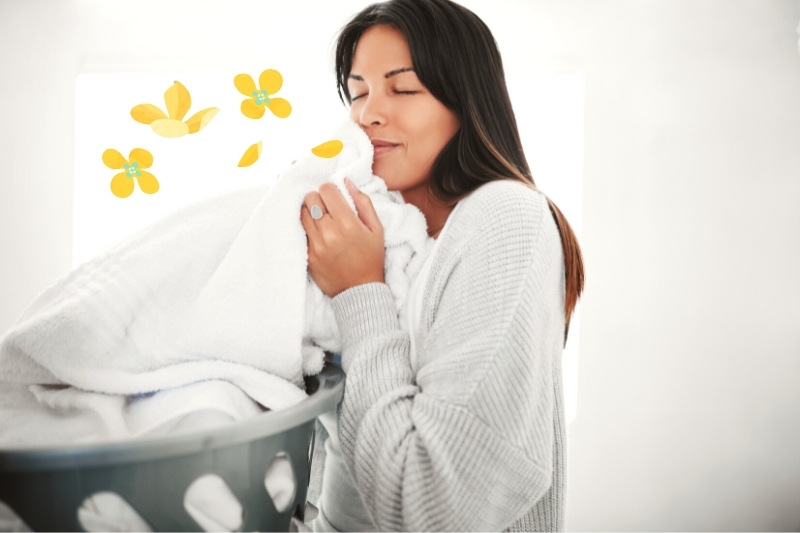 One of the main roles of a fabric conditioner is to make laundry smell fresh, and ideally you want this pleasing odour to stick around for as long as possible.
So, what brand manages this best: Comfort or Lenor? Let's find out.
Both Comfort and Lenor are well-known for trying out their daring scents! And of course, it goes without saying that not everyone will like every smell.
But, generally users of both brands find the smells very pleasant overall.
There are, of course, some users who think that Lenor's scents can be a tad too strong for them. Although other buyers say that when a scent is too strong, they just half the dosage, and this helps. It also means that you'll get a few extra washes out of a bottle if you do this.
There really is a mixed debate on this particular topic. And ultimately it comes down to personal preference. Some scents by both brands are strong, and can be overpowering to some. While others like the pungent perfume that lingers on laundry for days on end.
In the case of lasting freshness, some users think that Lenor has the edge over Comfort, when it comes to how long laundry stays smelly for. Some users say that Comfort's fabric conditioner wears off a little quickly.
Ideally, you'd want your clothes to stay fresh for at least a day, and both brands can manage this with ease. After all, it does depend on your washing habits too.
For example, if you wash your clothes after wearing them once, then you'll likely smell the fabric conditioner more because you use it more frequently. On the flipside, if you wash your clothes after multiple wears, the conditioner is obviously going to wear off, so you won't be able to smell it as much.
When it comes to lasting freshness, it's always worth keeping in mind that you never really know if a reviewer has actually used the fabric conditioner correctly. And also, reviewers don't always tell you if they've used any scent boosters. These points could directly impact the scent that's left behind and how long it stays on laundry for.
Here's a summary of the common themes in user reviews of Comfort and Lenor:
Most people say that Lenor smells stronger than Comfort
Most people say that the scent of Lenor lasts longer than Comfort
If you're very sensitive to scents and don't want something that smells too strong, you might prefer Comfort. On the other hand, if you want your clothes to have a stronger scent that lasts for longer, you might prefer Lenor.
Price of Products Sold by Comfort and Lenor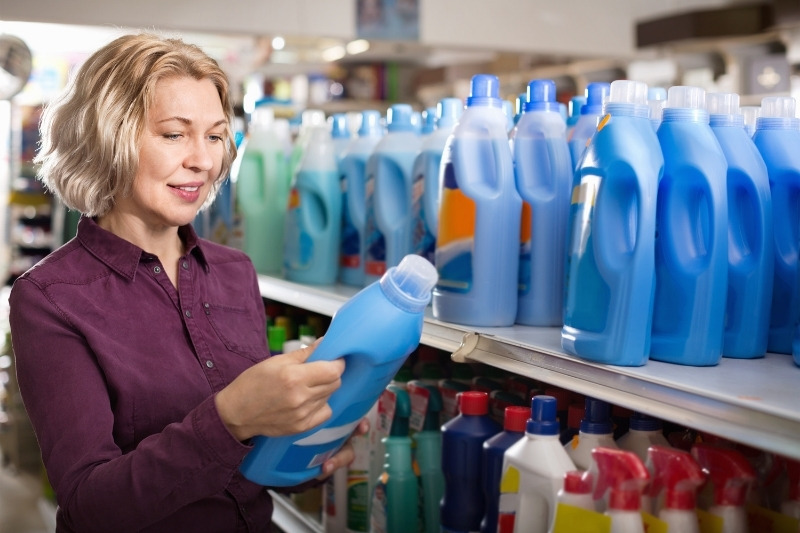 Below you'll find a like-for-like comparison between products sold by Comfort and Lenor. The items that will be looked into are: Regular fabric conditioner, more concentrated fabric conditioner, and fabric conditioner that is suitable for sensitive skin.
Since the prices of these products changes so often, we've decided not to include the exact prices for these items here. Instead, we will just look at which is cheaper at the time of writing.
Regular Fabric Conditioner
At the time of writing, a 3-litre bottle of Comfort's Sunshiny Days Fabric Conditioner was cheaper than a 2.9-litre bottle of Lenor's Spring Awakening Fabric Conditioner, but only slightly.
Comfort: 1, Lenor: 0
Concentrated Fabric Conditioner
At the time of writing, an 840 ml bottle of Lenor Outdoorable Ultra-Concentrated Pink Blossom fabric conditioner cost the same amount as an 870ml bottle of Comfort Ultimate Care Coco Fantasy Fabric Conditioner.
While the Comfort bottle is bigger, it only gives you 58 washes compared to the 60 washes offered by the Lenor product. Therefore, Lenor Outdoorable Ultra-Concentrated Pink Blossom works out slightly cheaper per wash.
Comfort: 1, Lenor: 1
Fabric Conditioner for Sensitive Skin
At the time of writing, a 1.16-litre bottle of Comfort Pure giving 33 washes costs less than a 930 ml bottle of Lenor Sensitive which gives 31 washes. Therefore, Comfort's product is cheaper per wash.
Comfort: 2, Lenor: 1
Overall, based on these three product comparisons, Comfort tends to be cheaper than Lenor. However, there isn't always a big difference, and it depends on where you buy the product and whether or not you manage to get any discounts or deals.
What Are Comfort and Lenor Doing to Help the Environment?
Like many other laundry brands, Comfort and Lenor are committed to making the world a greener place. Here are a few things that both brands are doing right now to help the planet.
Comfort is currently working on a Long Live Clothes project, which is all about making fashion more sustainable. The thinking behind this is that we should manage our wardrobes better, and should make better and more conscious fashion choices.
Things like recycling old clothes, buying quality and long-lasting materials, purchasing eco-friendly clothing, and repairing worn clothes are all being encouraged by this project. Check out some creative ways to keep your clothes alive in this video.
In other news, Comfort is working towards making all of their goods 100% recyclable!
Lenor is also trying to reduce how much plastic it uses in its packaging. And the brand is actually working with another company called Paboco to create a paper-based bottle instead of a plastic one. This project is still in its infancy, but perhaps one day soon we will see paper bottles on our supermarket shelves instead!
In addition to this, Lenor is continuously working towards reducing their carbon footprint by making new plant-based conditioner formulas. This new formula, which is typically made up of 80% plants, is designed to replace other CO2 heavy softening ingredients in Lenor's products.
Which Brand Is Easier to Find and to Buy: Comfort vs. Lenor?
It's really not very difficult to find Comfort or Lenor in a small shop, a supermarket or online. In fact, both brands are quite prominent features in the laundry world, so you will see them a lot.
Of course, it goes without saying that you won't necessarily see every single scent, in every shop you go to. But you'll usually be able to find the most popular smells, and the newest scents that have just come out.
So, there shouldn't be any trouble buying either fabric conditioner.
Which Fabric Conditioner Is Easiest to Use?
Comfort and Lenor are two super easy fabric conditioners to use.
Both brands' bottles come with instructions on their packaging, so all you need to do is read the information, and add the right dose of conditioner to your washing machine.
In addition to this, both brands' products typically come with a screw cap measuring cup, so you can accurately measure out the dose of conditioner you need. This limits how much wasting you can do, and it also means that you get accurate washes per bottle.
Which Fabric Conditioner Is Better Overall: Comfort or Lenor?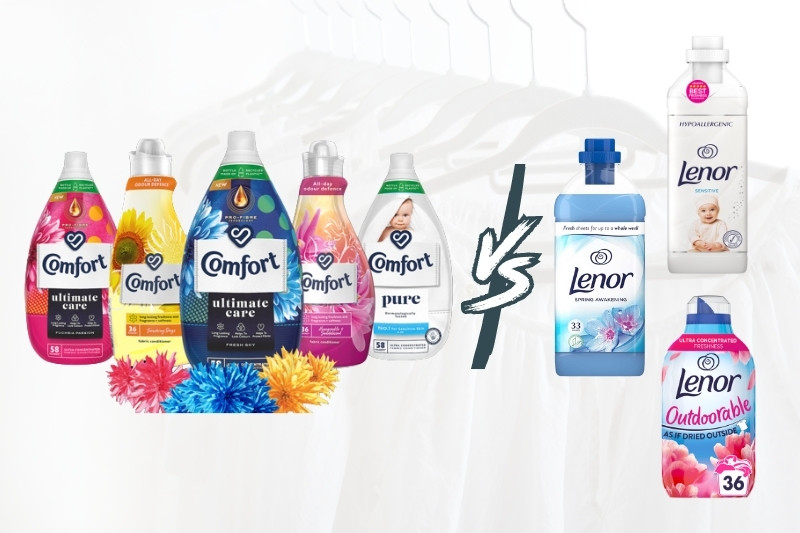 Here's a quick recap of both Comfort and Lenor.
Quick recap of positives:
Both brands sell products that cover their main audiences – those who need a regular conditioner, those who need a more intense conditioner, and those who need a more sensitive product.
Both have a rich history and have developed overtime.
Both sell products in an abundance of scents, so there's something for everyone.
They both sell various sized bottles, so you can pick a bottle that suits your home – bigger bottles for large families, smaller bottles for singles, for example.
Comfort and Lenor do have lasting freshness.
There's not a huge difference between the price of both brands – Comfort does seem to have a slight edge though.
Both brands are doing their bit for the environment and are trying to be more sustainable.
It's very easy to use both brands' products.
Quick recap of drawbacks:
Lenor does sometimes have a very strong scent according to some users.
Sometimes Comfort's scents don't stick around for as long.
It's not always possible to see the whole brand selection of either of these brands' products in shops – you don't always see every scent or bottle size at the supermarket, for example.
So, which is better: Comfort or Lenor?
When it boils down to it, both Comfort and Lenor create great fabric conditioners of various strengths that are easy to use. Comfort and Lenor's products aren't badly priced either, and they also come in various scents and bottle sizes, so there's something for everyone.
So, it really does come down to personal preference, what products you see in the shop/online on the day, and if there are any bargains to be had.
Although, if you don't really mind what you buy, you could always alternate between these two great brands, and just buy the scent or product that's on offer at the time. There's no harm in doing this, and a lot of people do it!
And if you really don't mind what fabric conditioner you use, but you want to make your laundry extra pungent, you could always go down the Lenor route, and buy a Scent Booster to give your laundry an added punch of freshness.
Of course, such a strong odour isn't going to be for everyone, and it could be more of a put-off, but it is an option.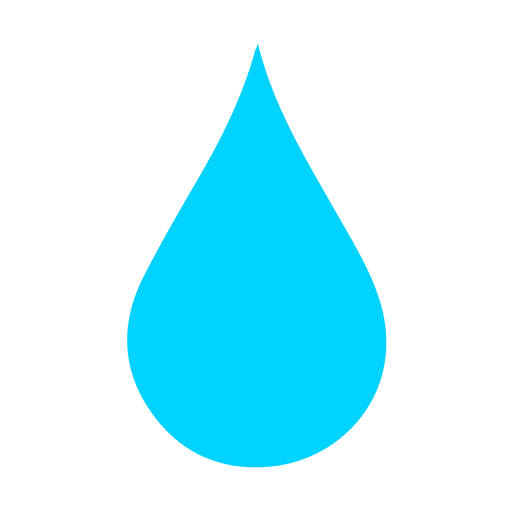 In The Wash is your guide to the best laundry and cleaning products, tips and tricks. Our mission is to solve the UK's cleaning and laundry dilemmas!