Blueberries are undeniably yummy and healthy. Not only can you use them to decorate pancakes (smiley faces are the best), but they can also alter the colour of smoothies to make them look more appetising!
And while choosing the healthier, blueberry option is great, what's not so good is the fact that the blueberry juice almost always seems to find its way onto every outfit you put on!
Tops, jeans and joggers all seem to get battered with the blue-purple juice when blueberries are about!
But instead of worrying about the mess, find out how you remove the stains from your clothes right now.
Tips to Remember When Removing Blueberry Stains from Clothes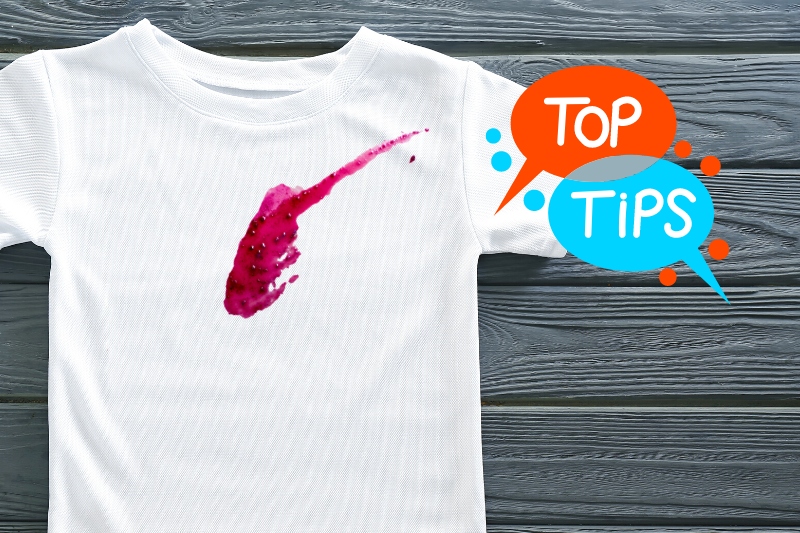 Before treating a blueberry stain, keep these few tips in mind:
It's better to act fast and remove the blueberry stains as quickly as possible.
Stick to using cold water!
The blueberry stain may not disappear after one treatment, so be prepared to repeat the cleaning steps below.
Don't put your item in the tumble dryer until the blueberry stain has gone completely. The heat from a dryer will only set the stain for you, and this'll make it difficult to remove.
Test your chosen cleaning product(s) out on a discreet patch of material before using it to clean an entire surface.
Read the item's care label before you treat it.
Never scrub a blueberry stain, just blot at it.
'Dry clean only' items should be dry cleaned. And although you can buy DIY kits to clean 'dry clean only' garments, when it comes to removing blueberry stains, you'd be better off heading straight to the dry cleaning shop, rather than wasting time trying to sort the issue out at home!
How to Get Rid of Blueberry Stains on Clothes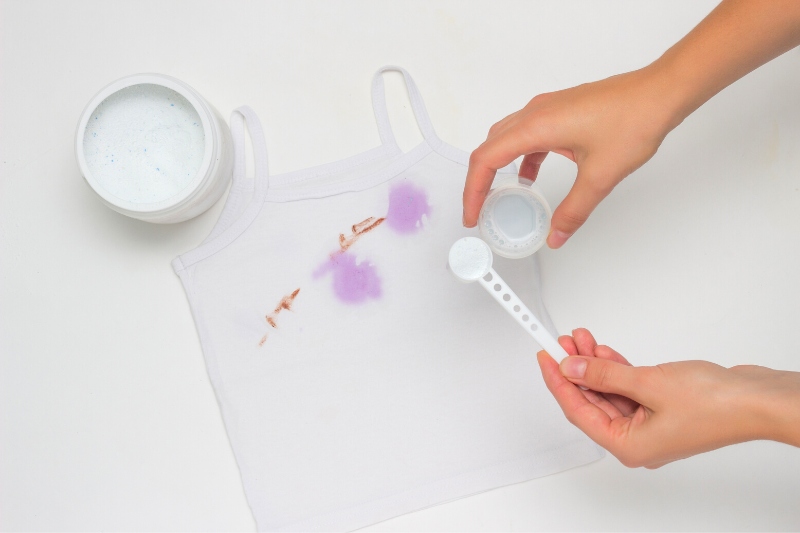 Got some blueberry blemishes on an outfit? Follow the method outlined below to remove them.
Note: This method is suitable for harder-wearing materials like cotton. It isn't suitable for delicate materials, like silk, wool, and cashmere. Skip to the next section if you need to treat a delicate item of clothing.
Steps to follow:
Use a teaspoon, or similar blunt object, to scrape off blueberry bits and juice from your item of clothing.
Optional: Soak the entire stain in diluted white vinegar and leave it to rest for five minutes, then follow the steps below. Alternatively, you can use lemon juice on white clothes, if you like. But don't use lemon juice on coloured clothes as it could discolour them.
Turn your item inside out.
Flush cold water through the back of the blueberry stain. Continue to do this for a few minutes.
Cover the blueberry stain in biological liquid detergent that contains enzymes that'll break down the stain.
Pop the item in the washing machine.
Select an appropriate cycle for the material you're washing.
Start the wash.
At the end of the wash, inspect your item. If you see stains, you need to treat them with a tougher cleaning agent.
If your garment can be bleached (the care label shows a triangular symbol with two horizontal lines going through the middle or an empty triangular symbol), you can pop some oxygen bleach directly onto the stain to remove the blemish from your colourfast clothing. Skip this step if your item is not bleach-friendly (the care label shows a triangular symbol with a cross going through it).
Start a second washing cycle.
When the cycle ends, remove the item and inspect it. If you still see traces of blueberry on the item, you will need to re-treat it.
Don't dry an item until you know for definite that all of the blueberry stain has gone. If you dry an item that is still stained, the mark will become very difficult to remove because it'll have set into the material's fibres.
Line dry your item when it's clean.
Alternative Methods for Removing Blueberry Stains from Clothes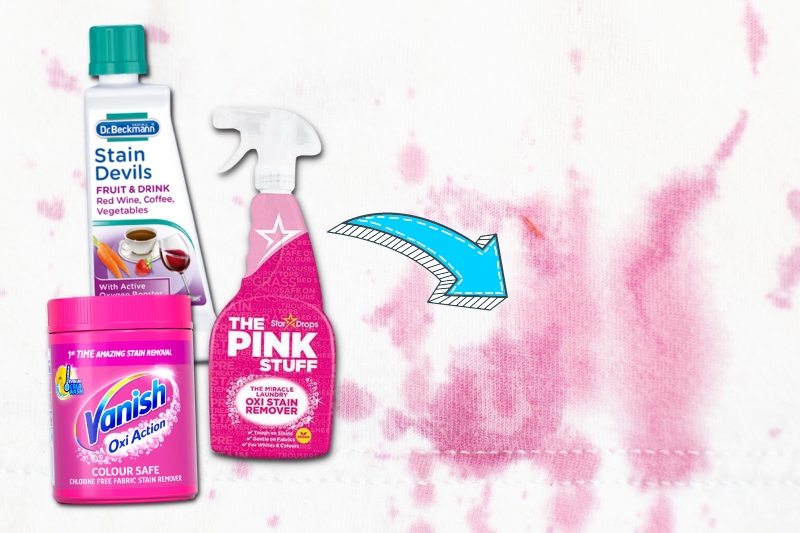 Specialist stain remover product
Try one of these products if the method above doesn't work.
Dr. Beckmann Stain Devils Tea, Red Wine, Fruit & Juice Stain Remover is a powdered formula that tackles fruity stains, like blueberry ones. The formula doesn't take long to apply, but it can take several minutes to work. That being said, it generally yields good results.
Vanish Oxi Action is tough on stains, even when it's used at low water temperatures. It can be used to treat coloured and white clothes, and contains oxygen bleach! It's very easy to use and gets to work in mere seconds.
The Miracle Oxi Stain Remover is a vegan stain remover that can be used on colours and whites. It's not too tough on fabrics but it does pack a punch when it comes to taking out pesky stains.
Chlorine bleach
If you're washing white items that are chlorine bleach-friendly, you can use chlorine bleach to eradicate the blueberry stains.
An item can be cleaned in chlorine bleach if it has an empty triangular symbol on the tag. If you don't see this symbol, you must stop using the chlorine bleach and find another treatment.
You cannot use chlorine bleach on coloured clothes as it will discolour them!
To remove blueberry stains with chlorine bleach you need to dilute a measure of bleach in water (see packaging for exact dosages), then submerge the garment in the water for a few minutes at a time. The whole process shouldn't take too long.
When you're done you can wash your item as normal!
Dry cleaners
In some cases, you won't be able to remove an entire blueberry stain from an item of clothing. If this happens, it's worth taking your garment to a dry cleaners and asking them for help.
A dry cleaners shop will have access to different tools and solutions. Plus, they should have a wealth of experience when it comes to dealing with tricky stains.
A quick online search will bring up dry cleaners near your home. Just remember to pick a reputable company and ask plenty of questions!
How to Remove Blueberry Stains from Delicate Clothes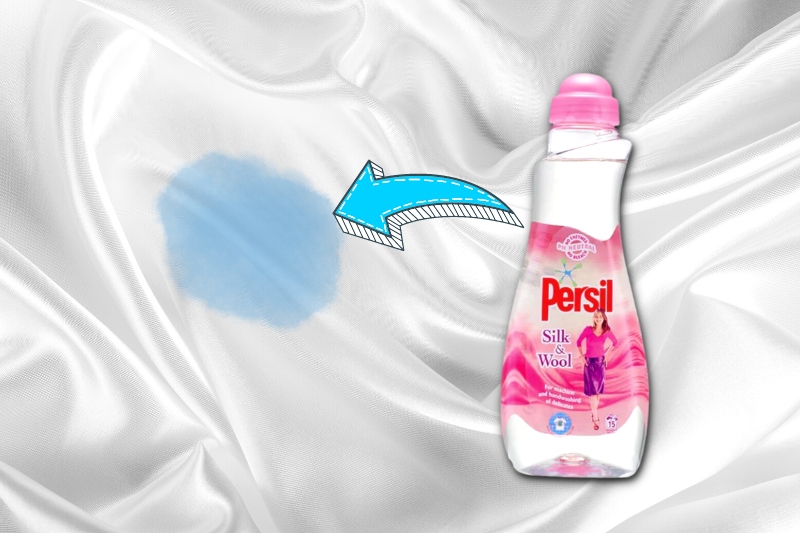 Steps to follow:
Use a teaspoon to scrape off any blueberry clumps and juice from your item of clothing.
Turn your item inside out.
Flush cold water through the back of the blueberry stain. Continue to do this for a few minutes.
Fill a clean tub with cold water.
Mix a suitable, mild detergent into the water. For example, a wool-friendly detergent for wools, like Persil Silk and Wool Washing Liquid.
Pop the stained item into the water.
Agitate the item in the water.
Make sure the detergent makes contact with the stain, so it can start to break down the blemish.
Pop the item in the washer, choose a suitable setting, and add another measure of detergent to the washing machine.
When the cycle ends, inspect the item. Repeat the steps above if the blueberry stain hasn't disappeared.
Dry the item on the line when the stain has gone.
Note: When dealing with stains on delicate materials, vintage pieces, or priceless heirlooms, it's worth finding a dry cleaner and asking them for help. And although it's not impossible to treat these items at home, it often takes more time, is far trickier, and doesn't always work out for the best!
A dry cleaner, on the other hand, will have access to a plethora of different cleaning tools and solutions, so they can tailor the cleaning experience to suit your personal piece. They should also have more experience in handling delicate materials.
Do a quick online search to find dry cleaners near you. Just remember to pick a reputable company, make sure the cleaner has experience in handling delicate pieces, and ask plenty of questions!
How to Get Blueberry Stains Out of White Clothes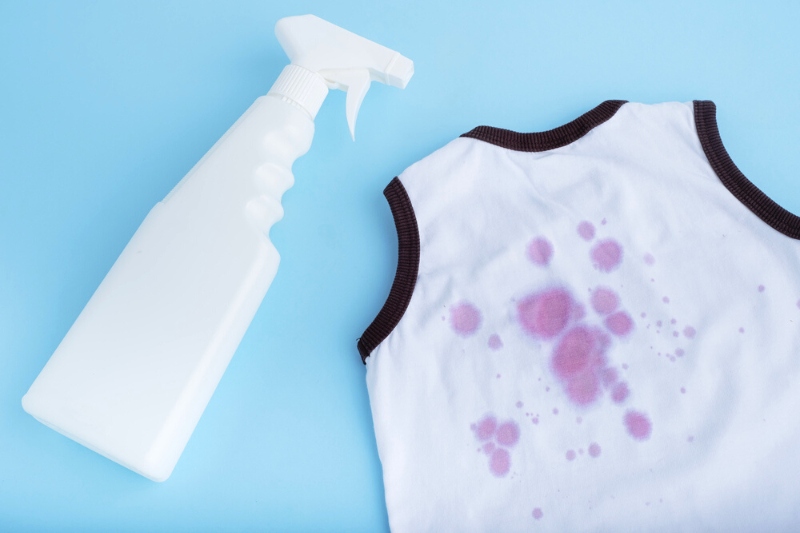 To remove blueberry stains from white clothes, you need to first remove the excess blueberry from the garments in question. You can then check the items' care labels to see how they can be cared for and whether or not they can be bleached.
Based on the information you see on the tags, you can either follow the steps outlined above. Or you can bleach your garments using chlorine bleach, as long as the material permits this.
Once you're done treating your white clothes you can wash and dry them.
How to Get Blueberry Stains off Cotton
You can use the method listed above under 'How to Get Rid of Blueberry Stains on Clothes' to remove blueberry stains from cotton.
You'll also be pleased to hear that you can use the method noted above on synthetic materials too.
Are Blueberry Stains Permanent?
Blueberry stains can become permanent if they are left untreated. If one of your outfits is covered in blueberry stains, you need to remove the marks as fast as you can.
Leaving the stains to go dry just makes them harder to remove later on. So, act fast and get rid of the mess before it gets worse or spreads.

Bethan has a passion for exploring, reading, cooking and gardening! When she's not creating culinary delights for her family, she's concocting potions to keep her house clean!