Living with limited space doesn't mean you need to limit the number of appliances you have. If you live in a flat, it's unlikely that you'll have access to a washing line, but that doesn't mean you can't have the efficiency of a tumble dryer in your home.
A small tumble dryer doesn't mean you'll be losing out on high-quality features, either. Many modern, more compact tumble dryers come equipped with up-to-date sensor technology, allowing you to make the most out of your drying cycle.
While there are many small tumble dryers available, what is the best tumble dryer for flats? What makes a tumble dryer suitable for a smaller space?
We've chosen five of our favourite, flat-friendly tumble dryers, to help you get your clothes dry quickly and efficiently. You can read our handy buyer's guide for more information on what to look out for in a small tumble dryer.
Let's take a look!
Best Small Tumble Dryers for Flats
1. Hotpoint V4DO1P Tumble Dryer
With a 4kg drying capacity, this tumble dryer from Hotpoint is ideal for compact spaces.
It features 'reverse tumble action,' allowing your clothes to dry evenly without getting tangled up together. This means you'll have less ironing to do as a result, making the drying process more efficient.
This tumble dryer is perfect for flats, as its 66 dB noise level means it's a quiet dryer compared to other models on the market. You won't have to worry about this dryer being a nuisance for your neighbours.
Hotpoint have designed this tumble dryer with a 'front vent' construction, so it can comfortably fit near a window or external wall for you to place the hose out of whenever necessary. This helps to prevent your flat from getting too steamy and uncomfortably hot when the dryer is in use.
Features
Vent on the front
4kg drying capacity
Reverse Action Drum
Timed Drying
Pros
Quiet noise level
Clothes won't get tangled during cycle
Compact and easy to position in a flat
Cons
Some customers have complained that the hose can be flimsy
2. Cookology CMVD25WH Mini Vented Dryer
If you're looking for an ultra-compact tumble dryer that you will barely notice taking up space, then this model from Cookology might be the option for you.
One of the standout features of this dryer is how easy it is to position in your flat. It can be placed on a worktop, or you can even mount it to the wall, giving you more floor space to play with.
Featuring 5 different programmes and 2 heat settings, don't be fooled by the small size of this dryer. It won't let you down in terms of performance. It can fit up to 2.5kg of laundry inside, and its vented design means it is easy to get the air outside and out of your flat.
Features
2.5kg drying capacity
Wall mountable
200-minute timer
5 drying programmes
Pros
Quiet noise level
Very compact and can be mounted on the wall
Ideal for student accommodation and smaller flats
Various drying programmes gives you control over the cycle
Cons
Smaller drying capacity can be restrictive
3. Beko DTGC7000W Freestanding Condenser Tumble Dryer
Many small tumble dryers have a reputation for not being particularly energy efficient, but this model from Beko stands out against its competitors in that department.
With an "B" class Energy Efficiency rating, this tumble dryer works to save you money on your bills, while saving you time when drying your clothes. The Sensor Drying Technology used by this dryer adds to this, as it works by monitoring the moisture in the laundry, and adjusting the setting automatically, so you won't use any more energy than you need to.
With a 7kg drying capacity, you can fit a large load inside, without this dryer taking up too much space. Its condenser design makes it easy to position wherever you choose. It is ideal for families living in a flat, and with an extra-large door, you can fit plenty of laundry inside without any hassle.
Features
7kg drying capacity
Condenser Dryer
Energy Efficiency Class "B"
Reverse Action Drum
Sensor Drying Technology
Pros
Ideal for families
More energy efficient than many of its competitors
Water Reservoir at the top is easy to clean
Anti-Crease programme prevents the need for lots of ironing
Cons
No countdown timer
Some customers have found it to be noisy
4. Indesit IS41V Freestanding Tumble Dryer
This tumble dryer from Indesit is a freestanding style dryer, meaning you can put it wherever you like, at your convenience. This is ideal for flats, as if you can't easily place your dryer near a window or external wall, you won't need to drill holes anywhere either.
Its 4kg drying capacity makes it a great choice for individuals or couples living in a flat, as it can handle small to medium-sized loads with ease. Indesit have also included dual, anti-tangle rotation, so your clothes will dry evenly without getting tangled up together.
Features
4kg drying capacity
Anti-tangle rotation
Freestanding
Pros
Small and compact
Ideal for flats
Removeable filter
13 drying programmes gives you control over your cycle
Cons
Some customers have found the noise to be an issue
5. Indesit IDV75 Freestanding Vented Tumble Dryer
The second Indesit model on our list, this tumble dryer offers a 7kg drying capacity, making it ideal for couples and families living in a flat.
If you're on the hunt for a more energy efficient, yet compact tumble dryer, then this could be the option for you. With a "B" class Energy Efficiency rating, this tumble dryer will save you time and energy, and cut down the cost of your energy bills too!
You can fit a large load inside this tumble dryer, but that doesn't mean you'll need to worry about the clothes getting tangled up. Indesit have included Anti-Tangle technology, which utilizes reverse tumble action, so your clothes will come out evenly and with fewer creases.
Features
7kg drying capacity
Anti-Tangle technology
Energy Efficiency Class "B"
12 Drying Programmes
Pros
One of the more energy efficient compact dryers on the market
Can fit a large load inside
12 programmes allows you to adjust the drying function to your liking
Reverse tumble action prevents creases
Cons
Not as compact as competitor dryers, so won't be ideal if you are really pressed for space
Things to Consider When Choosing a Tumble Dryer for a Flat
Size
It goes without saying that, living in a flat, you will need a small tumble dryer. But how small should you be looking at?
Tumble dryers range widely in size, offering different capacities. Small tumble dryers will generally range from being able to fit around 3kg – 8kg of laundry per cycle.
It is worth noting that small tumble dryers will generally dry clothes at a slower rate, due to the smaller space available in the drum, meaning they may be less energy efficient. While this can't always be avoided, choosing an eco-friendly model can make the smaller size seem like less of an issue.
Vented or Condenser?
When choosing the best tumble dryer for you, it's likely that you will hear the terms 'vented' and 'condenser' to describe different products. But which type of tumble dryer is better?
Let's take a look at the differences between them, so you can consider these before you make a purchase.
Vented Tumble Dryers
Vented tumble dryers are the more common tumble dryer design. They remove water from the dryer using a long hose connected to the machine, which then vents the water outside of your home.
This design means it will need to be installed near to a window or exterior wall, so the hose can reach the outside. However, they are typically a budget-friendly type of tumble dryer.
Condenser Tumble Dryers
Condenser dryers remove water via a container, often referred to as a 'reservoir,' that features inside the tumble dryer. Once the container is full, it will need to be manually emptied, however many modern tumble dryers will alert you once this needs to happen.
A benefit of this means that you can place the tumble dryer anywhere you like, as opposed to near a window or wall. This may be of use if you are living in a flat, as you aren't restricted in terms of where to position the appliance.
Sensor Technology
While small tumble dryers are not known for being particularly energy efficient, many modern designs will feature special sensor technology to help with this problem.
This technology works by monitoring the level of moisture in the drum during the cycle, and will then stop the dryer once the clothes are dry, so you won't be leaving your tumble dryer running unnecessarily. This will not only save energy and time, but also be a great help on your bills too!
However, it is worth bearing in mind that tumble dryers featuring this technology are often more expensive, but they will potentially save you money over time, so they could be a worthwhile investment.
Washer-Dryers
Living in a flat means that you won't have lots of excess space to play with. It may therefore seem more logical to buy a 2-in-1 appliance, rather than two separate machines.
That's where the washer-dryer comes into play. As the name suggests, this product is a combination of both a washing machine and a tumble dryer, which can save you a lot of space in your flat. The 'washer' part of the product works like a standard washing machine. However, for this product review, we're most interested in whether the 'dryer' part works as well as single tumble dryers.
The 'dryer' uses a heat-pump mechanism to get clothes dry. It reheats air that is taken out of the laundry throughout the cycle, and cools it down, so it turns back into water that is then drained.
While washer-dryers are excellent in theory, and in terms of saving space, some users have claimed that their drying capacities are not as high-performing as a single tumble dryer on its own. If you aren't too worried about drying large loads, then a washer-dryer can be a great option but bear in mind that the 2-in-1 design means its drying performance may be impacted. If you're not sure whether or not to get one, check out this article where we have explored the topic in more depth.
Noise
Living in shared accommodation, such as a flat, can mean that you need to be more cautious of making too much noise.
With your neighbours in close proximity, it's important that you consider how loud your tumble dryer is going to be. We recommend choosing a tumble dryer that features 'anti-vibration' technology or good interior isolation, as this will prevent the dryer from being unbearably loud. The last thing you need when drying your clothes is for your neighbours to complain about a rattling, deafening tumble dryer!
Check out our roundup of the quietest tumble dryers on the market if noise is important to you.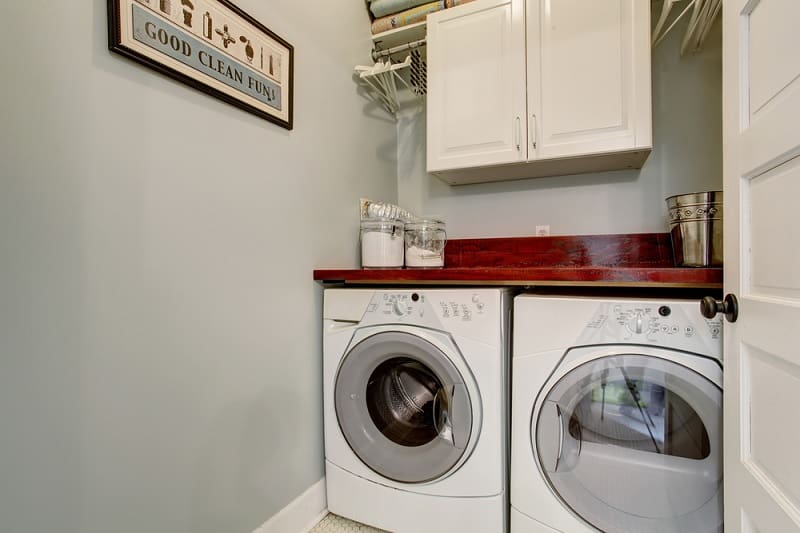 Summary
It's clear to see that there are many great small tumble dryers on the market, and it can be difficult to choose the perfect one, especially when you only have a limited space.
However, with all the factors considered, my pick for the best small tumble dryer for a flat would be the Hotpoint V4DO1P Tumble Dryer.
This dryer has many great aspects necessary for use in a flat, including its particularly quiet design, as well as its compact size. For all-round excellent small tumble dryer, this is an excellent choice, but all the products in our list will work well in a flat.
With the help of our buyer's guide, I hope this product roundup review has given you a clear insight into the best small tumble dryers for flats, and now you'll never have to worry about the limited space being an issue when drying your clothes!
Thanks for reading!