Changing the bed is already one of those tasks that can be a total pain, and it gets even worse if you have a whole household's worth of rooms to get sorted.
You sometimes have to really psych yourself up to just get it done, or wait for the weather to be good enough to get the bedding dry once it's washed… but our question today is one that has puzzled quite a lot of homeowners!
How much bedding can I wash in one cycle?
It's so tempting to pile as many bedsheets as possible into the drum, but you could be damaging your washing machine, and your bedding won't get the best clean.
There are quite a few factors which dictate how many sheets you can put in your washing machine:
Your washing machine's capacity. This is usually given in kg and refers to dry weight.
The fabric your bedding is made from.
Are your sheets singles, doubles, kings… super kings!?
Do you wash clothes or towels in with your bedding?
Once you've got the answers to all of these questions, it can be a little easier to decipher how much of your bedding you can throw into one cycle.
QUICK FACT – One of the main reasons people's washing machines don't last long is because they overfill them each time they do a wash load.
How Many Bed Sheets Can You Put in a Washing Machine?
Many people recommend only washing one set of bedsheets at a time unless you have a large washing machine with a 10 kg+ load capacity.
By 'a set of bed sheets', we mean the fitted sheet that goes over the mattress, a top sheet and two pillowcases.
Here's a rough overview of how many bed sheets you can put in a washing machine at once:
6 kg capacity – 1 set of bed sheets
8 kg capacity – 2 sets of bed sheets
10 kg capacity – 3 sets of bed sheets
You might reason that you could work out how many sheets will fit in the machine by dividing the washing machine's load capacity by the weight of a sheet.
However, you also have to take into account the size of bedsheets. You don't want to put too many in at once as they will get tangled up and the water won't be able to wash them properly.
Here's an (average) estimate of how much each type of sheet weighs:
Single – 300 g
Double – 700 g
Queen – 800 g
King – 900 g
If we just divided the maximum load capacity of the washing machine by the weight of a sheet, we'd arrive at the conclusion that we could put 20 single sheets in a 6 kg washing machine, but this is obviously too much.
If you overload the washing machine with bed sheets, they won't get washed properly and the spin cycle won't be able to dry them out.
If you have a lot of sheets to wash, it's better to split them up into several washes rather than trying to do them all at once.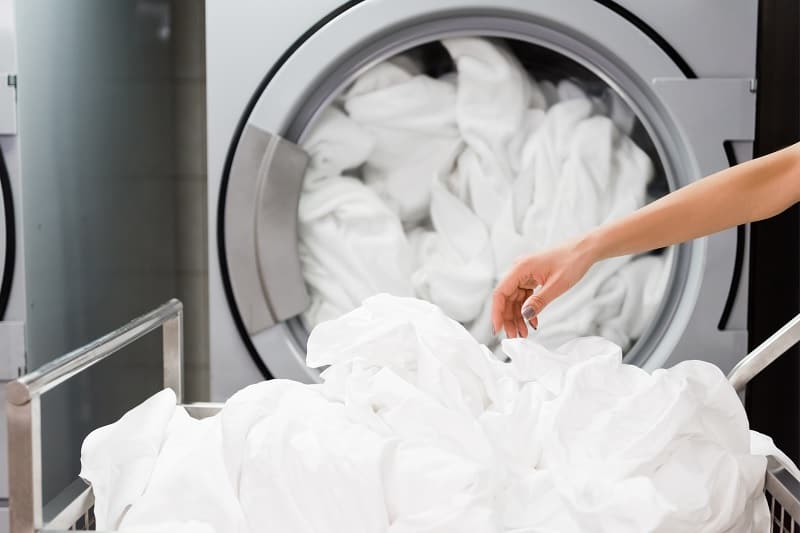 How Big Is Your Washing Machine?
When it comes to washing machines, size matters… well, it does if you want to wash a lot in one go.
The size of your washing machine's drum and its load capacity can really affect the size of a wash load.
Let's have a quick look at some of the standard washing machine weight limits.
6-8 kg
6, 7 or 8 kg washing machines are probably the most common to be found in the homes of the UK.
Although there is only 1 kg between each weight, the difference in your wash load can be quite large.
Here are some average recommended example loads for each maximum load weight (please note this is just a guide):
6 kg
2 single quilt covers, 2 single mattress sheets, 2 pillowcases
Double quilt cover, double mattress sheet, 4 pillowcases
King quilt cover, 4 pillowcases, possibly a small towel or a couple of flannels (if you want to mix)
7-8 kg
2 single quilt covers, 2 single mattress sheets, 4 pillowcases
Double quilt cover, double mattress sheet, 4 pillowcases, 1 small/medium towel
King quilt cover, king mattress sheet, 4 pillowcases
9+ kg
9 or 10 kg machines are very well suited to a big household but they are not the most common option for most UK households.
They can also be a great option for shared housing if people are happy to combine their laundry to save time, water and money.
You can fit a fair amount into a 9 or 10 kg washing machine – here is a rough guide:
4 single quilt covers, 4 single mattress sheets, 8 pillowcases
2 double quilt covers, 2 mattress sheets, 8 pillowcases
King quilt cover, king mattress sheet, 6 pillowcases, single quilt cover, single mattress sheet
The information above is of course just a guide, as this can depend on the weight of the materials your bedding is made from…
Fabric Type Can Change Everything!
Some people swear by cotton, some prefer the luxury of silk and some like the weight and texture of linen.
Bedsheets come in a whole host of different fabrics and they all weigh very differently, especially when wet, as absorbency varies from textile to textile.
Over the winter, there tends to be a rise in the sales of brushed cotton and soft shearling "teddy" bedding which are both heavier to wash than thin cotton or poly bed sets, so they would have to be treated a little differently and may take more wash loads to get the entire bed set done.
Something else that affects how you wash your bedding is the care instructions e.g. cotton will be happy in a hot wash, but a synthetic blend may only cope with warm.
So, it's best to either use the same type of fabric for all of your home's bedding or use fabrics that can be washed effectively in the same way.
Cotton – hot wash
Silk – hand wash or cool wash
Linen – cool wash
Polyester – cool wash
Cotton blend – warm wash
QUICK TIP – Washing your bedding with a warm or hot cycle will help to kill off any germs or bacteria and make sure you get nice clean sheets! If you're a cool-wash-only type of person, then you might want to invest in some specialist antibacterial detergent.
To Mix, Or Not to Mix…
Even though it might seem practical to top up your white bedding wash with a couple of work shirts, it might not be the best idea.
Not only is bedding full to the brim with dead skin and sweat (and saliva if you're a drooler) but clothes can get trapped inside quilt covers during a wash which means they only get rinsed with water and aren't getting a proper clean.
It is recommended that you wash bedding on a hot or warm wash (if the fabric is suited) to get rid of nighttime nasties but many clothes are not suited to these temperatures, so this is another great reason to keep your clothes and your bedding separate.
When to Wash Bedding
It is important to keep bedding nice and clean as often as possible as it can help to kill off any nasty germs and bacteria that could cause you to get sick or experience skin complaints.
The recommended timescale for your bedding's wash cycle is every other week, which can seem daunting if you have a very busy life, but now you know that you shouldn't overfill your washer, you can stagger bed changes (if you have multiple beds to strip and wash).
If you get a sunny opportunity to dry things outdoors, you might want to squish all the bedding into one day… just make sure you don't squish it all into one wash!!!
The lesson of the day – DON'T overfill your washing machine and you're sure to get plenty of years usage out of it.
If you need a new washing machine, check out our guide to the best here.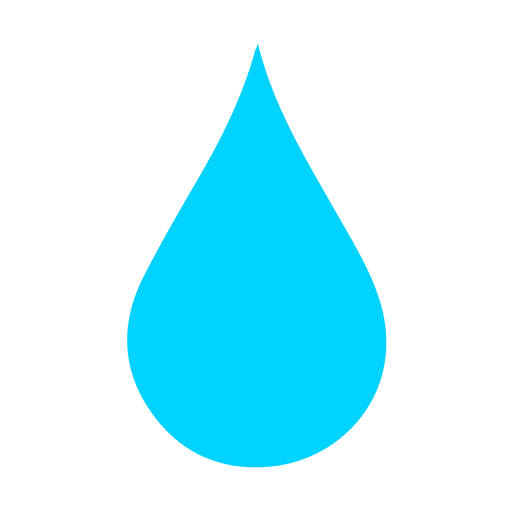 In The Wash is your guide to the best laundry and cleaning products, tips and tricks. Our mission is to solve the UK's cleaning and laundry dilemmas!