Drying clothes in a flat may seem like a daunting task, after all, there's not a garden with a line, there may be limited sunlight, and there is a risk of mould developing if too much moisture gets into the air.
However, drying clothes in a flat, despite what you may think, is actually very straightforward, as long as you've got the right tools for the job! Join me and discover how to dry clothes in a flat today.
Top Tips Before You Start Drying Your Clothes
When drying clothes in a flat it's best to keep in mind the following points:
If you have a washing machine in your flat, or you use a launderette, try and use the spin cycle feature on the washing machine. Using the spin cycle will remove any excess water that has been left behind on your garments, so when it comes to drying your clothes, they won't be saturated in water, which'll be a big help.
Ventilation is key when drying clothes in a small space. So keep all the windows open and make sure that plenty of air can circulate around. Of course, if you have a dehumidifier, it is also worth using it when you dry clothes in a flat.
When washing your laundry, it's always best to try and sort the washing out early in the morning, this way the items that have been washed have all day to dry. It also means that the items get more heat exposure, ventilation and time to dry thoroughly.
When you live in a flat, and you're short on space, it's best to try and do your laundry in little, regular bursts. Huge washes take time to complete, and they take even longer to dry, and if you're short on space, you don't really want to leave a pile of soggy laundry sitting about because you've got nowhere to put it.
Let's find out how you can dry clothes if you live in a flat.
How to Dry Clothes in a Flat
When it comes to drying clothes in a flat you've got to be a little creative, after all, you don't really have the option of popping out to peg clothes on the line in the garden.
That being said, there are lots of excellent ways to dry clothes indoors, and most options are reasonably priced and can make a huge difference to the drying process.
1. Drying rack
One of the most common ways to dry clothes in a flat is to use a drying rack. There are various drying racks to be had and I'll describe them in more detail below.
Keep in mind that you will need to measure the proposed 'drying space' in your flat to make sure you choose a drying rack that'll fit into the room, and also, pick an option that suits your budget.
Indoor airers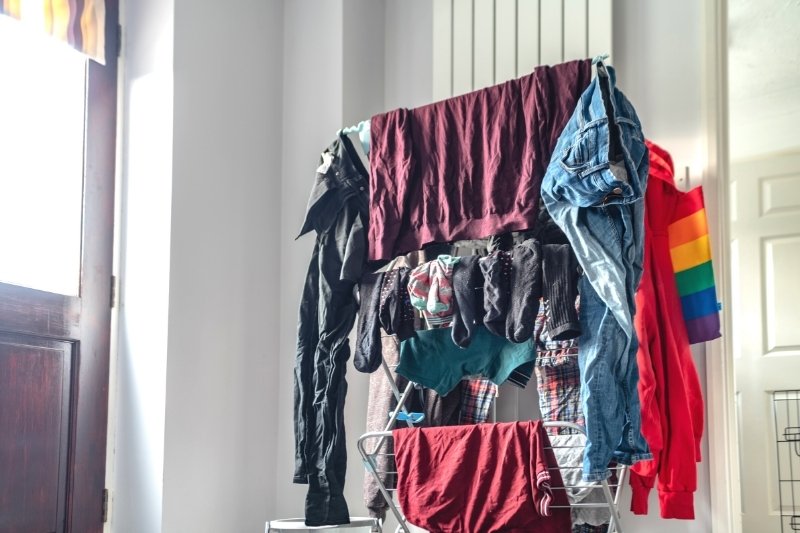 Indoor airers are a very popular and reasonably priced option when it comes to drying clothes in a flat. These simple contraptions can be made from steel or wood, have multiple racks where you can hang clothes on to dry them, are very easy to assemble and quite sturdy, if used correctly.
The idea behind this type of drying airer is, you pop clothes either directly onto it, or you use a hanger to hang clothes onto it. Then you either leave the clothes on the airer to dry all day in a ventilated area or you pop the airer next to a radiator, so the clothes dry a little quicker.
There are a number of brands who sell these types of drying racks, and you can pick most of them up in big supermarkets and hardware stores. Depending on the material the airer is made out of and how big the airer is the price will vary.
Below are some options for you to consider:
The Vileda Sprint 3-Tier Indoor Airer can be bought in two sizes: 15 metres of drying space or 20 metres. It can hold up to 15 kg of laundry and comes with non-slip feet, so you don't have to worry about it scuffing the floor. It's very practical and won't encroach on your living space when it's not in use.
However, if you need something that can be moved around with ease and can hold more items, look no further than the Innotic Clothes Drying Rack.
This three-tiered drying rack can dry various types of laundry, from shoes to toys, and from dresses to jeans. Its unique shape means that you can hang longer items on the side and smaller items on the inner racks to dry over time.
With a height of 170 cm and a width of 50 cm this dryer won't dominate your living space, but it does provide you with enough drying space when you need it. And if its size does bother you, you can just move it around by using its wheels. It also folds down too, so it won't take up too much storage space when it's not in use.
Over-the-bath airers
If you're really short on space another simple way to dry clothes in a flat is by investing in an over-the-bath airer. This dryer works in a similar way to the indoor airers mentioned above, but the main difference is that this airer slots over your bathtub and is a lot smaller in size.
These kinds of dryers are ideal if you want smaller garments dried over a period of time. Things like underwear and t-shirts are ideal, but for longer items like dresses this isn't the best option.
If you're interested in getting an over-the-bath airer the Metaltex 'Nevis' Over-The-Bath Laundry Dryer is a good option. It's 55 cm in height, and it comes with a locking system and anti-slip feet, which prevent it from opening up and dropping into the bath. Plus, it can be folded up and stored away with ease.
Electric/powered heated rack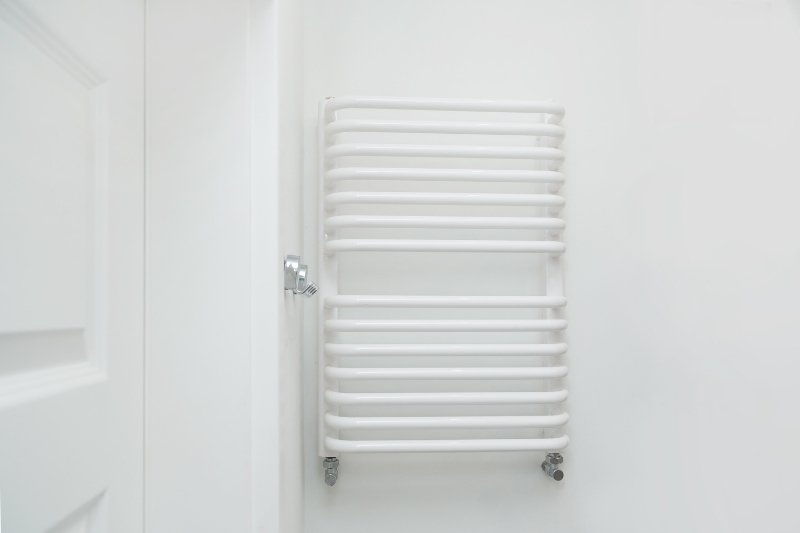 If you like the indoor airing option but you'd like to try something with a little more punch, then there's always the option of getting an electrically powered drying rack.
The idea behind these types of racks is very similar to the traditional drying racks that you stand up in a room. The major difference between the items is, an electric drying rack heats up the racks that you pop the clothes on in order to dry them quicker.
Electric heated racks typically work off a standard house plug socket, they're usually made from aluminium and are quite lightweight, so you can move them around the house. The only concern is that the bars can get hot, so this wouldn't be ideal in a busy home where kids and pets may knock the rack down.
If you're interested in trying this type of drying rack you should consider the Evia 120 Electric Heated Clothes Dryer. This particular drying rack can reach a maximum temperature of 55℃, folds away neatly and is easy to use and to keep clean!
Of course, if you like the sound of the electric dryer above, but you need a dryer that is much bigger and can dry more clothes in your flat, you should look into the AMOS Eezy-Dry PRO Electric Clothes Dryer Extra Tall.
This particular dryer looks like a large rectangle shaped clothes airer, except there's a 1300-watt motor sitting on the bottom bar that creates warm air to dry the clothes. You can dry around 15 kg of clothes in one of these dryers, and you have additional bars that you can pop in and out to create more/less racks to hang clothes on.
In addition to this, the AMOS Eezy-Dry comes with a zip-up cover, and this prevents too much heat from spilling out of the dryer as the motor goes to work. And when you're done using the dryer you can fold it down and put it away.
Window mounted drying rack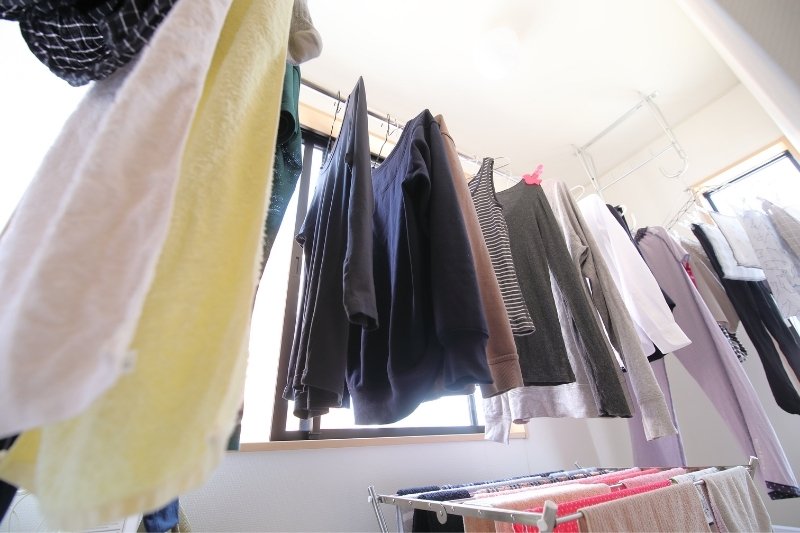 One of the easiest ways to dry clothes in a flat is to pop clothes near a window, and to allow natural sunlight to get to work drying the items.
So, if you get a lot of sunlight coming into your flat it may be worth investing in a window mounted drying rack that you can hang your clothes on to dry.
Sadly, you may not be able to find the exact fit that you need, but it is possible to make your own drying rack out of wood. You could then secure it in place and start drying your items. Just make sure that you don't overfill the rack.
2. Radiator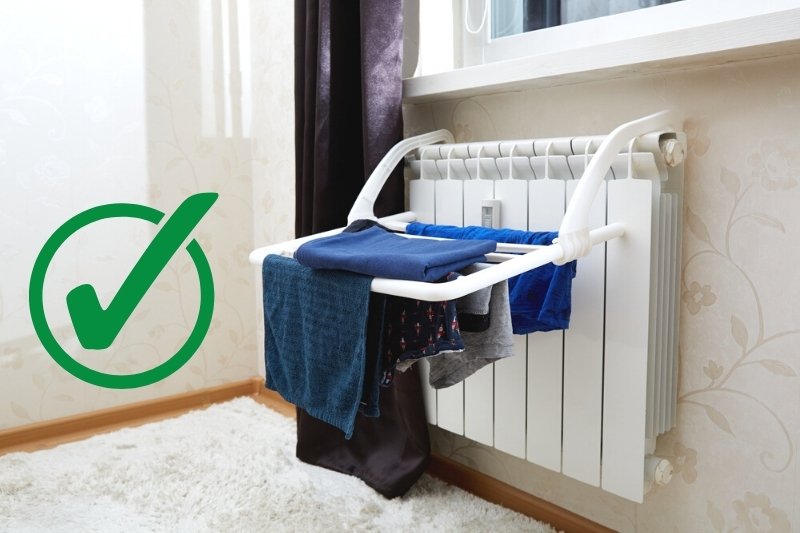 Another way to dry clothes in a flat is to pop the clothes near a radiator to dry. Don't put clothes directly on the radiator, as this can lead to condensation and be bad for your health.
3. Tumble dryer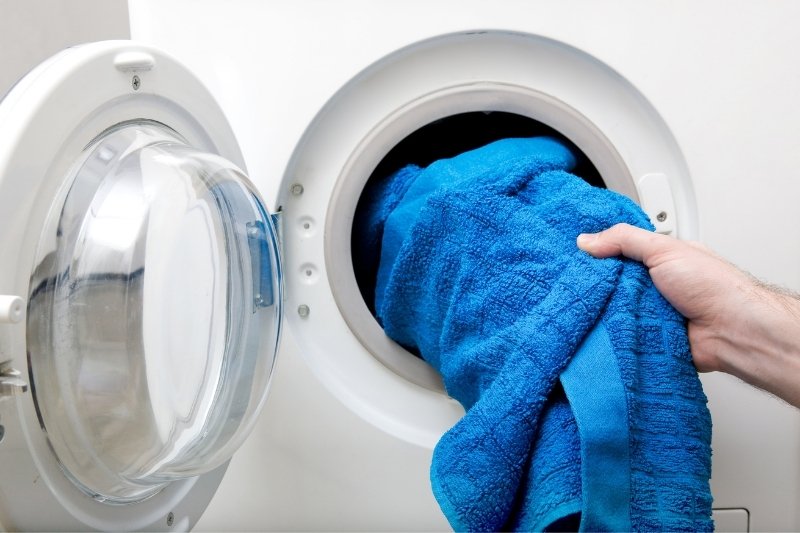 A different route you could take is to get a tumble dryer to dry your clothes. While you may think that tumble dryers are big and clumpy and need lots of space, you're actually wrong. There are a number of smaller tumble dryers available today that have been designed with flat owners in mind.
Smaller tumble dryers do vary in price, and there are, of course, various models and features available to buy, but the biggest issue is you can't always find them in shops. This can make choosing the right one for your home a big problem.
It just so happens that I looked into the best tumble dryers for flat owners recently, all you need to do is browse the guide and pick a dryer for your flat.
4. Create a washing line if you have a balcony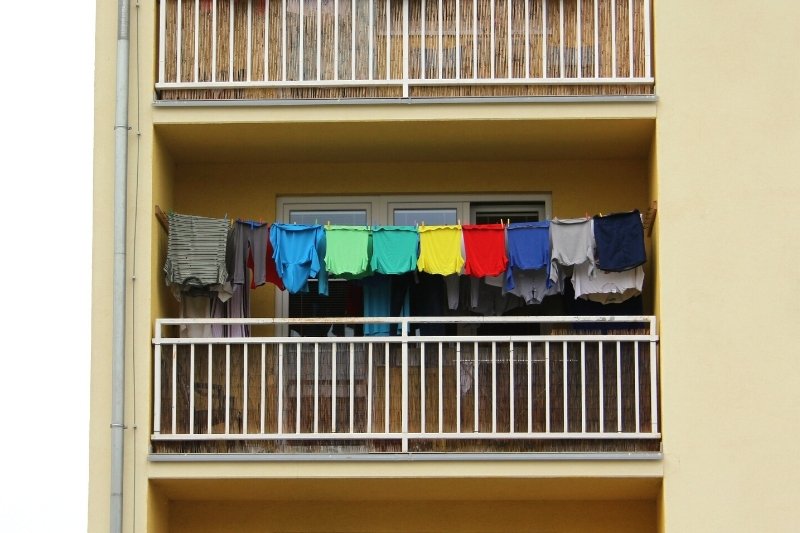 If you fancy getting a little creative, and you have a little balcony area with your flat, you could make your own line.
All you need to do is fix a hook to one wall, fix a second hook to the other wall, and hook some washing line through the two hooks and voila! Of course, depending on how strong the hooks in the wall are, you may be limited to a certain weight with this type of washing line, but it should be able to hold up small items.
Some people also use window and door handles instead of hooks to hold a self-made washing line up.
5. Dehumidifier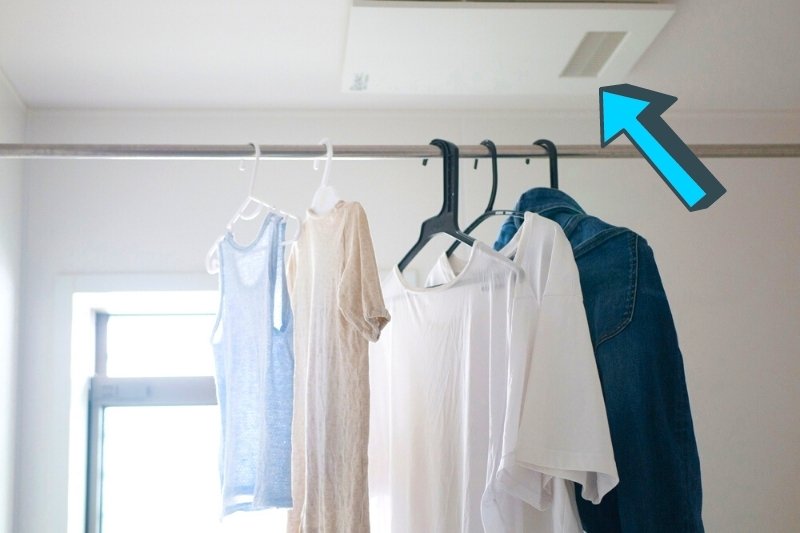 If you're going to be drying clothes in a flat, getting rid of the excess moisture is a must do. So, you either need to keep windows and vents open, or you need to invest in a dehumidifier to keep the pesky mould at bay.
But here's the interesting part, while a dehumidifier will remove excess moisture from your flat, a lot of dehumidifiers today come with special laundry modes that are designed to help you dry your clothes as well!
You can find out what the best dehumidifier for drying laundry in the UK is in our guide!
Final Thoughts
If you live in a flat and you need to dry clothes, you could use a collection of the methods listed above.
For example, you could get a dehumidifier to help dry your laundry, and at the same time you could use a drying rack both electric and non to dry items in another room, and you could also utilise the heat coming off the radiator by using a radiator rack to warm your clothes up as well.
Of course, it is always a good idea to be really organised with your laundry schedule if you live in a flat. Sitting with wet clothes around you all day everyday may not be the best idea and it may cause health issues too.

Bethan has a passion for exploring, reading, cooking and gardening! When she's not creating culinary delights for her family, she's concocting potions to keep her house clean!