There is nothing cuter than a newborn child wearing their first set of clothes. Unfortunately, these clothes don't remain cute for very long and there is a lot of washing that needs to be done!
Unlike adults, babies have extremely sensitive skin, making them prone to irritation from some detergents and rough material.
Read on for the all the information you need to keep those babygrows nice and clean, whilst protecting your newborn from any skin irritation.
What Detergent Can I Use?
The number one rule to washing newborn laundry is to use a non-bio detergent! Put simply, this is due to bio detergents containing enzymes that could settle on your laundry and irritate your child's sensitive skin.
Try to avoid any product containing a fragrance and always opt for a liquid detergent as opposed to powdered. Liquid detergents tend to be gentler on fabrics, so they remain in a better condition.
For small stains dab a bit of extra detergent on the stained area before putting through the wash.
What Temperature Should I Wash At?
It is generally recommended to select either 30 or 40 degrees Celsius when washing newborn clothes. Both temperatures are better for both your energy bill and the environment. They also do a sufficient job at removing any bacteria, dust and dirt that has ended up on your baby's clothing, whilst maintaining the quality of the garment!
The only time that a higher temperature would be required is if the item is heavily soiled—whether that be a reusable nappy or if there has been an unexpected overflow (not ideal!).
Should I Use Fabric Softener?
Fabric softener generally isn't recommended when washing newborn clothes as many fabric softeners contain harsh chemicals that could irritate your baby's skin. Furthermore, fabric softener can remove flame-retardant materials on baby clothes.
Which Clothes Should I Buy?
Organic cotton is both good for the environment and super soft on your baby's skin. If you want to be extra efficient, invest in garments of a similar colour – that way you don't have to do separate washes for light and dark!
Do I Need to Wash my Baby's Clothes Before They're Worn for the First Time?
Yes! It might seem a bit of a faff, as most of us would never think to do that when wearing our own new clothes.
However, dust and dirt are likely to be picked up in the warehouse or on your way home, and it's always best to be safe around anything that is going to come into contact with your little one's delicate skin.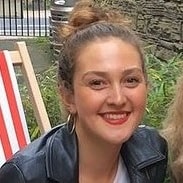 Hi, I'm Bron. I'm an elite endurance athlete, love the outdoors and anything involving food! All of which have the potential to make a mess! I don't have a huge concentration span (and like to use the excuse of being too busy), so go for quick and easy cleaning methods where possible!