Non-bio washing liquids are often not the first choice when it comes to cleaning particularly dirty clothes.
The fact that biological detergents contain enzymes that are designed to break down proteins and better eradicate the dirt in your laundry makes people believe that they should be using this option.
However, this is not always true. Non-bio washing liquid can be equally as effective as detergents that do contain bleach and other harsher chemicals.
They are actually even better in many ways, especially for those with allergies or sensitive skin.
We've researched the market and picked out five of the best non-bio washing liquids available in the UK right now.
Best Non-Bio Washing Liquids in the UK
1. Fairy Non-Bio Washing Liquid Laundry Detergent Gel
Scent: Fresh
Fairy Non-Bio Washing Liquid Laundry Detergent Gel is designed to be kind to sensitive skin and to leave your clothes even softer than before.
The product contains natural ingredients that react as well with your skin as just plain water would.
The detergent gel has been dermatologically tested and has been awarded the British Allergy Foundation's Seal of Approval.
The liquid detergent now has all new packaging that is more compact and designed to have a pre-treat cap that is the size of exactly one sharp squeeze of liquid from the bottle, making it incredibly easy to measure out the amount that you need.
All you need to do is then add the gel directly into the drum of your machine and add your favourite fabric softener to the drawer before setting the machine to your preferred cycle.
The liquid will then provide a gentle and thorough cleaning, even with a cold wash.
Many users have had issues with leakage from the bottles, either coming from the manufacturer or after they have begun using the product.
Several user reviews point out that the packaging may need some serious work.
2. Ecover Zero Laundry Detergent
Scent: Fragrance free
Ecover Zero Laundry Detergent is one of the most environmentally friendly options on the list. This product is specially formulated to ensure that the risk of allergies is greatly reduced.
It has been dermatologically tested and approved by Allergy UK for sensitive skin.
There are no fragrances included in this product, so it's perfect for anyone who finds that their skin has a specific reaction to perfumes or scented products. It also has no colourings or enzymes at all.
The product has plant-based mineral ingredients, and the bottles are 100% post-consumer recycled.
In addition, the detergent will work as effectively to eradicate tough stains as any biological detergent and will still leave your clothes bright and clean, even on a 30°C wash.
The bottle comes with enough liquid for 42 washes if you follow the instructions for the right amount of detergent for each wash cycle.
Simply add the suggested amount to the dispenser drawer of your machine and then run your preferred cycle.
Users say that the product is perfect for anyone with extra sensitive skin who prefers their products with absolutely no fragrance.
Some also mention that they found their clothes were coming out of the machine perfectly soft and residue-free.
3. Persil Non-Bio Washing Liquid Detergent
Scent: Fresh
Persil Non-Bio Washing Liquid Detergent is made with plant-based stain removers and biodegradable ingredients, making it both gentle on your skin and kinder to the planet.
It's designed to tackle tough stains while still remaining sensitive and mild on skin that is prone to allergies.
The new bottle design is smaller and more compact, ensuring less waste and 100% recyclable packaging while also maintaining excellent stain removal and ensuring seven days of clean, fresh clothes.
For each normal-sized load, you will only need 27 ml of the liquid, and for large loads 40 ml.
The product has also been dermatologically tested and the company's skincare research efforts have been recognised by the British Skin Foundation.
Some users say that they find the scent of this product to be slightly overwhelming at times but that it is mostly good for sensitive skin, with a handful of exceptions.
Several also mention that they find the new packaging has less value for money and the product doesn't go as far.
4. The EcoGurus Perfume Free Laundry Liquid
Scent: Fragrance free
The EcoGurus Perfume Free Laundry Liquid is made from top-quality plant-based ingredients that have gone through rigorous testing to ensure the highest quality when compared to other similar brands.
This product is both gentle on the skin and good for the environment, making it perfect for anyone with sensitive skin or anyone who is trying to be more environmentally conscious.
The detergent is free of phosphates, chlorine, formaldehyde and whiteners. It is also completely fragrance-free, which makes it ideal for those with allergies, babies, or a sensitivity to perfumes.
Despite being a non-bio product, this detergent will also work perfectly and remove those tough stains even when run through a 30°C wash cycle.
Each bottle is designed for 57 washes if the correct amount is used for each load.
The company is vocal about its passion for the environment and uses solar power to produce its products, as well as ensuring that its packaging is made with recycled materials.
They are so sure about the efficiency of their product that they provide a 100% lifetime customer satisfaction service, allowing their products to be returned at any time if the user is not satisfied.
Users have commented that they feel the product is successful in washing their clothes and that they have had no reactions despite sensitive skin issues, but many have said they find it to be too expensive.
5. Bio D Concentrated Non-Bio Laundry Liquid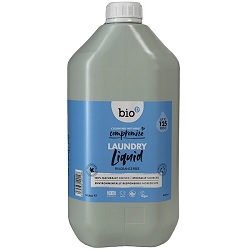 Scent: Fragrance free
Bio D Concentrated Non-Bio Laundry Liquid comes in large 5-litre bottles, and one bottle can provide 125 washes.
The liquid is equally effective in both machine and hand washes and both the bottle, and the cap are 100% recyclable.
The product is Allergy UK certified and also certified cruelty-free. They are made in the UK using sustainable, naturally derived raw materials and do not test any of their products on animals. In addition, they are vegan and contain no optical brighteners.
Some users have mentioned that they find the product to be slightly watery but that it still works very well and is highly efficient for allergies, eczema and sensitive skin. Several also mentioned that they use it regularly to do cold washes and find it works perfectly well.
How to Decide Which Non-Bio Washing Liquid Is Best for You
There are several excellent options on our list of non-bio laundry washing liquids and they all have different qualities to offer, depending on the needs of your household.
Want an option that is more sustainable?
If you are looking for a more sustainable option then Ecover Zero Laundry Detergent is the best option on this list, although you could be fairly confident that all the choices on the list today are environmentally friendly in some way.
Ecover takes it to the next level and ensures that its product is made with plant-based mineral ingredients, and the bottles are 100% post-consumer recycled. They are also completely unscented.
Persil Non-Bio Washing Liquid Detergent is also plant-based, as is EcoGurus Perfume Free Laundry Liquid, which is also made using solar power.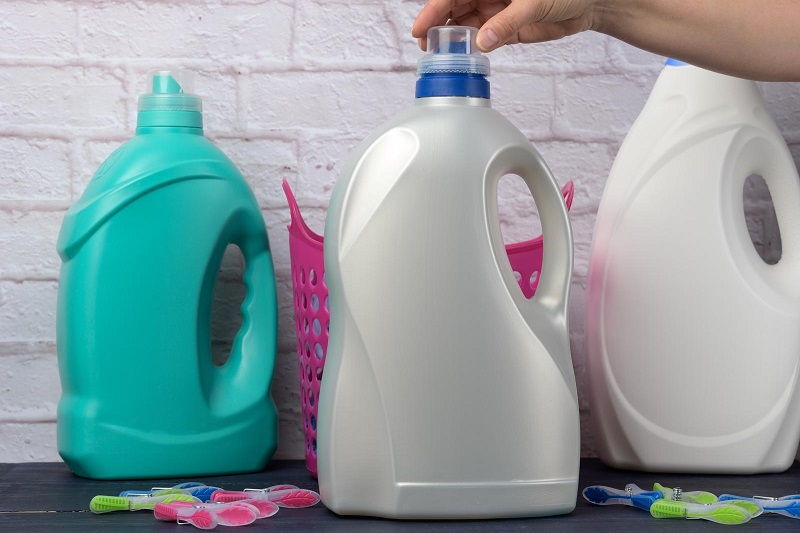 Fancy it fragrance-free?
Many people have sensitive skin that reacts negatively to any products that contain perfumes. This would make finding a washing liquid slightly more challenging, but there are still some excellent options available for you.
The EcoGurus Perfume Free Laundry Liquid is probably the best fragrance-free option on the list, along with the Ecover Zero Laundry Detergent, both of which are 100% unscented, ensuring that anyone with severe allergies, eczema or small children will be able to use this completely worry-free.
Looking for the most affordable choice?
Some of the options on this list are on the pricier side, but most of them are only pricy because they are working harder to be better for both our skin and the environment.
Several also come with bottles that are refillable and can be used over and over again.
Buying the Bio D Concentrated Non-Bio Laundry Liquid could work out to be cheaper in the long run, but if you'd rather not buy in bulk then it would be best to buy either the Fairy Non-Bio Washing Liquid Laundry Detergent Gel or the Ecover Zero Laundry Detergent.
Conclusion
Every option on this list would ensure that your clothes come out of the machine clean and bright and that your skin will remain blemish-free, even if you have highly sensitive skin.
However, our number one pick for the best washing liquid is the Fairy Non-Bio Washing Liquid Laundry Detergent Gel.
This product is a reliable favourite that will remain trustworthy and provide a thorough clean in every single wash.
It has a compact design and is extremely convenient and hassle-free to use while remaining both affordable and efficient.

An adventurous book lover with an animal obsession and a proclivity for travel and spontaneity. Used to passionately despise cleaning but has grown to enjoy it thanks to learning all the best tricks and shortcuts to guaranteeing a stress-free routine and a spotless home.