Temperature settings on your tumble dryer can be a bit baffling. Surely the hottest setting will dry your clothes the fastest, right?
Well, in short, that is true, but it could also damage some of your clothes!
So, if you want to make sure your clothes don't shrink, keep reading to find out what temperature should be used to dry clothes in a dryer.
Check Clothing Care Labels
The best way to discover which temperature to use when tumble drying your clothes is to check their care label.
This should show a symbol indicating whether the item can be tumble dried and at how high-a-temperature this can be done.
Check out our clothing care label guide to find out more about those little symbols inside all of your clothes.
The square with the circle inside means that the item can be tumble dried and the number of dots inside the circle indicates the temperature to be used.
One dot – Low heat
Two dots – Medium heat
Three dots – High heat
Filled in – No heat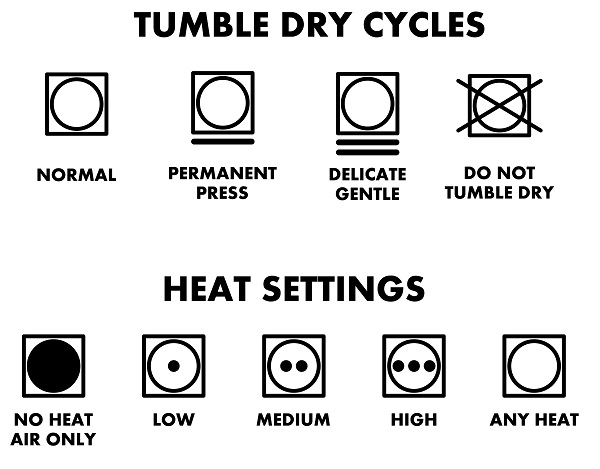 Which Fabrics at What Temperature?
To avoid shrinking or damaging the fibres of your clothing, you will want to make sure you have an idea of the different temperatures each type of fabric can handle when drying.
Here's a quick guide to help you sort out your tumble drying loads to ensure your clothes last longer and look brilliant after every single wash and dry.
Types of clothing item / Fabric types
Dryer temperature setting
Heavy items such as towels
High heat
Everyday items
e.g. jersey, t-shirts, shirts, poly-blends
Medium heat
Stretch fabrics
e.g. items with elastane, activewear, leggings, socks, baby clothes
Low heat
Knits & delicates
e.g. lingerie, silk, satin, wool
Dry flat
The settings on your tumble dryer may have names rather than numbered or low/med/high labelling and could look like the following:
Cotton – High heat
Permanent press – Medium heat
Gentle – Low heat
Air dry

– No heat
Cotton and heavier fabrics
Due to the extra weight these fabrics carry, they can often take much longer to dry than your usual items, so they are best kept together and dried on a high heat setting.
Getting this high heat setting timed correctly may require a little trial and error, but once you know how quickly things dry, you'll be able to get perfect results every time.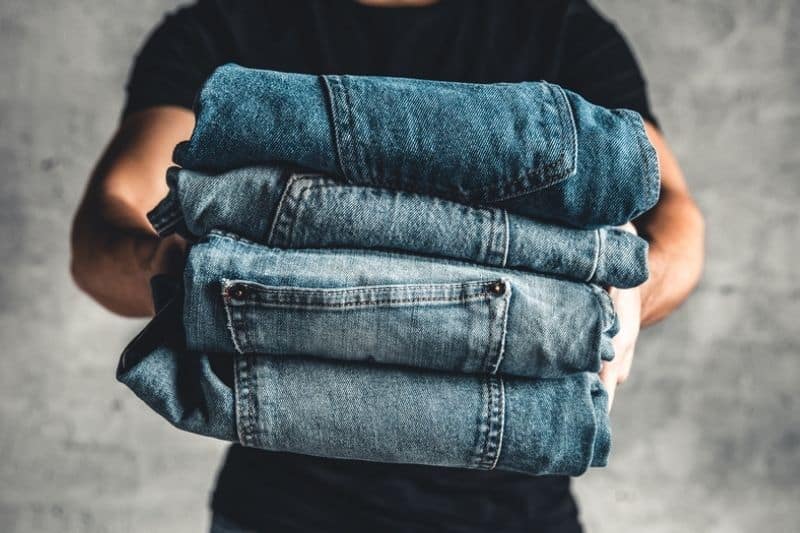 Jeans, in particular, can be a little trickier if they contain stretch.
100% cotton jeans will dry amongst the rest of your heavy cotton items on high, but stretchy jeans will need to be dried with your other stretch clothing or taken out of the dryer earlier and hung up to air dry the rest of the way.
Good jeans are hard to find, so don't ruin yours with the tumble dryer!
Synthetics and blends
There are an abundance of clothing items which fall into this category, so don't fret if you're thinking that you'll be on for hours doing different cycles for every item.
Lots of clothes are made with fully synthetic fabric or a poly-cotton blend and they often have very similar weights to them, so they will dry together very nicely on a medium heat setting.
Stretchy clothing
As we mentioned above, stretchy items shouldn't really go in at a high heat setting. A low temperature is ideal for stretch garments like leggings, workout gear and even socks, as Elastane can be weakened with too much heat.
With the popularity of activewear at its highest ever, it's important to know how to care for these smart and stretchy fabrics properly.
QUICK TIP: When washing stretchy items, it's best to not use fabric softener as this makes elastic weaken – leaving you with baggy kneed leggings!
Baby clothes
Baby clothes are small, therefore they dry much faster than adult clothing. It may be best to keep smaller items grouped together so you can avoid boiling your babies clothes in with the shirts, skirts and tops.
The medium heat setting is ideal for baby clothes and if your tumble dryer has a delicate setting, use that for your little ones' items.
Use hypoallergenic, non-scented dryer sheets to avoid baby clothes becoming static.
Knits
As a general rule, knitted garments should be dried flat to avoid warping from occurring. Lighter knits could be dried on a medium temperature setting but it's best to keep these items out of the tumble dryer.
Wool should always be air-dried. A hot tumble dryer and the agitation of a spinning motion will cause the wool fibres to felt – leaving you with a lovely little jumper that looks just like the original, just child-sized!
Remember, wool doesn't need to be washed as often as other fabrics. Check out our post about washing wool sweaters to find out more.
Delicates
Lingerie, intimates or undercrackers. Whatever you call them, they should be treated with care. Especially those made from delicate fabrics such as silk, satin or lace.
Use a low heat setting for all items of underwear as almost all of them contain elastic, which can deteriorate when exposed to too much heat.
For extra delicate items, opt to dry them flat to maintain their quality and keep them looking good for longer – this also avoids any snagging of fabric or loss of bra underwiring which can occur when clothes are spinning in a machine.
Thirty-something lady with a penchant for flowers and anything involving crafts. I like to clean using environmentally-friendly methods where possible and love sharing my findings, tips and tricks here on In The Wash!