If anyone in your household wears shirts every day for work or for school, then you'll know how difficult it can be to keep shirts crease-free or how frequently the ironing board is out.
That pile of wrinkly clothes can often look quite daunting, so what if you didn't have to iron everything!? There are ways to ensure those pesky wrinkles don't form and if they do, there are still options other than ironing.
So we've pieced together this handy list of how to avoid ironing shirts, which can also be applied to other items of clothing which tend to get quite creased after washing.
1. Hang Up Your Clothes
It may sound simple and you probably already do this anyway, but what we mean is to hang your shirts up as soon as they are out of the washing machine.
Always give them a good shake which will help to whip out some of the main creases then use your hands to smooth them out before hanging them up.
It's always handy to have a clean flat surface ready for smoothing out shirts before they get hung up.
Since shirts are usually reinforced at the top around the collar, yoke and shoulders, pop them straight onto a clothes hanger and the weight of the fabric should help to pull out wrinkles further.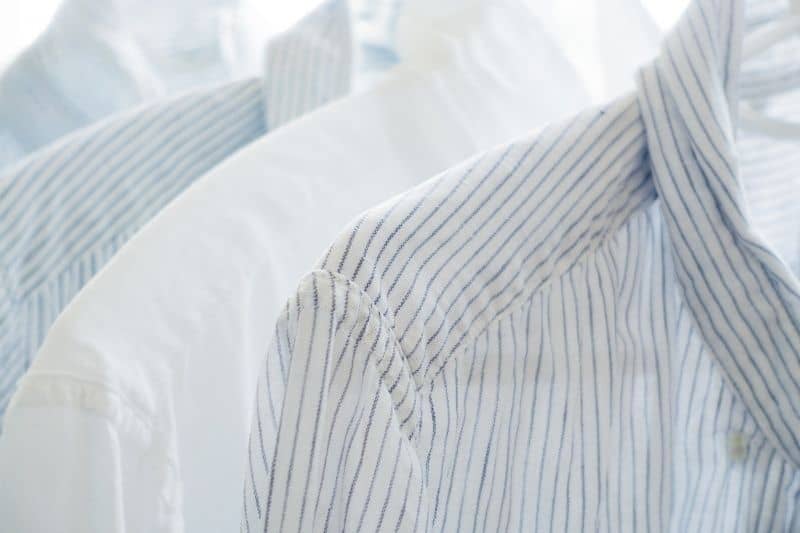 2. Use Wrinkle-Release Spray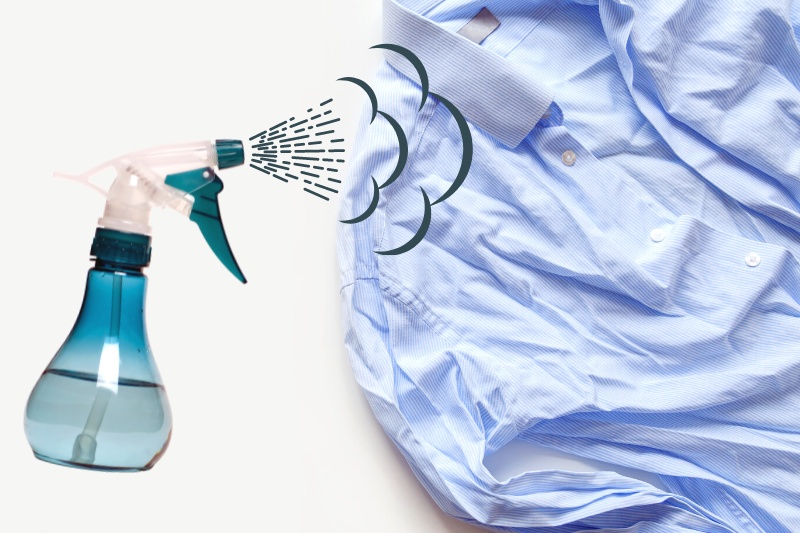 There are special sprays available which are designed to help remove creases from clothing.
Simply spritz your shirt (check the directions on the bottle to know exactly how much spraying is recommended) all over while it is hanging up then lightly pull the fabric down and smooth with your hand.
This will help you to get a crease-free shirt without ironing!
Wrinkle-release sprays are easy to come by, so check out your local supermarket. Wilko sells Lenor's Crease Releaser in Golden Orchid or Spring scents and it's pretty great value for money.
For more eco-conscious buyers, stock up with this EcoZone crease-removing bundle from Big Green Smile.
DIY crease release spray
You can actually make your own crease release spray with items you will probably already have in your home. You will need the following things:
Clean empty spray bottle with a mist setting
Water
Mix equal parts of water and fabric softener in your spray bottle and voilà! – you have homemade wrinkle release spray. Choose your favourite scented fabric softener as the smell will last for a while when you come to wear the shirt.
If you have skin complaints or allergies, opt for a fragrance-free or sensitive fabric softener (Check out our list of the best fabric softeners for sensitive skin).
3. Steam Wrinkles Out of Shirts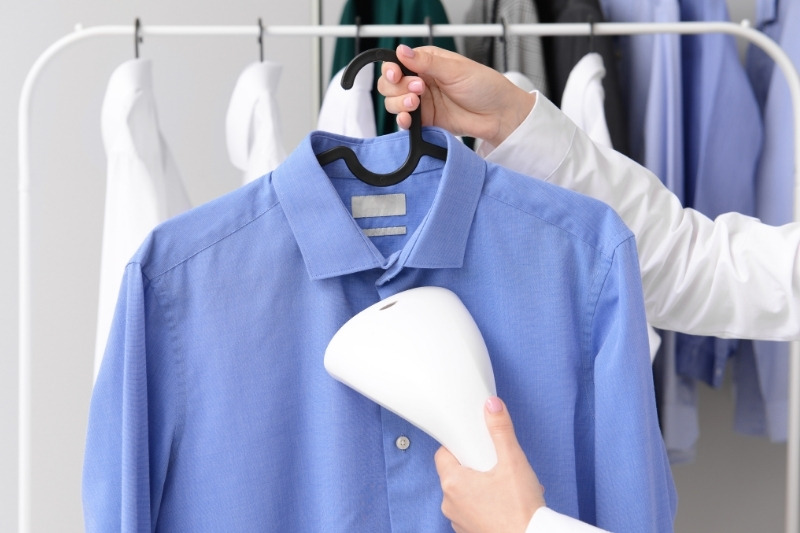 The power of steam is one which should never be taken for granted.
Using a garment steamer is a sure-fire way to get rid of creases quickly and there are even portable travel-sized varieties available for those who need wrinkle-free shirts on the go.
If you don't want the extra expense of buying a handheld clothes steamer, then you could opt to hang up creased shirts in the bathroom while you have your hot morning shower.
Hang up your shirt on a clothes hanger and simply steam. Spend a little more time applying extra steam to tougher creases and lightly pull on the fabric and smooth it to help to get it flat.
Leave a short amount of time after steaming for your shirt to dry before wearing it.
4. Opt for Non-Crease Fabrics
Choosing to buy fabrics which are less prone to wrinkling is a great way to avoid ironing shirts as they will come out of the wash with much less creasing.
Fabrics which are great for ironing-free shirts are cotton blends and heavier fabrics such as denim and jersey. Of course, for smart shirts, a cotton blend will be the most acceptable option.
100% cotton or linen shirts will leave you having to deal with crease-central when you take them out of the washer, so avoid these fabrics if you don't like ironing.
5. Keep Your Wardrobe Clutter-Free and Tidy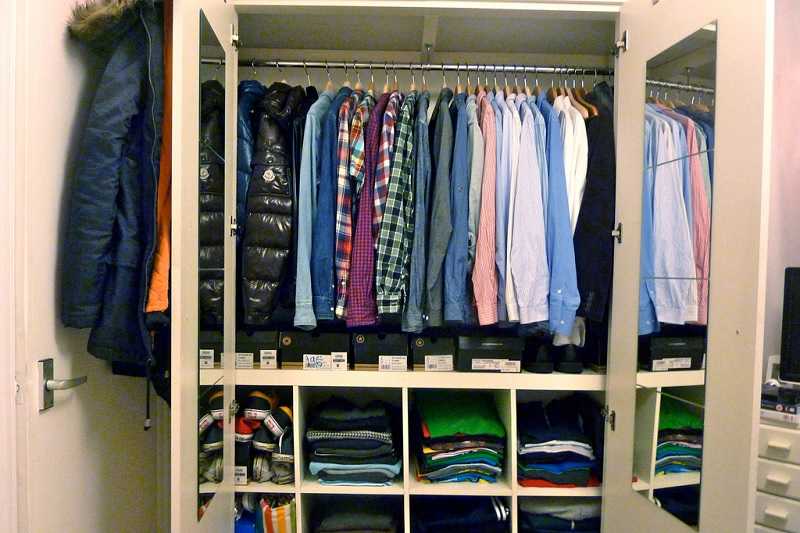 Last but not least by any means, is how you store your clothing once they're clean and dry.
Having a good amount of breathing room in your wardrobe with no clutter is the best way to keep shirts crease-free and smooth.
Tightly packed wardrobes are going to cause clothes to wrinkle as they are pushed in – the pressure from clothes on either side could form some stubborn creases which will inevitably mean that it's time to get the iron out if you want to wear that shirt.
Removing clutter from your wardrobe is always recommended, as clothes should be free to hang with nothing causing them to bunch up at the bottom.
Perhaps think about a clothing cull and get rid of the items that are just in the way – you'll be much happier when you can see all of your clothing items clearly AND there isn't a crease in sight!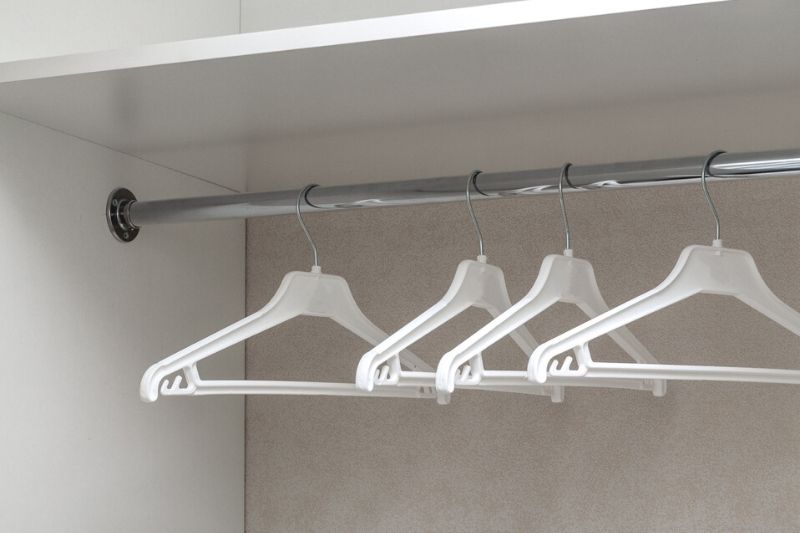 Extra Tips to Avoid Ironing Shirts
Get clothing out of the washing machine as soon as the cycle is finished – this is the prime time for creases to set in if left for too long.
Forgot to empty the washer? – spray your clothes with clean water to help loosen the fibres.
Use fabric softener in your wash – white vinegar can be used in place of fabric softener and it also deodorises clothes.
Place a damp cloth in your tumble dryer – when there are only 10 minutes left on your tumble dryer cycle, pop in a damp cloth to help soften fabrics and loosen wrinkles.
Use dryer balls – or tennis balls
Thirty-something lady with a penchant for flowers and anything involving crafts. I like to clean using environmentally-friendly methods where possible and love sharing my findings, tips and tricks here on In The Wash!