With the UK smart appliance market set to reach £2.28 billion in 2023, washing machines are undergoing updates across all brands.
While they might not be as popular as smart heating systems and robotic vacuum cleaners, smart laundry appliances are gaining traction.
Especially since they're becoming more affordable and appearing in more mid-range product collections.
But should you invest in one of these technologically advanced appliances?
In this post, we'll cover the pros and cons to determine: are smart washing machines worth it?
What Is a Smart Washing Machine?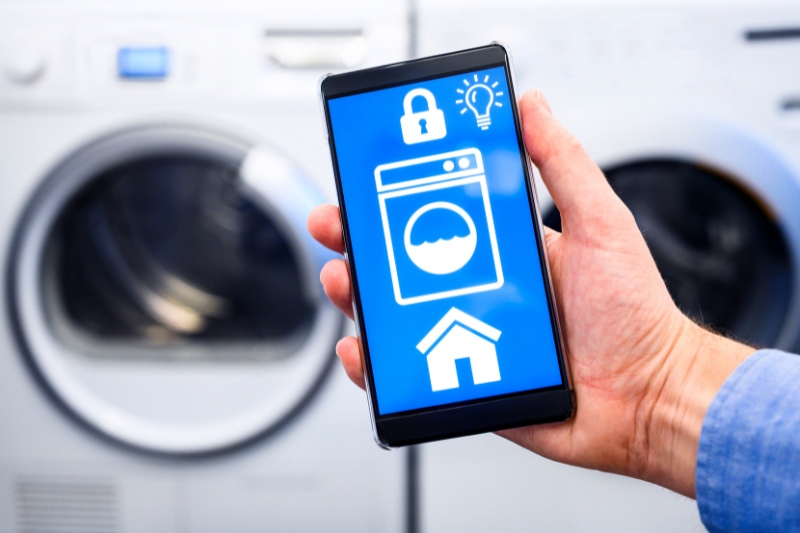 As with other smart home products, smart washing machines are programmed to link up to your WiFi router.
All you need to do is download the app for your appliance, sync it to your machine and you'll get access to a range of additional features.
This includes being able to manage your washer from your phone on the go, provided you're connected to the internet.
Why Would You Want a Smart Washing Machine?
There are many reasons why people are upgrading to smart washing machines, other than them simply being the latest trend.
Here are some of their key advantages that may well prove their worth to you:
1. Control and track washing remotely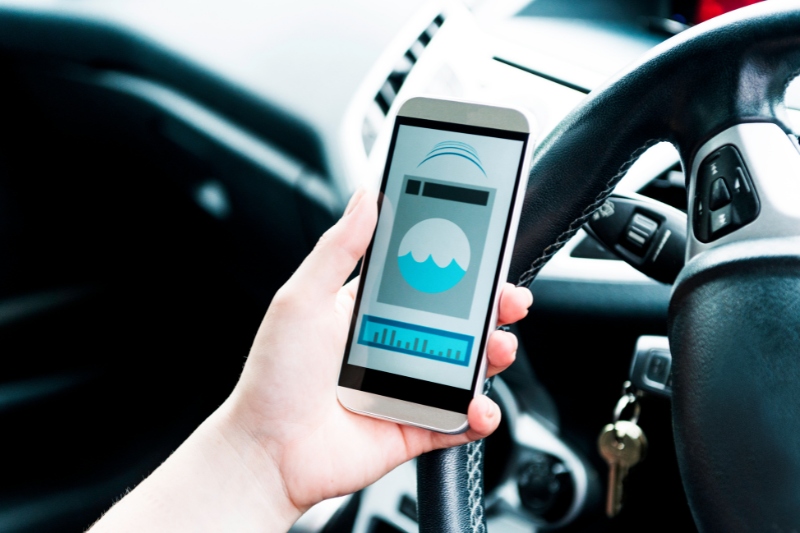 One of the main draws of owning a smart washing machine is the ability to control it even when you're not at home.
Via an app, you can select and start a programme remotely if you forget to press go before leaving the house.
And if you use the same cycle regularly, the app will store the data and remember it for next time to save time.
You can also monitor the progress of the cycle and receive an alert when it's complete.
This way, you won't have to hang around for it to finish—ideal if you live somewhere with shared laundry facilities.
2. Access to premium features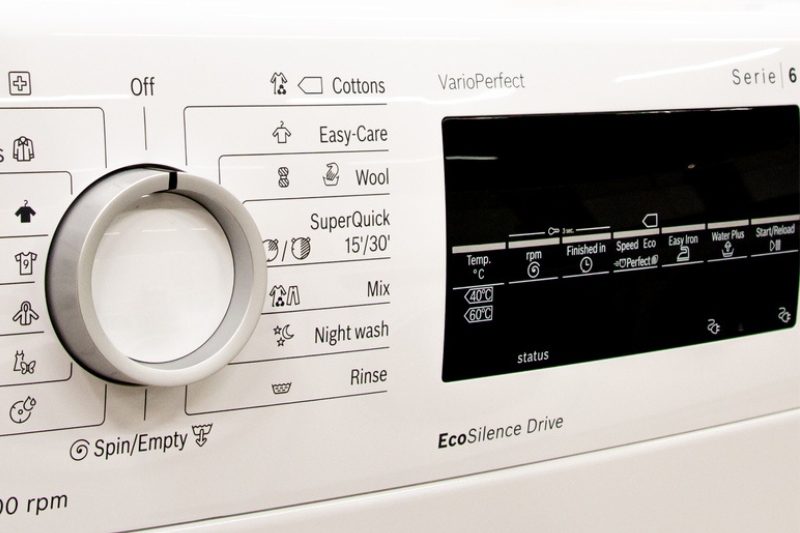 It's no secret that smart technology is mainly being incorporated into top-of-the-range washing machines. Therefore, if you choose a smart washing machine you can expect it to have lots of the latest features.
As well as features like auto-dosing and extra downloadable cycles, you might also benefit from reduced vibrations, twin washer designs and handy "add-item" slots for mid-cycle additions.
Smart washing machines also tend to have sleek touchscreen displays and the high-quality build that you'd expect from a premium model.
3. Handy energy saving features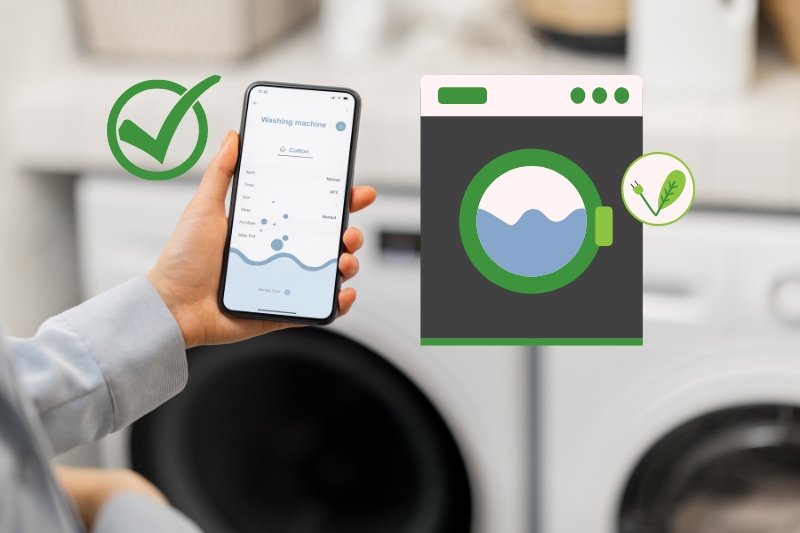 Looking for ways to reduce your utility bills? Many smart washing machines feature clever integrated energy consumption systems.
Based on this, it will identify the best time of day to run your machine, according to when the cheapest times to do laundry are.
You can then set a delay timer so that the cycle will automatically run at that time – especially useful overnight.
In addition, some machines have sensors to weigh the load and determine how much water is needed. That way, you won't end up wasting money heating excess water.
4. Built-in maintenance alerts and diagnostics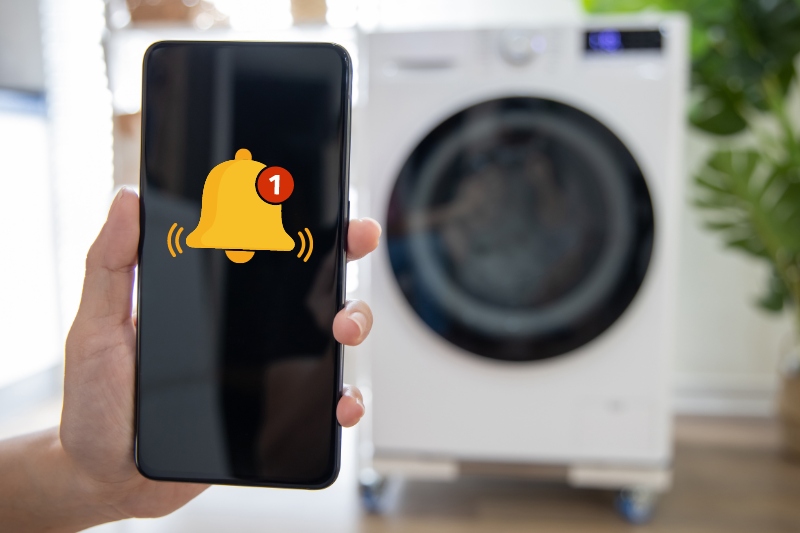 Another reason why a smart washing machine may be worth it is if you've had issues with faulty appliances in the past.
Instead of simply displaying an error code that you then have to decipher, smart washers go one step further. Most will notify you of the issue and provide troubleshooting tips via the app or advise that you book an engineer visit.
You'll also get maintenance reminders about refilling detergent and running service washes to clean the machine, so you don't forget.
What Are the Disadvantages of Smart Washing Machines?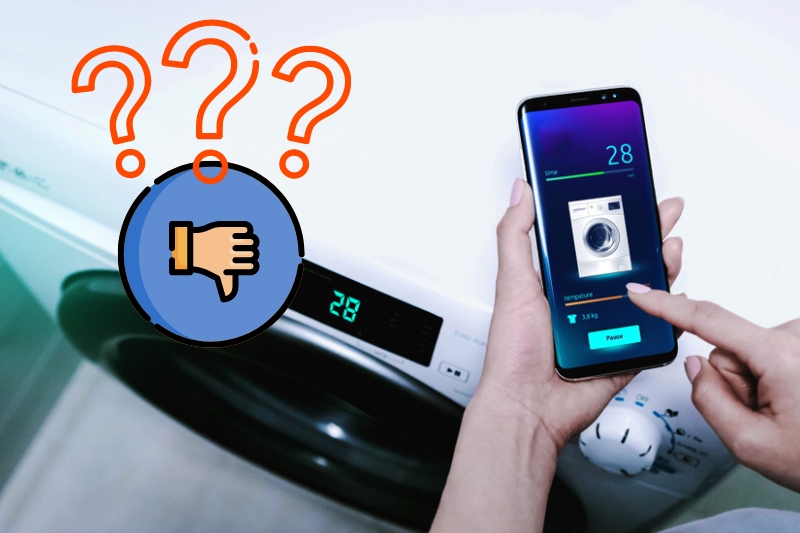 There are several downsides to smart washing machines which may mean they aren't worth it to you. Here's the most commonly identified disadvantages:
1. More expensive than traditional machines
Although smart washing machines are more affordable than when they were first introduced, they still cost considerably more than classic machines. Typically, at least 10-20% more.
Basic entry-level models start at around £400-500, but they only have a limited number of features.
Want a smart laundry appliance with the premium features listed above? Then you can expect to pay between £700 and £1,000 for more advanced machines by Samsung, Bosch, Miele and LG.
Repairs may also cost more given the washer's complex technology and extra sensors.
2. Some features aren't as useful as they seem
Smart washing machines have lots of features, but they aren't always useful.
For example, while being able to start your machine while you're out of the house may seem useful, how often would you actually use that feature? After all, you still need to have loaded the machine in the first place!
Likewise, you can download maintenance advice and programmes for specific fabrics using an app, but you could simply refer to the manual.
Plus, lots of non-smart washing machines have a delay timer, so you could use this to take advantage of lower electricity prices at certain times of day without needing to buy a smart washing machine.
3. You'll need to stay on top of any updates
While standard washers just need to be plumbed in and connected to a power supply, smart washing machine setups are more complicated.
Even after you've synced it to your WiFi and phone via the app, you'll need to keep it up to date. Otherwise, the washer's functionality may be impacted and you may struggle to link it to other smart home devices.
Another issue is that very few brands specify how long they'll continue to provide updates for the machine. So if a firmware issue develops several years down the line, you may struggle to fix it.
Verdict: Are Smart Washing Machines Worth It?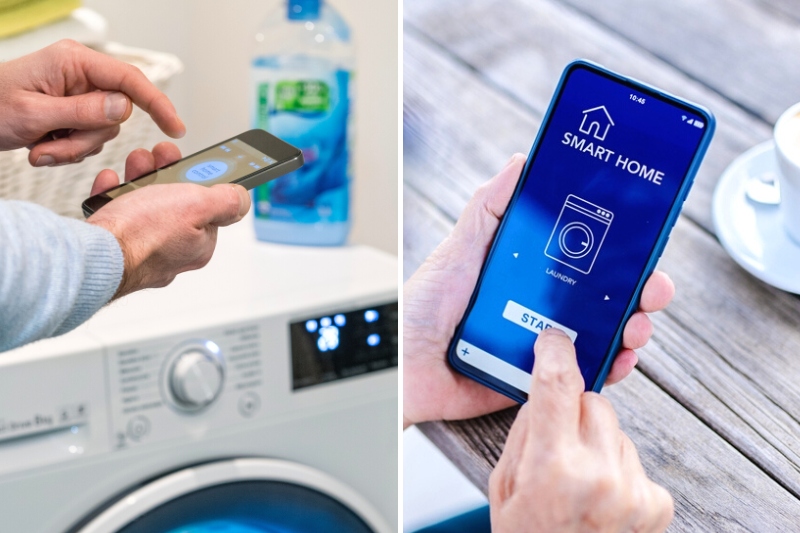 To sum up, if you want the latest laundry tech at your fingertips, a smart washing machine may be worth it.
The same goes if you want the convenience of a washer that sends alerts when the cycle has finished so you don't have to hang around. Or if you'd like to receive regular maintenance advice and instructions for dealing with problems that arise.
But otherwise, a smart washing machine probably isn't necessary. In fact, you could end up paying a premium for a model that can't do much more than a standard washer.
With that in mind, we'd suggest sticking to good quality classic washing machines for now. Most are highly rated for energy efficiency and feature useful settings like delay timers and cycles to cover all bases.

A proud Yorkshire lass with a love for movies, music and cosy nights in! Once a self-confessed avoider of cleaning, she's always on the lookout for new ways to make household chores as quick and simple as possible.