With the cost of living crisis in full effect, buying new appliances for the home may not be on the top of everyone's to-do list. However, when appliances go wrong, sometimes there is no choice but to invest in new appliances.
When it comes to installation costs, though, do you have a choice? Do you really need to pay for installation for a new washing machine, or can you just install your washing machine yourself?
If you are replacing a washing machine with a similar model that requires no additional plumbing to be installed, then putting the washing machine in yourself isn't tricky at all.
In fact, it is as simple as plugging it in and plumbing it. More on this in just a moment.
How Much Does Washing Machine Installation Cost in the UK?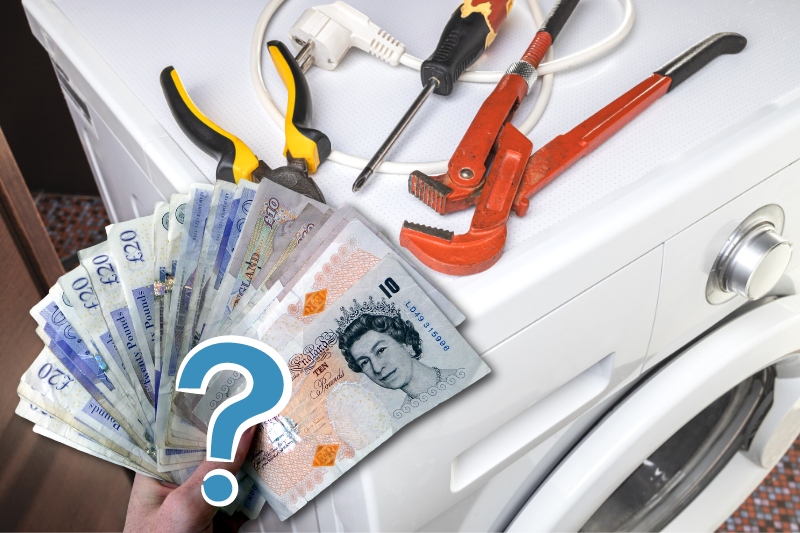 The cost of installing a washing machine in the UK can vary greatly depending on whether the washing machine is freestanding or integrated.
The standard prices of installing different types of washing machines are:
Freestanding washing machines: £20 – £30 depending on which retailer you buy your washing machine from.
Integrated washing machines: £115
You may also find that newer washing machines with additional technology require more modern plumbing. If your home doesn't have this installed already, additional charges may apply, and some retailers may not be able to provide the installation of your washing machine.
While this is very rare, it can happen, and you'll need to phone a plumber to have your washing machine installed correctly.
You can also pay for most retailers to recycle your old washing machine. This is usually about £20, and the delivery people will take it away when they deliver your new machine. This is a really handy service.
Depending on where you live, it can be tricky to get rid of large appliances, some councils don't allow you to take them to recycle centres.
This means you'll need to organise for someone to come and collect it, and this may cost more than the recycling option that retailers offer.
How to Install a Washing Machine Yourself
As we said above, installing a washing machine is really simple, and you only need very simple tools, like a knife to open the packaging and a couple of spanners, for example.
1. Remove the packaging and transit bolts
The first step is to remove all of the packaging from your new washing machine, and the transit bolts.
These bolts keep the drum from moving around and becoming damaged during delivery, so they need to be removed before you start using it.
Most transit bolts on washing machines and tumble dryers are clearly marked and simple to remove with an adjustable wrench or spanner.
Once the bolts are removed, you can plug with the holes with the blanking caps provided.
2. Install the water pipe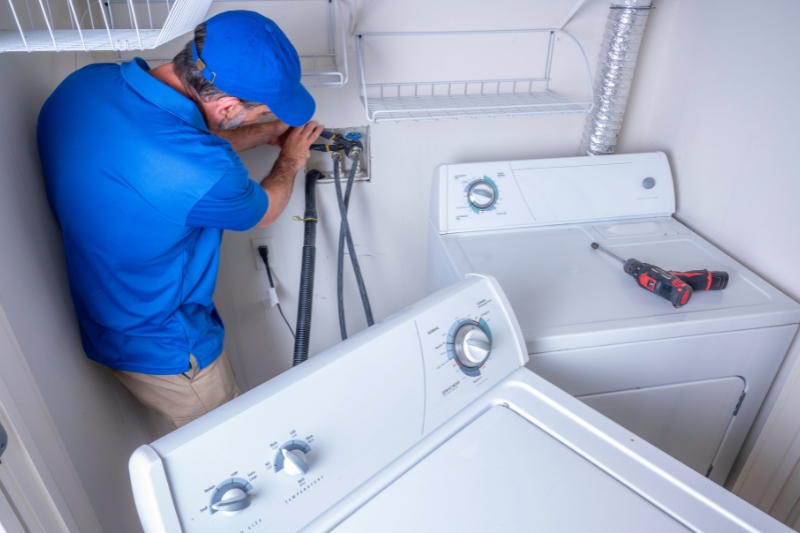 You'll find the water pipe and the instruction manual inside the drum of the machine. Pull all of this out and grab the water pipe. This pipe is thinner than the drain hose and has a plastic threaded nut on both ends.
One end goes on the washing machine, usually on the back of the machine at the top. And the other goes on to the water inlet pipe that will provide water to the washing machine.
Both ends need to be done up as tightly as you can with your hands. There's no need to use a wrench or anything, over tightening these plastic nuts can damage the pipe, the machine or the water inlet pipe.
3. Install the drain hose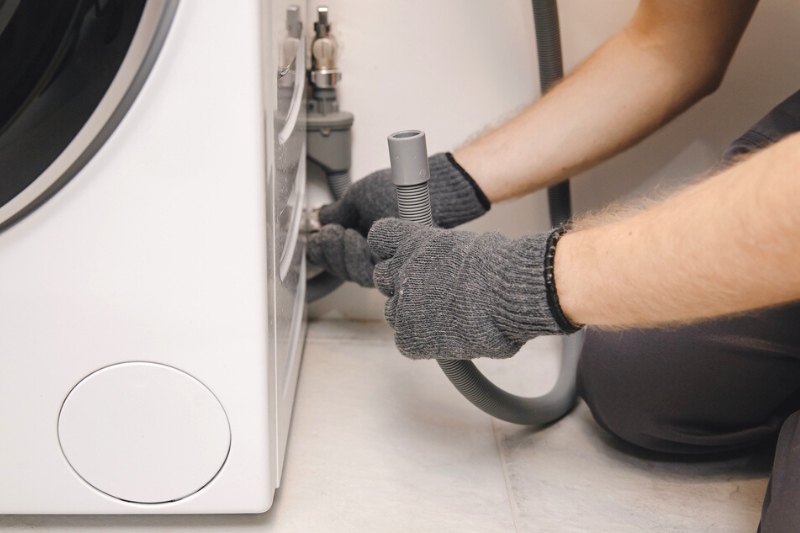 There are several ways to install a drain hose for a washing machine, and it depends on the set up that you have.
For example, my washing machine drain hose is simply pushed down into a drain pipe, which is a common way of doing it.
The drain hose should be pushed down until secure, but doesn't need to be fastened in place.
If your washing machine drain hose is connected to the drain on a sink, though, the set up will be different.
There will be a place for the drain hose to connect to underneath your sink. Press it firmly into place, and it is ready to go.
4. Plug in your new washing machine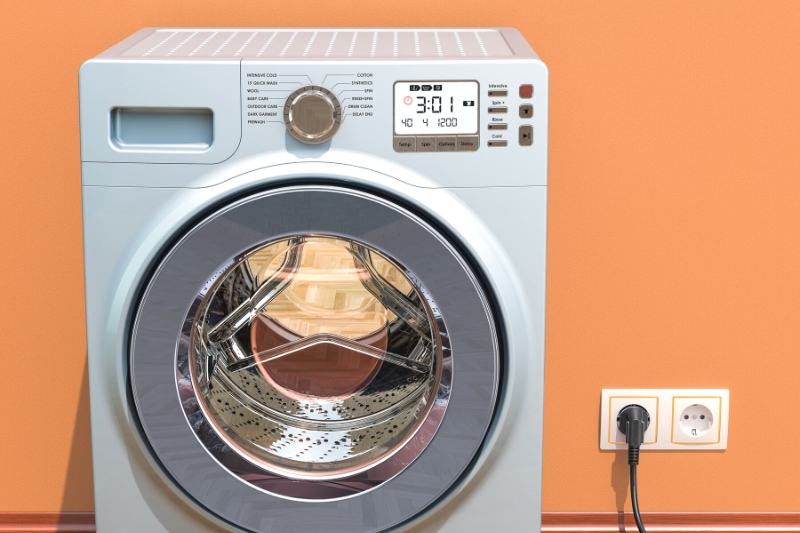 Now that all of the water and drain pipes have been taken care of, you can plug in your new washing machine, make sure the pipes are nice and tight and push it into place.
Just before you take your new washing machine for a spin, you can check that it is level. If your washing machine isn't level, it can be much noisier in use, and it may become damaged over time.
To check for level, you'll need to place a small level on the washing machine while it is in place.
Then, you can adjust the feet on the bottom of the machine by twisting them until they all touch the floor. This can be a bit fiddly, but doesn't take too long.
Now that your washing machine is level, it is ready to use.
Installing an Integrated Washing Machine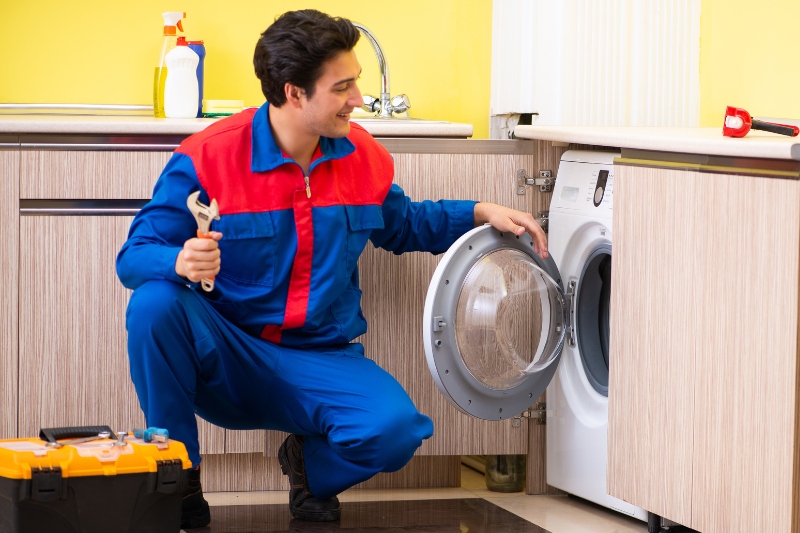 Installing an integrated washing machine is much the same as above. The only thing you need to do other than what we mentioned above is install the door.
Installing doors on to integrated washing machines is as simple as fixing the hinges in place. Most washing machines give clear instructions about how to do this in the instruction manual.
If you are paying for the delivery people to remove and recycle your old washing machine, don't forget to remove the door before they take it away!
Conclusion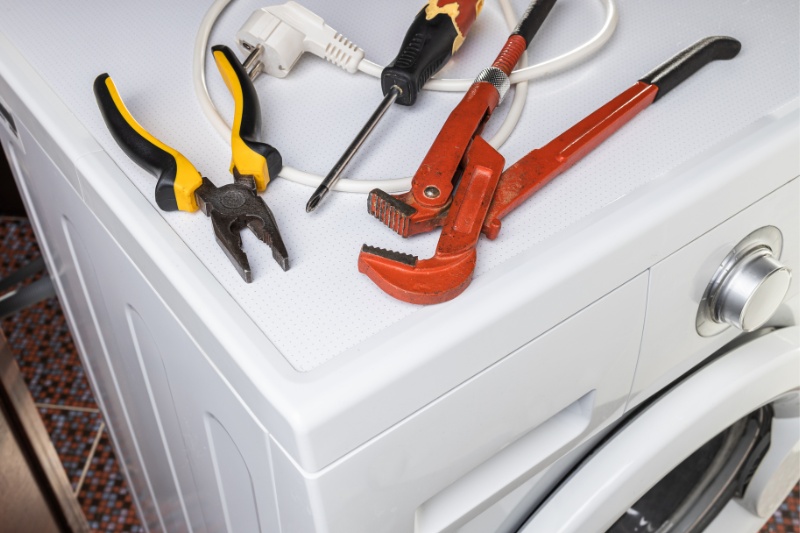 If you are replacing your current washing machine, installing your new one yourself is really simple as you've just seen.
If you think that your new washing machine needs some additional plumbing to work correctly, or you aren't too keen on DIY then having it installed by the retailer or a local plumber is the best way of ensuring that your new washing machine works perfectly.
For more articles just like this one about washing machines, tumble dryers and dishwashers, please explore In The Wash further.
We also have the best washing machines, tumble dryers and dishwashers available in the UK right now for all budgets if you are yet to choose your new appliances.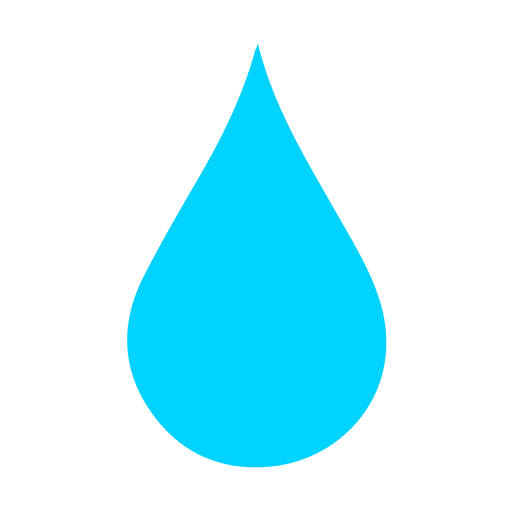 In The Wash is your guide to the best laundry and cleaning products, tips and tricks. Our mission is to solve the UK's cleaning and laundry dilemmas!