A washer dryer can be a real investment and can make a massive difference to your cleaning routine and clothes washing experience.
It's incredibly important to do your research and figure out which washer dryer is the perfect one for you and your household's needs.
Here's a list of our top five washer dryers that might help you to narrow down the type of product that you are looking for and give you all the information you will need to assist in this crucial decision!
Best Washer Dryers in the UK
1. Haier HWD100-B14979S Freestanding Washer Dryer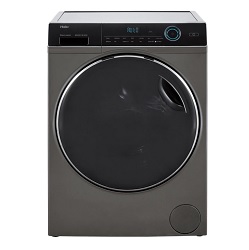 The Haier HWD100-B14979S Freestanding Washer Dryer is an excellent choice for almost every household, but especially for those with a larger household, as it has the capacity to complete a 10 kg wash and a 6 kg dry load.
This machine has two stand-out unique features. The first of these is the I-Refresh, which uses micro-vapour technology to remove wrinkles from delicate fabrics.
The second special feature is the Special Allergy setting, which is designed for those with sensitive skin and uses additional rinses and hotter temperatures to eliminate 99.9% of irritants, including dust and pollen.
The washer dryer is nearly silent and doesn't have a belt, which means that the motor is directly attached to the drum. This means that noise and vibration are drastically reduced, and there is a much lower consumption of water and energy, allowing it to have an A-rated energy efficiency label.
This beautiful machine comes in graphite, which gives it a sleek and modern look. It has an anti-bacterial treatment (ABT) that destroys 99.8% of bacteria during the wash cycle.
There is also the handy feature that allows the machine to clean itself. The Dual Spray cleaning system automatically eradicates the dirt and fluff from the gasket and window after each cycle.
2. John Lewis & Partners JLWD1614 Freestanding Washer Dryer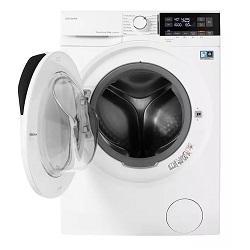 The John Lewis & Partners JLWD1614 Freestanding Washer Dryer is a little smaller than our last option and is able to do an 8 kg wash cycle and a 4 kg dry load. It also comes with a three-year guarantee.
This machine has 15 different cycle programmes and works efficiently to get your clothes washed and dried in a speedy fashion, which may mean it's slightly louder than other similar products.
With this machine, there's an incredibly convenient option to run a 1 kg load that will have your clothes both washed and dried within an hour on your busiest day, so they will be nice and warm when you put them on before you have to head out the door.
There is also a time delay option on this machine, which means that you can ensure the cycle will run just before you are home and ready to take the clothes out and prevent them from those inevitable creases that appear when you forget that you've set a cycle to go.
3. Zanussi Z816WT85BI Integrated Washer Dryer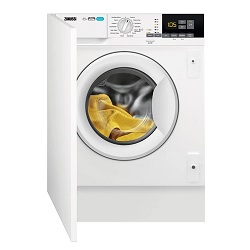 The Zanussi Z816WT85BI Integrated Washer Dryer is another smaller option, which can run an 8 kg wash and a 4 kg dry, making it perfect for a small to medium-sized household.
This clever machine has sensors inside the drum that will weigh the load and automatically adjust the settings accordingly to ensure that the cycle only uses the right amount of time and water. This is a great way to save on water and energy!
It also has a Sensor Drying option that uses sensors to monitor moisture levels and end the cycle when the clothes reach the level of dryness that you select before the cycle.
The machine also has an inverter motor that provides high spin speeds for less energy, as well as a quieter overall cycle. In addition, it has a handy self-rinse option that will make sure that the machine stays nice and clean and in tip-top working order.
4. Samsung Series 5 Ecobubble WD80TA046BE/EU Washer Dryer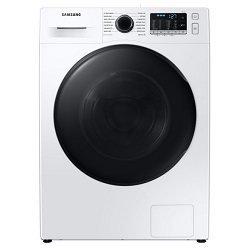 Samsung's Series 5 Ecobubble WD80TA046BE/EU Washer Dryer is able to run an 8 kg wash cycle and a 5 kg dry cycle. This machine is one of the most affordable on the list so far, coming in at under £600.
It can be bought in both white and graphite and it has an impressively sleek and modern style. It also has an effective anti-allergy programme, which comes in very handy over those summer months when the hay fever strikes.
A unique feature of this machine is the ecobubble technology that is designed to mix air, water and detergent to generate bubbles and ensure a faster wash cycle while running at lower temperatures and still producing the same results.
This machine also has the capacity to complete a full wash and dry in just under an hour, to ensure that you can have at least 1 kg of clean and dry clothes in the event of a wardrobe emergency.
It also has a Drum Clean feature that will run a hot water and high-speed spin cycle to keep the drum clean and fresh before the next load.
5. Beko RecycledTub™ WDER7440421W Washer Dryer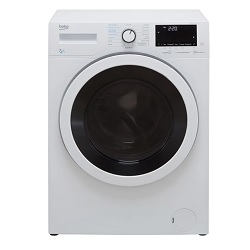 The final option on our list is also the most affordable and is under £350! It can run a 7 kg wash cycle and a 4 kg dry cycle, which makes it great for a small to medium-sized household.
It has a useful anti-allergy setting that utilises a slightly longer cycle to ensure that any pollen and leftover detergent are fully rinsed from the clothes and there is nothing left to create a reaction in those with sensitive skin.
This machine also has a unique and incredibly beneficial feature in the form of an app, which allows users to both monitor and control the wash cycles from their phones, thus ensuring that you are aware the moment that your cycle ends, and you can grab the clothes before they crease.
Beko also uses recycled plastic bottles to create their washer and dryer tubs, which makes this machine the most environmentally friendly option on the list.
How to Choose the Best Washer Dryer for You
It's a very personal decision to pick a washer dryer, especially when it involves spending large amounts of money on a product. It's imperative to ensure that you know what you want in a washer dryer before you make the choice.
Here are a few additional aspects to consider to assist you in hopefully shortening the list down to the one perfect option for you.
Are you environmentally conscious?
The most environmentally friendly option on the list also happens to be the least expensive. The Beko RecycledTub™ WDER7440421W Washer Dryer is made using recycled plastic bottles, which is an incredibly unique and special feature.
Do you have a specific price point?
All of the washer dryers on our list are under £800, but two excellent options come in at less than £600. These could be the options to look at if you're hoping to invest in a reliable machine without breaking the bank.
The two more affordable options are the Samsung Series 5 Ecobubble WD80TA046BE/EU Washer Dryer and the Beko RecycledTub™ WDER7440421W Washer Dryer.
The Samsung machine has a nifty ecobubble feature that ensures speedy but efficient cycles and the Beko machine has a handy app that allows you to control the cycles from your phone, so both are excellent options!
Washer Dryer FAQs
Are washer dryers worth the money?
Yes, they absolutely are! Especially in a country like the UK where space is often an issue. A washer dryer is very handy and takes up half the space that having separate machines would.
They can also be a great time-saver because you don't have to take your clothes out or even be there when the cycle moves from a wash to a dry.
How do washer dryers get rid of the water after the wash?
After the wash cycle is over, the inbuilt condenser inside the machine will cool the hot and humid air that is still lingering in the machine, which will produce water that will exit the machine down the drain.
Conclusion
Every product on this list is an outstanding investment and would make an excellent addition to any household, but there is one machine that stands out above the others as our number one option.
Our top choice for a washer dryer in the UK is the Haier HWD100-B14979S Freestanding Washer Dryer. This product has a high load capacity and is perfect for both a small and larger household.
The Haier machine also has the capacity to remove wrinkles from delicate items and can remove allergens from your clothing so that people with allergies and sensitive skin will not be affected by their freshly washed laundry.
It's also incredibly quiet and uses a smaller amount of water and energy than many of the other options on our list. Overall, it is an excellent choice of washer dryer and would benefit most families.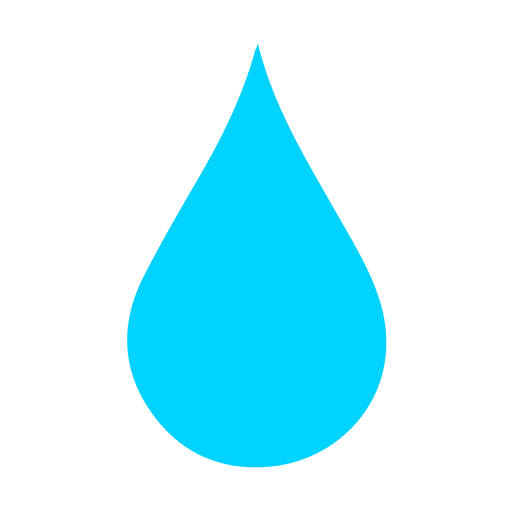 In The Wash is your guide to the best laundry and cleaning products, tips and tricks. Our mission is to solve the UK's cleaning and laundry dilemmas!