There are many ways to dry clothes, but tumble dryers are probably the easiest. You don't need to wait for dry, windy weather to hang things on the line and you don't need to worry about having your heating on and hanging everything over the clotheshorse – simply pop your clothes straight from the washing machine, into the dryer and set it away.
This is one of the main reasons why many people opt to own a tumble dryer. Ease and speed!
Choosing a tumble dryer to fit your personal needs can sometimes feel a bit daunting, so we're here to help make that decision that bit easier with our list of the best tumble dryers in the UK. There's something for everyone, with vented and condenser models in a multitude of capacities.
Best Tumble Dryers in the UK
1. Hoover Dynamic Next Advance DXC10TCE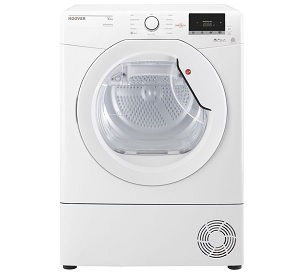 Dryer type: Condenser
Load capacity: 10 kg
Dimensions: 85 cm high x 59.5 cm wide x 61 cm deep
Energy rating: B
Hoover are a highly trusted household name, so their prices are often a little higher than other brands but this is down to their build quality. This large 10 kg capacity tumble dryer is perfect for big families and also ideal for bed sheets, towels and even duvets. With Wi-fi connectivity, you can control your dryer remotely from your phone.
Features
Wi-fi connected
All-in-one programme
Anti-allergy programme
Delay start timer
1-year manufacturer warranty
16 programmes
Sensor drying
Reverse drum action
Pros
Great value for money – large capacity
Easy to empty the water tank
All-in-one programme means loads can be mixed fabrics
Removes allergens
Cons
May be noisy to run at first

Could cause condensation in the room it is in
May require the manual to get settings correct for each load
Summary
All in all, this Hoover tumble dryer is a good option, particularly for large households (perhaps a good choice for HMOs) due to 10 kg capacity.
Families with small children and babies will benefit from the Anti-allergen programme which will help to keep your little ones safe from anything that could flare up their allergies. It may be slightly tricky to understand the settings which are labelled with words rather than temperatures, but the manual and Wi-fi connectable nature should help with that.
2. BEKO Pro DCX93150W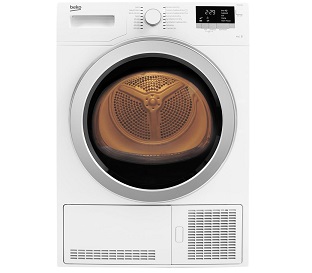 Dryer type: Condenser
Load capacity: 9 kg
Dimensions: 88.5 cm high x 65 cm wide x 66.5 cm deep
Energy rating: B
This condenser tumble dryer from BEKO is a great choice for anyone who gets through lots of laundry loads as the large 9 kg capacity means more items can be dried at once – meaning fewer trips to the tumble dryer. The in-drum light makes it easy to see any stray items left behind and the large porthole door allows for ease of use when drying larger items.
Features
1-year manufacturer guarantee
Sensor drying
Interior light
LED display
Anti-creasing function
16 programmes
Large reversible porthole door
Pros
Machine will stop when load is dry – saves energy and time
Good value for money
Anti-crease makes for less ironing after drying
LED display shows time remaining
Relatively quiet when running
Cons
Some drying times are long

Dryness sensor may not work for mixed fabric loads
Lint screen may become blocked by tumble dryer sheets
Summary
The BEKO is another good contender for a tumble dryer suited to almost everyone – large capacity reduces the number of loads needed, condenser design and reversible door mean it can be placed anywhere and the price is pretty accessible.
3. Bosch WTN85201GB
Dryer type: Condenser
Load capacity: 7 kg
Dimensions: 84.2 cm high x 59.8 cm wide x 59.9 cm deep
Energy rating: B
Another condenser dryer in our list, this time from Bosch. At 7 kg capacity, this tumble dryer would be well suited to smaller households and perfect for those living in upper flats where access to venting may not be an option. The Sensitive Drying system applies mild, warm air to the laundry leaving you with soft, even and crease-free clothes – ideal for those who are averse to ironing.
Features
2-year guarantee
Sensor drying
Automatic load adjustment
Sensitive Drying System
Quick 40 programme
Fabric protecting drum structure
Mixed load programme
AllergyPlus cycle
Wool programme
Pros
Can dry mixed loads and remove items as they dry at different rates
AllergyPlus removes allergens from laundry
Quiet when running
Gentler drying with warm air
Reduced ironing needed after drying
Easy to empty the water reservoir and fluff-catcher
Cons
Pricey for smaller capacity dryer

No reverse drum action
May need to read manual to get the hang of each setting
Summary
Although more highly-priced than other tumble dryers with larger drum capacities, the Bosch WTN85201GB is a good tumble dryer by a trusted brand and could help to keep your clothes lasting longer due to its gentle drying system and fabric-safe drum structure.
4. BEKO DTKCE80021W
Dryer type: Condenser
Load capacity: 8 kg
Dimensions: 88 cm high x 65 cm wide x 58.5 cm deep
Energy rating: B
Another BEKO condenser tumble dryer in our list, but this one has an 8 kg capacity which may appeal more to smaller households or people who don't use their tumble dryer for every wash load. With some great features and a drain hose included, this well-priced machine would suit many a home.
Features
1-year manufacturer guarantee
Sensor drying – 4 levels
Timed programmes
Anti-crease function
Large porthole door
Drain hose included
15 drying programmes
Indicator lights for filter cleaning and full tank
Delay start timer
Pros
Can use the included drain hose to let condensation out without needing to empty the reservoir
Short 0.5 kg load function is great for last-minute items
Anti-crease keeps things moving until you empty the drum
Good value
Cons
No porthole window to see inside

May not be the best build quality
Summary
This washing machine is a great choice for those shopping for a tumble dryer on a budget, but still wanting a decent load capacity for larger items like bedding and towels. The condenser drying function of the BEKO DTKCE80021W means it can be placed anywhere without the need for ventilation – perfect for flats or rentals.
5. INDESIT Ecotime IDC8T3B
Dryer type: Condenser
Load capacity: 8 kg
Dimensions: 89 cm high x 64 cm wide x 67 cm deep
Energy rating: B
This tumble dryer from Indesit is ideal for small to medium households with an 8kg capacity and a great energy rating of B, which is one of the better eco ratings when it comes to condenser dryers. The dual anti-tangle rotation of the drum means your clothes will not get tangled or snagged while drying and ironing will be a breeze!
Features
Reverse tumble action – Anti-tangle
1-year manufacturer warranty
Refresh function
LED display
16 drying programmes
Simple button and dial control
Pros
Low price
Easy to use
Dual rotation keeps clothes from creasing
Quiet when running
Cons
Anti-tangle may not be as effective for large sheets and bedding

May get hot very quickly
Perhaps not the best build (reflected in cheap pricing)
Fluff catcher could be difficult to empty
Summary
If you're looking for a cheaply-priced tumble dryer with a decent load capacity, then this Indesit model would be the ideal choice for you. However. if you're after a higher quality build, then you may want to opt for a household name brand. This tumble dryer has a good range of settings for drying and is easy to use.
6. LOGIK LVD7W18
Dryer type: Vented
Load capacity: 7 kg
Dimensions: 89 cm high x 66 cm wide x 57.5 cm deep
Energy rating: C
A simple yet practical tumble dryer here from Logik with a good-sized 7 kg capacity – ideal for smaller households or those who use their tumble dryer infrequently. The 1-hour drying programme makes quick work of that shirt you need dry "right now" and the wide opening door is perfect for getting towels and sheets in and out of the drum.
Features
1-hour dry function
4 programmes
Sensor drying
Wide-opening door
Button and LED indicator control panel
Ventilation hose
Pros
Good value for money
Good drum capacity
Easy to use
Simple design – looks fine in any decor
Cons
Energy rating isn't the best available

Not the most quiet of tumble dryers
Sensor dry may not be the most accurate
Summary
If you're looking for a tumble dryer which just does what it says on the tin, then this vented Logik dryer could be the one for you – so long as you have the ability to direct the condensation hose outside. It only has 4 drying programmes in total, but this is ideal for ease of use and sensor drying means you shouldn't end up "baking" your clothes.
7. INDESIT Ecotime IDV75S
Dryer type: Vented
Load capacity: 7 kg
Dimensions: 85 cm high x 59.5 cm wide x 58.4 cm deep
Energy rating: B
The Indesit Ecotime IDV75S has dual motion and antitangle capabilities to make sure your clothes dry efficiently and last longer – protecting them from becoming stretched or damaged by tangling. So you're not just investing in the easy-to-dry laundry aspect, you're keeping your wardrobe looking great! With a 7 kg capacity, this vented dryer is ideal for a small to medium household.
Features
1-year manufacturers guarantee
Vent hose included
Set-up kit included
Anti-tangle
Dual motion
Wave Pattern drum technology
2 drying temperatures
Pros
Price accessible
Comes in white or silver to match kitchen/utility decor
Easy to set up
Relatively quiet
Cons
No sensor for smart drying

Drying times may be quite long for certain items
Summary
This well-priced tumble dryer is quite simple in function but highly practical and great for those who hate reading user guides before they can dry their bedsheets. Suited to a home with access to ventilation, this may not be the best option for those living in flats or rented accommodation.
8. Hotpoint TVHM80CP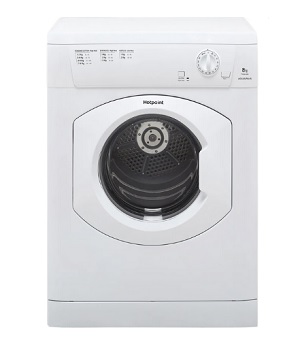 Dryer type: Vented
Load capacity: 8 kg
Dimensions: 85 cm high x 59.5 cm wide x 55 cm deep
Energy rating: C
This vented tumble dryer from Hotpoint is a good-sized 8 kg capacity which is perfect for medium households and great for getting bedding and towels dry. Anti-tangle and anti-ageing systems will keep clothes looking good for longer and reduce the time you need to spend ironing.
Features
1-Year manufacturer warranty
1 drying programme
Anti-ageing system
Anti-tangle technology
Reverse action
Wide-opening door
Analogue controls with dials
Pros
Decent price for household brand name
Anti-tangle means clothes don't get as creased
Easy to use
Time settings to work around busy schedules
Relatively quiet when running
Cons
Just one drying programme may not suit everyone

The included vent may not fit all homes existing set-ups
No smart features
No sensor drying
Energy rating isn't the best available
Summary
It is a very simple-to-use machine with just one drying function to choose from, so may not suit those who like having specified cycles for different clothing types. However, this means it's easy enough to teach your kids how to use it – saving you even more time! This dryer doesn't have as many features as some of the others in our list, but for the price, it does what it needs to do.
9. Montpellier MVSD7W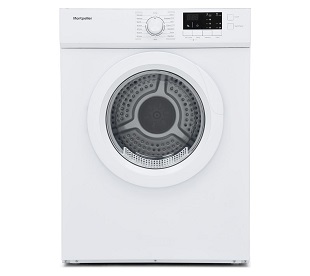 Dryer type: Vented
Load capacity: 7 kg
Dimensions: 84 cm high x 59.5 cm wide x 55.5 cm deep
Energy rating: C
The Montpellier MVSD7W is a vented dryer with loads of great functions to keep everyone happy. There are drying programmes for delicates, refreshing items and a quick function for last-minute school and work uniforms as well as multiple others – 15 in total! A 7 kg drum capacity will easily service a small-medium household and sensor drying could save you lots of time on laundry.
Features
2-year guarantee
Sensor drying
15 drying programmes
2 drying temperatures
Delay start timer
Large porthole door
LED display
Pros
Lots of drying cycle options
Can delay the timer 3, 6 or 9 hours to make use of lower night energy rates
Good value
Easy to use
Alert for when filter needs emptying
Relatively quiet when running
Cons
Vent hose may be a little delicate
Energy rating isn't the best available
Summary
This Montpellier tumble dryer is great for smaller households of maybe 2-3 people and would be ideal for families with small children or babies with the delicate function perfect for baby clothes. A large number of functions makes it the perfect choice for those who like their laundry organisation and sensor drying makes it great for saving time and money on your energy bills.
Best Tumble Dryer Brands
Here's a list of the best tumble dryer brands:
Hoover

Beko

Bosch

Hotpoint

Grundig
Candy
Samsung
AEG
Miele

Indesit

LG
Montpellier
Smeg
Sharp
Haier
Zanussi
Baumatic
Conclusion
Our favourite in this list of the best tumble dryers is our number-one-spot Hoover Dynamic Next Advance DXC10TCE. This condenser dryer with a whopping 10 kg capacity has loads of great features to make your laundry days much easier and save you time on ironing as well as saving you money on your energy bills with sensor drying.
If 10 kg is just a bit too big for your needs, we like the 7 kg MONTPELLIER MVSD7W which has just as many functions as our number one it's just a smaller drum. The Montpellier is a vented dryer, so it would require you to have a vent in place or to place the tumble dryer near a window or door.
Thirty-something lady with a penchant for flowers and anything involving crafts. I like to clean using environmentally-friendly methods where possible and love sharing my findings, tips and tricks here on In The Wash!