Thanks to rising inflation and high household bills, most of us are trying a bit harder to get a good deal before buying anything.
Black Friday represents an opportunity to buy that washing machine or tumble dryer you've had your eye on for a while at a discounted price.
However, the deals aren't always as good as they seem, as we'll explain below. There are a few tricks to finding real deals and making the most of Black Friday and Cyber Monday.
We will update this page over the Black Friday period in 2024 to share the best washing machine and tumble dryer deals in the UK, and share tips on finding a good deal.
Please note, any prices mentioned were accurate at the time of writing, but are likely to change quickly as retailers constantly adjust prices.
Black Friday and Cyber Monday Dates in 2024
Black Friday 2024 is on 29 November. It's the day after Thanksgiving in the US, which falls on the last Thursday in November.
Cyber Monday is the following Monday, 2 December.
Originally retailers only had sales on Black Friday itself, until Cyber Monday was introduced by online retailers in 2005.
These days, Black Friday sales often start the night before Black Friday itself, or even earlier in the week. They can also extend past Cyber Monday into the following week.
It's worth keeping an eye out to see when different retailers start their sales.
Where to Buy a Washing Machine or Tumble Dryer on Black Friday
AO
AO has a huge choice of washing machines and tumble dryers from top brands such as Hotpoint, Bosch, Samsung and Beko.
They are one of the UK's biggest appliance retailers, and have a good reputation. As well as selling appliances, they can also install your new appliance and take your old appliance away.
Reasons to shop there:
Huge choice
Next-day delivery
Good range of prices
Can dispose of old appliances for you
Find out more:
Currys
Currys is a well-known electronics and appliance retailer in the UK. They have a strong online presence as well as hundreds of big physical stores around the country.
Currys has a huge choice of washing machines, tumble dryers, and a few washer dryer combos as well. Their low-priced Currys Essentials and LOGIK brands could be good choices if you are on a tight budget.
Reasons to shop there:
Plenty of budget-priced appliances
Lots of choice
Same-day collection available
You can talk to their staff for advice
Find out more:
John Lewis
John Lewis is an icon of British retail. The store is known for its high-quality products and aspirational feel.
John Lewis offer a good selection of washing machines and tumble dryer. There isn't as much choice as you'd get from AO or Currys, but they seem to be quite selective about only selling products from the most respected brands.
On average, appliances from John Lewis are relatively pricey, but they're high quality as well.
Reasons to shop there:
Good for higher-end brands
Free UK delivery
Own-brand products are highly rated
Range of installation services offered (extra cost)
Find out more:
Amazon
Amazon typically isn't the first place people look when choosing appliances like tumble dryers and washing machines. People often prefer specialist retailers that offer installation services.
However, Amazon is by far the biggest online retailer in the UK, and has the most Black Friday and Cyber Monday deals.
Amazon has a good selection of washing machines and tumble dryers, most of which are fairly affordable. They are also a good choice if you're looking for something out of the ordinary, for example a mini tumble dryer, since they have such as huge product catalogue.
Reasons to shop there:
Lots of deals on Black Friday and Cyber Monday
Generally lower than average prices
Good for more obscure, hard-to-find products like mini tumble dryers and top-loader washing machines
Appliances Direct
Appliances Direct is an online retailer with a big selection of washing machines, tumble dryers and washer dryers from brands such as Candy, Hotpoint, Bosch, Hoover and Indesit.
One interesting thing about Appliances Direct is that in addition to new appliances, you can also buy refurbished appliances that are significantly cheaper than brand-new ones.
Reasons to shop there:
Their refurbished appliances offer great value for money
Next-day delivery available
Range of installation and recycling services (extra cost)
Find out more:
Argos
Argos is a well-loved name in British retail. The company still has hundreds of stores across the UK, but mainly sells online these days.
Argos sell a range of appliances including washing machines and tumble dryers, many of which are very affordable.
They have a range of convenient collection and delivery options, including the option to collect from Sainsburys.
Reasons to shop there:
Good delivery and collection options
Many products are very affordable
Installation and recycling available (extra cost)
Find out more:
Are Black Friday Deals Real?
Unfortunately, our research suggests that buying a washing machine or tumble dryer in the Black Friday sales is unlikely to give you a better deal than at other times of the year.
Since online retail is so competitive, most washing machines and tumble dryers will be available for the same price on other sites. One retailer might say that an appliance has been reduced in price by £100, but you will be able to find it for the same price elsewhere.
When describing the size of the discount on offer, retailers often compare the current price to historical prices or the original recommended retail price. This can give a false sense that the price has been dramatically reduced, when in reality the product is cheaper than it once was because it is no longer new to the market and has been replaced by updated models.
In our experience, it's unlikely to be worth spending hours analysing Black Friday deals to work out which offer real discounts. If you're buying a washing machine or a tumble dryer, it's a better idea to simply buy a highly rated product at the best price possible anytime in the year rather than hoping to get a big discount on Black Friday.
How to Make Sure You Get a Good Deal on Black Friday
1. Compare prices
Look at the same product on several websites to make sure you're really getting the best deal.
2. Check the price history
Websites like PriceSpy and PriceRunner let you search for a product and see the recent price history. This will help you determine if the product is really discounted, or is in fact selling at its normal price.
Camelcamelcamel is a good Amazon-specific price tracker if you are shopping there. You can search for the Amazon product URL and see how its price has changed
You won't always find every product on these price history tools, but for popular products they can be very useful.
3. Beware of extra costs
When buying appliances, installation and recycling costs can make up a big percentage of the total cost. If you need to have your old appliance removed and a new one installed, this could cost over £100 in total depending on which retailer you choose.
Make sure you look into these costs first, and compare them with those of other retailers as well as comparing the price of the product itself.
4. Big discounts aren't always what they seem
Sometimes retailers make a discount look better than it really is by using the original recommended retail price (RRP) as the 'Was' price, and showing the current price in relation to this.
This can be misleading as if the product has been on the market for a while, the price will have probably already fallen well below its original RRP.
Price tracker tools are a good way to see how much the product has really been reduced.
5. Don't feel pressured into buying
On Black Friday, it can feel like you have to rush to best deals before anyone else does. However, often products are available at the same price or even lower after Black Friday, so in most cases there's no need to rush.
It's worth taking a few minutes to make sure you're really getting a good deal before ordering anything.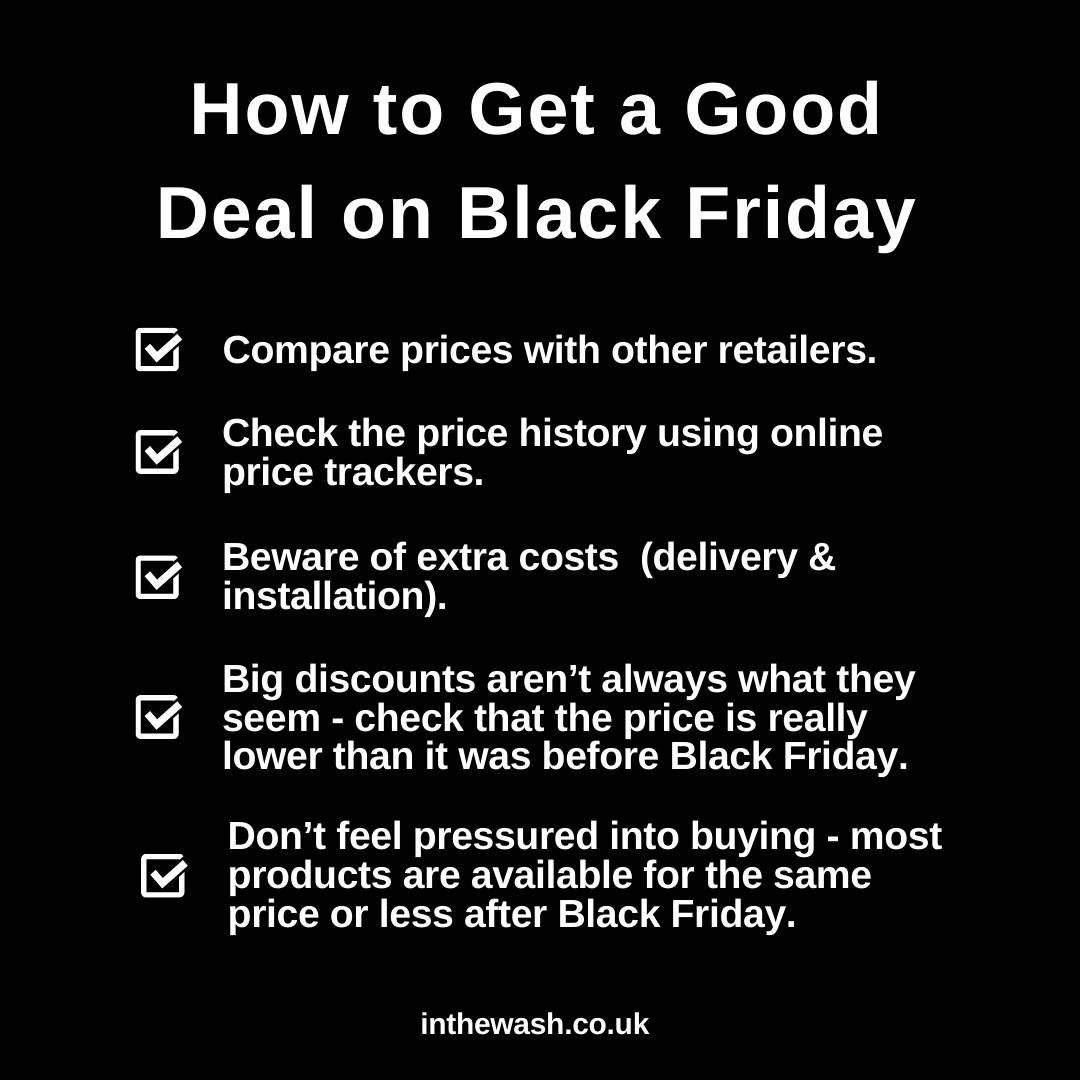 How to Choose a Washing Machine or Tumble Dryer
Choosing the right washing machine or tumble dryer can be complicated. Here are a few articles to help you make the right decision and know what you're looking for on Black Friday.
Washing machines
Tumble dryers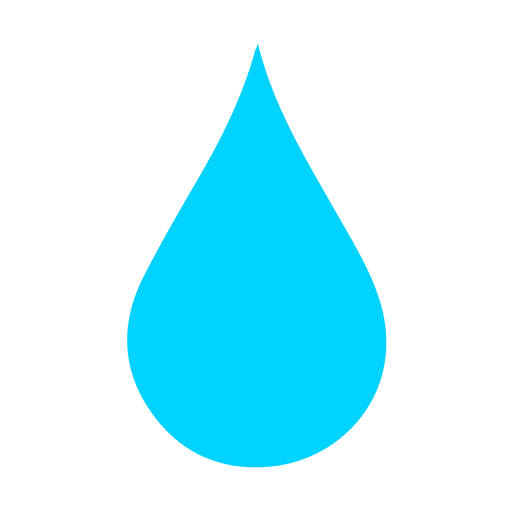 In The Wash is your guide to the best laundry and cleaning products, tips and tricks. Our mission is to solve the UK's cleaning and laundry dilemmas!