Hoovering removes a lot of dirt from carpets, but does vacuuming alone really clean away all the nasty germs and bacteria that are setting up home in the lush fibres of your carpets? Not really.
If you need to deep clean your carpets then you need to hire a carpet cleaner to do the job for you.
Carpet cleaners are known for really working their way into the depths of your carpets to remove all the stains and dust particles that may have been there for years. What's better is you don't even need to buy these little wonders – you can hire them!
But how do you know what carpet cleaner to hire? Keep on reading to find out what the best carpet cleaners to hire in the UK are.
Best Carpet Cleaners to Hire in the UK
There are a number of options when it comes to hiring a carpet cleaner in the UK. But the first thing you need to consider is what type of carpet are you going to be cleaning – home carpets or large office-like spaces. Based on this answer, you can go ahead and choose a suitable carpet cleaner to hire.
Here are the best carpet cleaners to hire in the UK:
1. Rug Doctor Standard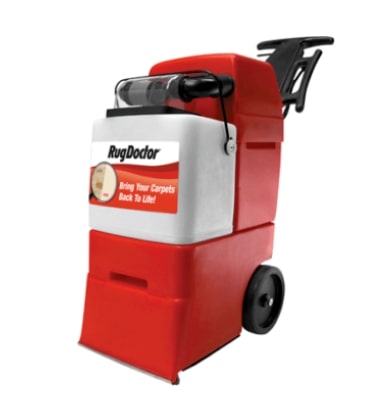 The Rug Doctor is one of the UK's favourite home carpet cleaners and it's really easy to understand why!
This compact cleaner comes with the tools you need to give your carpet a thorough clean. This includes a water injection system. This is when you pop hot water into the machine and it gets mixed with your chosen solution and then injected deep into the carpet's fibres.
You also get an agitation brush that helps to clean the deepest of carpet fibres, and finally, the Rug Doctor comes with an epic suction tool that removes all the remaining dirt and water from the carpet.
It's super easy to use the Rug Doctor, all you need to do is hire the machine, purchase some carpet cleaner, decide if you want to collect or get the product delivered and once it arrives you're good to go!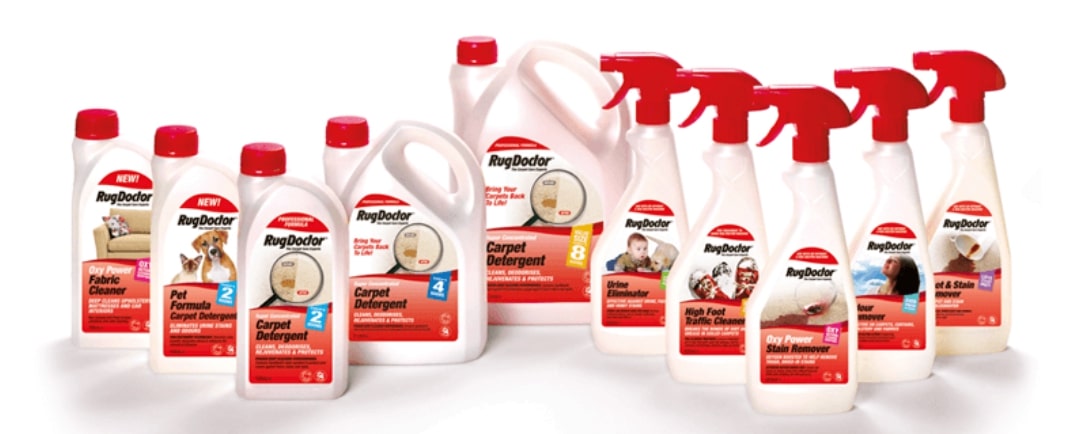 Cleaning time can vary from one house to another but carpet drying time is typically about 2-3 hours for a standard sized room (larger and dirtier carpets may need a day or so).
There may be some price differences between one hire company and another but usually renting a Rug Doctor for 24 hours will cost you about £23, and 48 hours is about £29 (at the time of writing). You can go directly to the Rug Doctor website to hire this carpet cleaner.
In addition to this you will need to buy a cleaning solution. Rug Doctor cleaning solutions also vary in price depending on the size of the bottle you want to purchase, and if you're buying the bottle(s) from the same place that you're hiring the machine from. Prices can be anywhere from £10-£22.
If you are considering using the carpet cleaner to clean upholstery in your home then you will also need to invest in additional tools. These tools typically cost about £3 to hire, but these extras may be included in a deal with some hiring companies.
2. Rug Doctor Wide Track
The Rug Doctor Wide Track is essentially the same as a Rug Doctor standard, the only difference is that it's bigger.
The Wide Track model has a cleaning path that is 16% bigger than that of the standard Rug Doctor, so you can cover and clean more area at once. This does speed up the whole cleaning process, but may not be ideal for tight spaces.
Further to this, the larger model also has a larger water tank – 30% bigger. This means that you don't have to keep stopping to empty/refill the machine, so you can get the job done a lot quicker!
Like the Rug Doctor standard, the Rug Doctor Wide Track can also be hired for a 24- or 48-hour period depending on how much cleaning you plan on doing. Hiring this machine for 24 hours usually costs about £29, while 48 hours costs about £33 (prices may vary across stores).
As with the standard model, you can go directly to the Rug Doctor website to hire this machine, or you can find a local B&Q, Johnsons store to hire from. Just pick a shop that is near to you – you don't want to do any needless driving!
3. Karcher Domestic Cleaner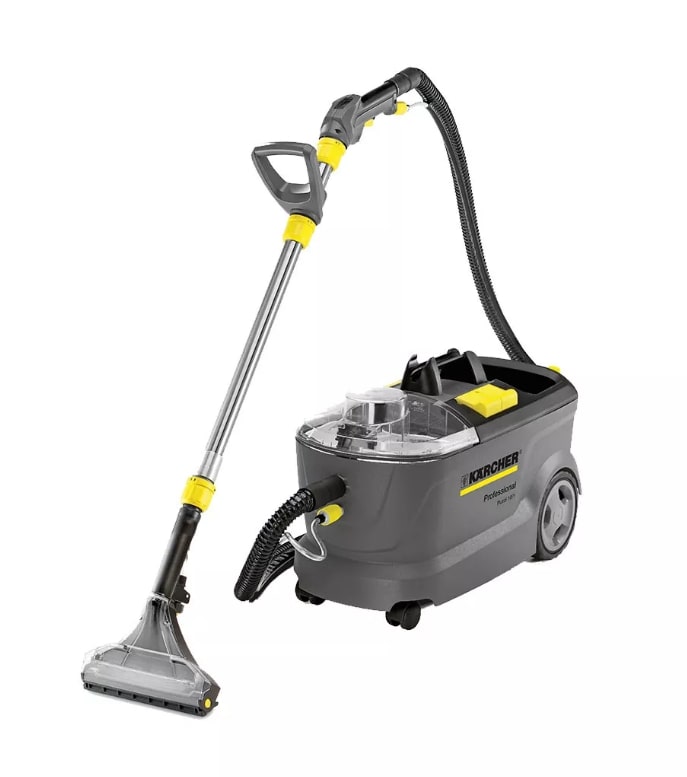 If you're looking for something more lightweight then look no further than the Karcher Domestic cleaner. Weighing in at almost 10 kg this is an excellent portable cleaner for those of you who need to clean up and downstairs!
But being compact doesn't mean that this cleaner isn't mighty. On the contrary, this little wonder mixes hot water, cleaning solution and high pressure to blast bacteria from carpets. You can use the machine in your home, to clean cars, remove dirt from upholstery and in small offices.
In addition to this, the Karcher Domestic Cleaner usually comes with an RCD circuit breaker, so you don't need to worry about a power-out when cleaning. And you'll also get a 10-litre fresh water tank too, so you won't have to stop too much to refill the carpet cleaner.
If you would like to use the carpet cleaner to clean other areas in your home all you need to do is hire out the additional tools. But if you're lucky, the place you hire the carpet cleaner from may throw these extras in, anyway.
It's worth pointing out that the Karcher carpet cleaner is likely to leave some moisture on the carpet, but this should dry within a 24-hour period. Assuming that you don't walk and move furniture all over the area!
There are many places you can hire a Karcher carpet cleaner from and you may notice some price differences between each company. A same day return will cost around £17-£24, and any additional days can cost between £5-£10 extra.
In some cases, it is more cost effective to hire a Karcher carpet cleaner for a week instead, prices vary from £29-£40, but this way you'll know that you have plenty of time to clean the whole house and you don't have to rush.
You can hire a Karcher carpet cleaner from HSS Hire, Brandon Hire Station and from Jewson.
4. Karcher BRC 45/45 C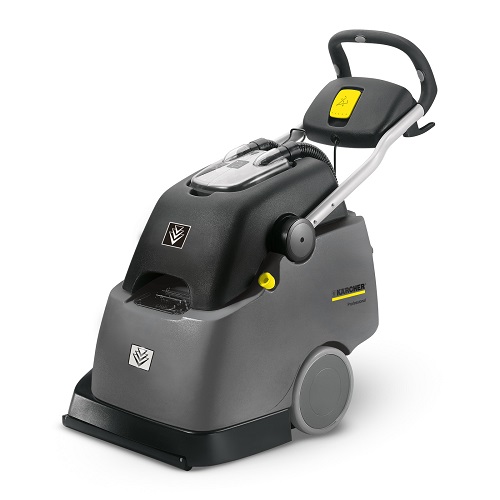 The Karcher BRC 45/45 C is an upright commercial carpet cleaner, and it's fairly similar to the Karcher Domestic Carpet Cleaner, the main difference between the two is that the commercial cleaner can clean far bigger areas, and is better suited to large spaces like offices.
If you are looking to clean a home, you'd be better off choosing the Domestic Karsher because it's lighter and easier to manoeuvre.
The Karcher BRC 45/45 C upright commercial carpet cleaner is a large cumbersome machine that weighs about 48 kg. You would not be able to lift this cleaner on your own and taking it up and down the stairs might be problematic.
That being said, if you have a large space to work with then this walk behind cleaner is exactly what you need. This machine comes with two brush heads that work together to clean carpets in a uniform manner.
You can also move the machine forwards and backwards over areas if you need to clean a particular area, this saves time in the long run.
Given that this is a much larger machine the price to hire is usually a little more too. If you're looking to hire the Karcher upright commercial cleaner for a 24-hour period, you will be charged around £150. Included in this price is usually a delivery fee, but you should check this with the hire company you choose to go with.
You can hire the Karcher BRC 45/45 C from National Carpet Cleaner Hire.
5. Truvox Hydromist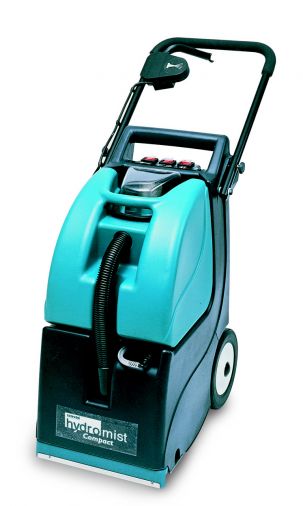 If you're looking for a carpet cleaner that can be moved up and down the stairs with ease, but still has big water tanks, so you don't have to keep refilling the machine, then look no further than the Truvox Hydromist.
In addition to being light and maneuverable, the Hydromist also comes with a 245 mm brush head, so you can cover large areas quickly without losing cleaning quality. The machine includes rotary brushes that can remove debris and aged dirt from carpets in no time at all.
The drying time of the carpet is only around 2 hours, assuming that the Hydromist has been used correctly and there's plenty of air circulating the room.
The Truvox Hydromist is a little more expensive than the Rug Doctor to hire, even though they look very similar. Hire prices are usually around £30 for a same day return and £60 for the week. You can hire this cleaner at Cleaning Equipment Services LTD.
What Do You Need to Use a Carpet Cleaner Machine?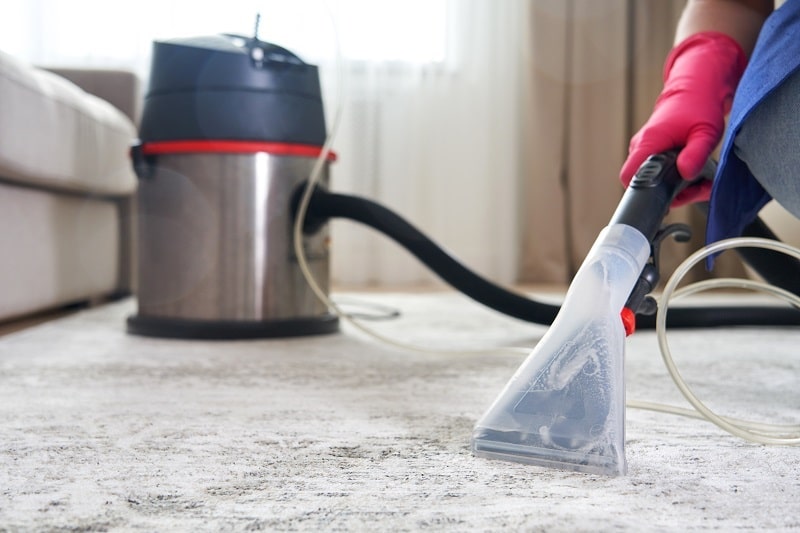 You will likely need to consider the following when hiring a carpet cleaner:
There may be an additional delivery charge.
You will need to purchase carpet shampoo, and any other solutions you wish to use.
You may need to hire a carpet dryer to speed up the drying process.
You will need access to water and electricity.
A circuit breaker to protect your electrical circuits from being overloaded (exceptional circumstances only).
Where Can You Hire a Carpet Cleaner From?
Carpet cleaners can be hired from loads of places around the UK. But my advice would be to choose a reputable firm that has plenty of online reviews and is near to where you live. You don't want to drive miles to pick up a carpet cleaner!
Here are some well-known places you can try:
You will need to input your postcode to find your nearest store. And you will also need to decide if you are okay with picking up the carpet cleaner yourself, or if you would prefer it to be delivered.
Deliveries may come at an additional cost, but this is something you need to check out with each individual company.
A Few Points to Keep in Mind
Here are a few tips to keep in mind when hiring a carpet cleaner:
Weekend hiring can sometimes cost more than weekday hiring.
You do not need to over use the water in the tank – doing so could cause damp problems.
You may need to hire or buy additional equipment when hiring a carpet cleaner.
You'll need to buy carpet cleaning products yourself, in most cases.
Read the small print on the hire form before agreeing to anything.
Make sure you understand your contractual agreement – check the dos and don'ts.
Pick a carpet cleaner that is suitable for your home.
Ask questions before you start using the machine.
Follow the instructions that come with the carpet cleaner.
A charge may be applied for delivering the carpet cleaner.
Hiring A Carpet Cleaning Service Instead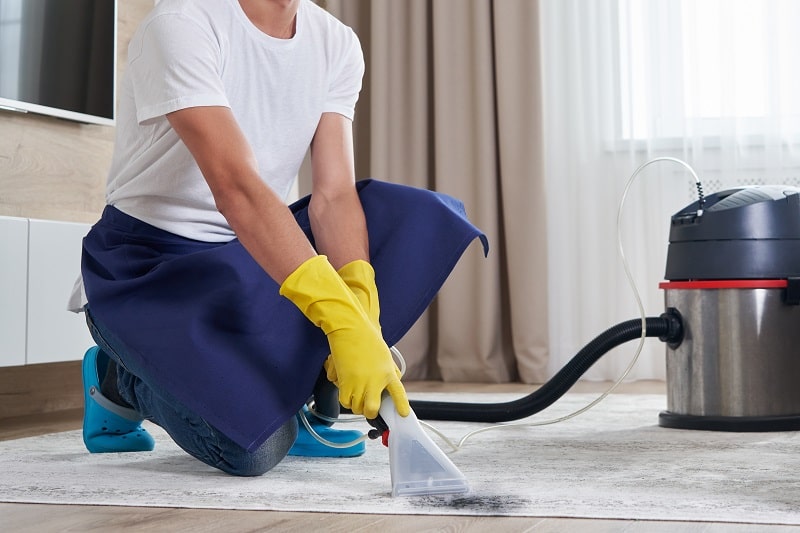 If you're not keen on the idea above you can hire a professional carpet cleaning service to come in and do the job for you.
Carpet cleaning services will have all the tools, knowledge, and experience they need to do a good job. That being said, you should always follow the advice below to make sure you're hiring a reputable carpet cleaning service.
Always do your research before hiring a carpet cleaning service – read around online, check reviews and talk to people who've used the company.
Always get a quote for the job.
Ask plenty of questions so you know exactly what's going on.
Read the small print before agreeing to anything.
Find out if there is anything you need to do or buy in – for example, are you responsible for moving all the furniture and do you need to buy carpet shampoo?
Get a written agreement that outlines everything.
Ask who will be doing the job – a person who hands out quotes doesn't always do the cleaning.
Ask what happens in the event that you damage the cleaner? Can you pay for extra insurance?
Hiring a carpet cleaning service is a good option if you don't feel comfortable hiring an actual carpet cleaner and doing the cleaning yourself, or if you need to do a thorough clean of your carpets and a professional is exactly what you need.
However, you should keep in mind that a carpet cleaning service is not going to be cheap and you need to pick someone who's fairly local to you, otherwise you might get charged a traveling fee too.

Bethan has a passion for exploring, reading, cooking and gardening! When she's not creating culinary delights for her family, she's concocting potions to keep her house clean!