If you've not got the time, resources, or energy to properly clean your own home, you may have considered bringing in a professional cleaner.
Even if you can handle your own cleaning, it can sometimes be good to call in a professional. Professional cleaners will know how to properly clean areas that you may either miss, or simply not know how to clean properly.
How Much Do Cleaners Charge in the UK in 2021?
How much a cleaner will charge will depend on who you hire and where you live. The cost of hiring a cleaner in the UK can vary significantly, from as little as £10 an hour to £23 an hour.
As an example, you can expect to pay around £12 an hour in Sheffield, and as much as £23 an hour in Edinburgh. Generally, cities towards the south coast tend to be more expensive, and northern cities will be cheaper. London cleaners can charge as much as £5 to £10 more an hour when compared to other cities in the UK.
For a weekly four-hour clean, you can expect to pay between £48 and £92.
We recommend finding a local agency to hire from as their cleaners should have proper equipment and are likely to be properly trained.
However, there's also the option of hiring an independent cleaner for less money. If you have friends who have hired cleaners, find out who they've hired; word of mouth goes a long way.
The cost will vary quite a lot depending on the condition of your property, where you live, and the tasks you want the cleaner to perform.
Agencies
If you hire from an agency, the average hourly rate for house cleaning in the UK is somewhere between £12 and £20 an hour. Of course, there are some companies that will charge much more than £20 an hour.
The price will vary significantly depending on the area of the UK you live in, as will the quality of the agency that you select. Prices tend to be higher in London and the Southeast.
When you do hire from an agency, you may have the option to hire multiple cleaners, which is perfect if you have a larger home. Agencies also bring the benefit that they will be fully insured in the event of an accident, and will be able to send someone over if your regular cleaner is not available. You might find that some agencies will also offer a discount of between 50p and £1.50 off their hourly rate if you sign up for regular visits.
Most cleaners recommend between 2.5 and 6 hours of cleaning, depending on the size of your home, so you can expect to pay somewhere between £30 and £140 per clean.
We would recommend trying out a few different people until you find one that you like. There's no harm in hiring a cleaner and simply never rehiring them if their work doesn't meet your standards.
Independent cleaners
You can sometimes save a little money by opting for an independent cleaner. Depending on where you live and who you hire, you can expect to be paying between £10 and £15 per hour in 2021.
The living wage from April 2021 is £8.91 an hour for those 25 and over, so you shouldn't be paying less than this unless hiring someone younger.
If you want to pay as little as possible, you will be hiring someone more inexperienced, such as a teenager looking for summer work.
You may also be hiring someone who hasn't got all the fancy equipment that a more professional cleaner might have. If you do want someone who has all of their own gear, you will end up paying slightly more.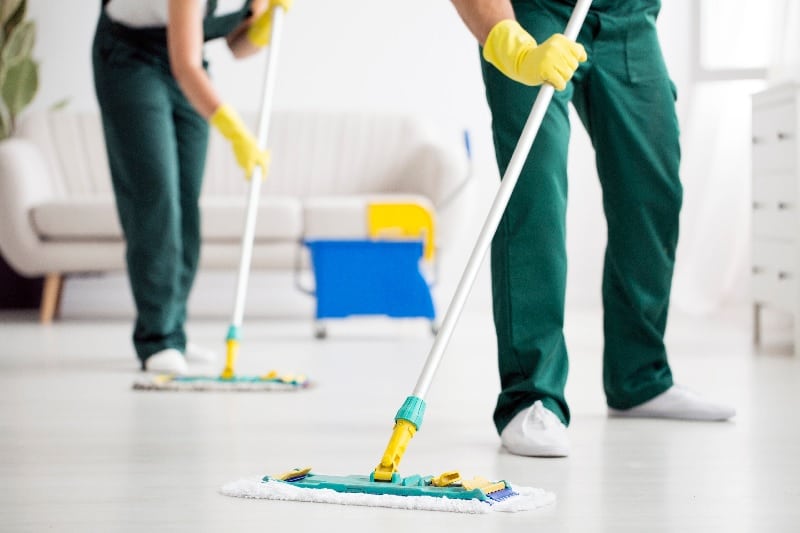 Carpet Cleaning, End of Tenancy and Other Services
As well as regular cleaning services, there may also be times when you need a one-off cleaning service, such as end of tenancy cleaning or carpet cleaning.
Carpet cleaning
When it comes to carpet cleaning, you can expect to pay between £60 and £120, though this estimate will vary depending on where you live and the size of the room.
As a guide:
£200 can cover two reception rooms, three bedrooms, the hallway, landing and stairs. Four-bedroom houses will pay a little more depending on the size and additional number of rooms.
£20 for a small bedroom
£27 for a large bedroom
£30 for the carpet on the stairs and the landing
£35 for a large reception room
Carpet cleaning tends to be a more expensive task as more specialist equipment and skills are required. You may be able to save money by opting for a cleaner who specialises in carpets.
End of tenancy cleaning
End of tenancy cleaning is much more in depth than other cleaning services, and therefore this does tend to cost more. Prices for end of tenancy cleans vary depending on the property and location, but usually fall between £120 and £500, to an average of £170.
The number of rooms in your home will have an impact on how much your end of tenancy clean costs. Prices for different home sizes are typically in the following ranges:
Studio apartments (one room): £80 to £195
Apartments (two rooms): £120 to £250
Apartments (two to three bedrooms): £190 to £315
Houses (four or five bedrooms): £250 to £370
Houses (six or more bedrooms): £415
As with all regular cleaning services, prices will be higher in Greater London.
Is it Worth Getting a Cleaner?
Many people use cleaners to supplement their existing cleaning routine, rather than completely replace it.
For instance, if you're busy and want to take a day off from your cleaning schedule, bringing in a cleaner once a week for a few hours could save you a lot of time.
You should carefully consider what your own time is worth. Even if your own time is worth less than what the cleaner charges, consider that a cleaner will work a lot more efficiently.
You also don't necessarily have to hire a cleaner for everything, you can just use them to do chores that you don't like doing yourself.
A lot of cleaning companies will offer a service specific to cleaning up a home after builders have been working there. This usually costs more due to the extent of cleaning needed and possible specialist equipment.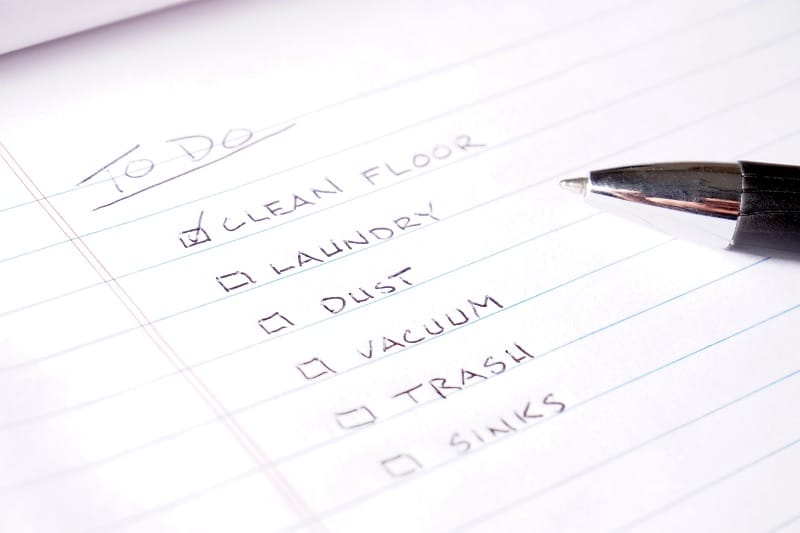 How Many Hours a Week Do I Need a Cleaner For?
Getting an exact figure is difficult, as it will depend heavily on how big your home is and how much work you are willing to handle yourself.
If you're bringing in a cleaner to handle all the cleaning for a larger family home, you may need upwards of 6 hours every week.
For smaller homes, 2 hours might be enough – see this article on what a cleaner can do in 2 hours.
A lot of cleaners tend to have a minimum number of hours they will be willing to work on job – this is often 3 hours minimum.
There will likely be a lot of trial and error in the process of determining how long to hire a cleaner for.
We suggest just bringing in the cleaner and trying them out. You can always up the hours later if you need to.
Some cleaning services may even perform an inspection and give you a quote to tell you how long you need a cleaner for as well as how much it'll cost.
How to Save Money on a House Cleaner
If you are considering paying for a cleaner, there are a few ways that you can save money on the cost. For example, by keeping up regular cleaning tasks, you will reduce the need for a deep clean.
By choosing only rooms which need to be cleaned, you can keep labour time to a minimum.
Some cleaners will offer discounts for booking regular visits, talk to your chosen cleaners to find out what offers they have that you could take advantage of.
Summary
Cleaners can certainly be expensive, but if you are looking for a quick way to take some stress out of your schedule, it can be a worthwhile investment.
The cost of a cleaner can vary greatly, and you should expect to pay a minimum of £10 per hour, but this will increase if you live in London or the south coast, or if specialist equipment is required.
Given that professionals clean a lot more efficiently than the average person, you may also not need them for quite as many hours as you think.
See our guide to hiring a cleaner for the first time for some more info and tips.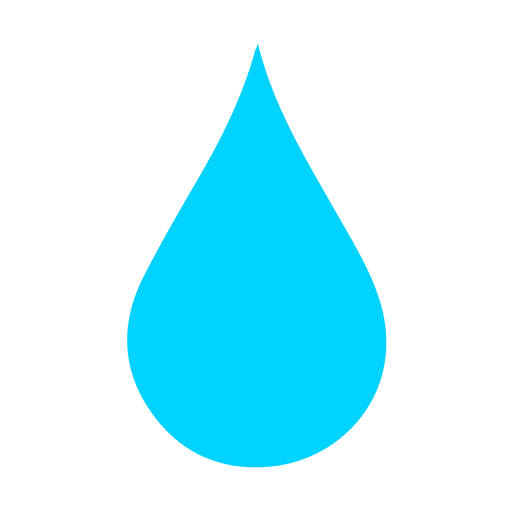 In The Wash is your guide to the best laundry and cleaning products, tips and tricks. Our mission is to solve the UK's cleaning and laundry dilemmas!