Leather sofas are prominent in many living rooms up and down the UK. They age well (if looked after correctly) and are easy to maintain.
So, what should you use to clean a leather settee? With so many products, branded and unbranded, cheap and expensive, it can be a nightmare to figure out what cleaning solution you need to buy!
Lucky for you, we've done the hard work! Find out what the best leather cleaners for sofas are below.
The Best Leather Cleaner Products for Sofas in the UK
1. Renapur Leather Balsam, Natural Balm, Conditioner and Restorer
Bottle size: 200 ml
Renapur's Natural Balm Leather Conditioner and Restorer is made from a blend of natural waxes and oils, including beeswax, avocado, jojoba and carnuba.
This carefully crafted mixture makes this product one of the longest-lasting (lengthy shelf life of up to 20 years) and most usable leather cleaners on this list.
The tub, albeit small compared to other leather cleaning solutions, can clean, nourish and protect your leather sofa for years. It also ensures that your sofa looks shiny, new-like and smooth.
As a bonus, you can use the solution to treat other leather items. These include but are not limited to purses, handbags, motorbiking gear, shoes and care interiors.
Being able to use Renapur's Natural Balm Leather Conditioner and Restorer on various leather items around the house makes it very versatile.
The solution is easy to use, is mess-free, and gets to work in minutes. Sometimes, rubbing the solution into the sofa can be tiring, especially if you have a filthy sofa to clean. But if you stay on top of the general cleaning, you should notice that you don't have to use up too much energy to work the cleaner into the leather surface.
In addition, you get all the tools you need in the pack: The cleaner itself and an applicator pad. Getting everything you need in the pack is quite handy because you can get to work immediately, rather than having to fish around looking for cloths and sponges to clean your sofa.
It's perfect if you're in a pinch or live in a busy family home where you don't have much time to fuss around.
Unfortunately, you can't use Renapur's Natural Balm Leather Conditioner and Restorer on aniline and nubuck leathers. So, if you have a sofa or chair made from this type of leather, avoid using this product and find something more suitable.
If you use this cleaner on aniline or nubuck leather, you may notice that the surface of the settee feels greasy because the solution cannot be absorbed into the sofa and may (in the worst case) even discolour slightly.
Renapur's Leather Conditioner and Restorer is not the cheapest product around. However, its ease of use, end results, and many uses make up for its price tag.
2. Bickmore Bick 4 Leather Conditioner
Bottle size: 236 ml
Bickmore Bick 4 Leather Conditioner is an American-made leather conditioner that can clean, polish and protect leather sofas.
It is one of the most expensive conditioners noted on this list, and the bottle it comes in is one of the smallest mentioned, but it does pack a mighty punch when it comes to treating leather sofas.
The solution, which is simple to use and wax-free, won't darken your finished leather items and will rejuvenate old and dried-out pieces of leather.
To make the most from Bickmore's Bick 4 Leather Conditioner, you should pair it with Bick 1 Leather Cleaner. Simply clean your leather settee using the cleaner first, then apply the conditioning treatment.
There is a little more work involved with Bickmore's item because you'll have to ensure your sofa is cleaned properly before treating it with the conditioner.
If you skip this cleaning step, your leather piece may not look as good as it could in the end! The conditioner, when used alone, may leave the leather surface with a temporary glow, which will dwindle fairly quickly.
Once you've cleaned the sofa, you can treat it with the conditioner and buff it dry. You could say that this entire process is more time-consuming and isn't the most suitable one for lively homes. However, the end results pay off, and you end up with a new-looking, shiny sofa that is protected from stains.
The only major downside is that you can't use the solution on certain leathers, like pre-treated leathers. And if you do accidentally use the product on said surface, you may darken the colour of the sofa.
In addition, the cleaner isn't likely to take out scratches on sofas. It will dull them temporarily. So, if you're hoping to get rid of Kitty's claw marks, you'd best look elsewhere.
3. Green Shield Leather Surface Wipes
Bottle size: No bottle – 210 wipes instead
If you're looking for a different approach, have a look at Green Shield's Leather Surface Wipes. As their name suggests, these are wipes instead of a pourable leather cleaning solution or cream!
Green Shield's Leather Surface Wipes are so easy to use and are zero fuss! There's no mess to contend with or dribbles to mop up. You just whip out a wipe and start wiping the whole leather sofa clean. It's as easy as that.
In this pack, you get 210 wipes (divided into three packets), so you'll have ample uses out of a single package and plenty of backup wipes. You also won't be charged a mini fortune for them. In comparison to other leather cleaners, the wipes are reasonable!
The slim design of the packets is another likeable feature. The packets are easy to store and lightweight, so you can keep them in cupboards and drawers. Or you can pop a pack in the car ready to wipe the leatherwork down whenever necessary – they're perfect for cleaning leather steering wheels.
Regarding their cleaning abilities, you can expect the wipes to remove grime off your leather sofa. Like other cleaners, the wipes will moisturise, condition, and rejuvenate the leather sofa (and other leather items) to a degree and leave the surface dust-free, smooth, and glowing.
But don't expect massive miracles. The wipes are not going to banish the stains, toughened grime, and scratches from your settee! If you're after more heavy-duty cleaning products, you'd better pick an actual leather cream or liquid cleaner.
Leather wipes have some drawbacks, as is the case with other cleaning wipes you use around the home. Namely, you'll go through quite a few wipes when cleaning an entire sofa!
Depending on how big and dirty your settee is, you may eat through a single pack of wipes quickly. Imagine wiping Rover's muddy paw prints off the couch—you'll need multiple wipes just to clean the dirt! Then, you'll have to use additional wipes to treat the surface.
In some cases, you'd be better off using a normal cloth to take out the dirt and then using the leather wipes to moisturise and shine up the couch!
Plus, wipes are one-time-use products. So, once you've used them, they have to go in the bin. In contrast, if you bought a cream, you'd get lots of uses from a single bottle!
Also, the wipes will go dry fairly quickly as you use them. And if you're unlucky and leave the packet open, the wipes will dry out in the cupboard. Essentially, you'll lose an entire pack of wipes – it's far from ideal and has happened one too many times to me!
In short, Green Shield's Wipes are arguably the most convenient and easiest-to-use type of leather cleaner on this list. But they're not the strongest cleaner and won't have the power you need to clean and thoroughly treat the stains and toughened dirt on your leather settee!
4. FurnitureClinic Complete Leather Care Kit
Bottle size: 500 ml (x2)
The Complete Leather Care Kit from FurnitureClinic is an award-winning kit that comes with all the essential solutions and application tools that you need to quickly and effectively clean ingrained grime from your leather sofa.
As well as improving the sofa's lifespan, the kit can protect it from stains, including water and oil-based ones.
The all-round kit is one of the priciest options. However, when you break the kit down into individual items, it's fairly reasonable!
In a pack, you get one 500 ml bottle of Leather Ultra Clean, which you use to remove grime from the settee, a 500 ml bottle of Leather Protection Cream, which is used to condition and add a protective coating to the leather surface, a sponge (to apply the cleaning solution) and a cloth (to apply the protective solution).
The Leather Care Kit is easy to use. You just apply the cleaning solution to the sponge and wipe it into the sofa. Then, repeat these steps using the protective solution and cloth.
There may be some elbow grease involved as you have to repeat the treatment steps twice (clean then protect), but the more you treat the sofa (recommended every three months), the quicker and easier the job will be.
Obviously, if you've got a really grubby sofa at hand, you'll take more time to clean it, and you may need to buy a replacement sponge/cloth, but you can factor this in later on.
Unlike other leather cleaners, you can use FurnitureClinic's Leather Care Kit to treat any colour sofa. The water-based formula shouldn't affect the material, and as a bonus, it's safe to be used around pets and kids.
It also has a slight leathery aroma. So, if you want to make your leather goodies extra smelly, this would be ideal for you. But don't worry, the smell isn't overpowering.
It's rather subtle and just gives your leather sofa that leathery-like smell it had when it was new. It will eventually wane if you're not keen on it, though.
The solution can safely clean and nourish other leather items, including car interiors, shoes, saddles and bags. You clean these items in the same way as you would treat a sofa.
Sadly, much like other leather cleaners, this solution cannot be used on all types of leather. For example, you must not use it on products made from nubuck leather.
In addition, you've got to be careful when ordering this product online. Sometimes, the product arrives squashed, and the solution(s) has leaked all over the kit's contents. It's a nuisance, to say the least, to write in and complain about this type of problem.
5. Dirtbusters Leather Cleaning And Conditioner Kit
Bottle size: 500 ml (x2)
Need something that's of a professional standard to clean your leather sofa? Look no further than Dirtbuster's Leather Cleaning And Conditioner Kit.
The UK-made kit comes with two 500 ml bottles; one is a leather cleaner, and the other is a conditioner.
When used in succession, they can clean and deodorise your leather piece! Depending on how odour-filled your settee is, a single treatment may be all you need to make your sofa whiff-free.
However, be prepared to treat your settee more than once if you've got an extra stinky three-piece suite at home (like one from a smoker's home).
In addition to neutralising foul smells, the cleaner can make leather sofas soft to the touch and protect them for longer (general wear-related issues).
As a bonus, the cleaner and conditioner can be used to clean more than just sofas. They can treat saddles, leather riding gear, shoes, car interiors, and clothes.
The formula created by Dirtbusters, who have 30 plus years of experience in the cleaning industry, is made from non-toxic natural oils, has been designed with the environment in mind, is suitable for vegans and is cruelty-free.
It's also safe to use around families with young kids and those with pets.
Like most leather cleaners, the Dirtbuster Leather Cleaning And Conditioner Kit is simple to use and can effectively remove dirt and re-shine sofas.
You will have to put the work in to clean and condition your sofa. This, of course, may take time initially, but if you stay on top of the maintenance, this process will eventually speed up.
The only issues you may face have to do with the delivery of said product! Occasionally, the kit will turn up at your house in a squishy state, and the items in the kit will be leaking. It's not necessarily the seller's fault. Nonetheless, this will impact how the product works or if it will work at all.
One thing is for sure: you'll have wasted valuable solution in the process. Given that this item isn't the cheapest on the list, it would be worth contacting customer services about the problem because you'll need a replacement!
6. Astonish Specialist Leather Conditioning Cream
Bottle size: 250 ml
Astonish's Specialist Leather Conditioning Cream is a readily available, easy-to-get-hold-of product that is sold in shops, supermarkets and online in the UK.
The fact that it isn't an online exclusive and can be bought in local stores relatively cheaply is handy if you haven't got access to an online shopping account!
Astonish prides itself on being biodegradable, not testing its products on animals and being vegan-friendly while also making sure that they create effective and easy-to-use products! Their leather conditioning cream doesn't fall short of these principles!
The cream, which comes in a 250 ml bottle, is relatively small compared to other leather cleaners mentioned.
Nonetheless, the cleaner works very well. It can clean general grime from leather sofas, restore the suites to their former glory, and nourish and protect the setees from future issues.
The solution is easy to use, and the guidance on the bottle's packaging is simple to follow. All you need to do is shake the bottle, pop a little cream onto a clean cloth, and then wipe the creamy cloth onto the sofa (small sections at a time) to clean the surface. You then grab another cloth and buff the leather sofa dry when you're done. And voila!
There may be some work involved for you. But that's going to be the case with most leather cleaners. So, it's not a significant drawback for Astonish's item!
As noted, Astonish's bottle is smaller than others. However, this is reflected in the price of the item, a price point that'll sit well with those of you who are new to the leather cleaning world and want to 'give something a go'.
Of course, if you've got lots of leather furniture to clean, you'll go through the small bottle relatively quickly, but because the product is reasonably priced, you could just double up.
7. Stardrops Leather Clean & Feed
Bottle size: 750 ml
Stradrops is a quick working solution that cleans and nourishes your leather sofa. The solution comes in a 750 ml bottle, one of the largest on this list, and provides good results.
It's a very simple-to-use cleaner. You just turn the nozzle to the 'On' position, squirt some solution onto a clean cloth, and then wipe the leather sofa in circular motions.
You then need to wipe the excess solution off the settee with another cloth and buff it to a shine. It's relatively straightforward if a bit taxing on the arms.
Stardrops's Leather Clean & Feed can maintain other leather items, including shoes, car interiors (steering wheels and seats), and clothes.
It isn't, however, suitable for nubuck, antique, and aniline types of leather. If you need to treat these kinds of leather, you must use a different product as the solution could cause irreparable damage to the leather surface.
The only trouble with this product is that it can be hard to come by. For example, it isn't readily available in shops or online, so you've got to put your name on a list so the 'shop' emails you when the product is back in stock.
This isn't exactly convenient, especially when you know there are other readily available products around that are reasonably priced!
In addition, although the bottle is larger than other bottles noted, you may still use a fair amount of solution to clean a single sofa because the liquid will dry quickly.
In this case, you may spray more solution onto the cloth to keep it moist so that you can effectively clean the settee. At this rate, you'd go through a bottle relatively quickly.
How to Clean a Leather Sofa
Cleaning your leather sofa ensures it sticks around for as long as possible and stays in excellent condition. So, what's the best way to clean a leather sofa?
Follow the steps below:
Find out what type of leather you're dealing with – unfinished (unprotected) or finished leather (protected) – this information will come in handy when cleaning/treating your sofa later.
Prepare your sofa for cleaning – brush or vacuum the settee to remove crumbs and clumps of dirt from it (you'll need to remove the sofa from its usual spot and any cushions).
Pre-treat any stains on the leather surface – based on the information in Step 1, choose a suitable solution that won't damage the material.
Grab your chosen cleaning solution and do a quick patch test with it. A small test will tell you if the product you plan on using will react with the leather. If there's no reaction, you can continue using said cleaner. If there is a reaction, you must stop using the cleaner immediately and find another solution.
Apply the cleaner to the sofa – start working from the top of the settee to the bottom, and don't add too much product, or you'll have a gloopy build-up on the leather surface.
Wipe any residue off the surface.
Treat the leather sofa to protect it for longer.
For a more in-depth guide, see our post on how to maintain a leather sofa.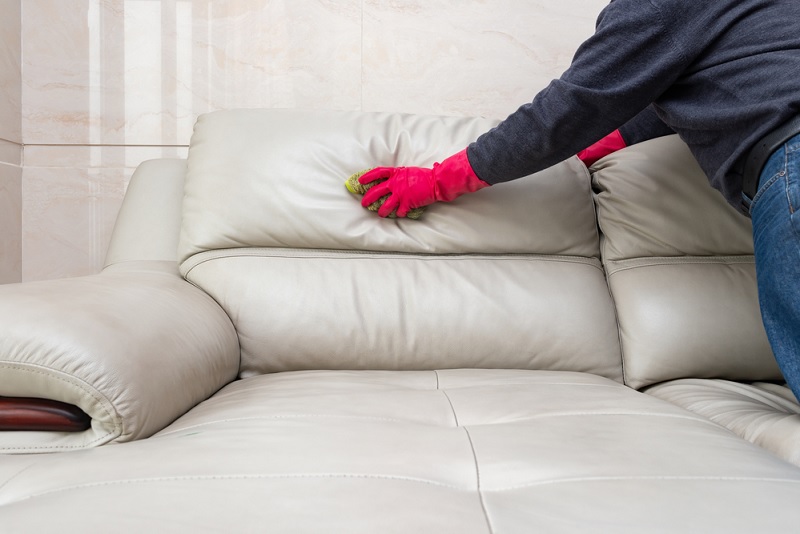 What Shouldn't You Use on Leather?
Don't use the following products on a leather sofa:
Excessive amounts of water
Bleach
Ammonia
Products containing bleach
Harsh cleaning tools – scourers and wire brushes
CIF Cream Cleaner should not be used on leather products.
When cleaning a leather settee, make sure you use the following products and tools:
Soft cleaning tools
Neutral-coloured cloths
Specialised leather cleaners
Very little water – stick to damp cloths
If using washing up liquid to clean a leather sofa, make sure it's a very mild soap and can be used on the type of leather you have (protected/finished leather)!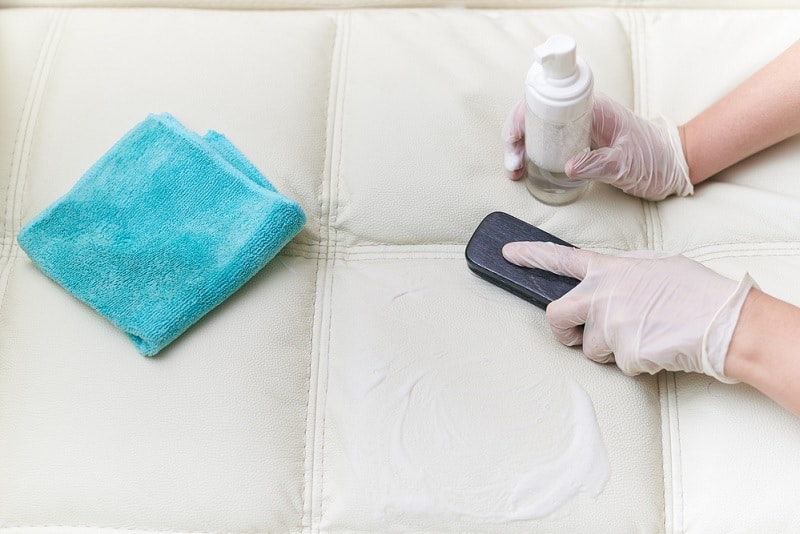 Conclusion
If we had to recommend one leather sofa cleaner, it would be Renapur Leather Balsam, Natural Balm, Conditioner and Restorer because it's simple to use, provides a good clean, and has lots of uses.
Although the solution may be pricier than others, it has a long shelf life, so this may justify the price. Plus, it's suitable for family and pet-friendly settings, which is a huge bonus.
However, FurnitureClinic Complete Leather Care Kit is also a good option because the kit comes with the solutions and tools you need to clean your sofa. There's very little fuss involved. You can grab the kit and get cleaning, which is incredibly valuable and saves time!

Bethan has a passion for exploring, reading, cooking and gardening! When she's not creating culinary delights for her family, she's concocting potions to keep her house clean!