Removing stains from carpets can be a taxing task that can cause no end of grief, especially if you keep buying the wrong type of cleaners for the job. You waste money, energy and time in the process, and in the end, you're no better off!
But what if we told you that the task could be a doddle with the right tools and stain removal products?
Keep reading to discover our picks of the best stain removers for carpets. Then grab the cleaner(s) you need for your house, and those dreadful eyesores you've got on the living, hall and bedroom carpets will be eradicated.
The Best Stain Remover Products for Carpets in the UK
1. Dr. Beckmann Carpet Stain Remover
Are you looking for a stain removal treatment for carpets that won't cost you a fortune but also works quickly? Check out one of the UK's best-selling stain removers, Dr. Beckmann's Carpet Stain Remover.
The 650 ml bottle comes loaded with plenty of solution that's tough on different kinds of stains (tea, coffee, and red wine, for example), both new and old, and can even be used to treat colours. However, do a patch test to ensure the ingredients don't cause any discolouration.
The speedy, oxy-power formula is simple to use and gets to work in as little as three minutes. All you need to do is remove the brush head, pierce the cap (make sure you don't make the hole too big, or you'll lose precious product!), replace the brush, and press the bottle gently.
In the process, the brush head will get coated in a small amount of cleaning solution, and you can then rub the head into the carpet!
The brush head makes short work of coating the blemished area, and the bristles ensure the solution penetrates the carpet's fibres, thus ensuring an effective clean!
Just watch for strands of hair because they like to get caught up in the bristles! If you spot any tangles, just remove them and carry on cleaning.
Once you've applied the stain remover to the surface, you'll have to blot it with a damp cloth. This is to ensure that no residue is left behind.
It's not a significant problem using a cloth to soak up the excess product, but it does mean that you have to gather additional tools. It's not a deal breaker, just something to be mindful of.
The stain remover can be used on many surfaces, including carpets, car interiors and upholstery. But be aware that Dr. Beckmann's Carpet Stain Remover contains bleaching agents.
If used on the wrong type of surface, say a delicate one, you could cause severe damage to it. So, as mentioned above, test the solution before you use it.
Overall, Dr. Beckmann's Stain Remover is incredibly convenient and is great to have around the house, but it doesn't always work the first time.
Often, you have to give a carpeted surface two treatments to see significant effects. It isn't too troublesome, and this is usually the case with most stain removers!
2. Vanish Carpet Cleaner + Upholstery Gold Oxi Action
Vanish Carpet Cleaner and Upholstery Gold Oxi Action is great for treating minor stains on carpeted surfaces. It can tackle coffee, tea, pet urine, soil and red wine, to name a few common household stains.
It isn't as effective at cleaning large stained carpeted areas, though. For this, you'll need to use a different carpet cleaner.
Nonetheless, the cleaner is more than capable of clearing general sains away and ensuring that lingering odours do not plague carpets.
The product is straightforward to use and can be used as soon as it is bought! There's no need to dilute it or measure out any dosages beforehand, which is handy when you need to tackle a blemish at warp speed.
To use the solutions, open the nozzle, squirt the solution onto the stain, blot the stain with a cloth, then dab the area with a damp cloth. You'll notice the stain vanish in a few minutes.
Of course, if you've got a particularly tricky stain or an old one, you may have to repeat the steps above, but it shouldn't be too time-consuming for you.
On that note, don't over-press the trigger on the spray bottle and saturate the carpet in product. Work on the basis that less is best.
If you soak the carpet in product, it will take an age to dry, and you could end up with stained patches because the product hasn't been used effectively.
Plus, if you overdo it with the stain remover, you'll go through a 500 ml bottle of Vanish quickly and won't get good value for money out of it.
3. Folex Instant Carpet Spot Remover
If you're looking for a product that can remove stains from carpets but doesn't leave a putrid odour behind, have a look at Folex's Instant Carpet Spot Remover.
The USA-made, water-based solution comes in a 900 ml bottle (approx.) and is safe to use around children and animals (provided you use the item correctly). It can treat carpeted surfaces tainted by pet urine, grease, oil, ink and red wine, to name a few common stains!
The formula does help to reduce the appearance of stains but doesn't always remove every blemish in its entirety, which is a slight issue.
In most cases, you have to apply at least two treatments to the surface to see the desired result. Most of the time, this is okay because there's enough product in the bottle. It is, however, extra work for you, which could be a problem.
In addition, how you place/use the solution on a carpeted surface may impact how well it works.
For example, if you actively blot the formula into the carpet so it can bury itself deep in the carpet's fibres, you'll find that it works well. But if you just apply the solution, do nothing, and then hoover the surface, you won't get the best end result. The stain will usually remain on the surface if you don't interact with it.
Of course, the more you interact with the stain, the more energy and time you invest in the task. If you're short on time, this isn't exactly ideal, especially when there are faster-working stain removers to be had at a fraction of the price, too!
4. Dirtbusters Pet Carpet Cleaner Shampoo
Dirtbusters Pet Carpet Cleaner Shampoo is the ideal cleaner if you live in a home with pets! The formula is of a professional standard and doesn't just clean stains made by Duke and Daisy the doggies but also neutralises the odours they leave behind.
Dirtbuster's Pet Carpet Cleaner Shampoo is a concentrated solution that comes in a massive 5l bottle. This is a vast amount of product, and it will cost more to buy than other products, but the cost can be justified because one bottle will last you a long time (longer than some other products).
The UK-made cleaner from Dirtbusters is biodegradable, non-toxic and has not been tested on animals as a bonus! It can also be used in most leading carpet cleaning machines. This includes Vax and the Rug Doctor.
When using the cleaner, you must make sure you dilute it correctly, or else it'll be too strong.
Plus, if you add too much solution to the machine you plan on using, you'll end up with a load of foam.
You can, of course, get rid of this foam by rinsing it off the carpet. But this is usually an extra needless step that could be avoided.
Dirtbuster is excellent at ripping through any pet-related mess, including wee-wees, poop, and vomit. And it ensures that the carpeted surface is stink-free and smells of geranium and chamomile instead.
The aroma isn't too overpowering. But it's not going to tickle everybody's scent buds. It is, however, much better than smelling urine all around the room.
Furthermore, although the Dirtbusters Pet Carpet Cleaner Shampoo is fabulous at getting rid of pet-made stains, it doesn't always manage other blemishes, like food-related ones, as well.
In this case, you may be better off getting a stain remover that specialises in removing food-related blemishes (several stain removers on this list can eradicate such marks with ease!) and keeping the Dirtbuster Pet Carpet Cleaner Shampoo for pet-related mishaps.
5. 1001 Carpet Stain Remover
1001 Carpet Stain Remover is a moderately priced stain remover that can be picked up in shops and online. It uses a foaming action to remove small to medium-sized blemishes from carpeted surfaces and can manage the task well.
It's most suited to food-related stains, like wine and coffee marks, and can be used on delicate surfaces. Although, you must do a patch test before you try this out just in case the solution causes some discolouration.
The handy spray nozzle allows you to target and spray the solution onto the carpet, so you don't spray the formula over unblemished surfaces! It's a mess-free treatment.
Of course, you need to ensure you don't get too 'spray happy' and soak the carpet in solution. If you do this, the surface will take a while to dry out, and you'll have wasted valuable cleaning solutions in the process. So, use the formula sparingly.
Like other carpet stain removers, 1001 is easy to use and doesn't require too much input from you. You just blot the excess mess off the carpet with a cloth, apply the 1001 solution to the area, wait a few minutes, and then blot the surface clean using a damp cloth.
When you've cleaned the site, you leave it to dry and then hoover it. It's very simple, and the whole process won't take you too long to complete.
When it comes to specific stains, like red wine, you may have to re-treat them using the steps above. But this isn't a major flaw because many stain removal treatments need to be repeated more than once.
Just keep this in mind if you're buying 1001 online, the bottle can leak during transit. This isn't always the company's fault. Nonetheless, you may end up with a half-empty bottle of stain remover. In turn, you'll be out of pocket.
Leaking goods is a nuisance, but it is a risk you take when buying solutions online!
6. HG Stain Remover Extra Strong
HG's Extra Strong Stain Remover uses active oxygen to remove pesky stains from carpets. It's this tough formula that allows it to drag out the grime and leave surfaces looking cleaner.
The solution comes in a 500 ml bottle, and all you need to do is spray the solution onto the surface, wait a few minutes while the formula works its way deep into the carpet's fibres, and then blot the area clean using a damp cloth.
There's no fuss regarding diluting the product in water beforehand. You can use the solution as soon as you get it home.
It can be used to treat new and old stains. But it works incredibly well on new stains – the type of marks where you react super quickly and don't allow them to set in.
As a bonus, HG's stain remover can be used to treat stained furniture and upholstery! And it's ideal if you need to remove red wine, coffee, lipstick and grease stains from these areas. (Make sure you do a patch test before using the cleaner on a surface).
As with any product that contains bleaching agents, you must be careful that the surface you need to clean doesn't end up bleached and discoloured by the formula. HG's stain remover shouldn't be treated any differently!
Although HG's product is one of the toughest on this list, it isn't always effective at removing urine stains and smells left behind by a pet.
However, you could argue that this product doesn't specify that it can be used for that. So, you should cut it some slack and consider using another cleaner from the HG range that is designed for cleaning up pee-pee-related mishaps/odours.
7. Stikatak Carpet Stain Remover
Are you on the lookout for a multipurpose bargain when it comes to stain removers? Stikatak Carpet Stain Remover has you covered.
A packet contains three cans of stain remover, and each can contains 400 ml of solution. The cans are easy to store and can be kept in different spots around the house, caravan and car in case there's an emergency that needs to be cleaned up!
The stain remover isn't difficult to use. To use the solution, just absorb excess grime from the stained area, then spray an even layer of product onto the site.
Wait a few minutes as the solution draws out the stain, and then blot the whole area with a damp cloth (work from the outside of the blemish toward its centre, so you don't spread it around).
After you've cleaned the carpet, you'll be left with a gentle citrus-like aroma, which isn't overpowering by any means and wanes after a while anyway.
Overall, Stikatak Carpet Stain Remover is great at removing the visibility of most blemishes on carpeted surfaces, even if it cannot eliminate an entire stain.
However, it works better on minor blemishes rather than more significant ones. It's also better to use this solution immediately after a stain has appeared rather than on aged marks.
At first glance, the pack of three cans seems pricey, but when you break the cost down to each unit (can), the fee falls in line with other moderately priced stain removers. So, it's not too bad.
What's the Best Stain Remover for Old Carpet Stains?
Deciding the 'best stain remover for old carpet stains' can be difficult because 1) you might not know how long the blemish has been on the carpet, and 2) you might not know what the stain is.
Based on this information, you can assume that it'll be a case of trial and error with the products above to see which one will perform best and eliminate the blemish for you.
Undoubtedly, some items will work better than others, and a few will have no impact at all. Unfortunately, you may only find this out after using a product. This is annoying, but this is often the only way to treat old stains.
In general, when it comes to aged stains, you must accept that you may never be able to remove the entire blemish from the surface. All you'll be able to do is dull its appearance.
In addition to the specialised stain removers mentioned above, you could also try to remove the blemish using household products like white vinegar, bicarbonate of soda, and rubbing alcohol.
Again, remember that these products may have limited success if the stain has been on the surface for a while or you don't know what it is.
Of course, if you find yourself in a real pickle, you can always call a professional carpet cleaner to treat and clean your carpet.
A quick online search will bring up suitable professionals in this field – just pick someone with a good reputation and who is reasonable!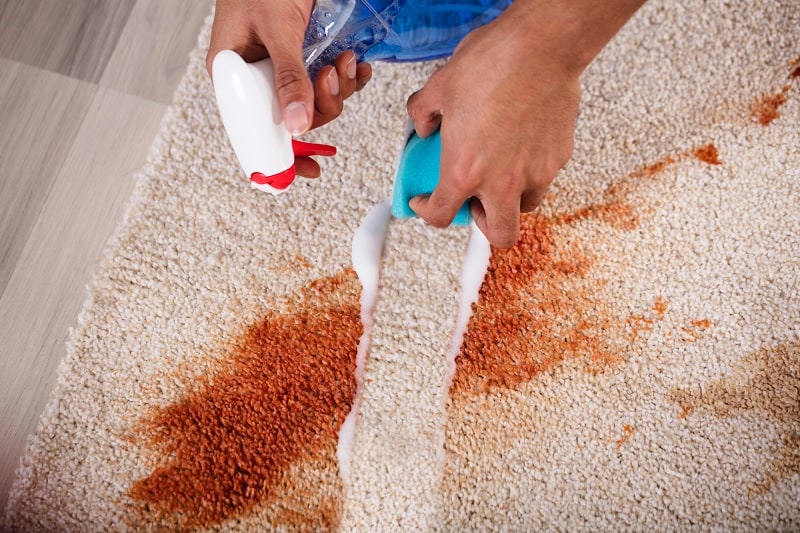 How to Choose a Stain Remover for Carpets
When choosing a stain remover for your carpet, think about the points below:
Type of stain
Consider what type of stain(s) you have to deal with before buying a stain remover. The type of blemish you have to treat will determine what kind of solution you need to use.
For example:
Food-related stains include red wine, curry, coffee and ice cream. These types of stains can be treated using the products mentioned above.
Pet-related stains include urine, poop and vomit. They will need to be treated with an enzyme-based cleaning solution.
The enzymes will break down the proteins and treat the carpet effectively. If you use a general cleaner that doesn't contain enzymes, you won't clean the mess off the carpet, and your pet may go back and pee/poop in the spot over and over again.
General stains include playdough, ink, and nail varnish. They can often be treated with the products mentioned above. But occasionally, they can be treated with other household goods, like white vinegar, bicarbonate of soda, and rubbing alcohol.
Type of carpet
Consider what your carpet is made from. Is it manmade (polypropylene, acrylic, or nylon), or is it natural (wool or sisal)?
Consider the colour of the carpet, what pile it has, and if the surface is patterned or textured.
You must choose a suitable product to clean your carpet. If you use the wrong kind of cleaner, you'll likely discolour your carpet and may cause permanent damage to the material.
Price
How much do you want to pay for the solution? This usually boils down to personal preference and situation.
Ease of use
Before you invest in a stain remover, read the instructions on the packaging and find out how much elbow grease is required.
If you lead a busy life, perhaps you have kids and pets to look after, you don't want to spend all day treating a carpet. You need a quick and easy solution!
Of course, the 'quickest solution' isn't necessarily the best option. So, in some cases, you'll have to use a product that needs more input from you and more time to work. This, however, does come down to personal preference and situation.
Environmental impact
If you're conscious about the environment, consider getting a solution that is greener and better for the environment.
Special requests
Think about any requests you might have before buying a stain remover. For example, do you need any of the following:
Pet-friendly solution
Vegan-friendly product
Cruelty-free cleaner
A solution suitable for those with allergies
Make sure you pick a product that matches the special requests you have! For example, don't buy something that will set someone's allergies off!
Is it easy to get hold of?
It's also worth considering how easy it is to get hold of your product of choice.
Sometimes, stain removers are online exclusives and can only be bought through Amazon. In comparison, other products can be purchased in shops.
If you shop online regularly, buying cleaners online isn't going to be too much of an issue for you.
However, if you don't do much online shopping, you'd be better off choosing a stain remover that can be picked up in a supermarket or shop so you can actually buy it.
Plus, if you need regular and quick access to a stain remover, it would be a good idea to buy something that can be purchased in a shop.
Buying said product from an actual shop means you can pop to the store to buy a bottle of solution, dash home and treat the carpet. This is much better than waiting for a delivery to come because during this time the blemish will age and become trickier to remove.
Scent
Consider what scent (if any) your stain remover of choice must come with. The last thing you want is to treat your carpet with a solution that you don't find pleasing!
The smell will only linger and annoy you. And in the worst case, it could set off someone's allergies.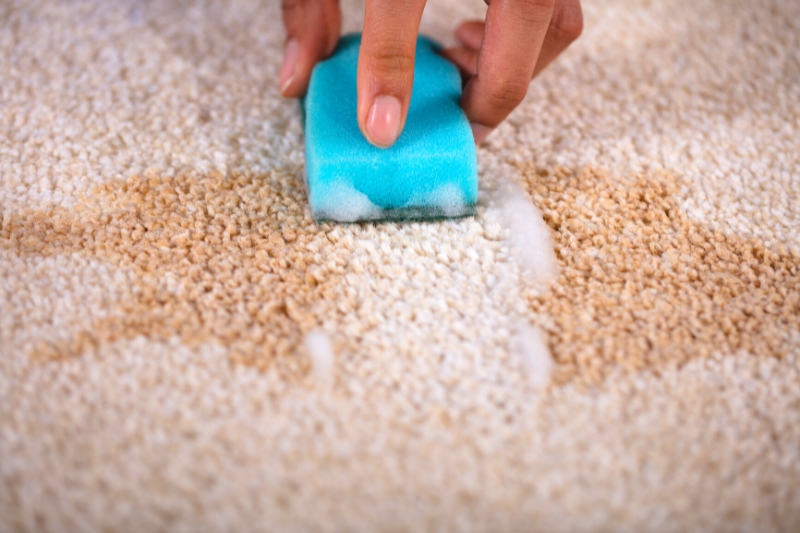 Conclusion
If we had to recommend a stain remover for carpets, it would be Dr. Beckmann Carpet Stain Remover. It's reasonably priced and comes with a handy brush head that can help you apply the solution to a carpeted surface.
That being said, if you're after something designed for treating carpets coated in pet-related messes, you can't go wrong with Dirtbusters Pet Carpet Cleaner Shampoo.
The bottle is a whopping 5 litres in size, so you'll get lots of use out of it, and it can neutralise the pesky pet-related odours in your home.

Bethan has a passion for exploring, reading, cooking and gardening! When she's not creating culinary delights for her family, she's concocting potions to keep her house clean!