If you're looking into redecorating or you're researching alternatives to chemical household cleaners, you may have stumbled across sugar soap solution.
But what is sugar soap and what can it be used on? Keep reading as we break down its main ingredients and many potential uses, plus some safety tips to consider when working with sugar soap as a newbie.
What Is Sugar Soap Made From?
Despite its name, sugar soap doesn't actually contain any sugar. Its powdered form just looks a bit like sugar crystals!
Sugar soap's key ingredients are actually sodium phosphate, sodium carbonate and sodium silicate, though each manufacturer has their own formula.
What Makes Sugar Soap a Good Cleaner?
Two of sugar soap's ingredients, sodium carbonate and sodium phosphate are both commonly used in detergents, while sodium silicate adds a slight abrasiveness.
This is great for breaking down dirt, grease and oil stains, without the harshness of stronger chemical cleaners.
With that in mind, sugar soap can be used on a range of surfaces without causing any damage.
What Surfaces Can You Use Sugar Soap On?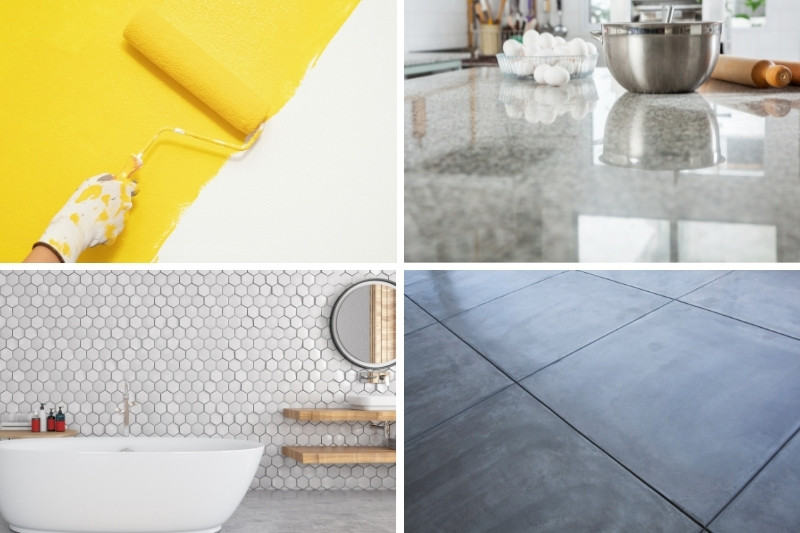 1. Painted walls
When it comes to preparing your walls for decorating, a liquid sugar soap such as SupaDec Sugar Soap diluted in water is ideal. It will gently remove built-up grime that could prevent new paint from sticking properly, without stripping old paint or impacting the wall's texture.
All you need to do is mix ¼ cup of liquid sugar soap with 5 litres of warm water. Next, dip a sponge into the solution and clean the walls down from top to bottom.
When you're done, leave them to dry for at least 2 hours before painting them, or ideally overnight if you can.
Tip: spot treat stubborn marks with undiluted sugar soap and a non-scratch scourer. Just remember to rinse the area afterwards to remove any residue and prevent discolouration.
2. Kitchen worktops and appliances
Diluted liquid sugar soap also works well as a general cleaner for kitchen counters and appliances that are prone to food splatters.
Simply mix 1/8 of a cup of soap with 2 litres of water, then pour the solution into clean spray bottles so it's ready when you need it.
Then, all you have to do is spritz the area you want to clean and use a damp cloth to work off any grease stains.
Next, rinse the surface well with fresh warm water to remove any leftover soap scum. Then you can dry it off with some paper towel or a lint-free cloth.
Tip: dining alfresco? this mild solution can also be used to remove dust and dirt from outdoor furniture. Just spray it onto the surface then wipe with a damp cloth and leave it to air dry.
3. Bathroom surfaces
Sugar soap is also useful for cleaning bathrooms. For showers and tiles, you can use the same spray solution as above for ease.
However, a powdered sugar soap is generally best for cleaning toilets, baths and sinks, as it can breakdown limescale more effectively. It also works out much cheaper than liquid sugar soap for larger surface areas!
Simply sprinkle some EverBuild Sugar Soap Powder (or similar) directly onto the area you want to clean, making sure it's slightly damp first, and leave it to sit for an hour.
If cleaning a toilet, flush the toilet first then apply the powder to make sure it isn't sitting in a dry bowl.
When time's up, scrub the bowl with a toilet brush then flush to rinse. For baths and sinks, wipe off the excess powder with a damp cloth, rinsing the cloth as needed in between wipes.
Once you've finished cleaning the surface, rinse it well to remove any remaining residue.
Tip: avoid getting the powder on metal taps and fixings, as sugar soap can tarnish certain metals. If you do so by mistake, be sure to rinse it off immediately to prevent any damage.
4. Laminate and concrete flooring
In addition to cleaning kitchen and bathroom surfaces, sugar soap can also be used on flooring.
For laminate flooring, dilute ¼ cup of liquid sugar soap in a bucket of warm water and use a mop to clean the floor as you usually would.
Once clean, empty the bucket, refill it with clean water and then re-mop the floor to rinse off any white marks and streaks.
For concrete floors, like those in garages, powdered sugar soap is ideal for removing grease and oil stains from spillages.
Just sprinkle a generous amount of powder directly onto the stain and then spritz some water over the powder to dampen it.
Leave the mixture to sit for at least 30 minutes, then scrub the surface clean with a stiff brush. Finish up by rinsing the floor down with a mop dipped in warm water.
Tip: don't use sugar soap on wooden flooring as it can cause discolouration in some cases.
Is Sugar Soap Harmful or Toxic?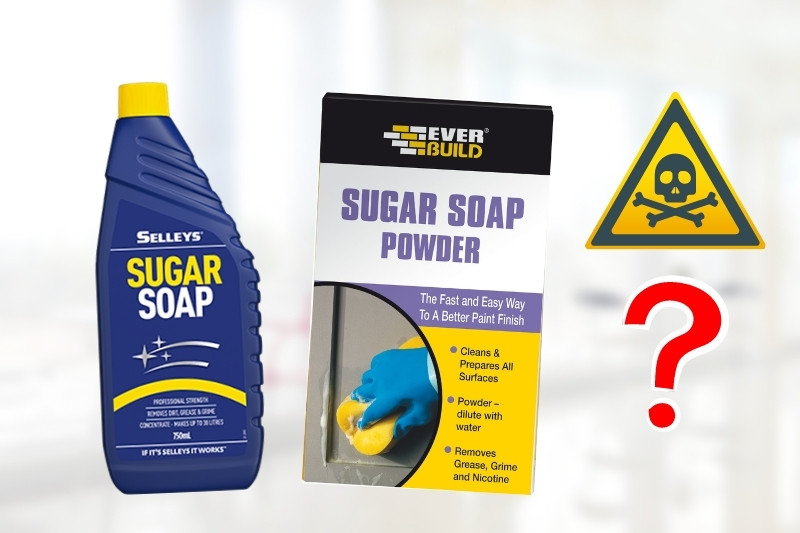 While sugar soap is non-corrosive and safer than many cleaners, as an alkaline solution, it can still cause irritation.
In particular, it can dry out skin and cause cracking, so you should always wear rubber gloves when cleaning with sugar soap.
It's also a good idea to wash your hands well after use and avoid rubbing your face and eyes until they're fully clean.
When working with powdered sugar soap, you should also wear a dust mask so that you don't breathe any of it in by accident.
Donning a pair of safety glasses and opening the windows in the room you're working in for extra ventilation is also good practice.
When cleaning down walls, we'd recommend protecting your carpeted or wooden floors with a dust sheet to prevent any spillages that could leave marks.
Plus, you'll want to make sure you're using a non-scratch sponge or cloth when cleaning walls, particularly on eggshell and satin finishes, as they're not as robust as gloss and semi-gloss paints and may be marked.
For more helpful DIY cleaning tips such as how to get rid of white marks on worktops and how to remove marks from walls without damaging paint, take another look at our blog.

A proud Yorkshire lass with a love for movies, music and cosy nights in! Once a self-confessed avoider of cleaning, she's always on the lookout for new ways to make household chores as quick and simple as possible.