As people become more aware of their impact on the environment, there has been a rise in the use of eco-friendly cleaning products. This has caused many to switch to more sustainable cleaning options, including DIY replacements.
One cleaning product that can easily be made at home is dishwasher detergent.
However, with many recipes calling for ingredients not readily available in the UK, it can be hard to know where to start.
To make things easier for you, we have compiled a list of the best homemade dishwasher detergents using UK ingredients.
So why not try one of the following recipes and see the amazing results for yourself?
Homemade Dishwasher Powder Using Oxygen Bleach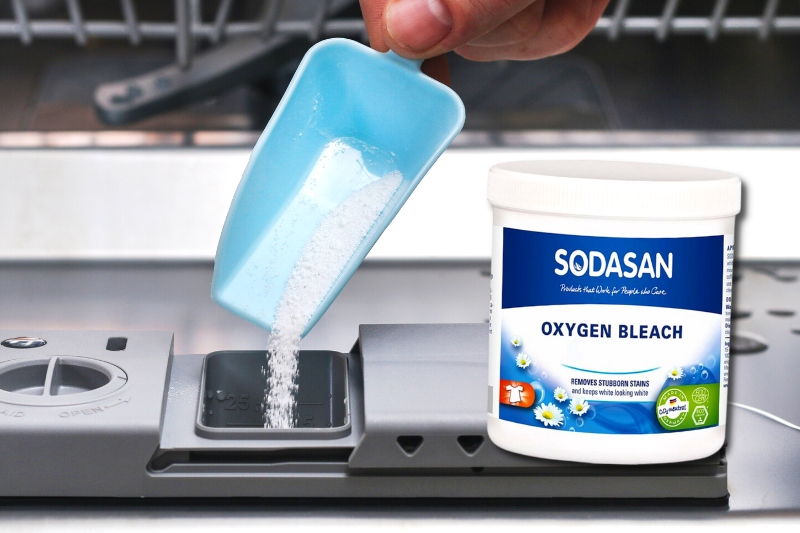 The first dishwasher detergent on this list is a powder detergent that will take you less than 5 minutes to put together.
It's guaranteed to leave you with sparkling clean dishes, even if you live in an especially hard water area.
Equipment & ingredients
For this recipe, you will need the following:
450g soda crystals
450g powdered oxygen bleach (sodium percarbonate)
125g dishwasher salt
1 tbsp plant enzyme powder (optional)
Essential oil (optional)
A large mixing bowl
A spoon
An airtight container
Gloves
Method
Put on your gloves and measure out all your dry ingredients into a large mixing bowl.
Use a spoon to stir the powder until everything is evenly distributed.
If desired, add a few drops of essential oil and stir thoroughly until any clumps have broken apart.
Transfer your dishwasher powder to a large airtight container.
Store the detergent in a cool, dry place for up to a year.
How to use
For an average-sized load of dishes, you will need to add two tablespoons of the powder to your dishwasher's detergent compartment as you would your regular detergent.
This amount can be altered slightly depending on the size of your load and the dirtiness of your dishes.
Homemade Dishwasher Powder Using Citric Acid Powder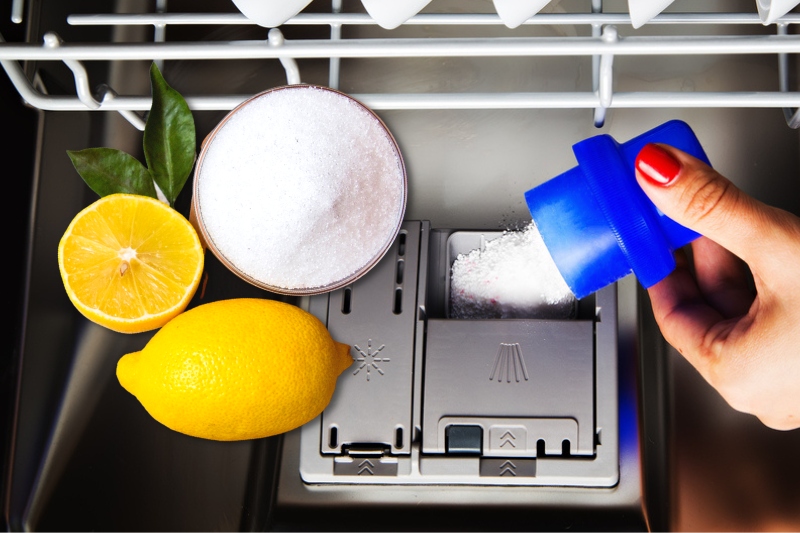 This next recipe is another type of powdered dishwasher detergent that will only take a few minutes to whip up.
It is a powerful cleaner that will leave your dishes squeaky clean by combining soda crystals and citric acid.
Equipment & ingredients
The full list of ingredients, all of which are available in the UK, is as follows:
900g soda crystals
225g citric acid powder
225g dishwasher salt
Essential oil (optional)
A large mixing bowl
A spoon
An airtight container
Gloves
Method
Make sure you're wearing protective gloves, and then add all the dry ingredients to a large mixing bowl.
Stir the mixture until all the ingredients are evenly distributed.
If you want your detergent to be fragranced, add a few drops of your chosen essential oil and stir until properly combined.
Transfer your dishwasher powder to a large airtight container.
Store the detergent in a cool, dry place for up to a year.
How to use
To use this detergent, you must add roughly two tablespoons of powder into the detergent compartment per washing cycle.
You can alter this amount as required based on the size and dirtiness of your load.
If you use slightly too much dishwasher powder, you may notice a white film on the surface of your dishes.
This can easily be polished off using a clean tea towel, but we highly suggest reducing the amount of detergent you use for future cycles if you experience this issue.
Homemade Dishwasher Tablets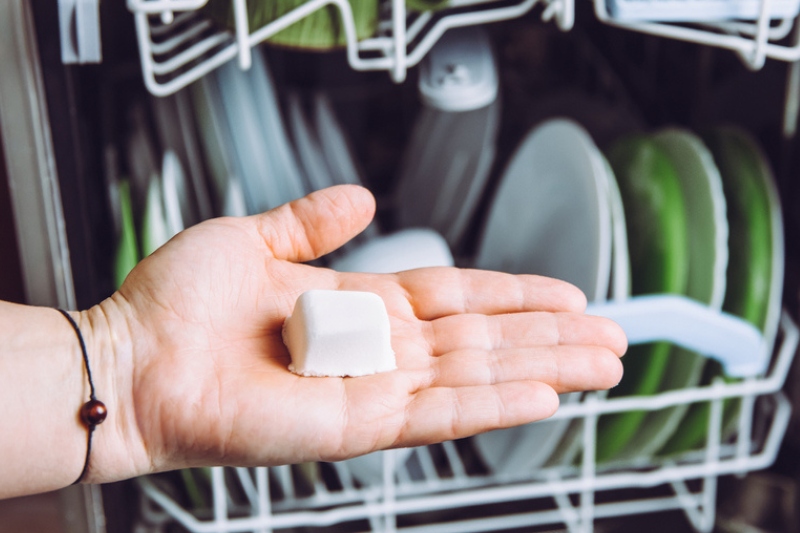 If you prefer using dishwasher tablets when doing your dishes, this is the recipe for you.
Moulding your detergent into tablets will save you the time of measuring out the detergent later on. However, the process for making them is slightly more complex, and they cannot be made in bulk.
Equipment & ingredients
To make DIY dishwasher tablets, you will need the following:
150g bicarbonate of soda
150g citric acid powder
38g dishwasher salt
Essential oil (optional)
A large mixing bowl
A large spoon
A teaspoon
Ice cube trays
Gloves
Method
Put on your protective gloves and add the dry ingredients to a large mixing bowl.
Slowly pour in the vinegar and a few drops of essential oil (if desired). The mixture will start to bubble and fix.
Thoroughly mix the ingredients so that they are evenly distributed.
Let the mixed detergent sit until the fizzing has completely stopped and the ingredients have clumped together. Then, give the mixture a good stir.
Fill each ice cube compartment halfway full with the detergent mixture, pressing down with a teaspoon to ensure it becomes compact.
Repeat with the remaining detergent, putting another spoonful on top so that the ice cube compartments are completely full.
Place the ice cube trays in a cool, dry place overnight.
Once the tablets have set, pop them out of the moulds, transfer them to an airtight container, and store them in a cool, dry place.
How to use
When doing a load of your dishes, you can add a tablet to your dishwasher's detergent compartment as you would with a shop-bought variety.
These tablets won't be as solid as branded dishwasher tablets, so they may crumble if held too tightly. If this occurs, you can simply place the pieces into the detergent compartment instead.
Why Use Natural Dishwasher Detergent?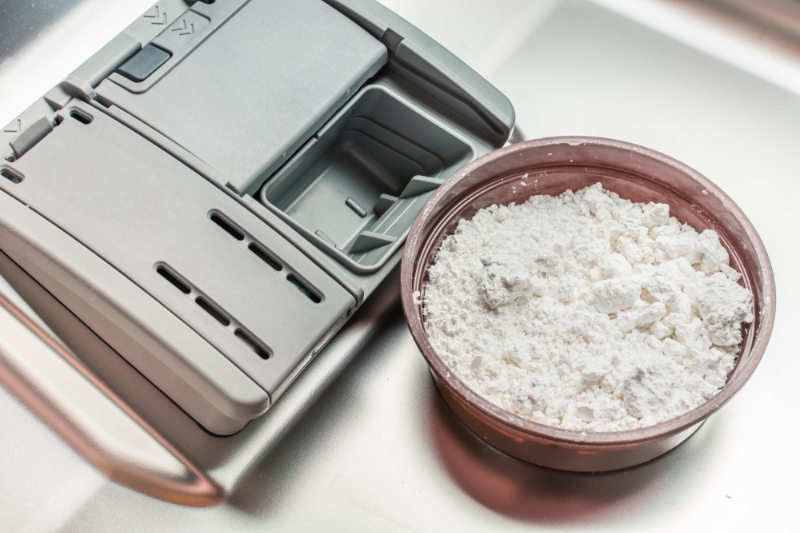 Homemade dishwasher detergents that use natural ingredients are a great addition to any dishwashing routine.
Don't just take our word for it, though! Below are three benefits of using a homemade dishwasher detergent over a commercial one:
1. No harsh chemicals
Regular dishwasher detergents contain harsh chemicals that can be harmful to humans.
By making your own detergent, you can be sure that your dishes are only washed with gentle ingredients that are generally better for your health.
2. More sustainable
Homemade dishwasher detergents are more environmentally friendly than commercial products as they produce less plastic waste.
Store-bought products typically come in non-recyclable packaging, while any waste from homemade detergents comes from packaging for the ingredients, which is generally recyclable.
3. Cheaper
Bulk-buying the ingredients needed to make your own dishwasher detergent is usually more cost-effective than buying a commercial product.
This difference won't be too noticeable, but the amount saved will add up in the long run.
If you still don't think homemade dishwasher detergent is for you, you could try some eco-friendly brands instead. We highly recommend Smol dishwasher tablets, as they routinely get good reviews. You can also order them on subscription, so you are never caught short.
Is Homemade Dishwasher Detergent Safe for Your Dishwasher?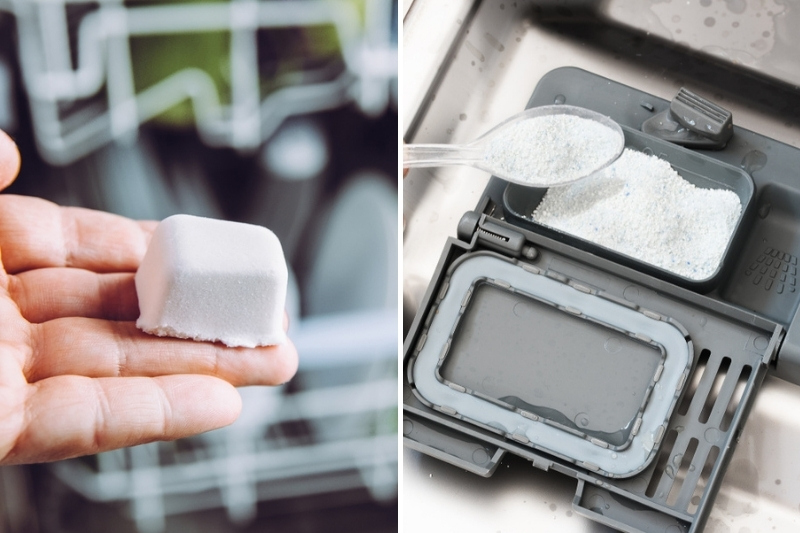 In general, homemade dishwasher detergents are safe for use in your dishwasher.
However, we highly recommend that you first check with your dishwasher manufacturer to ensure that using any of the detergents in this article won't invalidate your appliance's warranty.
There are also a few things you must be careful of to avoid unnecessary damage:
Using too much vinegar
While vinegar is a natural cleaning agent, it is also mildly acidic. This means that large quantities of the solution can start eroding the rubber seals and gasket in your dishwasher, cutting its lifespan.
Fortunately, this is unlikely to occur when the vinegar is used in minimal amounts, such as in the dishwasher tablet recipe above.
However, feel free to use one of our alternative recipes if this is something you would rather avoid.
Using washing up liquid
Despite being the go-to for handwashing dishes, washing up liquid is one substance we highly suggest you avoid putting in your dishwasher.
This is because the suds created by the washing up liquid cannot be circulated around the dishwasher as well as regular dishwasher detergents, leading to a reduction in cleaning power.
This being said, many people still use washing up liquid in their dishwashers and don't notice any adverse effects.
For example, the Huffington Post has a simple detergent recipe that they recommend that uses this cleaner. Ultimately, it's up to you whether or not you want to give it a go.
Lack of preparation
When switching from a commercial dishwasher detergent to a homemade one, it's essential to clear your appliance of any mineral deposits or residues that have built up during use.
This can be done by giving your dishwasher a thorough clean before using your new detergent.
Many people skip this step, but it will cause your dishes to come out of the wash even more soiled than when they went in.
This is because the ingredients in homemade detergents will loosen any build-up and redeposit it onto your dishes.
Taking the time to prepare your dishwasher beforehand will ensure you get the best results.

Hannah is a freelance content writer with a passion for cleaning. She worked her way around Australia by cleaning hostels in exchange for free accommodation and used her cleaning skills to bag her a job as a chalet host for a luxury ski company in France.