When it comes to choosing a dishwasher detergent, you have an overwhelming number of options. There are hundreds of brands out there, each offering different features, formulas, and prices.
Two of the leading brands of dishwasher tablets are Fairy and Finish. Both brands claim to offer unbeatable cleaning power and a sparkling clean finish, so which one should you choose?
In this article, we compare Finish vs. Fairy dishwasher tablets on several factors, including cleaning performance, ease of use, and environmental impact.
Hopefully, this guide will help you to decide which brand of dishwasher tablet is the right one for you.
Types of Dishwasher Tablets Available from Fairy & Finish
Both Fairy and Finish offer a range of dishwasher tablets designed for different cleaning needs and budgets.
Before we start comparing the two brands directly, it's important to understand the different products available in each range.
Each of these products is listed below. They typically come in a variety of pack sizes and are available as regular or lemon-scented.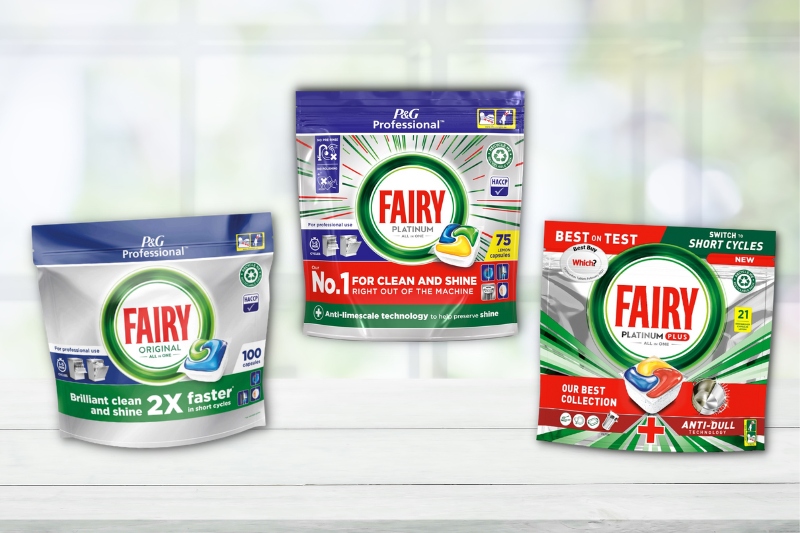 Fairy dishwasher tablets
Fairy Original All-In-One: Fairy Original dishwasher tablets are the most affordable option out of the three Fairy products. They are designed to remove typical levels of build-up from your dishes and work well at all water temperatures.
Fairy Platinum All-In-One: Fairy Platinum dishwasher tablets are also designed to work at any temperature but have some added cleaning power. This means they are better at tackling tough stains and removing deep-set grease and grime.
Fairy Platinum Plus All-In-One: Fairy Platinum Plus is the most effective dishwasher tablet type that Fairy offers. They are the newest addition to the range and have been designed to have increased grease-cutting power.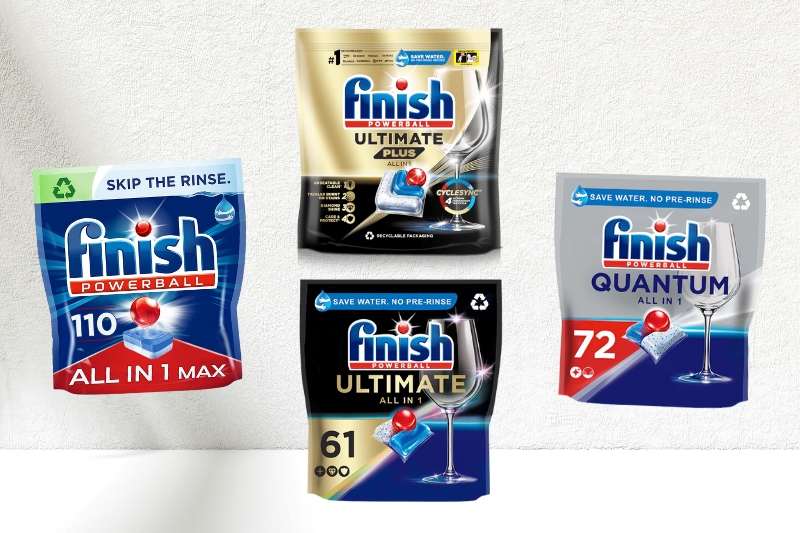 Finish dishwasher tablets
Finish Powerball Max All-In-One: This is one of Finish's cheapest products. Their unique formula is designed to work at any water temperature and still give the best results. It also includes a Powerball, which releases bubbles that help to dissolve even the toughest stains.
Finish Quantum All-In-One: Finish Quantum dishwasher tablets have a three-chamber technology that releases the cleaning agents at any water temperature. They provide a slightly deeper clean than the Powerball Max but are still one of the cheaper options.
Finish Ultimate All-In-One: Finish Ultimate tablets contain cleaners that will leave your dishes sparkling clean and protect them from corrosion. This is also the only type of dishwasher tablet on this list to offer a fragrance-free option (Finish Ultimate Zero).
Finish Ultimate Plus All-In-One: Finish Ultimate Plus is the most advanced dishwasher tablet Finish offers. It has all the benefits of the other tablet varieties but also uses CYCLESYNC technology, which ensures the four cleaning agents are released at different times during the cycle to provide the best results.
Fairy vs. Finish Dishwasher Tablets Compared
1. Cleaning action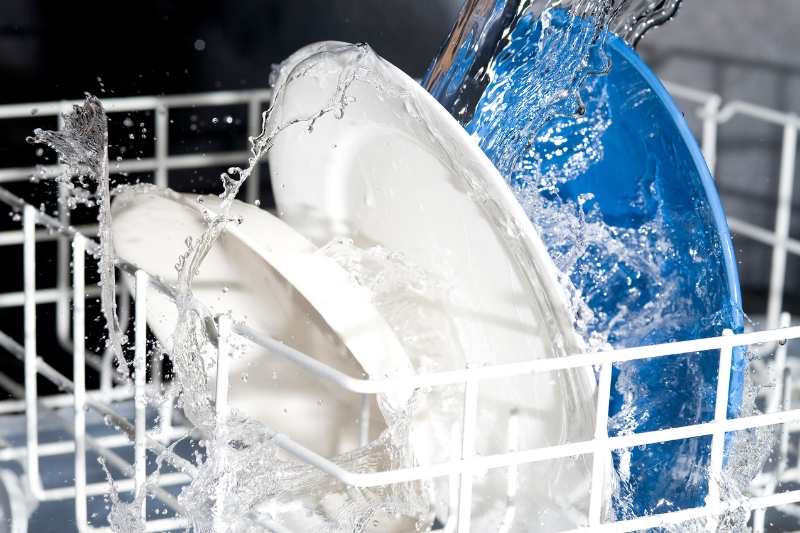 Both Fairy and Finish dishwasher tablets offer a powerful cleaning performance. They have a variety of different products based on your individual needs and regularly receive good reviews.
This being said, Finish does tend to have a slight edge over the Fairy range. Their products all regularly receive five-star reviews, and their most advanced formula (Ultimate Plus) has the added advantage of CYCLESYNC technology to boost their cleaning performance.
In comparison, Fairy's dishwasher tablet options are regularly rated as the best for achieving a shiny finish. However, some consumers have reported that the tablets don't work as well on tough stains and sometimes leave behind a weird-tasting residue.
Cleaning action rating:
2. Ease of use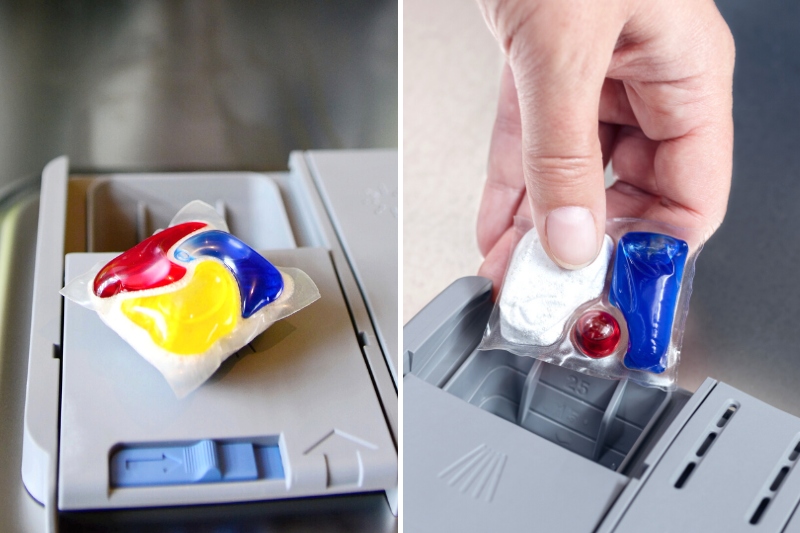 When it comes to ease of use, Fairy and Finish are very similar. Every product within these ranges has an all-in-one formula, meaning the need for rinse aid and dishwasher salt greatly reduces.
Both also claim that pre-rinsing is not required when using their products, and the tablets are designed for one-time use.
Simply place one of the tablets into your dishwasher detergent dispenser and run the washing cycle to let it work its magic.
There have been some complaints that Fairy dishwasher tablets are too bulky to fit in the dishwasher dispenser. This is not always the case, as it depends on your dishwasher brand, but it is not ideal and does give Finish another slight advantage.
Fortunately, Fairy has said that their tablets can be placed in the utensil basket rather than the dispenser if this occurs.
Ease of use rating:
3. Environmental impact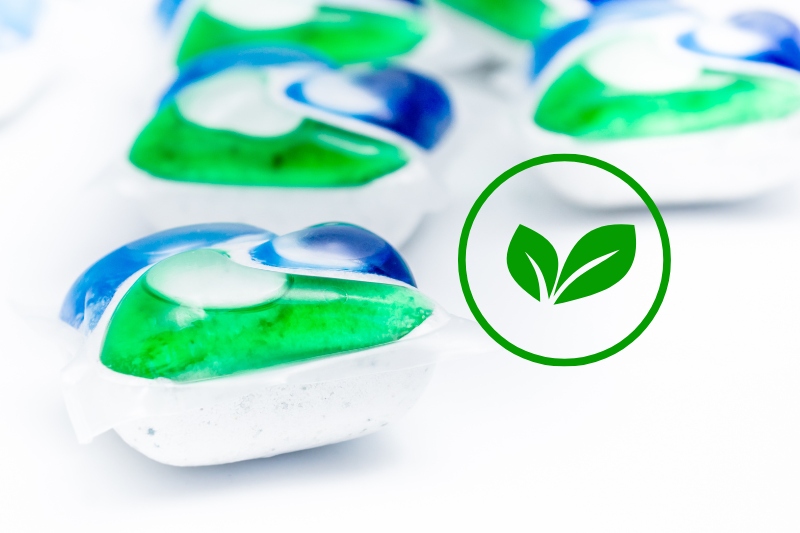 Fairy and Finish both rank highly when it comes to their environmental impact. Although not as eco-friendly as brands such as Smol, all the packaging used by both is recyclable. However, you may have to drop it off at a larger store's recycling point rather than putting it in your own bin.
Finish and P&G (the company that owns Fairy) also support a number of sustainability schemes. For example, P&G has goals of improving their greenhouse gas emissions, reducing their plastic waste, and eliminating phosphates from all Fairy dishwasher tablets.
Finish is also working to improve its sustainability, with a general focus on replenishing freshwater sources in the UK. They are currently working with WWF to construct new wetlands and ponds, restore bogs and mires, and reintroduce aquatic wildlife to these areas.
Environmental impact rating:
4. Price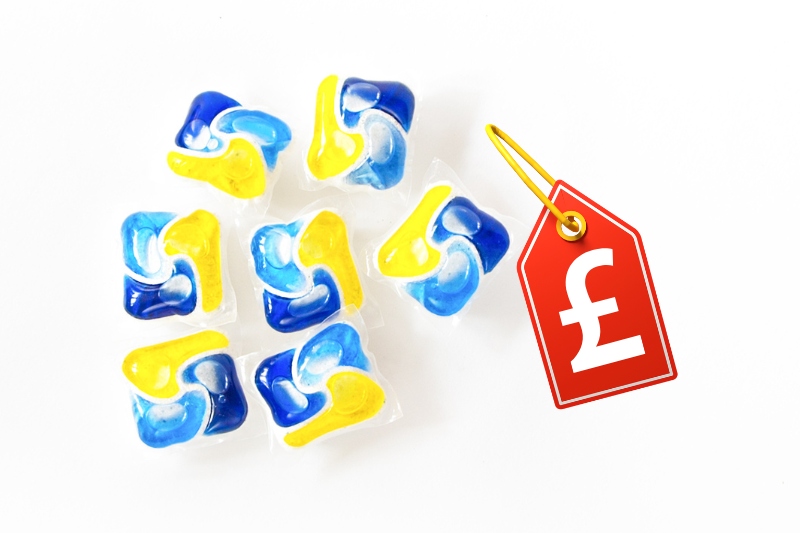 When it comes to cost, Fairy and Finish come in at very similar price ranges. Depending on which product you choose, an average-sized box of dishwasher tablets will cost around £9 at the time of writing. This will vary based on which type of tablet you select from the range.
If you're on a tight budget, Finish dishwasher tablets are slightly cheaper. For example, a box of 30 Finish Powerball Max comes in at around £5 compared to Fairy's Original £8 for a pack of 32.
Price rating:
Fairy vs. Finish – Which Brand Is Best?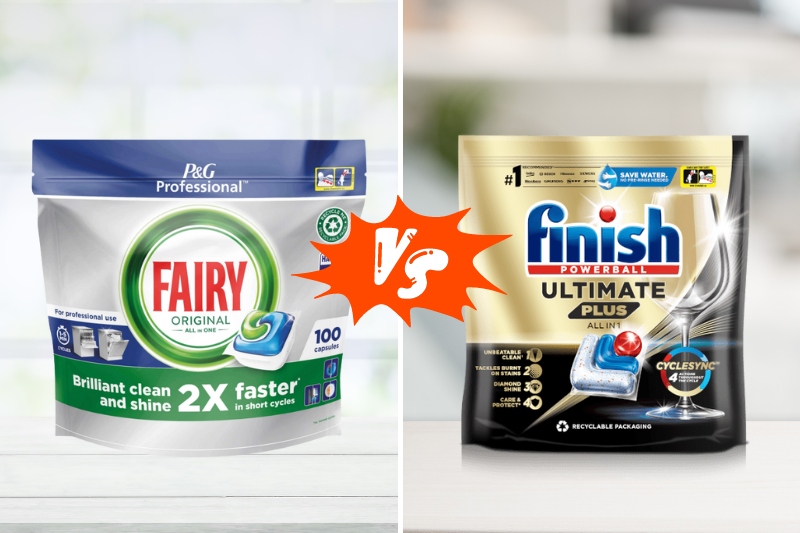 In general, both Fairy and Finish dishwasher tablets are good options for anyone that is searching for a new detergent brand. They offer an impressive cleaning performance and are very easy to use.
However, here's a look at their overall scores based on our four primary criteria:
Overall Rating:
Finish: 19/20
Fairy: 16/20
The Finish range does have a slight edge over Fairy due to its improved cleaning action, ideally sized tablets, and lower prices. We've given it an impressive 19 out of 20 from our comparison categories combined.
However, Fairy products also receive frequent good reviews, especially when it comes to their impressive streak-free finish. After all, 16 out of 20 is still a decent score!
Ultimately, the best choice of dishwasher tablet comes down to your personal preference and requirements.
We suggest you compare these products based on your cleaning needs, budget, and environmental concerns before making your final decision.

Hannah is a freelance content writer with a passion for cleaning. She worked her way around Australia by cleaning hostels in exchange for free accommodation and used her cleaning skills to bag her a job as a chalet host for a luxury ski company in France.