Washing bedding is very straightforward – you read the tag, pop the bedding in, add detergent and start the cycle. Easy-peasy!
Drying bedding isn't quite so simple, especially when you live in the UK and the rain loves to keep on paying you a visit!
Bedding is big, heavy and can be difficult to move around when it's dry, it's even worse when it's wet and you can't stick it outside to dry.
So, how do you dry bedding indoors without too much hassle? Keep on reading to find out.
Drying bedding indoors may not be ideal for you, especially if you've got a busy home, but here are some methods you can try out to dry your bedding quickly!
Note: You should use fans or an open window to keep air circulating around your home when drying bedding indoors. You should wash your bedding early in the day, so that it has all day to dry. And you should make use of the spin cycle in the washing machine, as this will remove even more moisture from your bedding and should make it easier to dry.
Method 1: Tumble Dry Your Bedding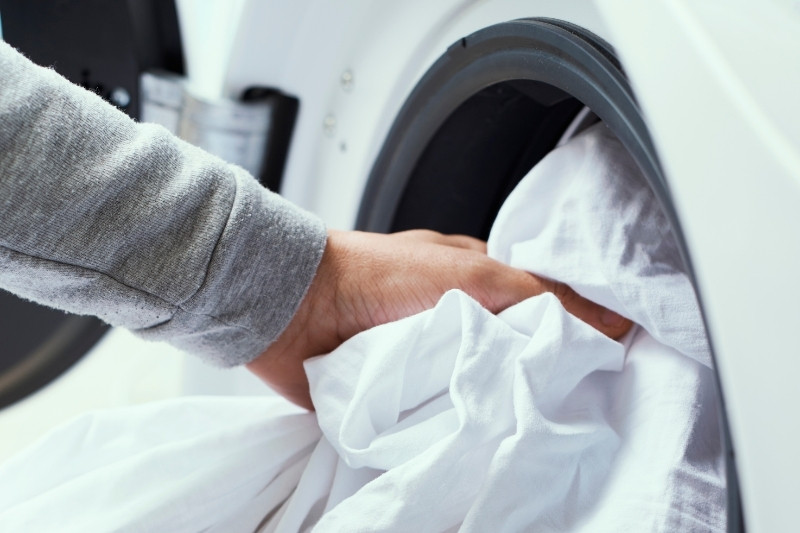 If you're lucky enough to have a tumble dryer in your home, you should use it to dry your bedding. Here in the UK, it rains quite a bit, so a dryer is a good back up option when you need to dry any sort of laundry.
To use a tumble dryer effectively, just check the label on your bedding and pick a setting that's suitable for the material, and start drying your bedding.
Bed sheets shouldn't take more than an hour to dry in the tumble dryer.
Method 2: Use a Large Clothes Horse to Dry Your Bedding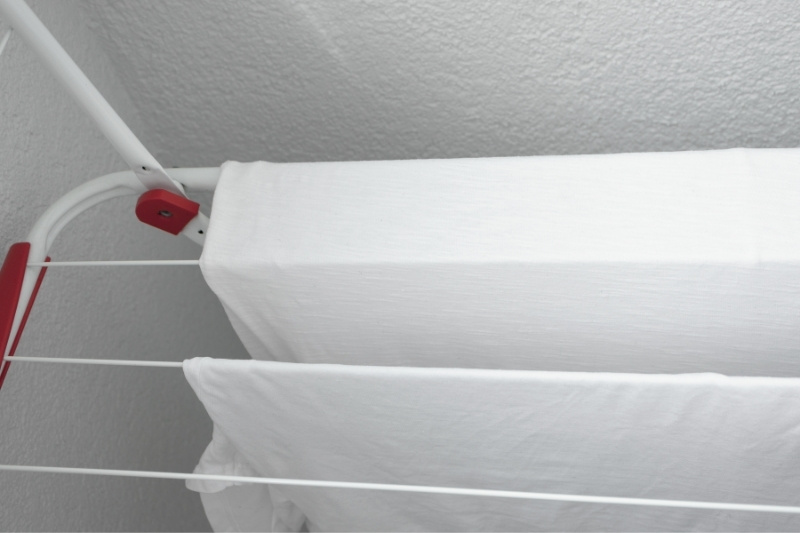 Indoor drying racks are very popular when it comes to drying normal laundry – t-shirts, trousers and dresses, for example – and they can also be used to dry bedding too.
Of course, you do need a bigger rack to dry bedding, because it's far chunkier and heavier than your standard laundry.
So, you'd have to steer clear of the over the bath airers, for example, and use a strong and sturdy rack, like the Vileda Sprint 3-Tier Indoor Airer that can hold up to 15 kg of weight instead.
All you need to do is pop your dryer somewhere safe, preferably where there is good ventilation, and put the bedding onto the racks.
Ideally, you want to try and distribute the weight, so that the dryer doesn't fall. And you should consider drying one to two items on one dryer at a time.
It is difficult to say how long the bedding will take to dry, but if you've got good ventilation, the heating is on and if it's a sunny day, you might not have to wait too long.
Method 3: Use Your Doors to Dry Your Bedding
Another great option to try is to hang your bedding on your doors to allow them to dry indoors.
You can use any sort of door for this job – actual doors and wardrobe doors. Just make sure that there is plenty of ventilation in your home.
If you use this method, be careful that wet sheets don't damage the wood on the doors. It might be safer to hang the sheet off a coat hanger so that it isn't touching the door itself.
Once again, it is difficult to say how long this drying process will take, but at least your bedding will be hanging up and out of the way!
Method 4: Use an Electric Clothes Airer to Dry Your Bedding
If you need to dry your clothes quickly and in a safe space, you should consider getting an electric powered clothes airer. These electric airers are basically an enhanced version of the traditional airers.
Typically, an electric powered airer is quite tall, can hold up to 15kg of laundry and because it comes with a cover that you zip up when drying laundry, items dry quite quickly inside the cover and not much heat is lost either.
An example of an electric powered airer is the AMOS Eezy-Dry PRO Electric Clothes Dryer Extra Tall. With a height of 186cm and a width of 70cm it's the ideal size to dry bedding! Plus, when you're done you can reduce it in size and pack it away, so it won't bother you.
Method 5: Use Your Banister to Dry Your Bedding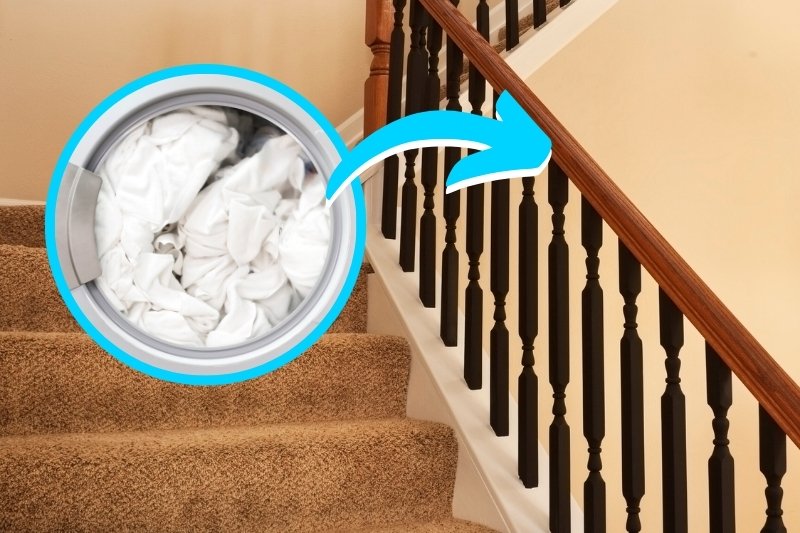 If you've got a banister in your home, you could hang your bedding over it and wait for it to dry naturally. You would need to make sure the area around the banister is well ventilated, and that the windows are open.
Like with using doors to dry sheets, you should be careful not to damage the wood on the banister.
Again, it would be difficult to estimate how long bedding will take to dry like this. That being said, landings are usually quite airy places, so it might not take too long.
Method 6: Take Your Bedding to a Launderette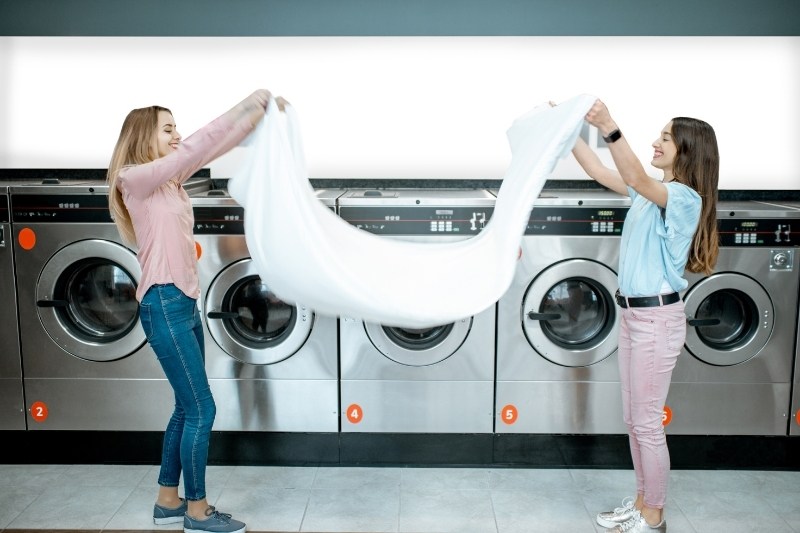 If space is an issue in your home and you just don't want too much hassle, it might be worth finding a launderette near to where you live that you can take your wet bedding to.
Launderettes do vary in price, but it's a small fee to pay in order to get your bedding dried! Plus, it won't take that long to dry either.
If you're not sure where to find a launderette, a quick online search would do the trick.
If you've never been to a launderette before, learn how to use one in our guide.
Method 7: Ask a Family Member to Help You Dry Your Bedding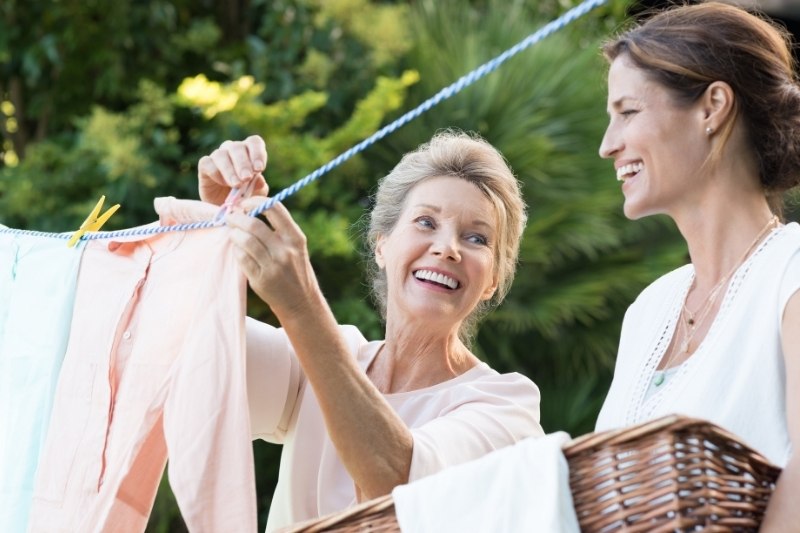 Of course, if you cannot dry your bedding at all, whether that be indoors or outdoors, you could always ask a friend or family member for help.
These individuals may be able to dry your bedding out on their line for the day, or they might lend you their tumble dryer to use. And if they don't have access to a line or a dryer, perhaps they have more space in their home and would be willing to dry your bedding as per the methods above.
Method 8: Use a Make-Do Indoor Washing Line to Dry Your Bedding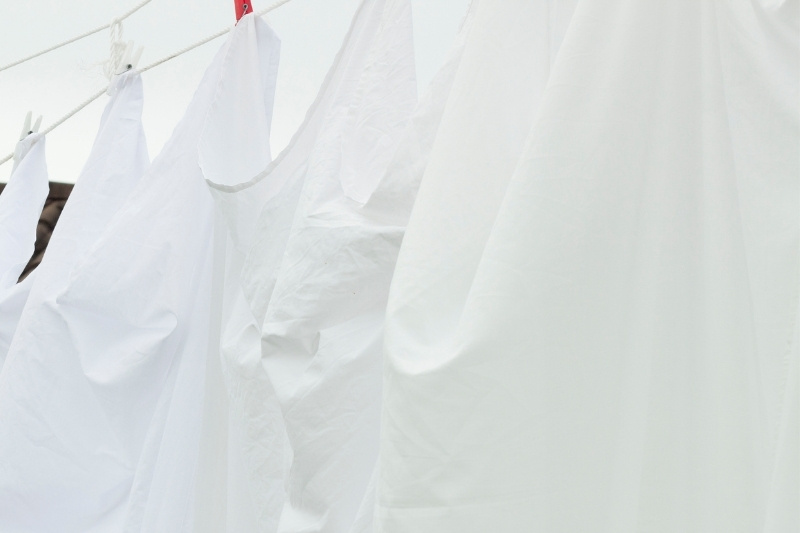 Have you got some free space in your home? If you do, then it might be worth creating a little washing line for yourself. It's not too difficult to make your own washing line, all you need is two sturdy walls, some hooks and some line.
Of course, you would need to be careful of the bedding as it's hanging on the line, and it might be quite heavy, so you'll need heavy duty hooks. So, this might make this option less appealing, and it may not be the best option if you have a busy home.
On the flip side, if you know your house is going to be empty all day long, you could pop your bedding up on the line across the room and it should be dry when you all get home in the night.
Method 9: Use a Radiator as a Last Resort to Dry Your Bedding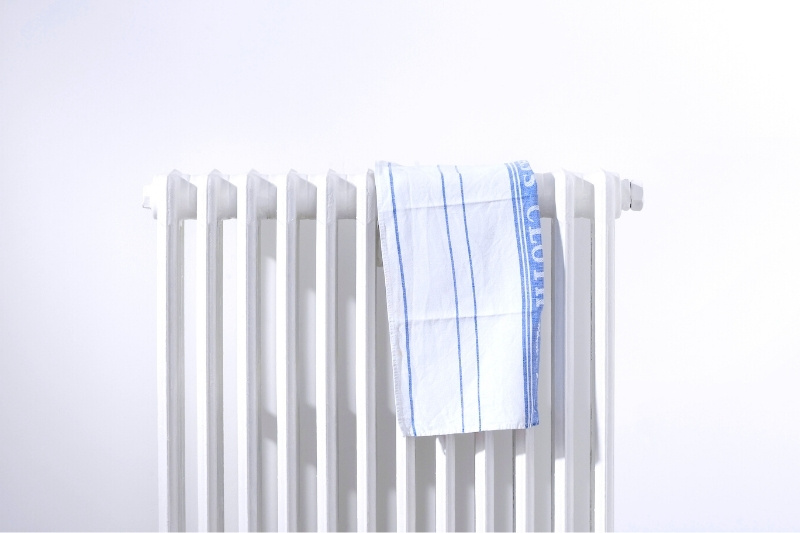 As a very last resort you could use the radiators in your home to dry your bedding. However, be mindful that drying clothes and bedding on radiators usually causes mould problems. So, try to only use this method as a last option.
And always open the windows nearest the radiator when doing this.
How Often Should You Wash Bedding?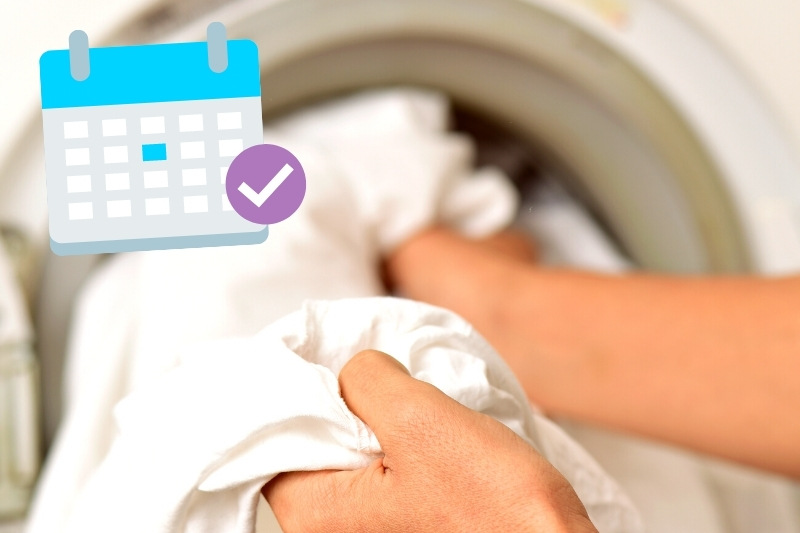 As a general rule, bedding should be washed at least one a week, and at a minimum one a fortnight. You can find out why your bedding should be washed one a week in our article.
Does New Bedding Need to Be Washed Before You Use It?
There is no right or wrong answer to this question as it comes down to personal preference. However, it is more hygienic to wash new bedding before putting it onto your bed, you can find out why it might be a good idea to wash new bedding here.

Bethan has a passion for exploring, reading, cooking and gardening! When she's not creating culinary delights for her family, she's concocting potions to keep her house clean!