Tumble dryers are one of the most expensive home appliances when it comes to energy costs. However, they're incredibly useful and convenient, especially in the winter when it's too cold and damp to dry clothes outside.
Thanks to advances in technology, running a tumble dryer isn't as expensive as it used to be. There are lots of great energy-efficient tumble dryers on the market, and you can save a lot by choosing a more economical model.
We've researched the market and picked out 5 of the most economical tumble dryers available in the UK. The most economical tumble dryer we could find was the Beko DPHR8PB561W. Scroll down for our reviews of this and other tumble dryers, or read on for some advice about choosing an economical tumble dryer.
How Much Do Tumble Dryers Cost to Run?
The most popular tumble dryers use about 4.5 kWh per cycle. According to the Energy Saving Trust, electricity in the UK costs an average of 14.37 pence per kWh, so running the average tumble dryer would cost about 67p per cycle.
As well as giving a figure for the energy consumption per cycle, tumble dryer manufacturers usually give a figure for the energy consumption per year. This figure is calculated by multiplying the per cycle figure by 120, so it assumes you will use the tumble dryer 120 times a year, or roughly 2-3 times a week. If you use your tumble dryer a different amount, the annual energy usage could be a lot different. Assuming you use it 120 times a year (540 kWh in total), the yearly cost of running the average tumble dryer will be about £77.60.
How Much Could You Save by Choosing an Energy-Efficient Tumble Dryer?
The most energy-efficient tumble dryer we could find on the market is the Beko DPHR8PB561W, which has an annual energy consumption of 176 kWh. This would cost about £25.30 a year to run. Compare that to the average tumble dryer, which would cost about £77.60. This means it would be about 3 times cheaper than the average tumble dryer.
However, the most energy efficient tumble dryers (those with an A+++ rating) are typically very expensive, often costing over £1000. If you spent £1000 on a very energy efficient model it would take a long time for it to pay for itself compared to a less efficient budget model.
What Affects How Economical a Tumble Dryer Is?
The running costs of a tumble dryer are affected by several factors, which are explained below.
Energy efficiency rating: Tumble dryer energy efficiency ratings range from D to A+++. In general, the better the rating, the cheaper it will be to run. A+++ rated tumble dryers tend to be very expensive to buy, so it might make more sense to choose a more budget-friendly but still efficient A++ rated tumble dryer.
Tumble dryer type: Heat pump tumble dryers are typically cheaper to run than regular condenser or vented tumble dryers since they are more energy efficient. Gas vented tumble dryers are also relatively economical.
Drum size: The bigger the drum size, the more the tumble dryer will cost per cycle. A tumble dryer with a 10 kg drum could cost twice as much to run per cycle compared to one with a 6 kg drum. However, you can dry a lot more washing, so it will probably be more cost effective to use a larger tumble dryer if you can fill it.
Usage: Obviously, the more you use your tumble dryer, the more it will cost to run. You can combine tumble drying with air drying or using a dehumidifier to reduce costs. Some ways to improve tumble dryer efficiency include cleaning the filter each time you use it and drying similar clothes together so you don't unnecessarily dry quick-drying clothes for too long.
Most Economical Tumble Dryers in the UK
1. Beko DPHR8PB561W 8Kg Heat Pump Tumble Dryer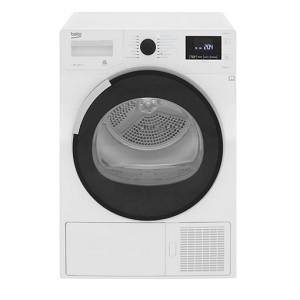 Annual energy consumption: 176 kWh
Energy efficiency rating: A+++
Type: Heat pump condenser
Drum capacity: 8 kg
Designed with a modern black and white finish, this Beko tumble dryer boasts an outstanding energy rating to keep your costs low. The design also includes LED lighting to enhance the aesthetic.
Thanks to built-in sensors, it determines the perfect drying time to ensure that your clothes are dried to the perfect level. However, the high efficiency rating does mean that drying times take a bit longer to complete than the more expensive, energy consuming devices.
Also, the instruction booklet isn't particularly clear, so you might need to use the internet to find out how to work it properly.
2. Grundig ExpressDry GTN38267GCW Heat Pump Tumble Dryer
Annual energy consumption: 177 KWh
Energy efficiency rating: A+++
Type: Heat pump condenser
Drum capacity: 8 kg
Available with a five-year manufacturer's guarantee, the Grundig tumble dryer uses cooler air to dry your laundry as well as minimise your impact on the environment.
The machine also offers an ExpressDry function for the days when you need clothes dried in a rush, which reduces program durations by 24%.
Thanks to the large 5.3 litre water tank and 8 litre clothing capacity, the machine is ideal for busy households with heavy demands to optimise time and energy.
One downside is that the instructions could be a bit clearer for some of the drying functions.
3. Miele  TWB140 WP 7 kg Heat Pump Tumble Dryer
Annual energy consumption: 208 kWh
Energy efficiency rating: A++
Type: Heat pump technology
Drum capacity: 7 kg
This Miele tumble dryer offers an abundance of features, such as 12 different drying programs to choose from, including special cycles for shirts and outerwear.
One of the best elements is the "AddLoad" function, which helps to ensure that no leftover washing gets left behind.
Thanks to lower moisture and heat emissions, you can install this device almost anywhere in your home. Whilst the dryer offers an array of features, this does have a small impact on the level of efficiency, hence it narrowly misses the A+++ rating.
4. Haier HD80-A636 8Kg Heat Pump Tumble Dryer
Annual energy consumption: 222 kWh
Energy efficiency rating: A++
Type: Heat pump condenser
Drum capacity: 8 kg
The Haier condenser helps to remove the hard work from your laundry days. The built-in sensors weigh your washing to correctly determine the optimum setting for your washing loads of up to 8 kg.
And for the denim lovers out there, you'll find the Jeans programme to be extremely useful as it carefully dries your favourite clothes.
However, at a maximum noise level of 67 dB, it can cause a slight rumble when in use, so it's better to install it in a room where the noise can be blocked out.
5. Grundig GTN38250MGCG 8 kg Heat Pump Tumble Dryer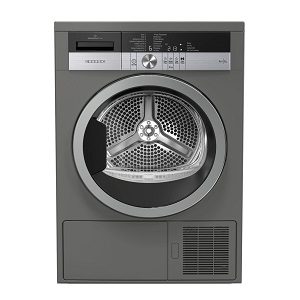 Annual energy consumption: 235 kWh
Energy efficiency rating: A++
Type: Heat pump condenser
Drum capacity: 8 kg
Another fantastic tumble dryer is this graphite-coloured option from Grundig, which will serve as an ideal centrepiece for your kitchen. Designed with a sleek touch LCD display, you can control the entire machine with the touch of a few buttons.
Thanks to the automatic anti-crease function, it maintains the appearance of your clothing by frequently re-tumbling your laundry for up to two hours after a cycle is finished, making them ready to put away as soon as it's done.
Whilst the dryer is quite expensive, the 5-year guarantee means that you'll get great value for money over time.
How to Reduce the Costs of Running a Tumble Dryer
Here are some things you can do to minimise the costs of running a tumble dryer:
Fill the dryer to full capacity rather than splitting washing into several loads.
Check that clothes aren't tangled up when you put them in the dryer.
Put clothes with similar drying times in the same load.
Let clothes spin for longer in the washing machine rather than putting them in the tumble dryer for longer. Spinning is more energy efficient than tumble drying.
Clean the filter every time you use the tumble dryer.
Combine tumble drying with air drying outside if possible.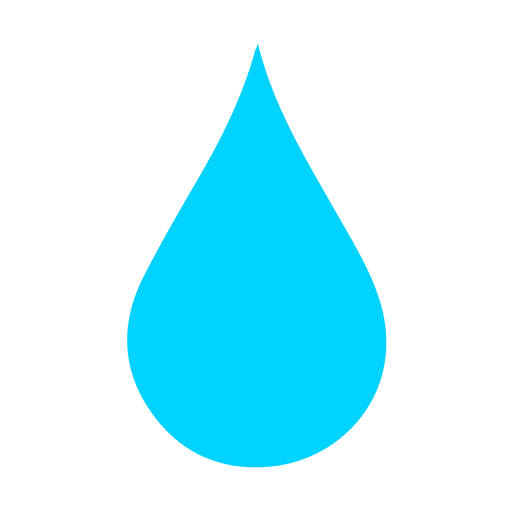 In The Wash is your guide to the best laundry and cleaning products, tips and tricks. Our mission is to solve the UK's cleaning and laundry dilemmas!