With so many tumble dryers on the UK market, it can be hard to know which dryer is right for you – condenser or vented? I'll help to condense the options for you in this simple comparison!
Vented tumble dryers are cheaper upfront and easier to repair, but they rely on being placed near an open window or door. Condenser tumble dryers tend to be more costly initially, but they can be situated anywhere and they usually have more high-tech options.
The answer to the vented vs. condenser dilemma depends on your specific needs. Let's have a more in-depth look at each type of tumble dryer, with some model recommendations to suit every type of customer.
What Are the Three Types of Tumble Dryer?
If you're not well-versed in your tumble dryer terminology, let's cover the basics.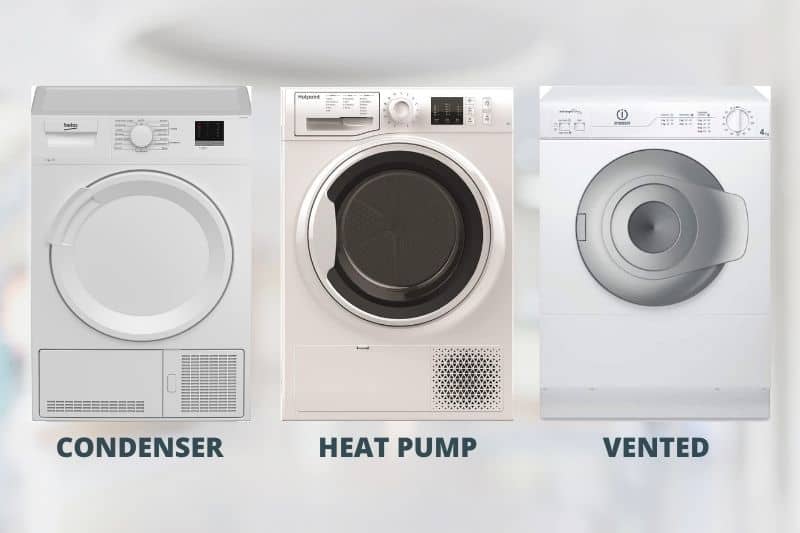 There are three types of tumble dryers – vented, condenser, and heat pump.
Vented tumble dryers use a hose to dispense moisture, whereas condenser dryers collect moisture in a container. Heat pump tumble dryers are a more energy-efficient variant of condenser dryers since they recycle heated air inside.
Which Is Better – Condenser Dryer or Vented Dryer?
Condenser Dryer Pros
Can be placed almost anywhere
More features
Don't require an open window or door, so your house stays warm in the winter
Can be plumbed in to avoid emptying the water
Condenser Dryer Cons
More expensive upfront
Can cause damp if not in a vented area
Water reservoir needs regularly emptied, if not plumbed in
Allegedly more prone to breaking down
Multiple lint filters may need to be regularly cleaned
Vented Dryer Pros
Cheaper to purchase
Easy to use
Often more reliable and longer-lasting
Easier to fix
Typically use less electricity
Vented Dryer Cons
Need to be placed in a certain area for venting
Venting through an open window or door can make the house cold
May need to put a vent hole into the wall
Less dryer settings
The hose can get worn down
Condenser Dryers
Condenser tumble dryers are the more high-tech and mobile option, but they also tend to be more expensive than vented dryers.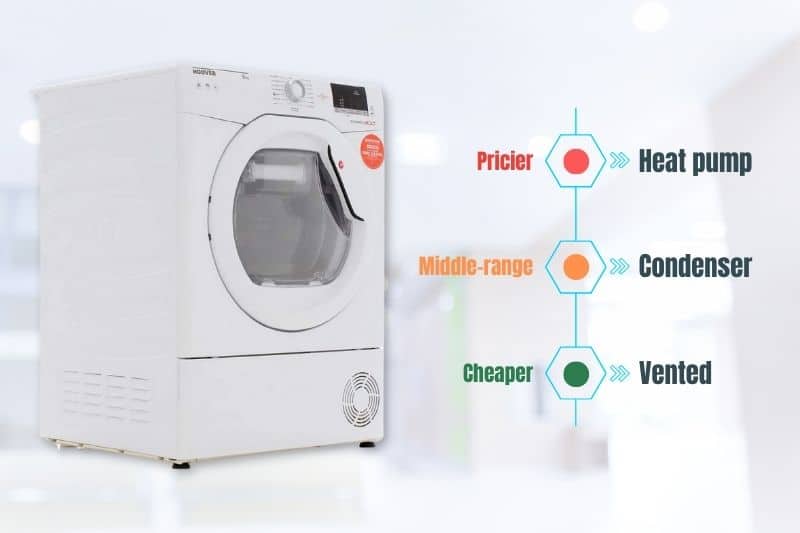 According to Currys PC World's Senior Category Development Manager Lauren Hartshorn, condenser tumble dryers are considered middle-range in terms of affordability, compared to cheaper vented dryers and pricier heat pump dryers.
Experiences with condenser tumble dryers depend on the brand and other variables.
Some Mumsnet users found condenser dryers to be much better than vented dryers, commending their range of settings and efficiency. Others found them to be too high maintenance and prone to breaking down.
Condenser dryer recommendations
1. ON A BUDGET: Beko DTKCE80021W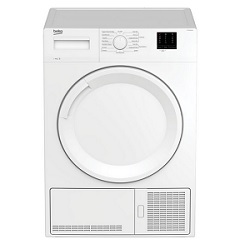 Load capacity: 8 kg
Dimensions: 88 cm high x 65 cm wide x 58.5 cm deep
Energy rating: B
If you're considering a condenser dryer on a budget, this popular machine is my top pick.
The Beko DTKCE80021W has got thousands of excellent customer reviews, with buyers praising its range of programmes, large drum size, and overall value for money.
It might be a bit noisy when it's running, and it doesn't look as sleek as more expensive dryers, but it leaves your towels feeling warm and fluffy, and that's the most important part.
Features
Automatic sensor stops clothes from over-drying – saving energy and saving the condition of your clothes
Timed drying programmes are easy to operate
Automatic anti-creasing function rotates the drum for up to 2 hours after the cycle is complete, so your clothes won't get tangled and creased
15 programmes to suit all types of fabric
2 drying temperatures
2. FOR BIG LOADS: Candy Grand'O Vita GVS C10DE-80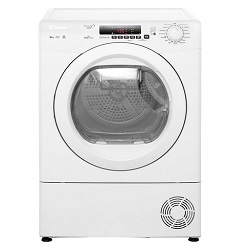 Load capacity: 10 kg
Dimensions: 85 cm high x 59.5 cm wide x 61 cm deep
Energy rating: B
A big family equals a big load of laundry! Luckily, this dryer's spacious 10 kg drum can fit every last sock.
The Candy Grand'O Vita GVS C10DE-80 is my top choice for a big family searching for a condenser dryer that can handle a lot of clothing, whilst still being affordable and modern.
Customers tend to be pleased with its massive drum size, range of controls, and handy remote app.
Others have found the controls to be overwhelming and confusing or have had issues with the model overheating. Be sure to place it in a well-ventilated room to avoid this!
Features
Big drum! Just to reiterate, the drum is 10 kg!
Bluetooth control via an Android app – you can remotely check on your laundry's progress via the mobile app, although this isn't forced upon you
15 automatic sensor programmes with reliable drying
Easy to maintain the filter and condenser
Condenser feature shows you when the water needs to be emptied
3. HIGH-TECH: Hoover DXOC9TCER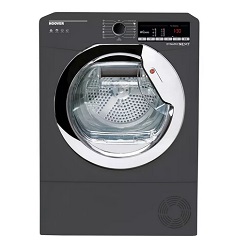 Load capacity: 9 kg
Dimensions: 85 cm high x 60 cm wide x 60 cm deep
Energy rating: B
Hoover may be synonymous with vacuum cleaners, but now you can Hoover your laundry with this fancy condenser dryer.
Sleek and cool, this Hoover DXOC9TCER suits those willing to drop some extra cash on a tumble dryer with 4 drying levels and a WiFi connection.
Customers commend its touchscreen interface, range of programmes, and multiple drying levels. However, a few customers have had issues with the collected water being too hot, or the machine surging their electrics.
Features
4 drying levels
AquaVision door – see when the condenser needs to be emptied
WiFi and Bluetooth compatible, so you can check on your laundry's progress and set cycles remotely
Easy-to-use touchscreen interface
16 programmes, including an Anti-Allergy cycle for zapping allergens
Vented Dryers
Vented tumble dryers are the original, and according to some, they're still the best.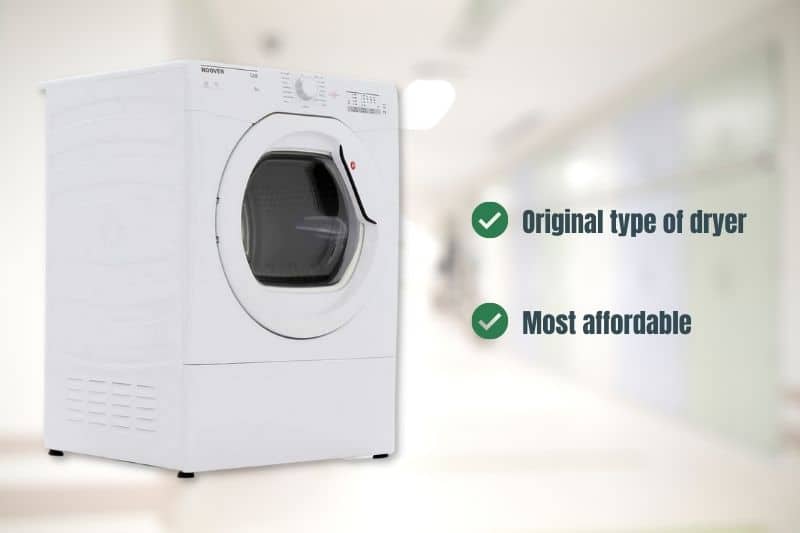 Vented tumble dryers are the most affordable tumble dryer option, with models available for less than £200.
Certain Mumsnet users swear by vented dryers, claiming that they're more reliable than condenser dryers and less likely to cause damp. Others countered, calling vented dryers old-fashioned and basic.
Although they're gradually being overtaken by condenser and heat pump options, you can still find some great vented dryers on the market.
Vented dryer recommendations
1. COMPACT BUDGET BASIC: Bush TD3CNBW
Load capacity: 3 kg
Dimensions: 69 cm high x 49 cm wide x 47.5 cm deep
Energy rating: C
Living alone or in a small household? Looking for a cheap, basic machine that gets your clothes dry on a rainy day? Look no further.
The Bush TD3CNBW is a simple little machine, popular with older customers who aren't interested in touchscreens or WiFi – they just want their shirt dried!
Customers love its compactness and ease of use, finding that it fits perfectly under their stairs and runs quietly. However, some customers had trouble finding a suitable attachment hose, or found the filter to be a bit fiddly.
Features
3 heat settings
Very quiet to run, with the Quiet Mark stamp of approval
Compact 3 kg drum, great for a small flat
Simple controls – just a dial and 2 buttons!
Comes in black or white, looks smart in your space
2. ENERGY-EFFICIENT: Indesit Eco Time IDV75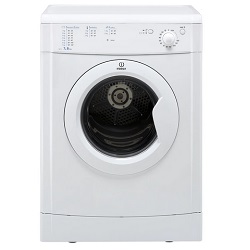 Load capacity: 7 kg
Dimensions: 85 cm high x 59.5 cm wide x 58.4 cm deep
Energy rating: B
This vented machine is easy to use and cheap to purchase, great for medium-sized households looking for an efficient vented dryer.
The Indesit Eco Time IDV75 is a modest, inexpensive vented tumble dryer, with a better energy-efficiency rating than other vented machines.
Barely making a dent in customer's electricity bills, they praise its eco-friendliness and a modest range of 9 programmes. Some customers have issues with the venting tube's lack of flexibility.
Features
9 timed drying programmes
A large door, making it easy to fill and empty
Simple dial control, with recommended drying times
Refresh option, which freshens up musty clothes
Drying setting dedicated to synthetic fabrics
3. SPACIOUS AND MODERN: Hoover HLV10LG

Load capacity: 10 kg
Dimensions: 85 cm high x 60 cm wide x 58.5 cm deep
Energy rating: C
It's got a massive 10 kg drum and the honour of being Amazon's best-selling vented tumble dryer – great for medium to large-sized families who prefer vented over the condenser.
The Hoover HLV10LG has an automatic Sensor Dry function and Bluetooth app compatibility – the modernity of a condenser dryer with the classic feel of a vented machine.
Customers commend its automatic sensor drying and find it to be efficient and capable of drying large loads. Conversely, some customers question the need for the app compatibility or find that it doesn't dry properly.
Features
Huge 10 kg drum capacity
Bluetooth compatibility, for use with the Android Hoover Wizard app
Choose between timed drying or automatic sensor drying
14 drying programmes
4 drying levels
Conclusion
I would recommend a condenser tumble dryer if you're looking for a dryer with high-tech features like automatic sensor drying, a touch screen interface, and WiFi compatibility.
On the downside, condenser dryers are more expensive than vented machines and may be more prone to breaking down. They can also be confusing for older customers, with a huge amount of options that may be unnecessary and even overwhelming.
Vented tumble dryers are my top pick for those on a budget, looking to secure a basic reliable appliance for less than £200.
Most vented machines come with limited drying options, typically controlled with a basic dial and buttons – but there are fancier ones out there. They're a good choice for small households who don't heavily use their tumble dryer.
However, vented machines need to air a venting tube outside, so you'll need to get a vent fitted or leave a window or door open. This makes them less mobile than condenser dryers and could create a draught.
Tumble dryers are an investment, so be sure to carefully consider various options – including heat-pump tumble dryers, which are discussed here!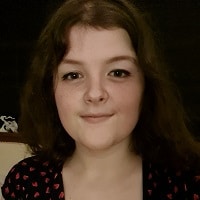 A recent uni graduate who likes writing, gaming, and drawing. I'm figuring out housekeeping tips alongside you while trying to provide eco-friendly cleaning options. Let's find out how to use a tumble dryer together!