Space is a hot commodity and we all want to make the most of it in our homes.
There are loads of great space-saving hacks on Pinterest and dotted all over social media, in fact, there's something for every room!
Here's one for your laundry room or kitchen – stacking a tumble dryer on top of a washing machine!
This is probably one of the best ideas to save space in your home, as appliances can be really bulky and eat up every square inch in a room… not great for small space living!
Can I Stack My Washer and Dryer?
Yes! Well… there are a few things you need to consider if you plan on stacking appliances, but it is possible under certain circumstances.
When your washing machine and tumble dryer are made by the same manufacturer, you can often purchase the correct/branded stacking kit to support and steady your appliances on top of one another – making this task super easy!
It is recommended that you only stack appliances from the same manufacturer or the same manufacturing group appliances together, but if your tumble dryer and washing machine are both different makes, then you might be able to use one a universal stacking kit.
This will depend on the shape of your appliances and the placement of drawers or removable units.
Since the washing machine is the heaviest in weight, the tumble dryer has to sit on top, but if your washing machine has rounded edges, the universal stacking bracket will not lock in place and distribute the weight of the tumble dryer evenly.
This would, unfortunately, mean that stacking using a bracket would not be an option for you.
If you are lucky enough to have a laundry room, this idea can be super effective, not to mention efficient when it comes to transferring your laundry from one to the other.
The concept would also work in a kitchen. However, it could seem a little looming if you have a tall fridge freezer as well as double-height laundry appliances in the same room.
For the smallest spaces, it may be best to get hold of a washer-dryer combo, so everything can be done in one appliance.
Should the tumble dryer go on top?
Yes. Putting the tumble dryer on top is the recommended and best way.
The washing machine contains a concrete block so it therefore much, much heavier than a tumble dryer, making it the safest choice to be placed at the bottom of the stack.
Do You Need a Stacking Kit for Stacking a Washer and Dryer?
Yes! A washer dryer stacking kit is pretty essential if you want to use this space-saving method as you also want everything to be secure and safe to use.
The stacking bracket allows for the weight of the tumble dryer to be distributed evenly across the top of the washer – keeping things held in place nicely as you use your appliances.
Universal washing machine stacking kit
A universal washing machine stacking kit, such as the one shown above from Wpro, is designed for use on machines that are 60cm in width and they lock in place nicely atop washers with squared edges.
This gives an even, sturdy surface for a tumble dryer to sit on top within the lip of the bracket.
The lip that holds the stacking bracket in place will cover 2 cm at the top of your washing machine and 2 cm at the bottom of your tumble dryer.
This means that any dryers with access panels that hinge open from the base will not be suitable for stacking. You will want a dryer that has a clearance of 2 cm before the panels.
How to use a washer dryer stacking kit
Make sure both your washer and dryer are unplugged before stacking.
Remove the feet of the tumble dryer so that it will slot into the bracket and lock in place within the lip of the bracket.
Make sure the washing machine is level by adjusting its legs.
Carefully lower the tumble dryer into the bracket so it sits perfectly within the lip. If you're not sure how to lift the dryer on top of the washer, then please do watch the video below.
OPTIONAL – Hold the appliances together using the belt included in your stacking kit (or a ratchet strap if there is not a belt included in the kit). The strap will need to go around the washing machine before the tumble dryer is placed on top!
Reconnect your appliances and run test cycles on both machines, to make sure everything is running safely and smoothly in its new stacked position.
This video demonstrates perfectly how to stack a washer and dryer – you will need a second pair of hands, so make sure you've got a buddy on hand to assist you with the setup.
Tumble Dryer Shelf
Some stacking brackets, like the one in the video above, have an inbuilt shelf which can be pulled out and used to place laundry on once it's been washed or dried, so make sure these sit slightly forward so you can get to the shelf lip to pull it out.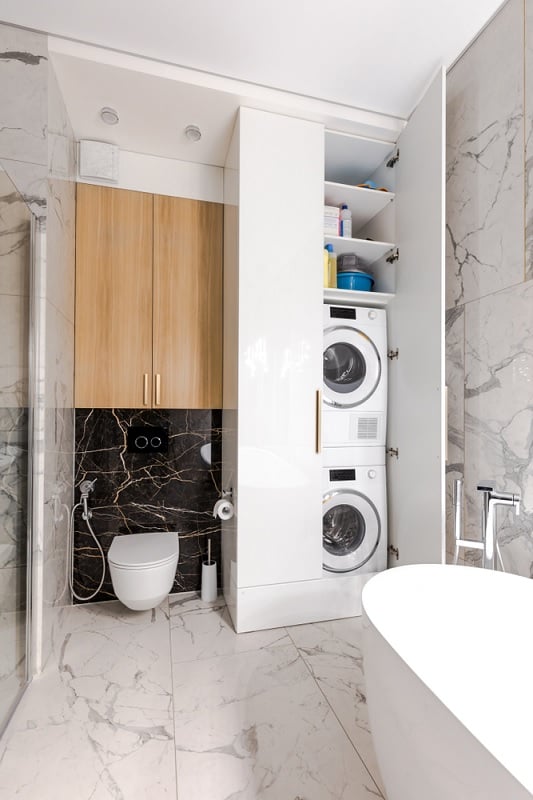 Washing Machine and Tumble Dryer Stacking Cupboards
If your washing machine and/or tumble dryer are not from the same manufacturer or they're just not compatible with a universal stacking kit, then stacking different brand washer and dryer appliances does not have to be out of the question!
Many people have purpose-built cupboards to house their washer and dryer, which means that any shape of washing machine can be used on the bottom.
The tumble dryer can sit on a sturdy shelf as it is not as heavy as a washing machine and can also be any shape.
There is a downside to this solution, however, as condenser and heat pump tumble dryers need a consistent supply of cool air to manage the temperature of the condenser or heat pump, so they cannot be kept inside a cupboard.
An open-fronted shelving situation would be much more suitable for stacking washers and dryers as it allows the airflow to get to the tumble dryer – make sure there is air space around both appliances to ensure heat and moisture does not build up too much inside the shelves.
As with any customised shelving or structures, ensure that everything is sturdy and safe while in use – you could use brackets or ties to make sure your tumble dryer will not… tumble… on top of you while it is mid drying cycle!
NOTE: It is recommended that you use a stacking kit if you want to place a tumble dryer on top of a washing machine and all manufacturers will say this. Check with the manufacturer if you want to enquire about their own brand of stacking kit or to see if your tumble dryer is suitable for placement in shelving or in a cupboard.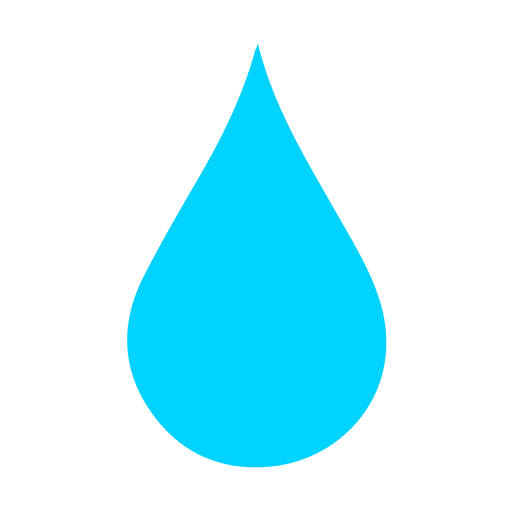 In The Wash is your guide to the best laundry and cleaning products, tips and tricks. Our mission is to solve the UK's cleaning and laundry dilemmas!