Are you thinking about buying a Hoover washing machine, but you're not sure if you should turn your back on other big-name brands? You're in the right place if you're struggling with this dilemma.
Keep on reading to find out if Hoover washing machines are any good, or if you should stick to more well-known washing machine brands.
History
The Hoover Company was founded way back in 1908, by William Hoover from Ohio. But before William started his adventure into the appliance world, he actually worked in the leather trade with his son.
It was only when Susan, William's wife, received an Electric Suction Sweeper from her cousin James Spangler that his journey into the hoover world really began.
After buying the patent for the sweeper from James, William set up the Electric Suction Sweeper Company (it would eventually be known as The Hoover Company) and started making vacuum cleaners full time.
As you may have guessed, the company specialised in only hoovers then, and at the time they were the first company to do so. Over the years, and as the company was acquired by other companies, it started creating appliances that could be used all around the home.
These appliances included ovens, hobs, microwaves, fridges, freezers, washing machines, dryers, dishwashers, air purifiers, and of course a plethora of vacuum cleaners.
With a reputation that has grown over the past 100 years, it's no wonder that people turn to Hoover when it's time to pick up a new appliance.
But do their washing machines stand up to the reputation of their beloved vacuum cleaners? Let's find out.
Appearance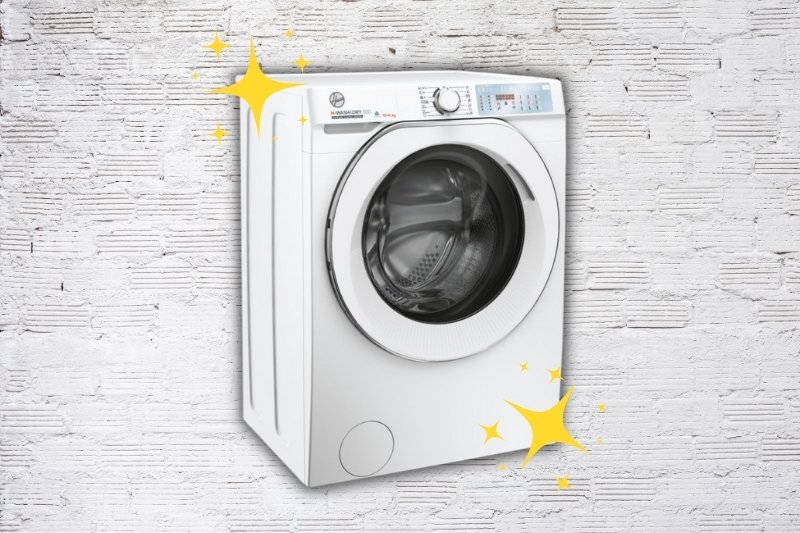 All of Hoover's models are attractive to look at, so they'll fit into any home without much trouble. Some models do have a lot of buttons on the front, but generally people don't have much trouble working out how to use these washing machines.
In addition to this, you can typically pick up a Hoover washing machine in the following colours: white, silver and black. So, you can pick an appliance to fit in with your other appliances.
And they do an integrated version anyway, so if you wanted to hide the washing machine away you could do so.
Models and Sizes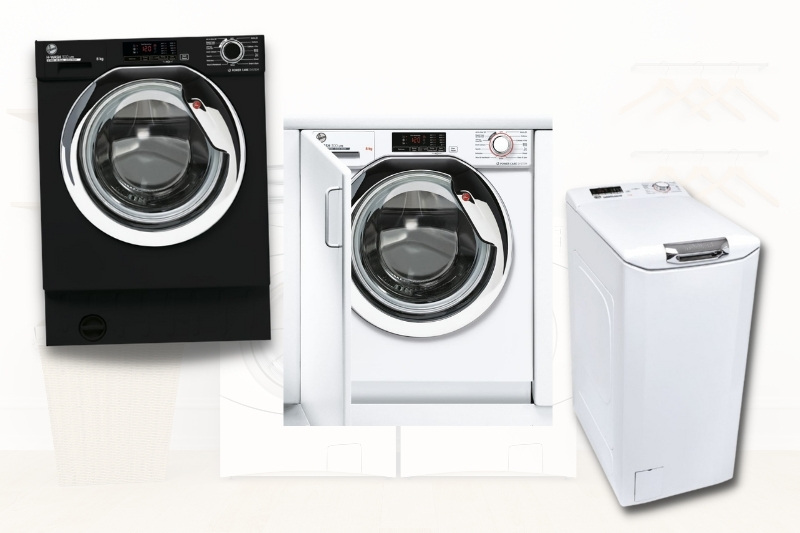 There are lots of models and sizes available to buy. So, you can pick a Hoover washing machine that suits your home and laundry habits.
The models you can choose from are:
Integrated – These are fitted behind a cupboard in your home and you pop laundry in through a door at the front.
Freestanding – The most common type of washing machine in the UK and has a door on the front.
Top loading – You pop your laundry into the machine through a door at the top – this is a popular type of washing machine in America.
Further to the above, most Hoover models come with Wi-Fi built in, so you can control the washing machine when you're away from it through an app.
In addition to the above models, you can get different load capacity Hoover washing machines too. You can get drums with capacities from 7 kg to 14 kg.
The latter is an extremely large drum, bigger than the drum in most common washing machines. Such a large drum is often a big selling point, but of course, you don't have to buy a machine of this size.
Further to this, Hoover also does different sized washing machines, so it's much easier for you to find a machine that will fit into the gap in your unit or in your utility room. The H-Wash 300 LITE only has a depth of 52 cm, for example. It would be ideal for a smaller space!
But don't think that it doesn't pack the same power as a bigger machine. The H-Wash 300 LITE can hold up to 8 kg of laundry, can run rapid washes (cycles under one hour) and has a built-in hygiene program, so you can rest assured that your laundry is clean.
Price
You can pick up a Hoover washing machine for as little as £300 from some shops. On the flipside, some Hoover models will set you back £600.
As with most appliances, the better the spec and the more power the machine has, the more you're likely to pay for it.
However, compared to other washing machines these prices aren't too bad. Plus, if you buy from Hoover, you know you're likely to get a washing machine that's got some tech built into it. And washing machines that have tech and fancy goodies usually come at a premium, so the figures above aren't too dear.
Also, depending on where you buy your Hoover washing machine from, you might be able to get some money back if you exchange your old machine. Of course, this won't apply to all shops, so check this out beforehand.
Tech-Driven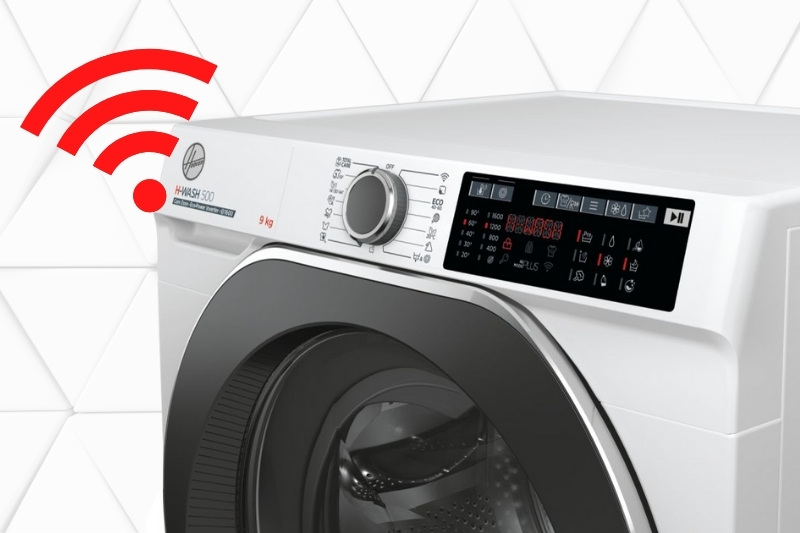 The best part about buying a Hoover washing machine is that you get access to a lot of modern tech at a reasonable price.
Most models can be Wi-Fi controlled today, and this fancy control feature appeals to lots of people. Add the easy-to-use app into the mix, and you've got yourself a pretty good deal!
An advanced tech-riddled machine would cost you a lot more if you chose a different brand. The LG FH4G1BCS2 would set you back well over £1,000, for example! So, Hoover's washing machines aren't too bad in comparison.
Issues to Keep in Mind When Buying a Hoover Washing Machine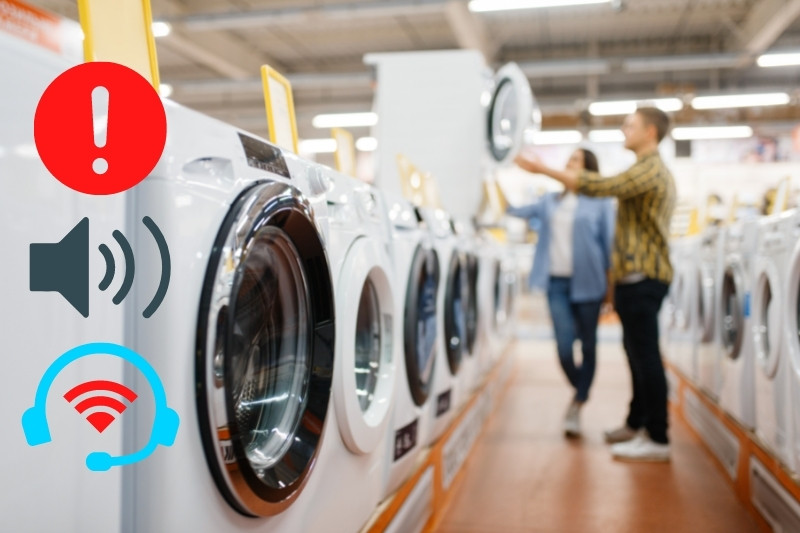 Note: The problems listed below will not apply to everyone.
One of the biggest problems people face after buying a Hoover washing machine is the aftercare support they receive.
There are a number of reviews from Hoover users on Trustpilot that state how much trouble they've had with getting their relatively new washing machines fixed.
The problems typically revolve around the long waiting times people have had to endure when trying to contact Hoover, the weeks-long waits individuals have faced when waiting for engineers to come out to do the work, and the trouble people have had with getting replacement parts.
Of course, the issues above will not impact everyone, but it is worth considering them just in case you ever need to call customer services to help you with your Hoover washing machine.
Another big issue noted by reviewers is that parts in some Hoover washing machines needed to be replaced within the first two years of the appliance being used. Reviewers complained about bearing-related problems, as well as circuit breaker problems and leaks.
Of course, I should point out that reviewers don't state exactly how their machine has been treated during its short life, but nonetheless, you wouldn't expect to hear about the problems listed above within the first two years of a product's life.
Further to this, a few reviewers noted that they were without a washing machine while repairs were taking place, or while they were waiting for support to arrive. This turned out to be very inconvenient for most and added to their animosity.
In addition to the above, some users found that a handful of Hoover's washing machines were quite loud when running through cycles. And that the icons on some models are hard to read. These issues are fairly minor in comparison to the above, and could be rectified by purchasing a different model in the future or by reading the user manual.
To summarise, there seems to be an issue with customer service and reliability when it comes to Hoover washing machines. However, the reviews on Trustpilot did have replies from Hoover representatives on them, and these replies told reviewers who to contact next.
And although the problems listed above are troubling, and major solutions weren't exactly provided by the representatives in their replies, at least the comments and feedback are being monitored by a team of people and aren't being ignored.
Pros of Buying a Hoover Washing Machine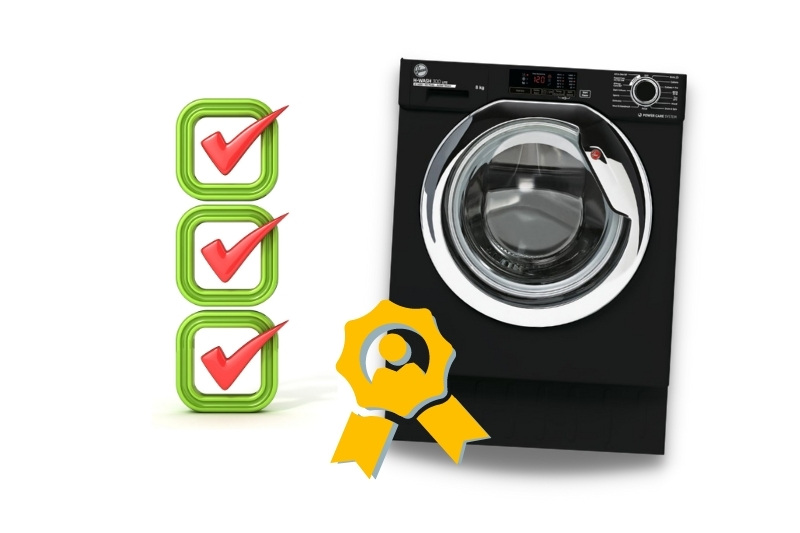 Here's a quick summary of the main benefits of getting a Hoover washing machine:
Option of extending your warranty, if you register the appliance online.
Various models and sizes are available, so there's something for everyone.
Good and effective spin rates on most models – 1300rmp to 1600rmp.
Some models can be controlled via Wi-Fi, so you can use the app when you're out and about.
Some models can take loads of up to 14kg, that's a lot more weight than most washing machines.
Models come with plenty of features and programs you can try out.
Varied prices – £300 to £600 – price does depend on where you buy from and if there are any deals on.
Generally easy to use.
You can order and buy replacement parts online and have them delivered within a day.
Hoover advertises washing machine cleaners and laundry perfumes on their site that could be of use to you.
There are engineers across the whole of the UK, so they should be able to come out to help you as soon as possible.
Cons of Buying a Hoover Washing Machine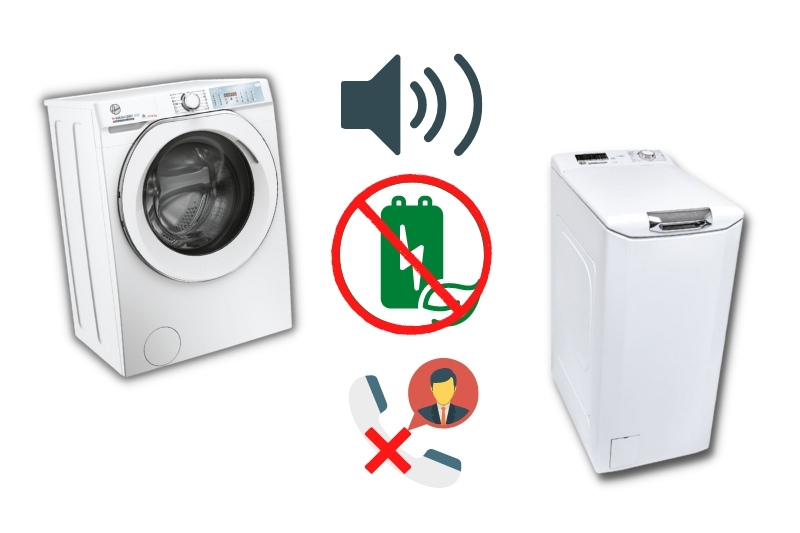 Here's a quick summary of the main drawbacks of getting a Hoover washing machine:
Some people note that it can be a little difficult to work out what all the buttons and settings mean on some washing machine models.
Can be noisy at times.
A number of technical and mechanical issues have been reported by users over the years.
After care treatment hasn't worked out well for some users.
Some Hoover models, like the HBWS 48D2E, may be less energy efficient in comparison to other washing machines.
Are Hoover Washing Machines Any Good?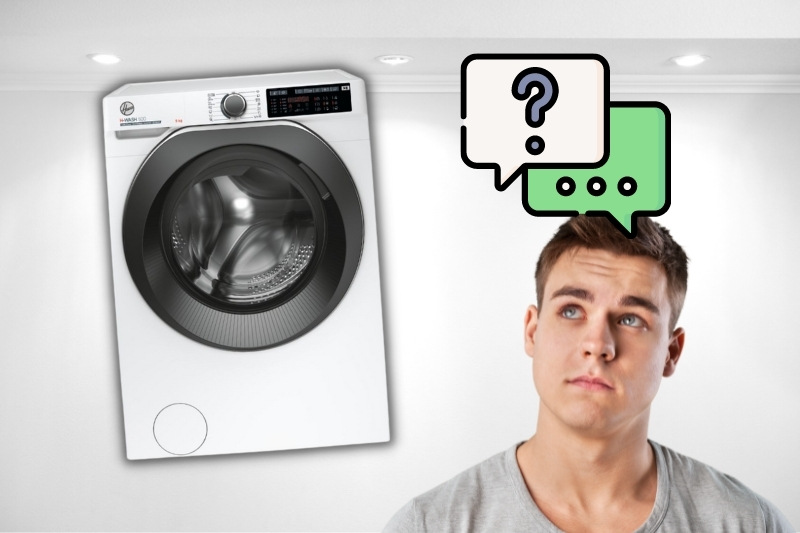 There are several benefits of buying a Hoover washing machine, these include, you can buy a washing machine for a good price, there's a model to suit everyone and if you want to control your appliance with an app, you can do so.
Nonetheless there are some issues with getting a Hoover washing machine, these issues include some customer service problems, some models can be noisier than others and there may be some part-related trouble.
So, are Hoover washing machines any good?
Generally, Hoover washing machines are fine to buy if you want to get an appliance that isn't too pricey, has some fancy tech in it and is simple to use. Hoover's washing machines do come in different sizes, so if you're short on space you can find a smaller one to suit your home.
Also, they come in different colours and weights, so you can also pick an appliance that works for you.
In a lot of cases people are quite happy with their Hoover washing machines, if they get their issues sorted out quickly and with as little fuss as possible. But when things aren't dealt with effectively this does have a negative effect on the overall experience.
Overall, Hoover washing machines are good to use. And just like with other manufacturers, there have been problems in the past, and this isn't something any company can escape from.
That being said, when it comes to washing machines, there are, of course, other manufacturers that specialise in washing machines that you should look into before making a final decision.

Bethan has a passion for exploring, reading, cooking and gardening! When she's not creating culinary delights for her family, she's concocting potions to keep her house clean!