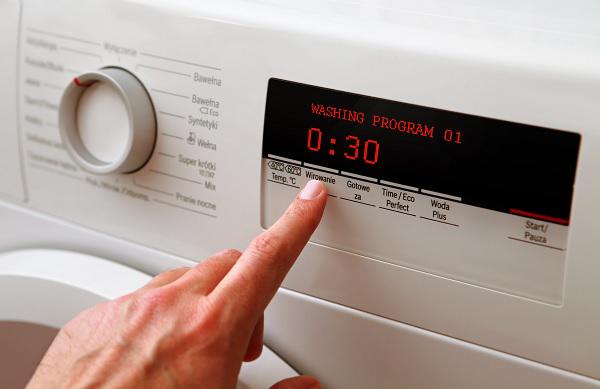 Life is a busy affair. One minute we're working, the next we're at home sorting out the house, looking after the kids, trying to have a social life, and somewhere in the middle of all that we need to eat and sleep too! For that reason, it's vital that our household appliances not only do what they are supposed to do, but that they do it quickly and effectively too.
When you need your washing to be done fast, having a washing machine with a quick wash cycle is the ideal answer to the problem. You don't have to wait for endless amounts of time, and you can get everything clean much faster as a result. If you regularly find yourself standing in front of a washing machine, holding those shirts that should be in there with the currently washing load, a quick wash might be your best option. Having said that, there are countless models on the market, and it can be hard to figure out which is best for your needs.
So here we've rounded up the best washing machines with a quick wash cycle available in the UK in 2018.
1. Hotpoint WMFUG742G Smart Washing Machine
The Hotpoint WMFUG742G Smart washing machine has a quick wash cycle which takes 30 minutes. There are multiple Smart features to help this machine run to the best of its abilities, controlling the wash performance, speed and water and energy consumption.
As well as these Smart features, the Hotpoint uses anti-stain and anti-allergy technology. Wash cycles are tailored to each load based on weight and how much detergent you use, so water and energy are not wasted.
This is a super stylish washing machine, that will certainly look the part in your home. With quick and easy LCD display, you don't have to figure out how to use the machine, it's all quite self-explanatory! There are many to features with this machine also, and the fact it comes from such a big brand name as Hotpoint, gives you major confidence in your purchase too.
The 7 kg capacity is certainly enough for a medium sized household, and the fast spin speed of 1400rpm means your washing is going to be done as quickly as you need it. The quick was programme only lasts for half an hour, and you'll save the planet at the same time, as well as your utility bills, with an A++ energy rating overall. Add in a one year's guarantee and this is a great purchase to add to your household.
Features and specs
30 minute quick wash cycle
7 kg drum capacity
1400 rpm spin speed
Energy rating A++
1 year manufacturer's guarantee
Pros
Easy to use – simple controls
Comes in 3 different capacities to suit different households
Good energy rating
Quiet when running
Stylish design
Autoclean programme to keep the machine clean
Cons
Relatively expensive
Quick wash isn't as quick as some models
Sometimes water collects in the door seal
Not all cycles can be used for a full load
Some cycles are very long
Verdict
This machine would be a great option for an average sized household, especially with babies, as the anti-allergy technology is well suited to the sensitive skin of young children. The 60 minute wash function allows you to use up to 60°C which is great for washing a towel or children's bedding quickly.
The stylish design would look great in any kitchen or laundry room, especially if you already have graphite or silver-grey appliances!
From a quick wash perspective, 30 minutes is one of the longest cycles in the list, so there are other machines with an even quicker wash cycle. However, this quick wash cycle is more effective and can handle a larger load than some of the shorter cycles.
2. LG FH4U2VCN2
The LG FH4U2VCN2's quick wash cycle is just 14 minutes for a 2 kg wash load. This large capacity machine has in wash load sensors which help you to save money and water and you can use the app to download more wash cycles to suit your laundry needs.
Made by another massive brand in the appliance world, this LG washing machine is stylish and great value for money. You can opt for silver and grey, or you can go for traditional white, depending on the decor of your room. The large 9kg capacity is also ideal for larger households, and the 1400 rpm spin speed gets the job done to a high quality.
The app also helps with diagnosing any problems which might occur in the machine, sending a signal to your phone if something happens to go awry. The Direct Drive technology with an electromagnetic motor helps to make the machine run more quietly by reducing vibration of the drum.
The major plus of this particular model is that the quick wash cycle only takes 14 minutes, so no matter what you need washing, you can have it clean in a very short amount of time. The two years' guarantee means that you don't have to worry about any costly issues arising as you use your machine. The LCD display is also very easy to use and understand, so you won't have issues working it all out at the start either.
Features and specs
14 minute quick wash cycle – 2 kg load
49 minute Turbo Wash cycle – normal load
9 kg drum capacity
1400 rpm spin speed
Energy rating A+++
2 years manufacturer's guarantee
Smart Diagnosis – software you can control using your phone
Pause and Add
Pros
Large drum capacity
Pause and Add means you can add items mid wash
Quiet when running
Great energy rating
Easy to use LED screen, buttons and dials
Stylish, sleek design (available in white and grey)
Cons
Relatively expensive
Full capacity wash cycles are quite long
Instruction manual is a little vague
Quick wash spin speed is limited
Machine sensors can be sensitive to certain floor types
Verdict
Due to the large capacity of this washing machine, it would be very well suited to a big household with plenty of laundry to do. The quick cycle is perfect for the last minute items which might not fit into a large load, or things that just need a quick freshen up.
The 6 Motion Direct Drive uses varied speeds and motions throughout the wash depending upon the setting you choose – this is great for a multitude of fabrics, again perfect for a large household with loads of different garment types.
There's bound to be an item or two that get dropped or forgotten on the way to the washing machine, so the Pause and Add function is brilliant for stray socks or a blanket. This is well suited to a busy family household where stray odd socks are a frequent occurrence.
The stylish design is great for a modern kitchen and the extra tech is super for those who like to combine technology into all parts of their lives.
3. Zanussi ZWF01487W
The Zanussi ZWF01487W has a great quick wash function which can decrease your washing time by up to 50% which is great for those looking to save energy and water as well as time.
The 30 minute quick wash cycle is auto-selected every time you turn your machine on, so if you are happy to use a 30°C wash, you can just pop in your washing and away you go. With a really great energy rating of A+++, you can't really go wrong on the eco-friendly front.
There is also another programme, called Refresh, which takes just 20 minutes and will give your clothes a freshen up if you accidentally forget to empty the machine. The machine is also very easy to use, and you can set your favourite programmes so that all you need to do is press one button to begin your washing!
When it comes to keeping your washing machine clean, high pressure water jets ensure that no residue or mould build up in the detergent drawer, so less time is needed for cleaning your machine.
Zanussi are probably one of the biggest names in washing machines, so you know you're getting quality here from the get-go. This is a big machine with an impressive capacity of 10 kg. This means that if you have a large family, or you're regularly needing to clean big loads, e.g. bedding etc, you don't need to worry about doing multiple washes. The 1400 rpm spin speed is also highly effective.
Features and specs
30 minute quick wash cycle – 3 kg load
20 minute Refresh function
10 kg drum capacity
1400 rpm spin speed
Energy rating A+++
2 years manufacturer's guarantee
Delay end timer
Pros
Decent price for large capacity machine
Large drum capacity
Less creasing of clothes due to large drum size
Comes with a manufacturer's guarantee
Quiet when running
High pressure water jets
Cons
Machine can be difficult to get level
Instruction manual can be hard to grasp
Some limits with spin speed and temperature on certain cycles
10 kg capacity not suited to synthetics
Verdict
A 10 kg washing machine would be a great choice for a large household who create regular batches of laundry. This would be a fab option for shared accommodation or student lets as there is plenty of space for towels and bedding as well as the 30 minute quick wash function for smaller laundry loads.
The 20 minute Refresh cycle is great for people who tend to forget about washing and leave it in the drum once the wash is finished (we all do it now and then). There is also a timer delay function which can be programmed to ensure the wash load finishes at a specific time – meaning you can get home from uni or work and have clean clothes which just need emptying.
Because the drum is large, clothes are less prone to creasing, so could save some ironing time! The spin cycle is pretty effective, so again, time is saved for drying your laundry.
4. Logik L612WM16
The Logik L612WM16 has the smallest drum capacity of all of the machines in this list, but still has a 15 minute quick wash for smaller loads. This machine also has the lowest energy rating of the list at A+ but this is still high enough to be an eco-friendly option for your home. The delay timer can be set up to 24 hours in advance which is great for utilising overnight cheaper energy tariffs, especially for longer cycles such as higher temperature cotton washes.
Made by a slightly less well known brand, this machine is perfect for small households on a budget. The capacity is just 6 kg, which is enough for a regular household with normal washing needs, and the 1200rpm wash speed gets your clothes clean in a good amount of time. The quick wash cycle is highly effective however, at just 15 minutes, and you get a one year's warranty as part of your purchase.
The machine is white, compact, and stylish, and is also very easy to use, with a clear LCD display and dial showing all the programme options. If you don't need an all singing, all dancing machine, and you're happy to just have clean clothes, in a quick amount of time, this particular machine is great value for money, at a low price.
Features and specs
15 minute quick wash cycle – 2 kg load
6 kg drum capacity
1200 rpm spin speed
Energy rating A+
1 year manufacturer's guarantee
24 hour delay start timer
Pros
Easy to use LED screen, dial and buttons
Good affordable price
Quiet when running
Lots of wash cycle choices
Alarm noise
Cons
Some cycles are quite long
A little complicated to set up
Clothes can come out wet still from certain cycles
Build quality may be reflected in price
Verdict
This Logik washing machine is a really great option for those who are on a tight budget, however, if you could afford to stretch a little further, it may be worth looking at better build quality machines.
The 6 kg drum capacity is well suited to smaller households or those living alone as it is great for smaller loads of washing. The 15 minute cycle for a 2 kg load is very well suited to busy lifestyles, as is the delay start timer, which means you can have washing ready to hang up as soon as you get home from work.
If you have a larger family, it would be worth considering another machine with a larger drum capacity, however, if you only carry out smaller loads, the 15 minute quick wash cycle will be right up your street!
5. Samsung ecobubble WW80J5555FX/EU
The Samsung ecobubble WW80J5555FX offers a speedy 15 minute wash cycle for a 2 kg load, which is the same as the LG and Logik machine, but the ecobubble technology is a really handy addition to any wash cycle.
Ecobubble technology allows for more effective stain and dirt removal during colder washing cycles – the tiny bubbles formed when air, water and detergent are combined penetrate the fabrics and break down stubborn stains. This 30 minute cycle can be added to any other washing cycle!
Samsung offers parts protection for 5 years after purchase, so if anything does go awry, you will be able to get it replaced. This is additional to the 2 year manufacturer's guarantee.
Samsung are one of the biggest names in technology overall, and that gives you instant peace of mind and confidence in your purchase. Yes, you will pay more for this particular model, but it is very high quality, and is a very sleek machine in appearance.
This washing machine also has a great energy rating, of A+++, which is the highest you can get. Whilst you will pay more for this model, you will get more extras and a great cleaning experience.
Features and specs
15 minute quick wash cycle – 2 kg load
8 kg drum capacity
1400 rpm spin speed
Energy rating A+++
2 years manufacturer's guarantee
5 years parts guarantee
ecobubble technology
StayClean drawer
Smart Check app
Pros
Great energy rating
Manufacturer and parts cover
StayClean drawer means less detergent gets wasted and less time cleaning out the drawer
Stylish design
Any problems can be troubleshooted using the Smart Check app
Friendly tune when the cycle is finished
Quiet when running
Cons
Relatively expensive
Some cycles are quite long
Child lock button a little hard to use
Verdict
Samsung are of course a popular brand and their appliances have a high level of quality, so this machine is probably a good investment for your home as this is a little pricier than some other machines with an 8 kg drum capacity.
The ecobubble technology is a handy addition to have, as it means you can still use the quick wash function for more heavily soiled clothing if you add the 30 minute bubble soak after. The Samsung is also fab if you have sporty members of the family who often need muddy kit washing.
This would be a great choice for a larger household with younger children as the child lock function means no problems with inquisitive little ones pushing buttons. It is super eco-friendly, which is great for saving energy as well as money on bills which means you can save up for the important things in life.
About Quick Wash Cycles
What is a quick wash?
A quick wash does exactly as it says; washes quickly (quicker than an average wash cycle). Most modern washing machines have a quick wash cycle which can be anywhere from 12-60 minutes, depending upon the model.
Running a shorter cooler cycle can be a great eco-friendly alternative to running a full length wash programme, which for some is very important.
When should I use the quick cycle?
A quick wash usually doesn't take a full load of washing, which is how the cycle can be done so quickly. The general rule of thumb is that quick washes should be a load of around 2 kg – perfect for the aforementioned shirts which, by the way, need to be clean by tonight!
Some washing machines that have longer quick cycles mean that you could do a slightly larger load than 2kg, but always check the specs of your machine before you wash too many items and risk clothes coming out still dirty or worse, breaking your machine.
When should I not use the quick cycle?
If your clothes are heavily soiled or stained, a quick wash will not be enough to get them clean. Oftentimes, the quick wash functions are limited to 30-40°C and so better suited to items in need of a quick freshen up rather than actually dirty clothing such as muddy football kits or makeup stained tops.
Towels and bedding are not suited to a quick wash, not just because of the weight restrictions in the cycle, but because they need properly cleaning – after all they absorb a lot of sweat and get covered in dead skin. Germs and mites need at least a 60°C wash before they are killed.
If your machine offers higher temperatures on their quick wash functions, then you might want to take advantage of this if you really are pushed for time for certain clothing items. Always remember, colours are more likely to fade on hotter settings, so think about whether your clothes are worth the risk of fading.
How often can I use it?
Regular use of quick wash functions are not all that good for your machine. If a washing machine is used only for quick washes, it is not getting hot enough to kill germs in the drum and also your wash may not come out as clean as you'd hoped.
A shorter cycle means there is less time to fully function when dissolving tablets or detergent which could lead to clothes having powder clumps or washing tablet skin stuck to them. Over time, your machine could become smelly or mouldy and could even develop problems with its heater.
Other things to consider:
Detergent amount – Since the amount of water used to fill your machine will be lessened with a quick wash, use less detergent or your clothes risk coming out soapy.
Babies and the elderly – If you have people with a weaker immune system in your home, washing at lower temperatures for less time may leave bacteria which may cause or worsen health issues.
Extra spin – Sometimes on a short cycle, heavier fabrics will come out of the wash and still be soaking. In this case, you could make use of your machines spin and drain cycle.
Size matters – If your washing machine has a larger capacity, you could get away with using a quick wash more frequently as half the drum in a large machine is bigger than half the drum in a smaller capacity washing machine.
Related posts