If you are in search of an affordable and stress-free way to remove a difficult stain from your furniture or just decades of dirt from an old carpet, then look no further than this comprehensive list below.
From small spot cleaning to substantial spaces, you can uncover the cleaner most suited to you, your furniture and flooring.
Best Budget Carpet Cleaners in the UK
1. Vax ECR2V1P Dual Power Pet Advance Carpet Cleaner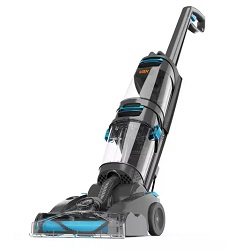 Power: 800 W
Clean water capacity: 2.7 litres
Dirty water capacity: 1.5 litres
Vax has created a very impressive carpet cleaner here. It feels like using a professional model, but is much lighter than the big carpet cleaners you can hire.
It is designed for cleaning carpets that see a lot of foot traffic and pet hair and does the job brilliantly.
Cleaning with this machine takes hardly any time at all, and you are left with brand-new-looking carpets that smell fantastic.
The addition of the long hose for the pre-treatment wand is really clever too. This allows you to spray shampoo over areas and let it soak in before vacuuming away the dirt and water.
But this hose is also used for attachments. It is 2.4 metres, so it is easy to clean stairs with the smaller handheld brush, and it works great on sofas and other upholstery too.
Lastly, we have to mention the dual brushes on this model. These are what give this carpet cleaner its impressive cleaning power. They go deep into the carpet and remove pet hair, dirt and dust really well.
This is an incredibly powerful home carpet cleaner that removes just about everything that could end up on your carpet!
It's very light but still powerful, and can be used with other carpet shampoos as well as Vax's own products.
One downside is that some users find the 4-metre power cable a bit too short.
2. Tower T548002 TCW5 AQUAJETPLUS Carpet Washer

Power: 500 W
Clean water capacity: 2.3 litres
Dirty water capacity: 1.5 litres
Tower is going to make a few appearances on this list. The first carpet cleaner from Tower we have is the TCW5, which is an impressively priced carpet cleaner that gets the job done very well.
It is powerful yet light and has all the suction you need to get stains and pet hair out of your carpet.
This carpet cleaner only weighs 5.8 kg. Granted, this is very heavy for anyone not used to carpet cleaners, but believe us when we say this model is mighty light compared to some. However, it still packs a punch in the suction department.
With a 500-watt motor and heavy-duty bristles, it does a fantastic job at removing pet hairs and drawing a lot of the dirt and grime out of your carpets.
The two water tanks are also really handy. There is one for freshwater with the cleaning solution, and the other is for the dirty water that the cleaner sucks up during use.
The clean water tank is 2.3 litres, and the dirty one is 1.5 litres. This is easily enough room to clean an entire floor.
The Tower T548002 TCW5 AQUAJETPLUS offers great value for money and comes with a cleaning solution included that should last a long time.
One common complaint is that it is very loud, though this is normal with carpet cleaning machines. Another downside is that it can't be used on stairs.
3. Tower T146000 TCW10 Carpet Washer
Power: 600 W
Clean water capacity: 1.8 litres
Dirty water capacity: 1.7 litres
Tower is back with another really well-priced carpet cleaner with some very awesome features that make stains, pet odours and dirt quick to remove from your carpets.
This is all thanks to the tough bristles and the specially formulated shampoo (you get a free 250 ml bottle of this with the cleaner).
Now, you can use other carpet cleaning shampoo with this cleaner, but the stuff in the box is actually very good, and Tower has designed it to work brilliantly with their carpet cleaners.
Many people love using this to remove stains from their carpets, and it works excellently for fresh stains and dried-on stains too.
However, pet owners have used this machine for getting rid of pet hair and odours from their carpets and say it works brilliantly for that too.
Sadly, this carpet cleaner can't be used on stairs, but that is really the only drawback to this carpet cleaner. Other than that, it is a very solid cleaner that works wonders on your carpets.
The suction power is good for such a well-priced machine, and it's also easy to use and lightweight.
4. VYTRONIX P800CW Upright Carpet Cleaner
Power: 800 W
Capacity: 3 litres
While you might not have heard of this carpet cleaner manufacturer before, stick with us because this is a very impressive piece of kit for a fraction of the cost of a branded cleaner.
It has an 800-watt motor, just like the Vax carpet cleaner we showed you above. This means it is just as powerful.
This cleaner doesn't have the same brush technology as the Vax, though. Instead, it uses five rows of bristles.
The bristles are really hardwearing and get deep into the pile of the carpet. They even work on wooden flooring too. So, this carpet cleaner is actually quite comparable to the Vax one.
After the carpet cleaner lays down the shampoo and the powerful motor sucks the dirt and grime out of your carpets, you are left with a very professional finish. It is amazing that this carpet cleaner is the price it is.
There's a generous 6-metre power cord that should be long enough to tackle every corner of the house.
One downside is that it's quite loud, but unfortunately this is common with carpet cleaners.
5. Vax Spotwash Carpet Cleaner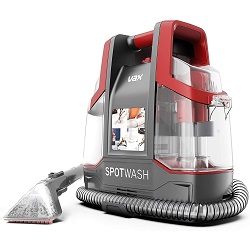 Power: 800 W
Capacity: 1.6 litres
Vax is back on the list with a brilliant addition to any home. If you have concerns about the conditions of your upholstery or your stairs, this carpet cleaner is an excellent choice as it is designed for these areas. It can also be used in the car and on hardwood floors too.
For anyone into keeping their car clean and tidy, this is an excellent cleaner. It is so powerful that even a car upholstery that has seen kids and dogs is no match for it.
Stains are easily cleaned, and the interior of your car will be left smelling wonderful again.
Now, this carpet cleaner can't do larger spaces. Well, it can, but it will be a lot of work. However, for more focused cleaning, this is an exceptionally good carpet cleaner.
This carpet cleaner is easy to set up and use, and can be used on the stairs, unlike many carpet cleaners.
6. Swan Dirtmaster Carpet Cleaner
Power: 550 W
Clean water capacity: 3 litres
Dirty water capacity: 3.5 litres
The Swan Dirtmaster is one of the most impressive carpet cleaners we have seen, and at this price point, it is certainly a top pick for us.
Whether you have pets and are worried about odours in your carpets or have kids and are constantly worried about stains, this carpet cleaner makes light work of it all.
The powerful suction on this model is mighty impressive. In just one pass over the carpet, you can see a shocking amount of dirty water being drawn back into cleaner, and the carpets are noticeably lighter in colour.
Many people have picked this carpet cleaner up for occasional use and have been very happy with the results.
Now, this isn't a professional carpet cleaner by any means, but for the odd occasion where you'd like to spruce your carpets up or an emergency when a stain comes knocking, this is ideal.
One of the Swan Dirtmaster's most useful features is that it comes with a stair-cleaning attachment so you're not just limited to using it on floors.
The suction is great and carpets dry quickly, which means it sucks up most of the water during cleaning.
One downside is that the cleaning solution doesn't last long. One tank-full of cleaning solution is enough to clean a good-sized room, but not the whole house.
How to Clean Carpets
Are your carpets looking dull and unloved? Do they have stains from coffee or wine? If so, it's time to give them a clean.
Cleaning your carpets can seem like an intimidating task, but it doesn't need to be. Read on for some tips and advice on cleaning your carpets.
Carpet shampoo vs. carpet powder
There are several different products and methods you can use for cleaning carpets. You could use soap and water, but this is unlikely to work on tough stains and dirt. If you want good results, you should use a carpet shampoo or powder.
If you need to clean your carpets quickly, a powder is preferable to a carpet shampoo. Shampoos take longer to dry, whereas you can apply a powder and hoover it up within an hour.
How often should you clean your carpets?
Most people agree that carpets should be cleaned every 12-18 months. If you have kids or pets you should clean your carpets more often. High-traffic areas also need more frequent cleaning.
Before cleaning your carpets
Before using a cleaning product on the whole carpet, you should test that the carpet is colourfast by applying it to a small part of the carpet and seeing if it changes or fades the colour.
Do this on an inconspicuous spot of the carpet, for example a corner that is usually covered with some furniture. If the carpet looks good after the cleaning product has dried, you can safely apply it to the whole carpet.
Using powder to clean your carpets
To use a carpet cleaner powder, sprinkle it across the carpet and rub it in with a hand brush. The powder should dry within 30 minutes or so and can then be vacuumed up. The powder you buy might work a bit differently, so read the instructions carefully before using it.
Using carpet shampoo
You should follow the instructions on the label, but the first step when using a carpet shampoo is usually to dilute it with water. The shampoo should then be spread over the area you want to clean, making sure you don't soak the carpet. You should scrub stains and dirt with a hard-bristled brush. Once you've done that, leave the carpet to dry and finally vacuum it.
Using a Rug Doctor
If you want to give your carpets a really professional clean, you should consider using a Rug Doctor. Rug Doctors are professional carpet cleaning machines that can be rented for around £25 or bought for about £300. Rug Doctors are big machines that use vibrating brush technology to remove dirt from the carpet. Find out more in our guide to the best carpet cleaners to hire in the UK.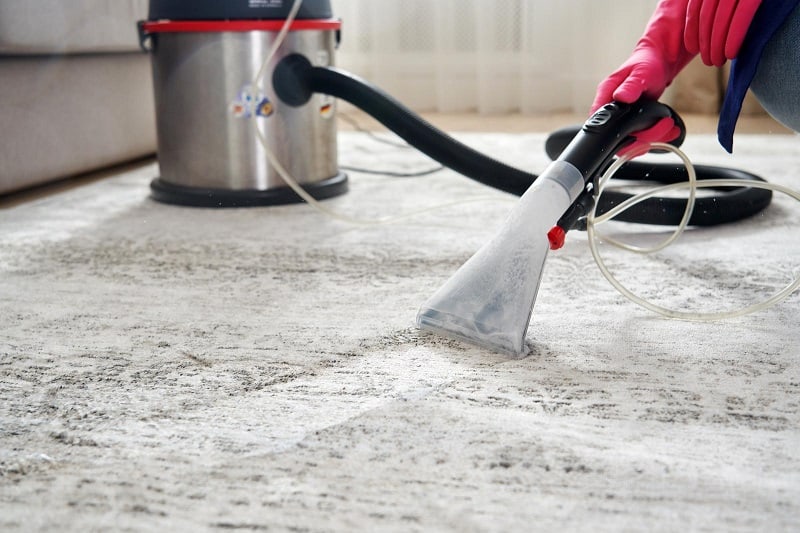 What's the Cheapest Way to Clean a Carpet?
The cheapest way to clean a carpet is by hand. You can use an off-the-shelf carpet cleaner for this or make your own carpet shampoo with one part vinegar and three parts water. You'll also need a scrub brush.
Dip the bristles of your brush in the solution, and then massage the carpet. You need to do this without adding too much water to the carpet, otherwise, it will stay wet for hours.
Give it a good clean, and then use a dry, clean cloth to soak up any excess moisture.
For odours, you can use bicarbonate of soda. Sprinkle some all over your carpet and leave it for at least 15 minutes.
If you can leave it for an hour, though, that is even better. This allows the bicarb to soak up all of the odours. You can then vacuum as normal, and the carpet will smell great afterwards.
Cleaning a carpet doesn't need to be expensive, but it really depends on how much time you have and how much elbow grease you're willing to put in.
If you have the time and energy, using a brush to clean your carpet is an excellent and cheap solution. But it will take you hours. Using a carpet cleaning machine can take minutes. We know that a lot of carpet cleaners are expensive, but some of the models on our list are a fantastic price. If you feel you need to clean your carpets often enough, perhaps a carpet cleaner is worth it.
What's the Difference Between a Carpet Cleaner and a Carpet Shampooer?
This confusion comes from "carpet cleaner" being a very universal term used to describe loads of different cleaning machines used for carpets.
Some people call steam cleaners for carpets "carpet cleaners", and models that use a cleaning solution (like the ones above), carpet shampooers.
However, many other people, like us throughout this whole article, use the term carpet cleaner to describe the ones that use a cleaning shampoo.
Steam cleaners for carpets are often called carpet extractors as well. As they do a great job at getting really deep into the carpet to remove a lot of dirt and grime and very stubborn stains.
However, they are only available in professional models and cost thousands. This is because they have very high-powered steam and incredible suction for getting deep into the pile of the carpet.
Unfortunately, the technology isn't there right now to get this steam cleaning power into a smaller home unit.
There are professional carpet shampooers as well. And would you believe that most people in the cleaning industry also call these carpet cleaners?
The truth is, "carpet cleaner" is a universal term for any machine that has the function of drawing dirt and grime out of a carpet.
A carpet shampooer, on the other hand, is a machine that dampens the carpet with a cleaning solution and then draws it back out again using suction. Exactly like the models of carpet cleaners (shampooers) that we included above.
Conclusion
If we had to pick just one budget carpet cleaner to recommend, it would be the Vax ECR2V1P Dual Power Pet Advance Carpet Cleaner. It feels like a professional model, but is much cheaper and lighter than the big carpet cleaners you can hire.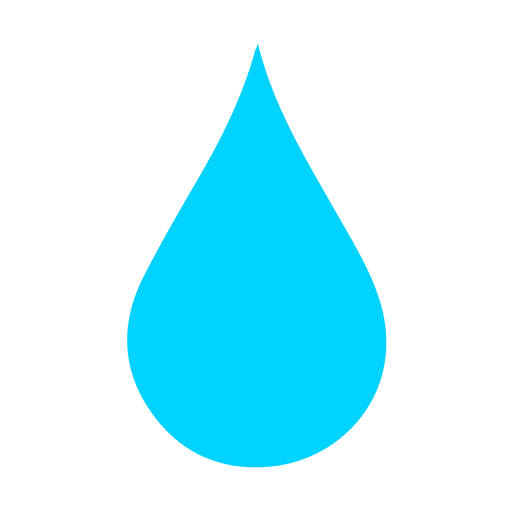 In The Wash is your guide to the best laundry and cleaning products, tips and tricks. Our mission is to solve the UK's cleaning and laundry dilemmas!