If your four-legged pal has left you an awesome gift on the living room carpet, you might think that a quick wipe down with an old rag will be enough to clean the area.
And, to some extent the carpet will probably look a little better and urine-free. But in reality, all you've probably done is smudged the pungent present even further into the fibres of the carpet, and you've made the spot even most desirable for your pet to pee in!
What you actually need to do is use an enzymatic cleaner to clean the surface, so it's cleaned properly from the off!
By doing so, you'll have removed the marking scent that your pet's left behind, which'll prevent them from returning to the spot again.
But what's an enzymatic cleaner? I hear you ask. Is it a fancy new cleaning product or a brand-new cleaning gadget?
Keep on reading to find out!
What Are Enzymatic Cleaners?
Enzymatic cleaners are cleaning products that contain enzymes that help to break down dirt molecules and poor smells.
In short, enzymes are little biological catalysts that enable chemical reactions to happen, and it is these reactions that help to remove soilage and stinky odours from various materials.
In addition to this, enzymes can also speed up the chemical reaction process, so molecules get broken down faster and can be removed.
There are three main types of enzymes used in enzymatic cleaners:
Protease enzymes – These enzymes are used to break down proteins. So, they can be useful to clean away and neutralise the smell of urine, blood and sick stains.
Amylase enzymes – These enzymes can break down carbohydrates and starchy stains. These include baby foods, pasta sauce dishes and BBQ sauce.
Lipase enzyme – These enzymes work hard to break down oily and fatty stains including butter, makeup and oily sauces.
Typically, an enzyme-based cleaner comes in a spray bottle. However, you can get larger bottles if need be. They also come in different concentrations, so some are better for tougher and older stains.
Additionally, enzymatic cleaners don't really smell unless it states so on the bottle, and once you've used the treatment you have to allow the space to dry naturally.
Further to this, enzymatic cleaners vary in price depending on what brand you buy and where you purchase the item from – so make sure you look around to find the best deal.
On the whole, enzymatic cleaners are safe to use in busy homes where there are kids and pets because they don't usually come with overly toxic ingredients. They're usually effective at removing soil from troubled surfaces, and these items can remove some of the most pungent odours.
What Are Enzymatic Cleaners Used For?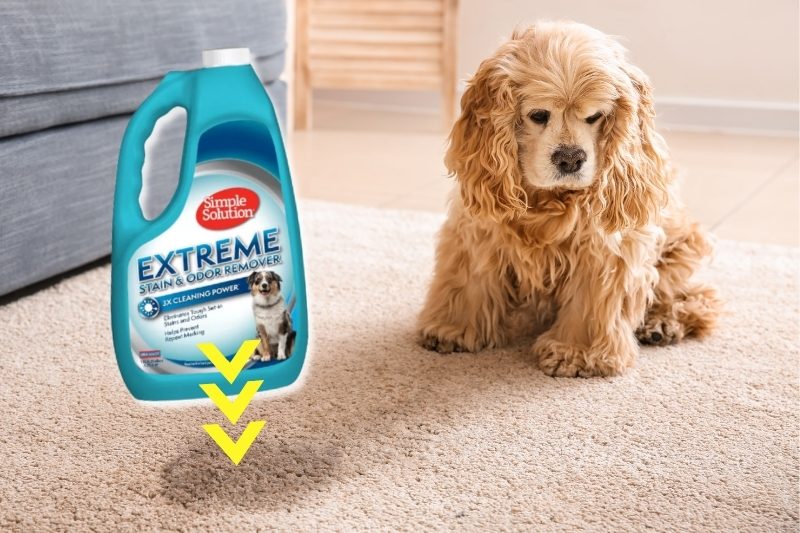 Enzymatic cleaners are used a lot of the time in houses where there are pets. This is typically because people need to clean up animal urine, and enzymatic cleaners are good at doing this.
An enzyme-based cleaner not only eradicates the wee-related problem by breaking it down, but it can also get rid of the urine smell.
Some, myself included, would say is actually the most important part when removing a mishap!
The issue with using a traditional cleaner is that it cleans the stain away, but it doesn't necessarily remove the smell of wee-wee.
Now to us humans we won't really pick up on the scent that's been left behind, but our furry pals will smell their old wee. If the odour isn't removed once and for all, our companions will go back to the same spot, time and time again to urinate.
Obviously, this isn't ideal because the carpet, or furniture, will be ruined, and eventually it'll need to be thrown out.
So, if someone does have an accident it should be dealt with properly the first time around. That can be achieved by using an enzyme cleaner, in particular a protease-based enzyme cleaner.
In addition to cleaning away urine, enzyme cleaners can also clean clothes that have been soiled by greasy foods, wine, vomit, makeup, poop, sweat and blood.
These enzymatic cleaners work in the same way because they break down the stain that's been left behind.
Biological laundry detergent also contains biological enzymes. In particular, lipase and protease enzymes are used in biological laundry detergent.
These enzymes are usually already included in the detergent, so you don't need to add them. They work towards breaking down marks that appear on clothes, bedding, towels and napkins, for example.
What Household Enzymatic Cleaners Are the Best
Here's a quick guide to some of the best enzymatic cleaners on the market right now.
1. Simple Solution Extreme Pet Stain and Odour Remover

If you're looking for an item that can really tackle those pesky wee stains that your loyal companion has gifted you, then look no further than Simple Solution Extreme Pet Stain and Odour Remover.
This enzymatic cleaner comes with a pro-bacteria cleaning power that is three times stronger than other stain removers, so it can really get to work on eradicating stains and smells from your home.
Plus, the added power means that pet marking behaviour will be further discouraged because the scent will be gone.
In addition to this, the bottle comes with a simple to use 3-in-1 nozzle, which makes using this particular product very easy.
You can stream, mist or foam the product onto the affected area, so you can treat the space more effectively.
It is also safe to use in family homes and it can be used to clean upholstery, clothing, carpets and most other surfaces in a house.
2. Nature's Miracle Stain and Odour Remover Cat

Another option to try in order to eradicate cat related-mess is Nature's Miracle Stain and Odour Remover Cat. This specific formula is geared towards removing the gift left behind by your car, and to neutralise the smell of said present too.
When used correctly, Nature's Miracle can start getting rid of cat mess (wee, poo and vomit) within ten minutes of making contact with the affected area. It's a super easy to use item that's very hassle-free to use – perfect if you're in a rush!
In addition to this, once you've used the product, you'll notice a melon scent being left behind, which is a far nicer scent than the smell of cat wee-wees!
3. Pet Urine Destroyer

It's worth pointing out that you can also get a Pet Urine Destroyer from Nature's Miracle, and this is a large bottle that can be used to treat various animal stains.
If you choose to go with this product, you should always run a spot test first – this will tell you if the solution is going to mark your furniture or carpets.
4. envii Bed Fresh

If you fancy giving your mattress a quick spruce up you should try envii Bed Fresh. This effective mattress deodoriser is great at removing sweaty scents and wee odours from beds.
It's an ideal product to keep in your home during the warm summer months, or if you live with someone who has little accidents during the night!
It's also an excellent alternative to washing your bedding every week, because all you need to do is spray a little amount of the product onto the mattress, and you'll have a fresh smelling bed.
5. Biological laundry detergent
Biological washing powders and laundry detergents contain enzymes, and these are used to wash tough dirt, like grease, fats, starchy stains and blood from laundry.
Many leading laundry detergents contain enzymes, but if you're not sure a quick online search will tell you if the item does or doesn't contain enzymes.
Here are some laundry detergents with enzymes to get your started: Persil Bio Washing Capsules and Ariel All-In-1 Pods.
You can check out our roundup of the best bio laundry detergents for more.
How to Make an Enzyme Cleaner at Home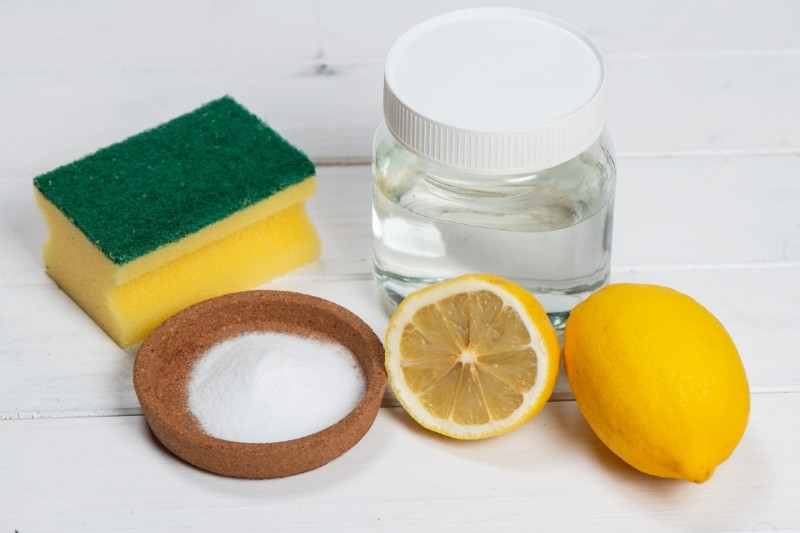 If you'd like to try and make your own enzymatic cleaner at home, you can do so, but be aware that you will need to act with caution, and you must be patient.
What you will need:
At least two cups of fresh citrus fruit peels: orange, lemon and/or lime
Half a cup of white sugar
Two litre bottle
Chopping board and cutting device
Kitchen towels
Tap
One teaspoon of yeast
Four and a half cups of lukewarm water
Strainer
Bowl
Airtight container
Spray bottle – when using the mixture later on
Here are the steps you need to follow:
Gather your supplies.
Wash out a large plastic drink bottle – a two litre one would do the job!
Wash your fresh citrus fruits and chop off any nasty bits and dirt.
Use some kitchen towel to dab the fruits dry.
Start chopping up the peel of your citrus fruits – small cubes that will fit in through the neck of the bottle.
Add the citrus peel chunks, sugar, water and yeast to the pop bottle.
Add the bottle cap.
Shake the bottle and keep shaking until all the sugar has been dissolved.
Gently unscrew the cap and leave out the excess gas.
Pop the cap back on.
Open the bottle's cap three times a day for the next 14 days to leave excess gas out – don't skip this part.
From day 15 on, only remove the cap to leave the gas out once a day.
Allow the yeast to consume the sugar in the bottle – carbon dioxide and alcohol will start to form in the bottle from this point.
Make sure the bottle cap stays screwed on tight to the bottle from now on – no oxygen should be allowed into the bottle as this will hinder the process.
Pop the bottle on top of your fridge for the next 14 days – this is when the mixture will ferment and the temperature will be ideal for it up there.
Shake the bottle and unscrew the cap once a day while the fermentation process is taking place – remember to put the cap back on tight.
Return to check on the mixture 14 days later (leave it for longer if you need a stronger mixture – do not go over three months though).
When the mixture is no longer transparent you can use it.
To use the mixture all you need to do is pop a strainer over a bowl and pour the mixture out.
Pour the mixture into a new container (an airtight one).
Pour small amounts of the mixture out into a spray bottle as and when you need to use it – remember when using the mixture, it will need to be mixed with water otherwise it'll be too strong. See below for more guidance.
A small job cleaner – Put one-part homemade enzyme cleaner to 20 parts of water in a spray bottle.
An all-round cleaner – Put half a cup of homemade enzyme cleaner to four and a quarter cup of water in a spray bottle.
A strong enzyme cleaner – Pop four parts enzyme cleaner to one part apple cider vinegar in a spray bottle.
Do Enzymatic Cleaners Really Work?
Yes, enzymatic cleaners work. And generally, if you react quickly to a stain, it should be removed with ease.
Of course, it also goes without saying that you will get the best results from a product if you use it correctly too.
So, always adhere to the guidance on the bottle, and don't go splashing the product all over a rug just to speed up the cleaning process – this won't work.
And you'll end up making more of a mess and you risk ruining other items in the room.
Patience is key!
In some cases, you might have to use the enzymatic cleaner multiple times to see the desired end result.
This, in turn, might work out expensive because you may need to purchase additional bottles, but they can typically lift most stains and remove many odours.
Perhaps for tougher stains you should think about getting a stronger enzymatic cleaner, like an industrial strength one.
The initial costs might be more, but because it'll be stronger, you're not likely to use as much of the bottle at once.
Can Enzymatic Cleaners Remove Old Stains?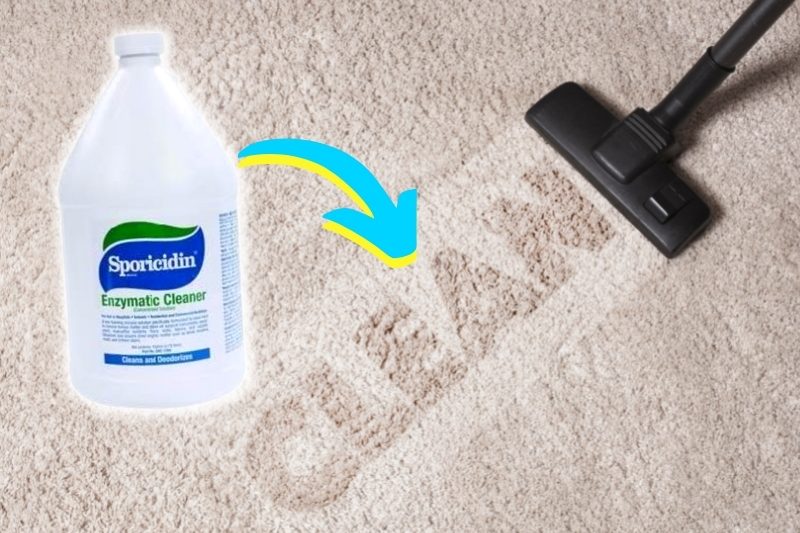 Enzymatic cleaners can be used to treat a variety of stains, both old and new.
You will likely have to treat older and tougher stains with more of the cleaner, or you may need to pick a stronger enzymatic cleaner for the job. But it shouldn't be too much hassle for you to remove old stains.
Of course, you should keep in mind that aged stains that have been left to sit and stew for a long period of time may cause fabrics to discolour.
Using an enzyme-based treatment to treat the stain may then result in the material suffering from further damage.
Although, extensive harm can be kept to a minimum by testing a product out first, and to apply the treatment little and often to remove the dirt.
What Cleaning Products Aren't Enzymatic?
Enzymatic cleaners are safe cleaners to use around a home, so you might assume that other natural-based, non-toxic products fall under this name. However, this isn't actually the case.
So, here's a quick list of cleaning products that are not enzymatic cleaners:
Vinegar
Lemon
Bicarbonate of soda

Bethan has a passion for exploring, reading, cooking and gardening! When she's not creating culinary delights for her family, she's concocting potions to keep her house clean!