To get the best results from your iron, you don't just need a good ironing board, you need a good cover as well.
A good ironing board cover can make a world of difference between having a garment that is full of wrinkles, and one that is perfectly wrinkle free. Having a smooth surface on which you can iron will help you spend less time ironing, whilst also achieving better results.
Read on to see our favourite ironing board covers in the UK.
Best Ironing Board Covers in the UK
1. riijk Ironing Board Cover Universal Fit

The riijk ironing board cover proves that it is possible to have an ironing board cover that looks great and does the job well too.
The material is 100% natural cotton, so there are no hidden nasties for you to worry about. The cover is incredibly easy to assemble with an elastic border. If needed, it also comes with elasticated clips to give the perfect fit.
The ironing board cover has a multi-layer construction that includes a layer designed to reflect the heat back upwards, making ironing quicker, even at low ironing temperatures. The padding is steam permeable too, preventing condensation.
For the aesthetic touch, you can even buy this ironing board cover in grey, blue, or pink.
Users report that the good heat transfer makes ironing lighter items even easier, and the elasticated edge and straps makes it fit perfectly on boards between 35-40 cm in width, and 115-120 cm in length. The board uses great quality materials and is very durable.
2. Rayen Ironing Board Cover

When it comes to wanting an ironing board cover that has a unique look, the Rayen board cover certainly looks the part.
This ironing board cover is micro-perforated, which makes ironing with steam even easier. This is a triple layered ironing board cover, with foam, flannelette and finally a cotton outer layer.
This ironing board cover represents good value for money, and the material is of a good quality too. The Rayen ironing board cover is available in a range of sizes, giving something to fit even extra-large boards up to 150 x 55 cm in size.
However, some users do find that the drawstring and toggle fixing doesn't hold the cover tight enough, which means that it can slip and move around.
3. Balffor Ironing Board Cover and Pad

Balffor's ironing board cover is fully adjustable to fit a range of wide ironing boards. The clips and elasticated edge make the cover easy to fit and keep in place during use. It even has 6 mm of felt, 2 mm of foam, and a 160 gsm (grams per square metre) cover for a thick, luxury feel.
If you want an eco-friendly ironing board cover, this cover by Balffor is certified as being free from harmful chemicals and eco-friendly. The cover is fully machine washable, and even comes with a 2-year warranty.
Most users report that the cover will make ironing much easier and feels durable. However, others report that it can be tricky to fit on some types of ironing board. Some people also find that it isn't as heat resistant as others on this list.
4. smart&gentle Turbo Ironing Board Cover

The Turbo ironing board cover from smart&gentle comes in a range of sizes, and includes a reflective layer designed to bounce steam back into the garment, making ironing so much faster.
To make fitting easy, this ironing board cover has a quick release and three tension clips to help it fit perfectly on a range of ironing boards. The five layers of the cover include two foam layers, a padding layer, a foil layer, and a plush cotton layer. The combination gives a smooth ironing surface with good heat reflection.
The cover has been verified as free from potentially harmful substances, and even comes with a 2-year money back guarantee.
For most households, the Turbo ironing board cover will help you to achieve great results without annoying wrinkles. The cover is thick, and the reflective layer does a great job of speeding up the ironing process.
However, some people have found that the clips that hold this ironing board cover taut are a little weak and might come off.
5. Minky PP23006101 Supersize Smart Fit Cotton Ironing Board Cover

This Minky ironing board cover is incredibly affordable and can be used on ironing boards all the way up to 145 x 54 cm in size. The material is designed to be long lasting, and it can even be machine washed if needed too. It has a thick felt backing for a smoother ironing surface, and the bright patterns make an attractive addition to any home.
Minky's cotton ironing board cover is an affordable choice designed to fit just about any extra-large ironing board, and the pre-tensioned elastic edge is easy to fit. The cover is even machine washable to help keep it fresh for longer.
However, some users find that it isn't the best fit for very wide ironing boards, and that the quality isn't as good as others on this list.
6. Leifheit Ironing Board Cover

Leifheit's ironing board cover has an easy-to-use drawstring to tighten and a Velcro fastening for an easy, taught fit. This ironing board cover is padded for smooth use, and the reflective surface should help reduce ironing time by as much as a third.
This ironing board cover is easy to use and provides a smooth ironing surface that can even fit extra-long ironing boards. The ironing board cover is Oeko-Tex certified as being free from harmful substances and will fit ironing boards up to 140 x 45 cm in size. Leifheit pride themselves on just how easy it is to fit this ironing board cover, and it is suitable for use with both traditional and steam irons.
However, the durability and value for money of this ironing board cover isn't as good as some of the others on this list.
7. Brabantia Replacement Ironing Board Cover

Brabantia's ironing board cover is one of the cheapest on this list and comes in a variety of colours and patterns. The cover is made with 100% cotton and heat resistant materials for long-term durability and easier ironing. The 3D textile makes for faster ironing.
Users love that this ironing board cover is a basic, no-frills cover, that is fairly good quality for the price. The stretchy material and cord fastener makes the cover easy to install securely on a range of ironing boards.
However, some users report that the cover is not very thick, and that the material isn't as good as some competitors, and that the fastening cord doesn't always hold the cover tight enough.
How to Choose an Ironing Board Cover
When it comes to choosing the right ironing board for you, there are a range of factors that you should consider. These include both functional aspects of the ironing board, and more aesthetic ones too.
Type of ironing board
There are a range of ironing boards available; not all are the stereotypical ones that just fold up! Some boards are intended to be portable and fold up smaller, and others are fixed to furniture and just fold out of the way. Check what type of ironing board you are using before ordering an ironing board cover.
Size of the ironing board
The size of your ironing board is a crucial consideration, as some ironing board covers are designed for specific sizes, widths, or lengths of ironing board.
Heat reflection
The purpose behind purchasing an ironing board cover is to protect the board itself from direct heat from the iron. As a result, ironing boards should be made of materials that reflect heat.
Anti-Slip
No one likes ironing, and this means that people often end up trying to do it as quickly as possible. To prevent problems, you want an ironing board that has an anti-slip design to help it stay in place.
You want a fabric that isn't too slippery, and you need to consider how the cover is fixed in place too. If you are a frantic ironer, you want a board cover that will stay attached.
Fixing method
You should also consider the fixing method. Some ironing board covers are simply elasticated, whereas others might have drawstrings or tension clips. Some users might find some of these easier to install and others harder.
Design
Gone are the days when ironing board covers could only be found in boring block colours. As you can see from our selection of top ironing board covers, you can now find them in a range of colours and styles depending on what you like.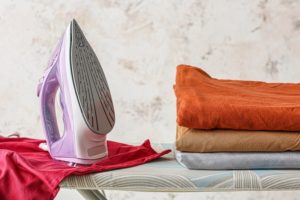 Measuring an Ironing Board
An ironing board cover will make ironing so much easier, but they need to fit correctly for you to get the most benefit.
Measuring the board
Before you start, it is crucial that you remove the old ironing board cover, especially if it is a padded one.
First, you want to measure the width. Using a tape measure, measure the widest point across the top of the ironing board.
Next, measure the length of the ironing board at the longest point. Only measure the ironing board itself, the rest plate at the back is not covered by a cover and so does not need to be included.
Standard ironing board cover sizes
Some ironing board covers might be designed to fit a range of sizes, however not all are. There are five standard IBC sizes that ironing boards are often found in.
To work out what size your ironing board is, you need to measure it at the widest and longest points. These dimensions then correlate to a letter.
Size A: 110 x 30cm, or 43 x 12 inches
Size B: 124 x 38cm, or 49 x 15 inches
Size C: 124 x 45cm, or 49 x 18 inches
Size D: 135 x 45cm, or 53 x 18 inches
Size E: 135 x 49cm, or 53 x 19 inches
Nose shape
After measuring your ironing board and working out what size you need, you also need to consider the nose shape. Some ironing boards may have a rounded, tapered, or blunt nose. If you use the wrong shape ironing board cover, you might find that it is either too loose and unusable, or is just too tight.
Ironing Board Cover FAQs
Do you need a cover for an ironing board?
A good ironing board should last for years and using a good ironing board cover with it will make it last even longer. It can even help you to achieve better results or speed up the ironing process itself.
How do you measure an ironing board for a cover?
All you need to do to measure an ironing board is to measure the length at the longest point, and the width at the widest point. If your ironing board is an awkward size or you aren't sure, you could always opt for a universal one, like this one from riijk that is suitable for widths between 35-40cm and lengths between 115-120 cm.
How often should you change an ironing board cover?
Ironing board covers take the brunt of the stress. This means that they can end up damaged or just worn down. As a result, it is generally recommended that ironing boards are changed every 2 or 3 years, especially if you iron really frequently.
How long does an ironing board cover last?
Ironing board covers should last for a couple of years or longer, depending on the material. Some standard cotton ironing board covers even come with 2-year warranty.
How do you secure an ironing board cover?
All good ironing board covers should come with something to hold them in place. Some ironing board covers simply have an elasticated edge that holds them in place, whilst others might use clips, elasticated cords, or pins.
What is the best material for an ironing board cover?
Ironing board covers are available in a range of materials. Most are cotton, and this works well for most households. If you find, however, that you are needing to replace your ironing board cover more frequently than you'd like, it might be worth looking at a more durable alternative.
Metalized cotton covers, for example, are reinforced with metal that reflects heat back into the garments. Not only does this speed up the ironing process, but it is also much more durable than cotton on its own.
Another type of ironing board material that is much more durable than cotton alone is silicone. Silicone covers are non-slip, and both scorch and stain resistant.
Can you wash an ironing board cover?
Most cotton ironing board covers can be either machine washed, or hand washed. Always check the care label before putting it in the washing machine, as the fire-retardant nature of certain materials could be affected by machine washing.
Conclusion
When it comes to ironing board covers, the riijk padded cover is the one that we would recommend. It might be one of the more expensive options, however the cover is smooth, easy to use, and made with only natural cotton fibres. For messy households, it can even be machine washed.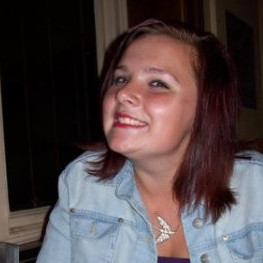 Lover of coffee, painting, and all things cute and fluffy. I'm always on the lookout for easier, more gentle ways to tackle awful household chores.