Delicates either go walkabout in the washing machine, or they end up twisted around other clothes and you can't get them free. Either way it's really annoying, and it's a tedious task to untangle the garments!
So, how do you keep delicates safe when they're being washed? Simple: you use a laundry bag!
Laundry bags are usually excellent value for money, because they don't just stop your laundry from getting tangled up in mischief during a wash, but they can help you to keep your delicates organised outside of the washing machine too!
Keep on reading to find out what the best laundry bag for delicate items is in the UK right now!
The Best Laundry Bags for Delicates in the UK
1. Eono Mesh Laundry Bags

Number of items in pack: 4 pieces per pack
Size: Standard size 15.2cm x 15.2cm and large size 17.8cm x 17.8cm
Material: Polypropylene
Eono's delicate cylindrical mesh laundry bags are ideal for those of you who need to wash bras in the washing machine.
Not only does the solid, rounder structure of the bag allow you to pop your dirty delicates into the bag without much fuss, but the bag also holds the shape of the underwear too, which is incredibly important when washing bras.
In addition to this, the bags are made with durability and breathability in mind. So much so, that the mesh material is covered in small diamond shaped holes that allow plenty of water and detergent in and out of the bag to clean the garments.
So, you can rest assured that your underwear will be cleaned properly.
And the zipper that locks the bag shut, also has its own little cover, so the zip doesn't flap about and snag any other laundry in the washing machine!
What's more is that Eono's Mesh Bags come in different sizes and colours, so you can organise and keep your delicates separate from other people's clothes. And this is incredibly helpful if you are washing other multiple people's delicate laundry!
But the usefulness of these mesh bags doesn't stop there, you can also use these laundry bags for storage purposes.
You could use them to keep your undies organised in a suitcase, for example.
Plus, you don't just have to keep bras in the bags, you could wash any small items in them – especially socks.
The main problem with these bags is that you cannot expect them to last forever, so they will need to be replaced at some stage.
But in the meantime, if you're unhappy with your purchase you can contact the seller to discuss your problems with them.
2. Brabantia Mesh Zip Up Laundry Bags

Number of items in pack: 3 pieces per pack
Size: Small bags 33 x 25cm and large bag 45 x 33cm
Material: Polyester
Brabantia's Mesh Zip Up Laundry Bags are more square and rectangular in shape, so they can be used to launder different types of delicate laundry, and they're not limited to a particular garment.
You can use these bags to wash delicates, socks, face coverings, and in some cases, baby clothes.
And you can even designate a particular bag to a certain type of laundry, or person, because each back comes colour coded – pink, yellow and grey.
Like other laundry bags, Brabantia's bag's use a safe zip locking system that is designed to stop the zip from slipping open during a wash. And this has proved very useful with users.
However, there are a few issues with using these bags: first, they have been known to tear after a while, which isn't ideal when you have lots of delicate underwear to wash.
And secondly, being more square-shaped it can sometimes be fiddlier to get rigid items into these bags.
For example, if you needed to wash a large underwired bra, you might have to tease it into the bag. And this isn't always ideal, particularly if the item in question is expensive!
Finally, there are mixed reviews on whether or not you should actually pop these mesh bags into the tumble dryer too. Some people avoid doing this, while others say the bags can withstand a very low heat in the dryer.
3. GOGOODA Mesh Laundry Bags

Number of items in pack: 7 pieces per pack
Size: Variable
Material: Polyester blend
Gogooda's pack of seven mesh laundry bags are exceptional value for money, when compared to other bag sets that are available to buy.
This large set of mesh bags can be used to launder a wide variety of items, including delicates, baby clothes, tights, and some of the bags are big enough to clean shoes in! There really is a bag for every need.
With a rust-free design zipper, a neat cover that helps to keep the zip in place during a wash, and a bag that's made from sturdy and durable premium grade mesh, you cannot go wrong with these laundry bags!
And not only are these bags great for washing laundry in, but you can also take them on holiday with you, and keep your suitcase organised with them. Or you can just use them as storage around the house – you're spoilt for choice.
In addition to all of this, you can also put the bags into a tumble dryer, so you can keep your laundry safe as they dry too.
Just make sure to pick a temperature that's less than 60℃ when you're drying garments inside these bags.
4. GoFriend Laundry Bags

Number of items in pack: 2 pieces per pack
Size: 16 x 16cm
Material: Polyester
These collapsible cylindrical bra wash bags come with an intricate honeycomb shaped water pocket design, that allows water and detergent to move in and out of the bag freely during a wash.
This ensures that garments are thoroughly cleaned during the cleaning process.
In addition to this, the sturdy design of the bag also helps to hold the shape of your delicate garments as they're being washed as well, which is crucial when washing underwear.
And not only are GoFriend's laundry bags appealing to look at, but they don't take up much space when they're not in use, and they can be bought for a reasonable price.
They've also got a handy little handle, so you can hang them up in the laundry room too, so you remember to use them when doing your laundry.
Of course, you can wash other garments in these wash bags if you like, but you'd have to be mindful of the space you'd have in the bag. You couldn't actually add too many items in at once for example.
A drawback of this product is that the zipper sometimes opens up mid-wash and the delicate items fall out of the bag.
However, this can usually be avoided by using the zip-lock feature, and if the problem persists, you can always contact the seller for help.
5. Korbond Washing Machine Bag

Number of items in pack: 2 pieces per pack
Size: Small 30 x 28cm and large 40 x 30cm
Material: Polyester fibres
If you'd rather buy from a well-known brand, then look no further than Korbond.
Korbond's two pack mesh washing bags are the ideal starting kit for those of you who need to wash a delicate item, or two, now and again.
The bags come in different sizes and shapes, and you can pick the bag that suits the delicate laundry you want to wash.
For example, you could keep the smaller, rounder bag for socks and bras, and the rectangular shaped bag could be for larger items, like pants.
One of the main issues with using these mesh bags is that they cannot be used in the tumble dryer according to packaging labels.
This can make drying the delicate items a bit of a problem, because you'd ideally like to keep the garment safe in the bag the whole time.
You'd likely have to dry the items freely or you'd have to use a dryer-safe laundry bag.
Further to this, the bags have been known to open up during a washing cycle, and the end result is that the delicate laundry falls out and into the washing machine's drum.
But this typically happens if the zip hasn't been locked in place correctly. So, this problem can usually be avoided.
How to Choose the Best Laundry Bag for Your Delicates
Figuring out what it is that you need in a laundry bag can be quite confusing, especially if you've never bought this type of product before. There are a few additional aspects that you may want to take into consideration while making your decision.
Looking for a more durable option?
If you are looking for a laundry bag that is guaranteed to last then the best options would be either the Eono Mesh Laundry Bags or the GoFriend Laundry Bags, which are both long-lasting options, although can also be the ones that have fewer options in bag sizing.
Want more for your money?
If affordability is what you need then there are a few options on the list that may be less high-quality but will still get the job done right. The Korbond Washing Machine Bags and the Brabantia Mesh Zip Up Laundry Bags are both affordable and very handy.
The Brabantia bags are easy to use and quick to dry, and the Korbond bags come in two highly useful sizes, designed for different functions.
Do you prefer bigger bags?
If you're wanting bags designed for either more clothes or clothes in larger sizes then the GOGOODA Mesh Laundry Bags or the GoFriend Laundry Bags are the ones to look at the closest.
The GOGOODA bags are ideal because they can be bought in packs of seven and each bag has a unique purpose that makes them useful for all types of washing.
The GoFriend bags may have fewer options in the set but the bags themselves are considerably bigger and can be very useful if the items you are washing are larger.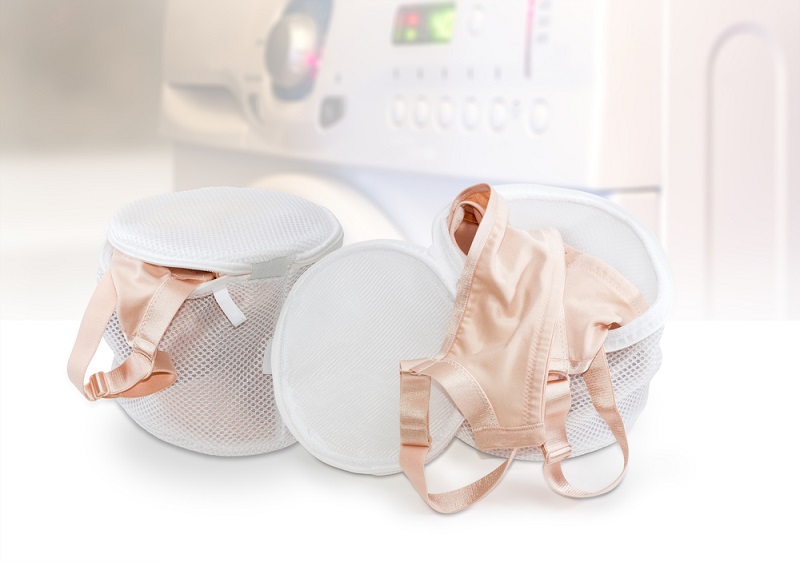 How Do You Use a Mesh Laundry Bag?
Here's a step-by-step guide to using a laundry bag:
Sort all your laundry out by colour – you should have a pile of white clothes and coloured clothes.
You need to then sort your laundry out by material – put all the delicates together, for example.
Next, start sorting through all the items in the delicates pile – keep items with zips/tassels away from each other.
Treat any stains on your delicate items before the washing starts.
Turn the delicate items of clothing inside out.
Add one to two delicate items to a single laundry bag ready for washing – for small bags, only add one item, bigger bags may be able to handle multiple items.
Zip the laundry bag up and add it to the washing machine.
Start a delicate wash.
Is it Essential to Use a Laundry Bag?
You don't have to use a laundry bag to wash delicate garments. However, if you just add delicate items to a washing machine, and you wash them with other clothes, you do run the risk of ruining the delicate items, and potentially your regular laundry.
It's likely that your bra, for example, will become twisted up in your other clothes, or the hooks on the bra will get caught in another item. It's usually quite a big job to untangle the clothes from each other, and some items do end up being ruined beyond repair.
So, if you can use a laundry bag, you should.
What Can You Use Instead of a Laundry Bag?
If a laundry bag isn't for you, it's no big deal, because you have another option to try out!
A pillowcase!
Yes, a generic pillowcase can be used to launder your delicate items in, if you don't have a laundry bag at hand.
The principle is essentially the same, because the pillowcase protects the items inside from getting tangled up, and snagged by other clothes in the washing machine.
All you need to do is add the delicate clothes to the bag, and seal the end of the pillowcase before popping it into the machine, otherwise the contents will spill out! It makes for a great alternative to laundry bags.
Conclusion
If we were going to recommend just one product to buy, it would be Eono's Mesh Laundry Bags because the bags are of good quality, they have many uses, the zipper can be secured, you get a hook to hang the bag up when it's not being used, and overall, the laundry bags are reasonably priced.
Although, if you need several different kinds of mesh laundry bags to wash various garments, you should consider GoGooda's 7 piece Mesh Laundry Bags. Not only do you get plenty of choice with these bags, but they can also be used as affordable organisers too.

Bethan has a passion for exploring, reading, cooking and gardening! When she's not creating culinary delights for her family, she's concocting potions to keep her house clean!