You might be familiar with the name Sharp, after all, they have been selling electronic goods for over 100 years.
Some of you may know the company because you've got a Sharp TV, and some of you might be familiar with the company because you've got a Sharp oven. But did you know that Sharp also specialise in washing machines too?
But here's an even bigger question: Are these washing machines actually any good?
With such a rich history in the electronics and appliances market, you'd assume that Sharp's washing machines would be the pièce de résistance of the laundry world. But is this the case? Find out below.
History
The Sharp Corporation, as it is known today, was founded back in 1912 in Japan. Over the years Sharp has become a multinational corporation that sells appliances of all sorts around the world.
In its later years Sharp teamed up with Vestel, a Turkish appliance manufacturer, to create home appliances for people around the world. These appliances include washing machines.
Today, the organisation as a whole, sells goods like tumble dryers, microwaves, TVs, ovens, dishwashers and many other electronic devices!
Models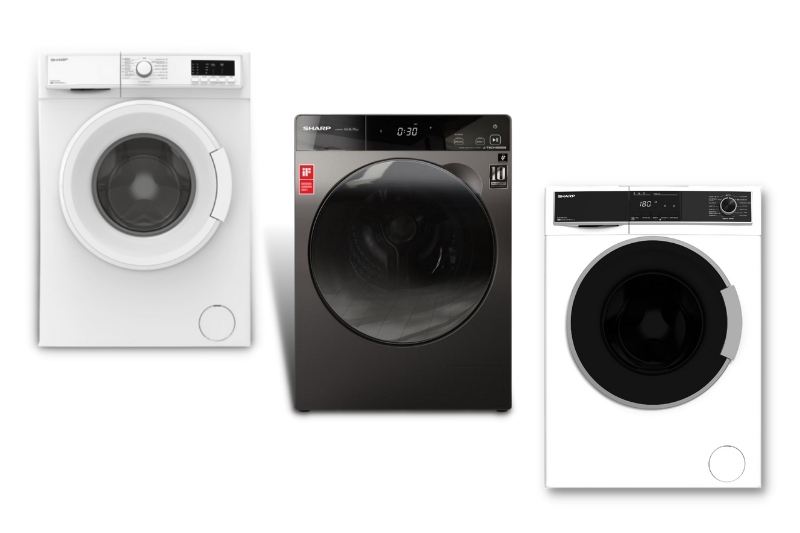 Sharp sell a good range of washing machines, these include:
Standard freestanding (standard) washing machines – These models are usually front-loading in the UK and are an incredibly popular type of washing machine. There's a door at the front where you pop your laundry in, and some Sharp models even come with a wide opening door to help you pop your clothes into the machine a little easier.
Washer dryers – These models can both wash and dry clothes in one cleaning session. This type of laundry cleaner is an excellent space saving option if you don't have room for two appliances in your house. The only issue is, if one feature stops working, for example the washer part, you can't use the whole machine in most cases.
Slimline models – These models are slimmer in size, and are great for those of you who don't have a huge amount of space to store a washing machine.
Drum Sizes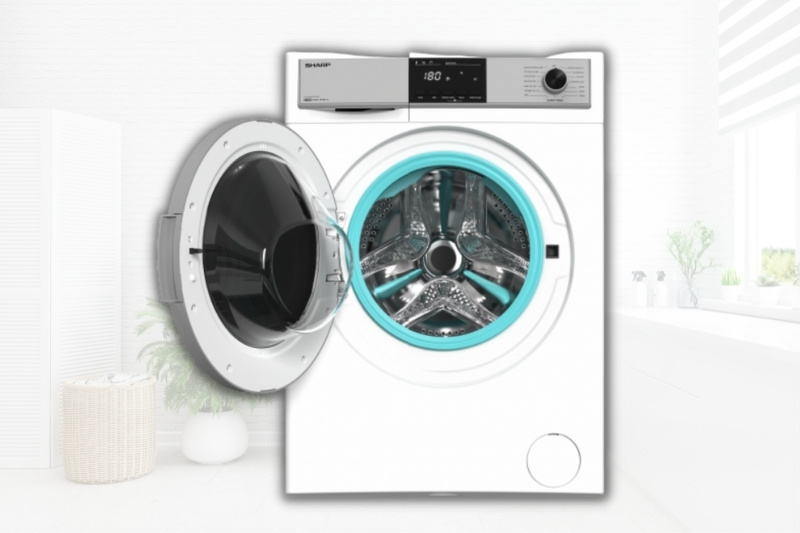 Sharp's washing machines come with decent sized drums that can handle most laundry loads.
You can get Sharp washing machines with drum capacities from 8 kg to 10 kg.
Their drum sizes may not be the largest ones on the market today, so they might not be suitable for everyone.
If you need a large drum, for example, if you have much bigger loads of laundry to clean or bulky items, then you'd be better off checking out other washing machine makes that have 11 kg to 12 kg drums.
That being said, an 8kg drum would be more than enough for your average family home in the UK.
Appearance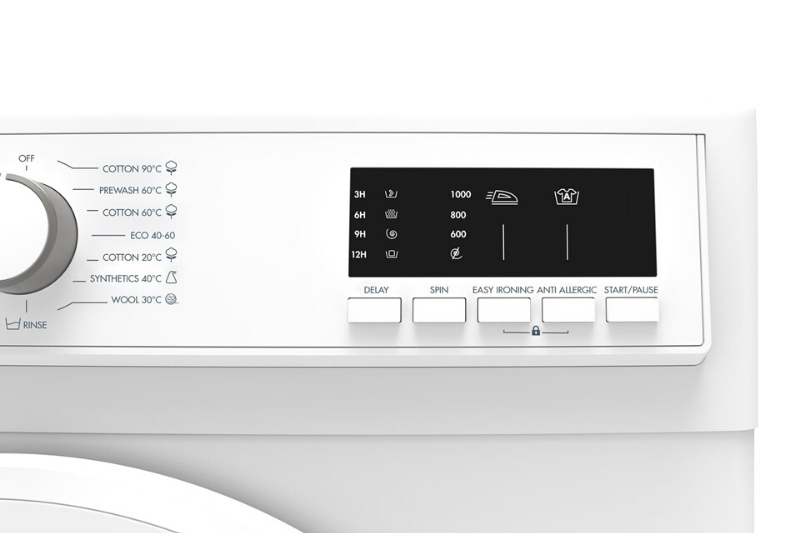 Sharp's washing machines have a very crisp and basic looking appearance, which makes them quite appealing to users.
They don't have too many complicated buttons and dials to mess around with either. And having a dial to turn is a very likeable feature with lots of users, because you know exactly what program you're choosing!
Most models also come with a handy LED display screen on the front that tells you how long a wash has left. This is a great feature to have because you can quickly check the time to see how long a cycle has left if you need to go out, for example.
In addition to the above, Sharp's washing machines come in different colours: white, silver (inox) and black. So, you can choose a colour that matches your other appliances!
Energy Ratings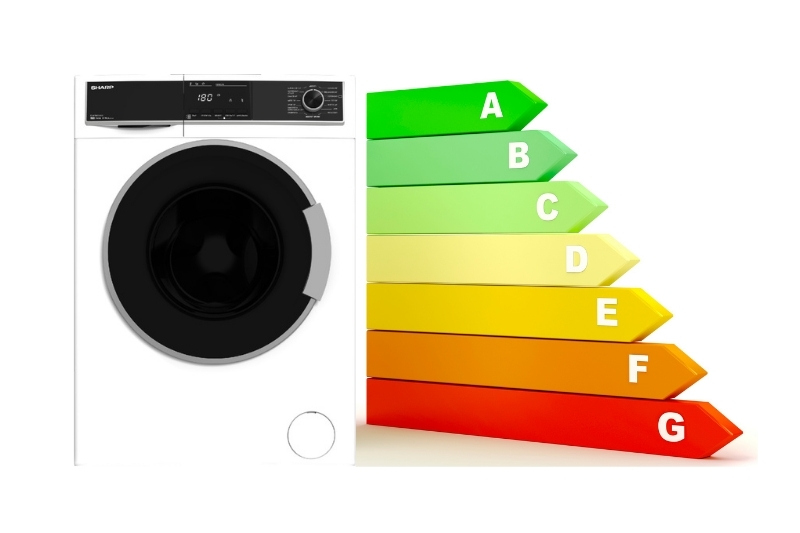 A lot of washing machine models sold in the UK by Sharp come with D and C energy ratings, and a couple have a B energy rating. These ratings aren't great, and they're certainly not the best on the market.
You should try to get a washing machine that's at least a B and up in order to save energy!
Noise Pollution
The noise levels that come from Sharp's washing machines is generally okay according to users. The reduction in noise is partly down to the "Wave Cabinet" inside the machine (increases how rigid the appliance is) and the Advanced Inverter Motor that most models come with.
Price
Sharp's washing machine prices fluctuate depending on when, where and what promotions are on when you actually buy the appliance.
Generally, you can expect to spend anywhere from £245-£390 on a Sharp washing machine.
These prices are actually quite good considering other brands charge a lot more for their washing machines. However, other brand washing machines may come with fancier tech and more features, which is likely to be why the price is more.
Pros of Buying a Sharp Washing Machine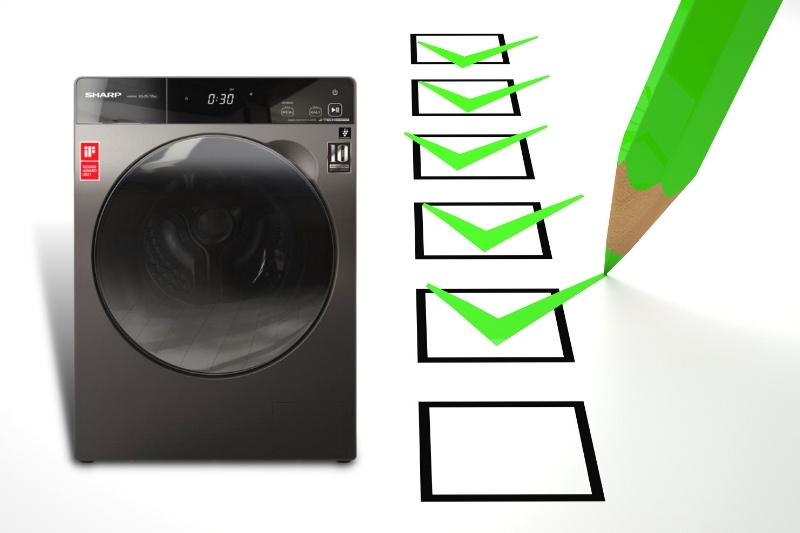 Here's a summary of the main positives of getting a Sharp washing machine:
Washing machines come in different sizes – Both physically and in terms of drum capacity, so you can find an appliance to suit your home setup.
Some models come with an "Allergy Smart" feature that removes additional bacteria from clothes.
Visually appealing – They're not packed up with complicated buttons and dials, they have an LED screen and you get to pick a colour that you like.
Good spin features on most models – The spin feature is quite a selling point for Sharp's items. And you can buy a washing machine with as little or as much rpm as you like 1000rpm to 1600rpm.
Some full load cycles last a long time – Over an hour and a half in some cases.
Wide door on some models like the ES-NFB914AWC-EN – Helps you to get your laundry in and out!
Quick wash can be done in as little as 15 minutes if you buy the ES-NFB8141WD-EN – This is great if you've forgotten to wash an important item!
If there are problems with your Sharp washing machine, it seems that the company you buy the washing machine from, Curry's and AO for example, are quite helpful and will work with you to resolve the issues.
Potential Problems with Sharp Washing Machines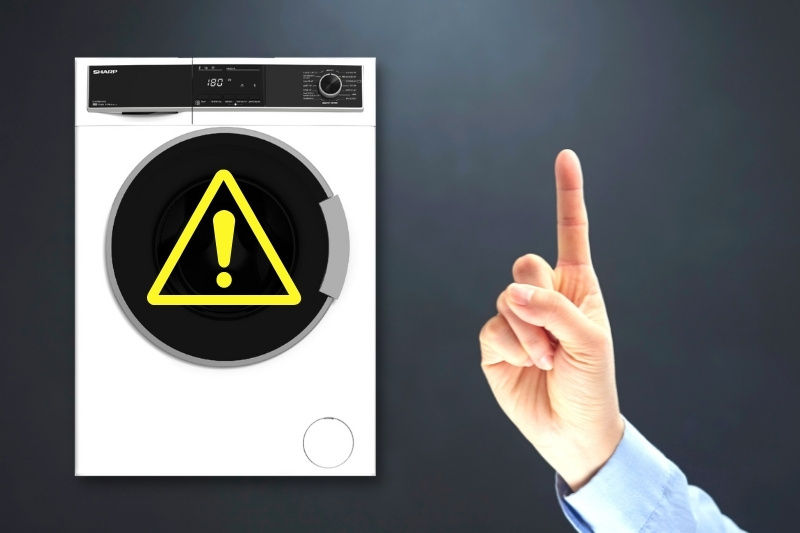 Here are some concerns that you should be aware of when buying a Sharp washing machine:
One of the main problems that users have found is that Sharp sometimes has poor customer service. Typically people who have left comments on Trustpilot have been subjected to long delays on the phone, no callbacks, and sometimes people didn't even get through to a representative when they needed to raise a concern.
This obviously led to a domino-like effect because other issues popped up with users in the meantime. And the whole experience has left some users reeling!
A number of Trustpilot reviewers have also noted that their Sharp washing machines arrived faulty. Some of the issues were internal and an engineer usually had to be called to fix the problem.
So, always check the box your appliance comes in for any dents, for example. Such marks could tell you a lot about how the item has been treated during transportation and if problems could occur.
Several other reviewers also noted that their washing machines needed new parts a few months after buying their appliance.
Of course, it's difficult to know how exactly the washing machine has been treated during its short life, but you'd hope that parts wouldn't need replacing quite so soon. Further to this, when replacement parts arrived, in a few cases they were also faulty.
Another issue to be aware of is that engineers sometimes take ages to come out to visit people. This has angered many users because there's a sticker on the washing machine that states engineers will be out as soon as possible.
In addition to the above, reviewers on Trustpilot also noted that when engineers did come out to fix a single issue, they actually found lots of other faults too with relatively new machines. As noted earlier, you wouldn't expect new models to have any faults, let alone a few of them. So, again, be sure to check your washing machine out thoroughly before using it.
Of course, as a direct consequence of the above points, a lot of people have been left without washing machines.
Are Sharp Washing Machines Any Good?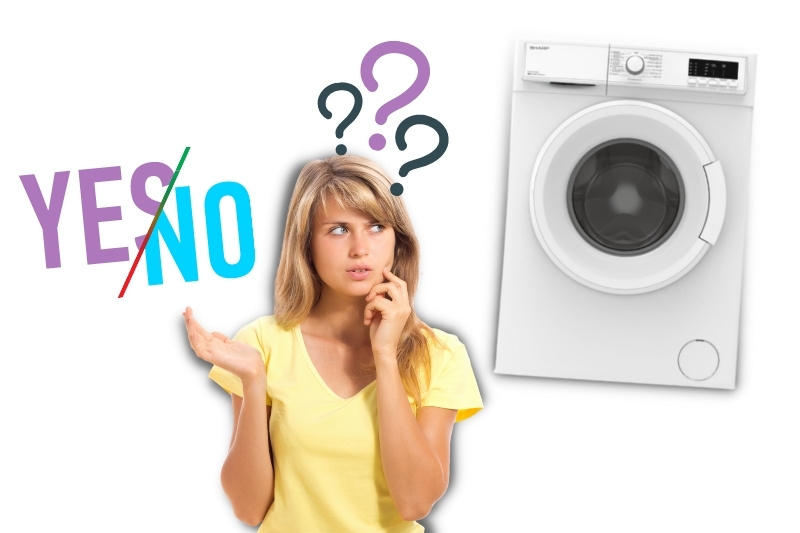 Sharp's washing machines are quite traditional in shape and size, they're very easy to use, they generally wash clothes well and won't cost you a fortune. However, reviews, like those on Trustpilot, demonstrate that the washing machines may not be as good as they first appear.
Further to this, as noted above the customer service side of Sharp seems fairly poor when it comes to washing machine aftercare.
However, when you look at the bigger picture, it seems that disappointing customer service is a running theme when you check out reviews for some of their other products too.
In addition to this, there seems to be a wider choice of washing machines in Europe compared to the UK, and some of the models come with more interesting features.
Some of these different features include:
"Bubble Drum" – The inside of some models such as the ES-HFH914AWC-FR is shaped in a bubbly form, so that clothes don't stick as much to the drum.
'Double Jets' – Two jets shoot water onto clothes to quickly clean them in some models. This not only saves on water but also on energy. One model with this feature is the ES-HFH8147W3-EE.
Some models can do a quick wash cycle in 12 minutes.
You can even get smaller drum sizes, for example 6 kg.
It's a shame that UK models don't come with the features above because they appear to be very useful!
So, are Sharp washing machines any good?
If you're looking for a simple, user friendly and a relatively priced washing machine, a Sharp one would do the trick. But if you need a more tech-based washing machine, with unique features and programs it would be worth looking into other well-known brands.

Bethan has a passion for exploring, reading, cooking and gardening! When she's not creating culinary delights for her family, she's concocting potions to keep her house clean!