A washing machine is one of the biggest appliances you can get and is also one of the most used appliances in a home. But what are you supposed to do if you don't have space for a washing machine in your property?
A washing machine needs electricity, water and a drain to work effectively. And without these three components, the machine will not function. Therefore, you need to put your washing machine near these supply points or call someone out to fit new ones for you.
There are a few things you can do if you don't have room to house a washing machine. These include creating a brand-new space, utilising an existing spot, asking someone else for help, and using launderette services. Let's look at these points in more detail.
Option 1: Create a New Space to House the Washing Machine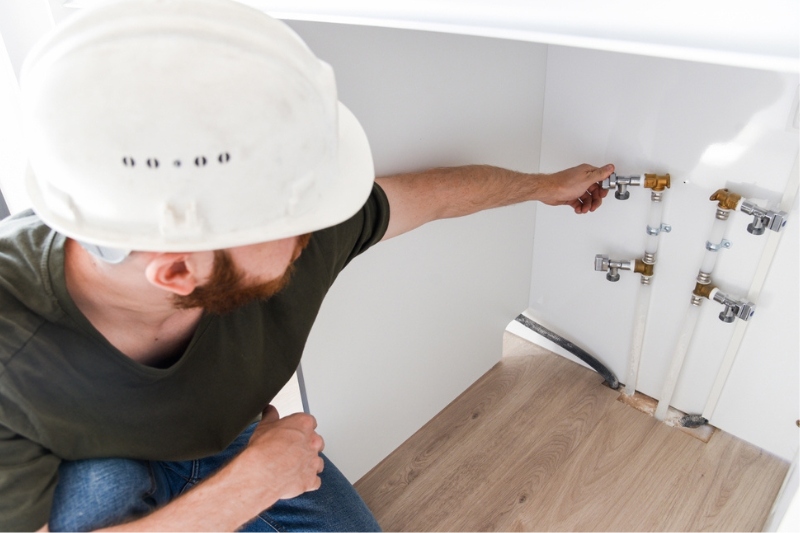 One of the first questions you need to ask yourself when it comes to a lack of space is, how can I make more space in my home so that I can house a washing machine?
It's not uncommon for homes to be relatively small these days, and flats and apartments can be even tinier. So, you've got to put your creative cap on and think about how you can create more room from what you've got right in front of you.
In the case of being able to house a washing machine, you could, for example, build a brand-new cupboard space, knock down a wall to make more room, or remodel the kitchen.
Of course, if you were to carry out this kind of work, you'd have to get a professional in to help you out, and this would come at a cost.
But if you're not planning on moving from your property, and you place a lot of value on having a washer in your abode, this would be worth trying out.
Option 2: Use an Existing Spot in Your Home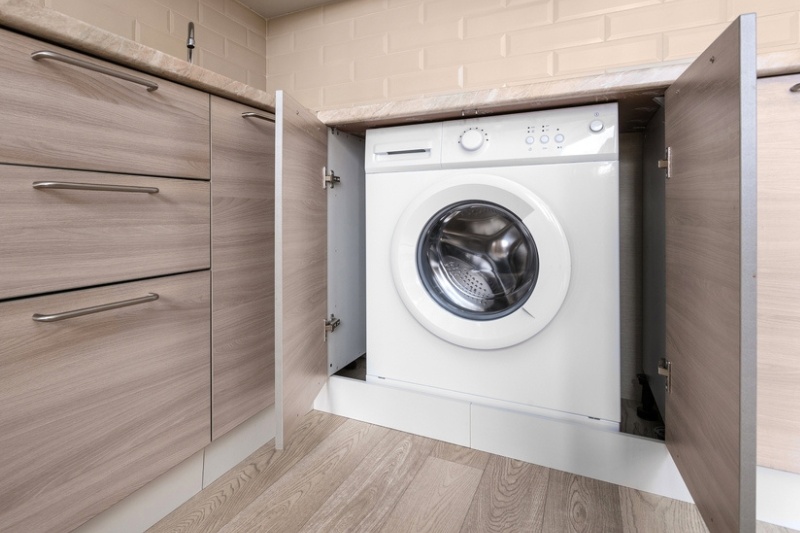 In addition to asking yourself how you can make more space, you must also ask yourself, how can I repurpose the space in my home?
Remodelling, creating new spaces, and renovating aren't for everyone, so what about looking into the following.
Could you sacrifice a cupboard or a cabinet in your home and use it to house a washing machine?
The cupboard in question could be a kitchen cabinet, for example. It's a good idea to sacrifice a cupboard space in a kitchen because you'll be near pre-existing water inlets and outlets, so you can utilise them. But you could also put a washer in an old, unused cupboard elsewhere.
Could you pop a washer in the garage, shed or outbuilding, so you don't have to keep the washing machine in your abode?
It's not uncommon for people to keep their washing machine in their garage. All you need to do is make sure the machine has access to water, electricity and a drain to start with.
You should also ensure the garage's temperature doesn't drop too much below freezing point.
Of course, you should also make sure that you leave enough space between your washer and car, if you continue to park it in the garage. You don't want to run into the washer at any point!
In addition to this, if you've got access to a garden or allotment, you could put a shed in it and put the washer in there.
As with a garage, you'd need to make sure the washer had access to the right outlets, was safe and didn't freeze during the winter.
Similarly, if you have access to an outbuilding, you could repurpose it and put the washing machine in there.
Option 3: Ask Someone for Help with Your Washing
If there's no way you can fit a washing machine into your property, it might be worth asking a family member or friend to help you do your washing.
In this case, you'd need to either take your laundry to them, and they'd do it for you, or you'd have to do it yourself (which is probably what you'd have to do).
The added benefit of this is that you may have access to a dryer as well, so you'll be able to wash and dry your clothes in the same place. This takes the strain off you trying to figure out how you'd dry your wet laundry!
Option 4: Use a Launderette/Laundry Service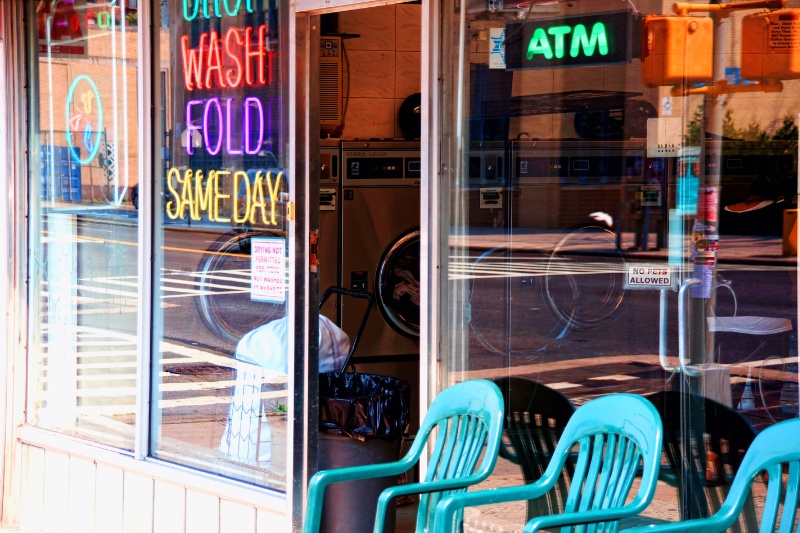 If asking family and friends to help out with your washing isn't your thing, you could use a laundry service, and then you wouldn't need a washer at home!
This includes finding an official launderette shop, using a laundry cleaning service, and using outdoor self-service launderettes to wash your clothes at.
To find a local service, just do a quick online search and choose a reputable company.
If it's your first time using a launderette, it might be worth speaking to the person who runs the service/watch a few YouTube videos to get a handle on how the cleaning process works.
Launderette machines, for example, aren't much different to the machines you get at home, but they're much bigger and quicker. Nonetheless, it's worth getting to grips with how these machine work before you toss your clothes into them.
Plus, launderettes aren't manned 24/7, so when you take your washing down to the coin wash, you might be alone, so it's essential that you know how to operate the washing machines!
Similarly, if you're going to use a cleaning service, you need to know how/when they will collect/return your laundry, and you need to tell them if you have any special requests (for example, if you have sensitive skin, you need to inform them).
Do keep in mind that all of the services mentioned above come with their own price tags. And based on where you live and the type of service you require, you might have to pay more or less.
They are, nonetheless, incredibly convenient services that offer a lot of value every day of the week in most cases!
Option 5: Invest in a Portable/Tabletop Washing Machine
When someone says washing machine, you instantly think of the cumbersome machine that rattles and makes funny noises. But what if there was another type of washer that wasn't quite so big, heavy, and loud?
The portable washing machine is just that! These small machines are designed to be taken on holiday in a caravan/camping, but they can also be used in a home setting and as a normal washing machine!
They're lightweight, easy to move around, and come in different sizes, so you can pick a model that suits your washing needs.
The Display4Top Portable Washing Machine is one example you could look into. This particular portable washer stands at 52 cm in height, 37 cm in length, and 38 cm in width, which makes it the ideal size to have in a tight spot! It can also be plugged in and has an effective spin feature.
Option 6: Hand-Wash Your Laundry Instead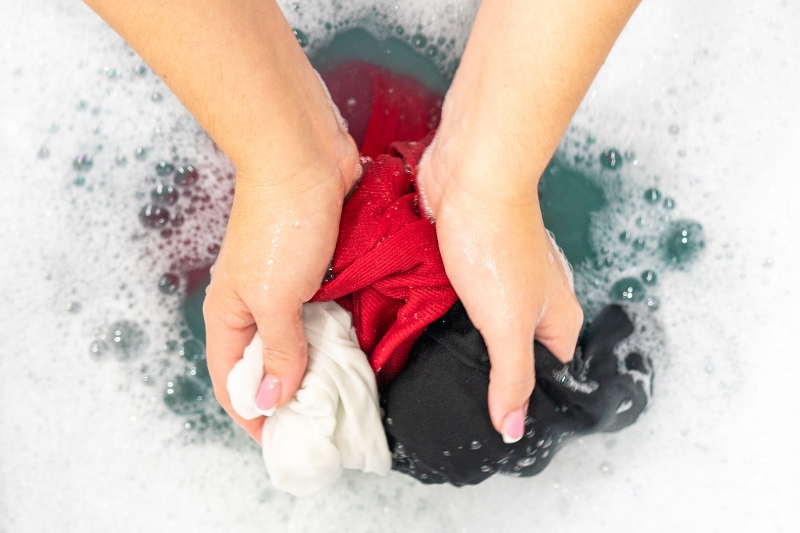 If you don't have space for a washing machine, you could always go back to cleaning laundry in the traditional way: by hand.
Hand washing clothes might seem like a taxing activity, and to some degree, it can be a lot of work. That being said, with the right technique, a bit of elbow grease, and practice and you'll soon get the hang of it.
Hand washing clothes can be done in the sink, a bucket, a large pan and even in the bathtub, so you can take your pick on what workstation you want to use.
All you need to do is pop some gloves on, add a suitable detergent to the water, and you can start cleaning your outfits!
You don't need to go out and buy big tools and appliances to get the job done, you can just use your hands.
Interestingly, hand washing garments also protects them for longer because the material isn't subjected to the harsh agitation process of the washing machine.
Your hands will be much kinder on the material, and this will help to preserve their longevity.
Where Can You Put a Washing Machine in a Small Apartment?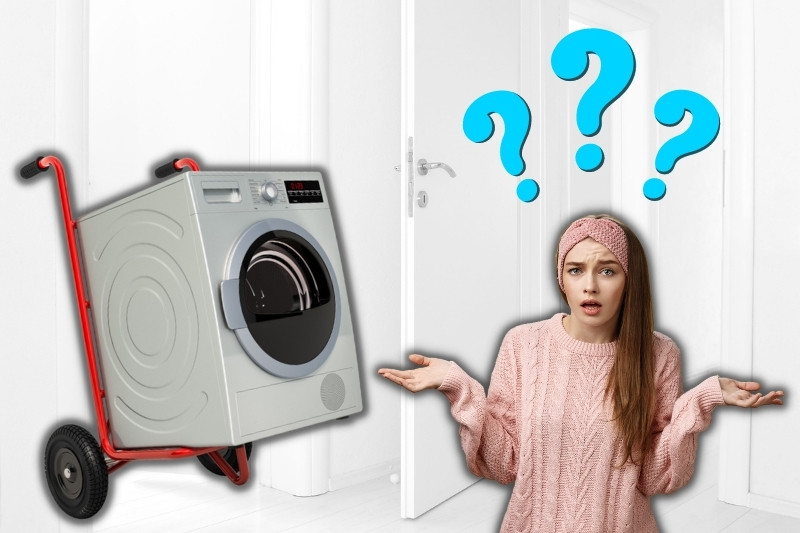 If you're thinking about buying a small apartment, you might be a little concerned about where you can put your washing machine in such a tiny home.
As it happens, having a washing machine in a small apartment isn't actually that big of a problem because there are many places you can safely store a washer.
These include storing a washer in the kitchen, using some unused cupboard space, and even getting creative and building some new storage in your apartment.
And if you're still having trouble fitting a washing machine in, you can look into other ways of doing laundry. Including getting a portable washer and asking family and friends for help!

Bethan has a passion for exploring, reading, cooking and gardening! When she's not creating culinary delights for her family, she's concocting potions to keep her house clean!