Bigger isn't always better. Especially when you have a tiny kitchen or utility room and every centimetre counts.
Sometimes you'll have a countertop that's just too low for most washing machines, in which case a shorter unit will be needed. Either that or you end up with a washing machine awkwardly stuck out by itself, while the spot you had in mind for it gets filled with random gubbins.
Thankfully, the consumerist society in which we live has thrown up the answer. Yes, there are options that will satisfy the most bijou of berths. Let's take a look at some.
What Height Are Washing Machines Usually?
Although there are in fact other sizes available, the vast majority of washing machines conform to the standard size, which is 85 cm high, 60 cm wide and 50-60 cm deep.
This is quite handy if you're designing a kitchen and want to leave a good space for a washing machine before the exact model has been chosen.
However, you might have a space that's crying out for a washing machine, being in lots of ways perfect, but just a bit lacking in the height department. It might have plumbing and electricity points nearby, lots of access room at the front, and close to the back door so you can get out to hang out your washing with as much speed as you like, but regrettably seems to have been designed for Lilliputian laundry.
In which case, what do you do? Buy a doll's house washing machine? No, you explore the wonderful world of slightly shorter-than-standard washing machines.
Which Washing Machines Are Under 85 cm High?
There's a pretty decent selection out there. We'll cover a few here, but it's well worth taking a trawl through the online world to see what else is available.
Integrated washing machines
Integrated washing machines, as you might expect, do tend to be slightly smaller than freestanding ones. That way, they can fit nicely into a cupboard space.
You can of course put a freestanding machine in a cupboard, but integrated models are designed especially for the job.
Here are a couple of 82 cm specimens (this is the standard height for an integrated washer).
1. Zenith ZWMI7120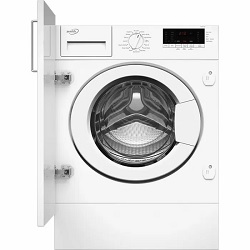 This 1200 rpm spinner handles up to 7 kg of washing and can be as quiet as 42 dB on the wash cycle. Height? 82 cm.
2. Beko WTIK76151F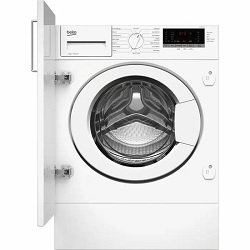 This is another 7kg merchant, but can whizz things about with a bit more gusto – 1600 rpm to be exact. It's another short one, at 82 cm.
Freestanding washing machines
1. Zanussi ZWC1301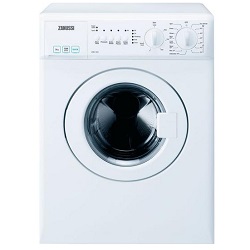 OK, this one really is short. We double-checked to make sure we hadn't blundered into the Barbie accessory range, and we're sure, yes, it is a proper washing machine. 67 cm high! That's about the size of an average Ewok.
The downside is that you can't wash as much in there (3 kg of laundry), but you'd expect that given the smaller size. Aside from that, it delivers what bigger machines do and more – 1300 rpm, for instance, which is a perfectly respectable spin speed.
2. Beko IronFast RecycledTub B3W5841IW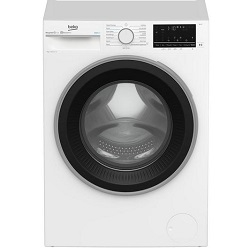 A long name for quite a short (84 cm) washing machine. This one's of special appeal for its large 8 kg capacity and decent 1400 rpm spin speed.
As the name indicates, one of the plusses with this machine is its recycled tub, so the carbon footprint is correspondingly smaller than the average.
3. Blomberg LWF174310W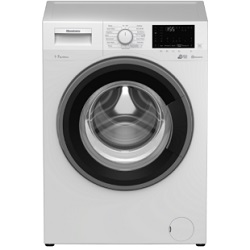 A solid performer, this one is only 84 cm high. It offers spin speeds of 1400RPM and a load capacity of 7 kg, as well as the Bluetooth connectivity that's de rigeur nowadays.
Portable washing machines
These won't suit everyone – they're designed to be kept stored in a cupboard, and brought out when it's time for action. An example is the Costway 2 in 1 washer and dryer.
It's perfect for camping and is only 51 cm high, so it qualifies for a mention here. But it's not what most will have in mind when thinking about a permanent kitchen washing machine.
Another Option: Reducing the Height of Your Machine
If you can't find a shorter machine to suit, or you just don't want to say "sud off" to your old one, don't despair. You can actually reduce the height of most machines with a modicum of ease.
Kits are available to assist with this, and height reductions of up to 3 cm are possible. Some of the height savings are produced by replacing the feet or wheels.
Some might suggest removing the lid, which is a less elegant approach altogether. It gives you a height saving of a few precious millimetres, however, it's not to be recommended as noise will increase and there's the potential for tiny hands to get inside the machine. So, don't do it.
Final Thoughts
If you are intent on buying a shorter machine, if at all possible you should visit the store and actually measure the unit there.
When a machine is advertised as 84cm high, it could be the case that it's actually more like 85 and the measurer was in a bit of a hurry. When millimetres count, you don't want to fall foul of a slipshod measure, or even a typo.
One thing that is for sure is that, if you are buying a smaller machine, it doesn't automatically mean you have to miss out on a great performer with advanced features.
With a bit of research, you're bound to find the right machine for you. Sometimes, the best things really do come in tiny packages.

Martin's life revolves around films, dogs and food, but rarely all at the same time. At least two out of these three like to give clothes and furniture a hard time, and Martin enjoys discovering and writing about new ways to stop them doing their worst.